Maple bacon roasted sweet potatoes with caramelized onions is a side dish so delicious, you could serve it for dessert!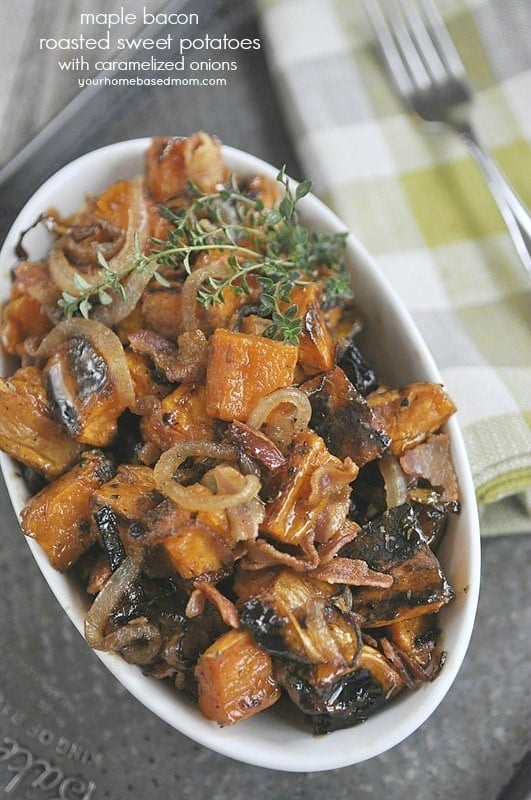 Growing up, I never remember sweet potatoes as part of our Thanksgiving dinner.  Not sure why,  maybe my parents didn't like them.  But when I married and starting celebrating Thanksgiving with the Wilkes' there were always sweet potatoes.  This sweet potato casserole recipe from Aunt Dawn quickly became the family favorite.  No marshmallows but oh so good.  These were on our table this past Thanksgiving.
This year we have really learned to love sweet potatoes at our house and sweet potatoes are not just for Thanksgiving.  I almost feel a little guilty passing today's recipe off as a vegetable because it tastes like candy!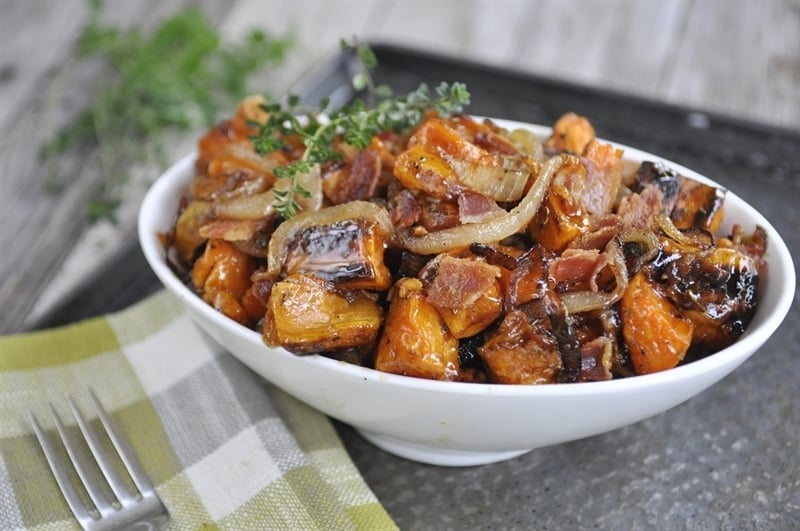 Roasted sweet potatoes glazed with real maple syrup and then mixed in with bacon and caramelized onions.  Then topped off with a sprinkle of thyme.  Oh so good.  In fact we have eaten this as a main dish at our house it is so good.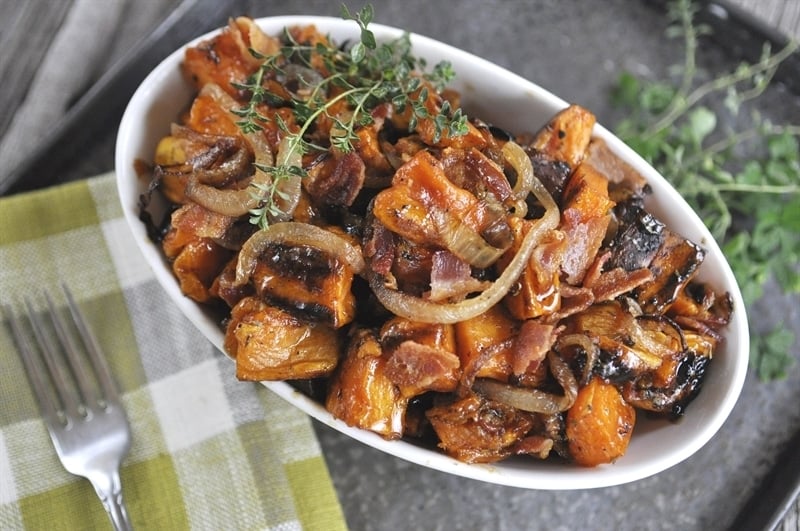 Whenever I roast vegetables I give them a nice coat of olive oil.  I cut up my sweet potatoes, toss them in olive oil, and then spread them out on a cookie sheet covered in parchment paper.  Give them a sprinkle of salt and pepper and then put them in the oven for about 30 minutes.  About half way through, make sure to pull them out and turn them so they are evenly roasted.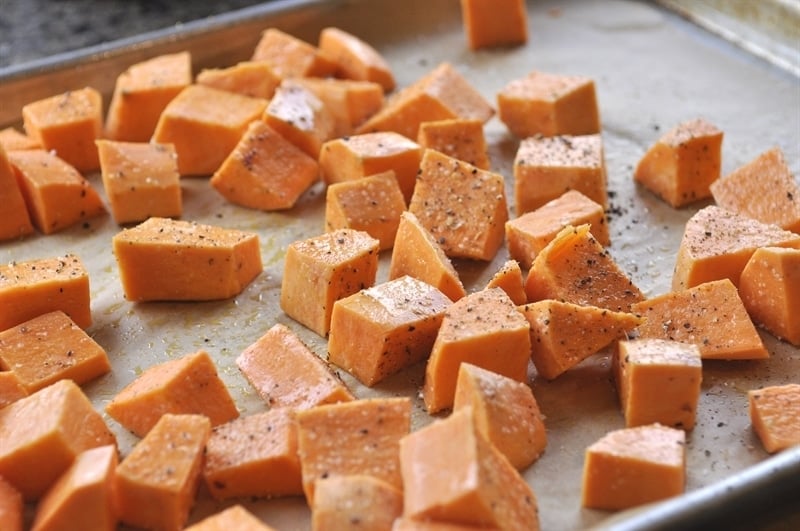 While they were baking, I fried up some bacon and then caramelized some onions in the bacon fat.  Then tried to stop myself from eating all those onions before the sweet potatoes were done!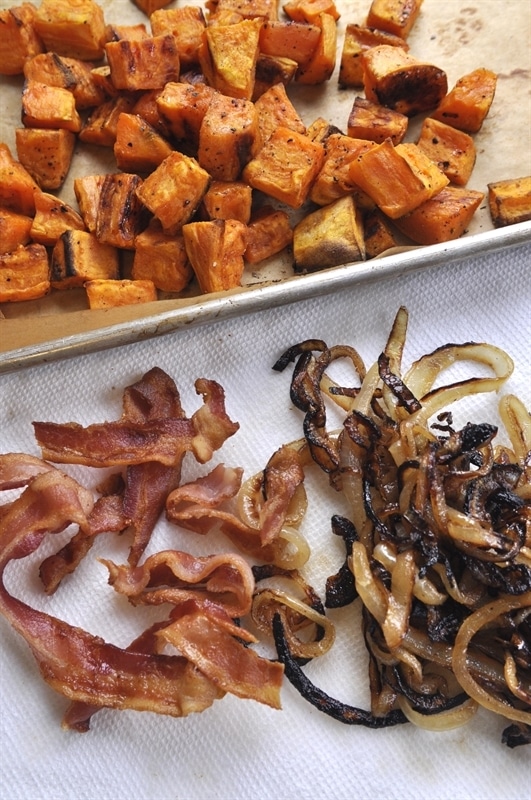 Next, bring some real maple syrup to a boil and add in some fresh or dried thyme.  Place everything in a bowl and then coat with the maple syrup mixture.  The result is the most delicious roasted sweet potato side dish ever!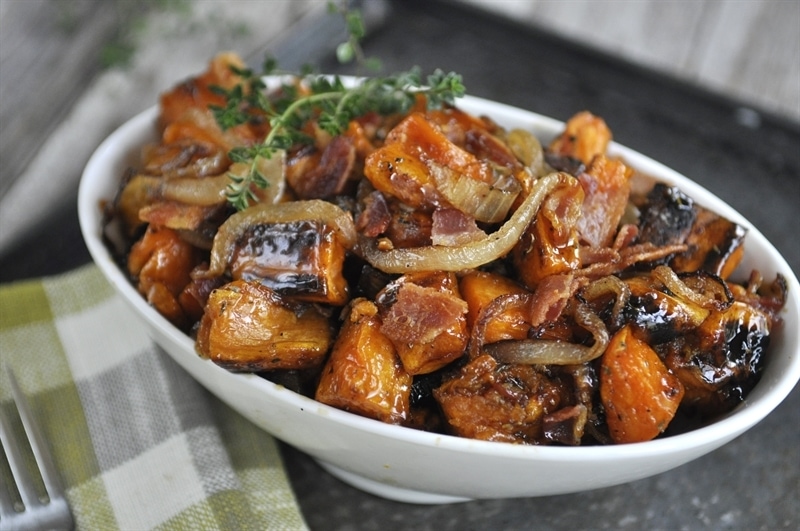 Put this one on your Thanksgiving menu!
Maple Bacon Roasted Sweet Potatoes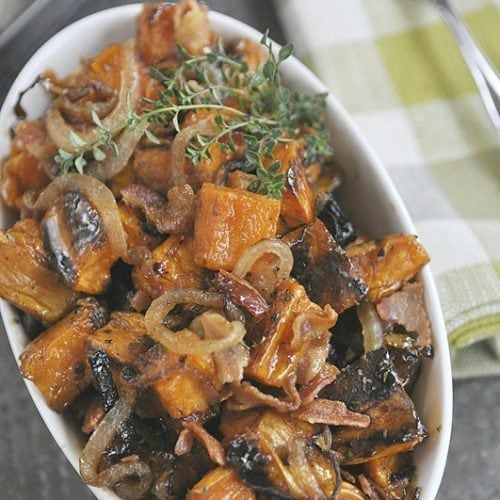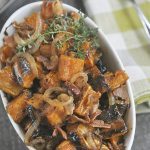 Print
Maple Bacon Roasted Sweet Potatoes with Caramelized Onions
Ingredients
4

lb.s sweet potatoes

peeled cut into one inch pieces

2

Tbsp

olive oil or olive oil spray

1

tsp

salt

1/2

tsp

fresh ground black pepper

6

slices

bacon

1

lg onion

sliced thinly

1

C

real maple syrup

2

tsp

fresh thyme or 1 tsp dry thyme leaves
Instructions
Preheat oven to 400 degrees.

Coat cut up sweet potatoes with olive oil and sprinkle with salt and pepper.

Place on a cookie sheet covered with parchment paper.

Roast in oven for 40 minutes or until tender and soft. Turn after 20 minutes.

Cook bacon until crisp and crumble.

Cook onions in leftover bacon grease until caramelized, soft, brown and sweet. About 10-15 minutes.

Put maple syrup into a pan with the thyme and bring to a boil.

Boil until syrup is reduced by half.

Place roasted sweet potatoets, bacon and onions into a bowl and cover with syrup mixture.

Stir to coat.

Enjoy!