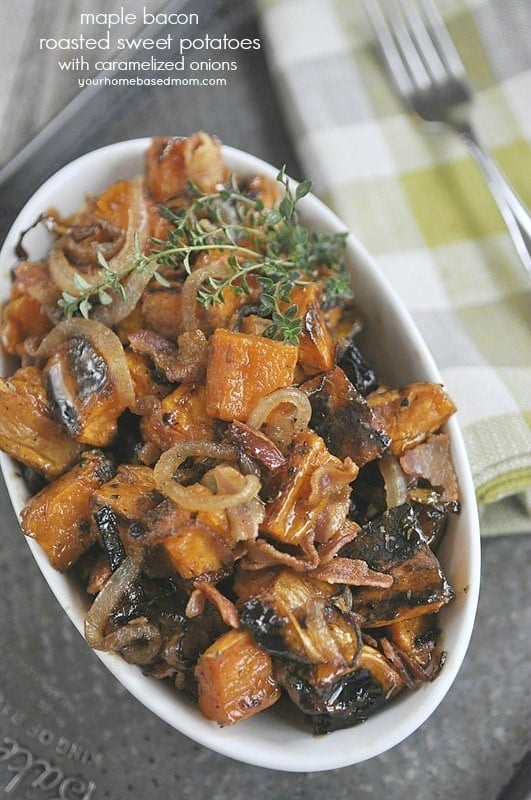 Growing up, I never remember sweet potatoes as part of our Thanksgiving dinner.  Not sure why,  maybe my parents didn't like them.  But when I married and starting celebrating Thanksgiving with the Wilkes' there were always sweet potatoes.  This recipe from Aunt Dawn Wilkes quickly became the family favorite.  No marshmallows but oh so good.  These were on our table this past Thanksgiving.
This year we have really learned to love sweet potatoes at our house and sweet potatoes are not just for Thanksgiving.  I almost feel a little quilty passing today's recipe off as a vegetable because it tastes like candy!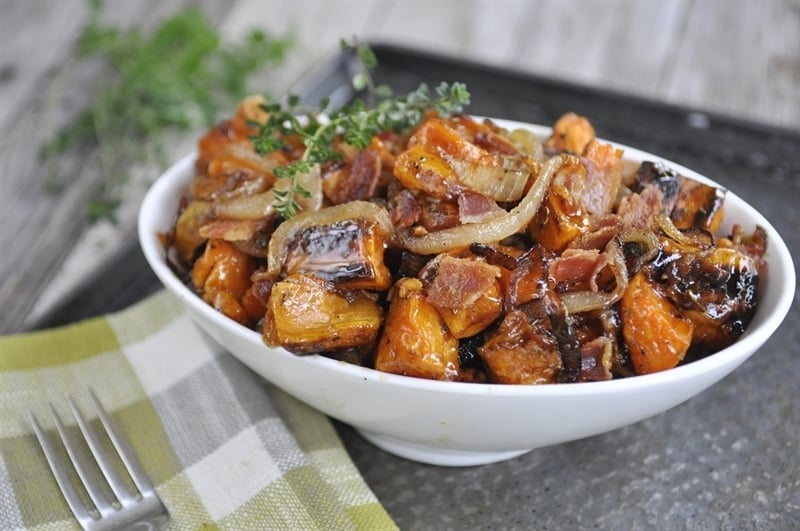 Roasted sweet potatoes glazed with real maple syrup and then mixed in with bacon and caramelized onions.  Then topped off with a sprinkle of thyme.  Oh so good.  In fact we have eaten this as a main dish at our house it is so good.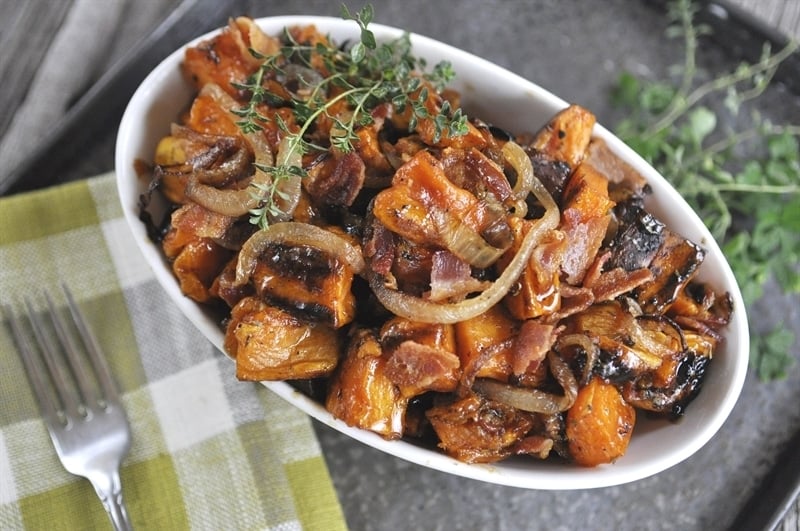 Whenever I roast vegetables I give them a nice coat of olive oil.  For this recipe I used this great new, soon to be released,  product from Pompeian Olive Oil – A combination of canola oil and extra virgin olive oil in a spray form.  Because I am part of their #pantryinsiders team I got to check it out early.  It won't be released until the first of the year but you are going to want to try it.   I love it.  I was able to quickly and easily give my sweet potatoes a nice spritz of olive oil without getting too much on them.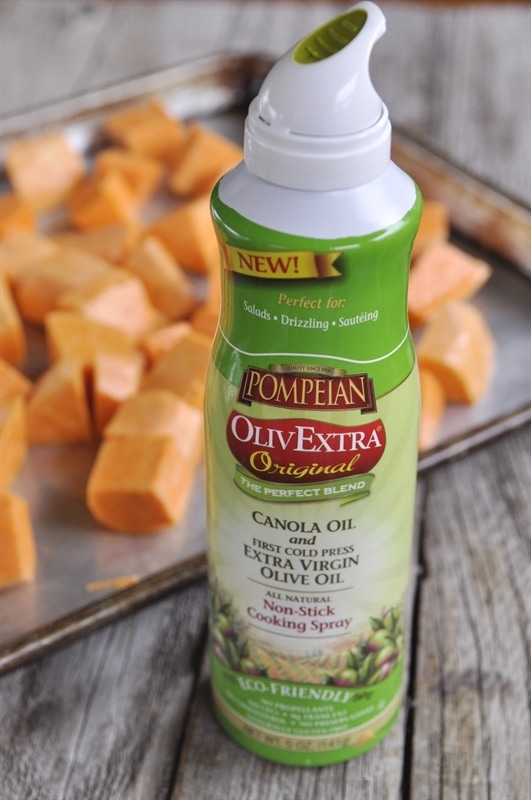 I cut up my sweet potatoes, put them onto a cookie sheet covered in parchment paper and then sprayed them with the OliveExtra.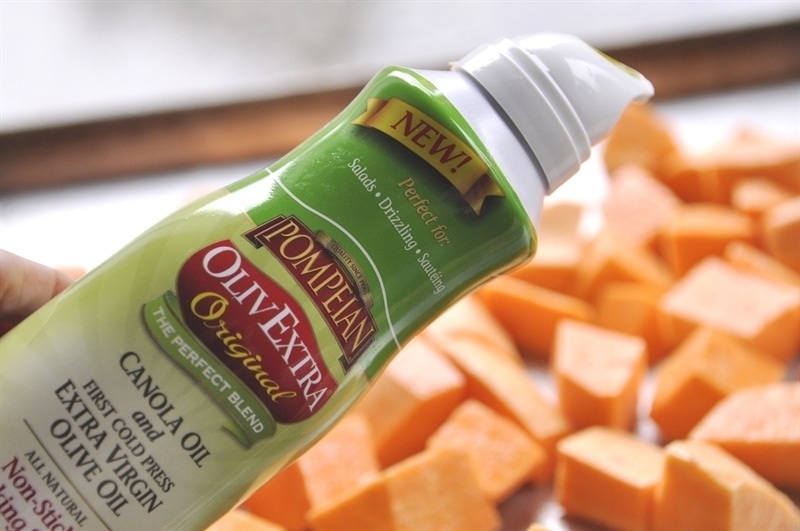 Gave them a sprinkle of salt and pepper and then put them in the oven for about 30 m inutes.  Turning them half way through at 15 minutes.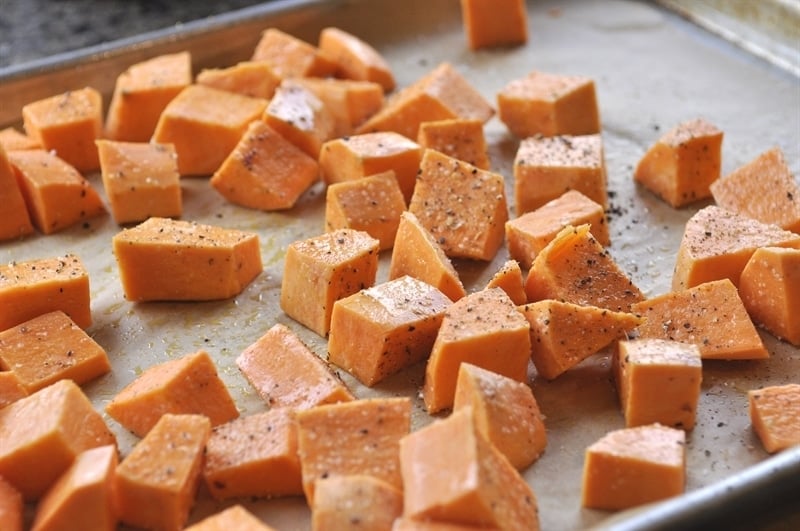 While they were baking I fried up some bacon and then caramelized some onions in the bacon fat.  Then tried to stop myself from eating all those onions before the sweet potatoes were done!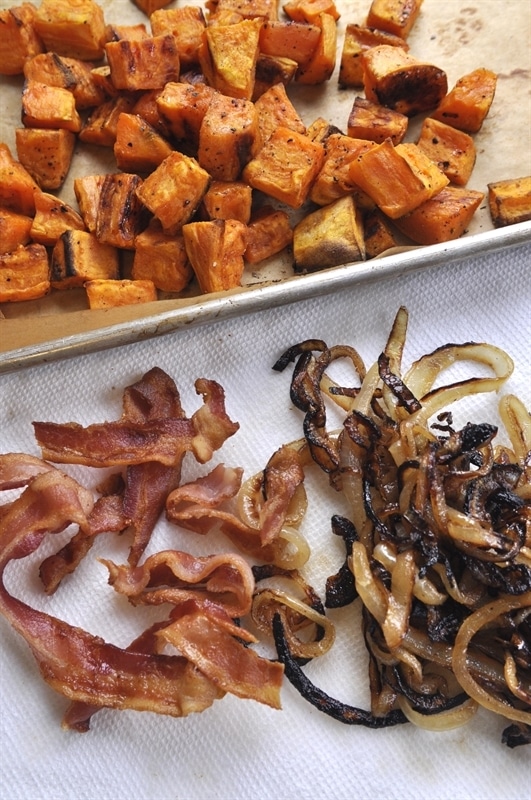 Bring some real maple syrup (use the real stuff) to a boil and add in some fresh or dried thyme.  Place your everything in a bowl and then coat with the maple syrup mixture and you've got the most delicious side dish ever or should I say dessert.  It tastes like candy!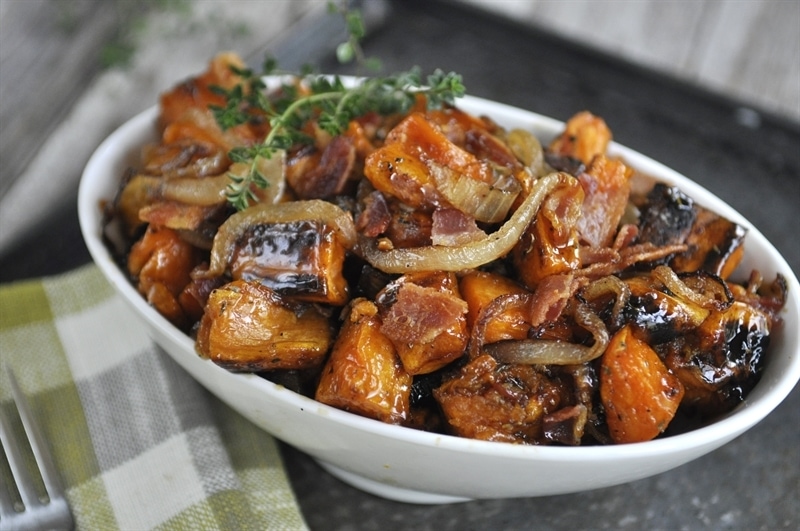 Put this one on your Thanksgiving menu!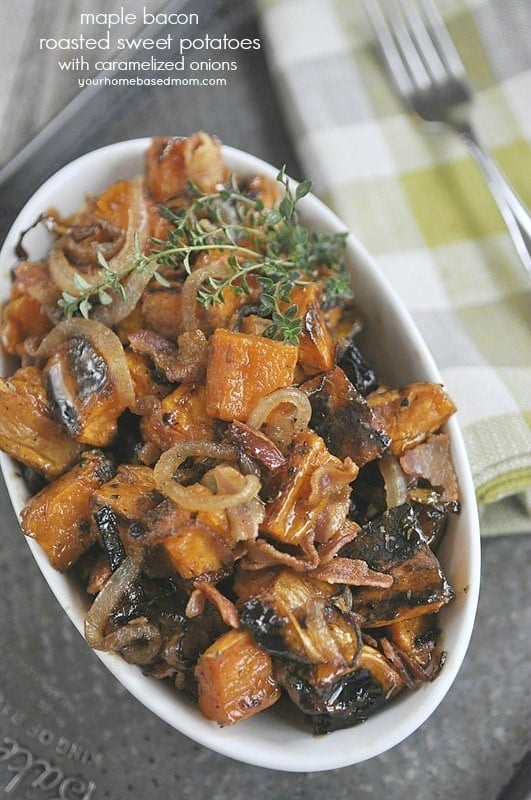 Maple Bacon Roasted Sweet Potatoes with Caramelized Onions
Ingredients
4

lb.s sweet potatoes

peeled cut into one inch pieces

2

Tbsp

olive oil or olive oil spray

1

tsp

salt

1/2

tsp

fresh ground black pepper

6

slices

bacon

1

lg onion

sliced thinly

1

C

real maple syrup

2

tsp

fresh thyme or 1 tsp dry thyme leaves
Instructions
Preheat oven to 400 degrees.

Coat cut up sweet potatoes with olive oil and sprinkle with salt and pepper.

Place on a cookie sheet covered with parchment paper.

Roast in oven for 40 minutes or until tender and soft. Turn after 20 minutes.

Cook bacon until crisp and crumble.

Cook onions in leftover bacon grease until caramelized, soft, brown and sweet. About 10-15 minutes.

Put maple syrup into a pan with the thyme and bring to a boil.

Boil until syrup is reduced by half.

Place roasted sweet potatoets, bacon and onions into a bowl and cover with syrup mixture.

Stir to coat.

Enjoy!
Get my Weekly Menu Plan for FREE!
Receive my FREE "What's for Dinner?" Meal Planning Course, a copy of my FREE ebook that includes my most popular recipes and my FREE weekly Meal Plan.