I am always looking for an excuse to make Malted Milk Ball Ice Cream. Delicious and creamy, with the perfect malted ice cream flavor.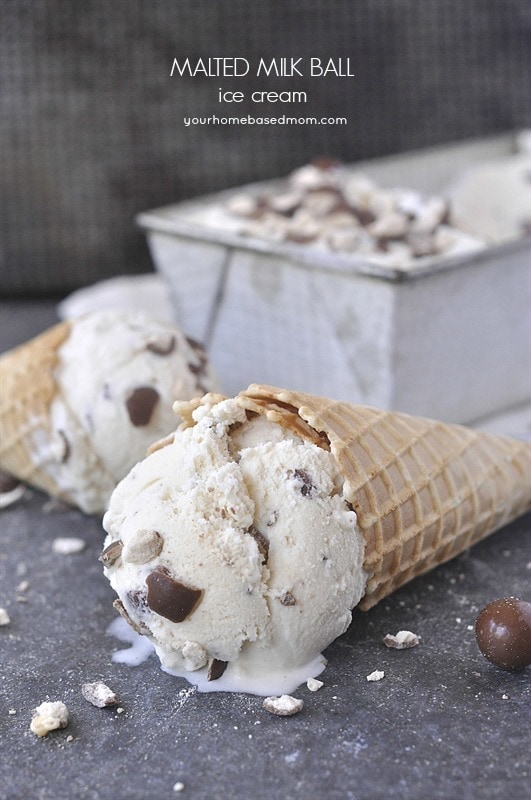 We are an ice cream loving family.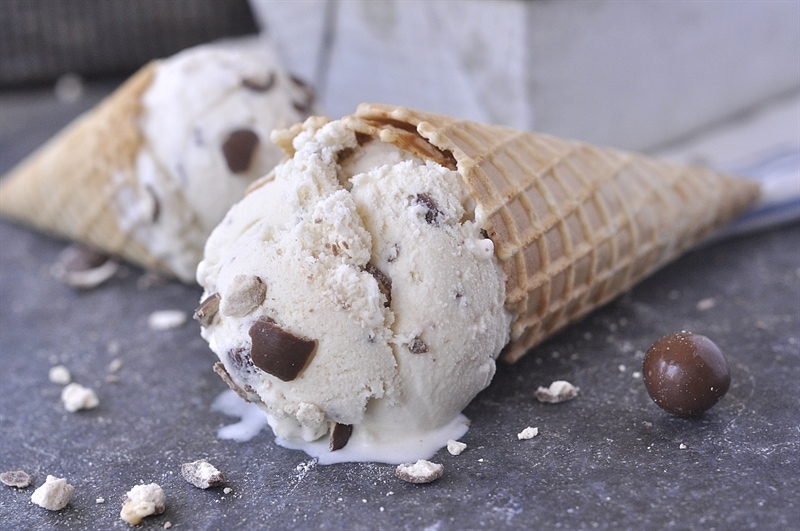 Growing up there was always a freezer FULL of ice cream, in fact at one time we had a freezer in the garage totally dedicated to ice cream. That was the year my sister worked at Baskin Robbins and they let them bring home all their mistakes – fortunately she made a lot of mistakes!
Monday night I dug out the countertop Cuisinart ice cream maker to celebrate the arrival of summer and to make treats for family night (a regular Monday night occurrence at our house). We had a short lesson and an activity which was weeding the vegetable garden for 30 minutes. Believe me the kids were thrilled!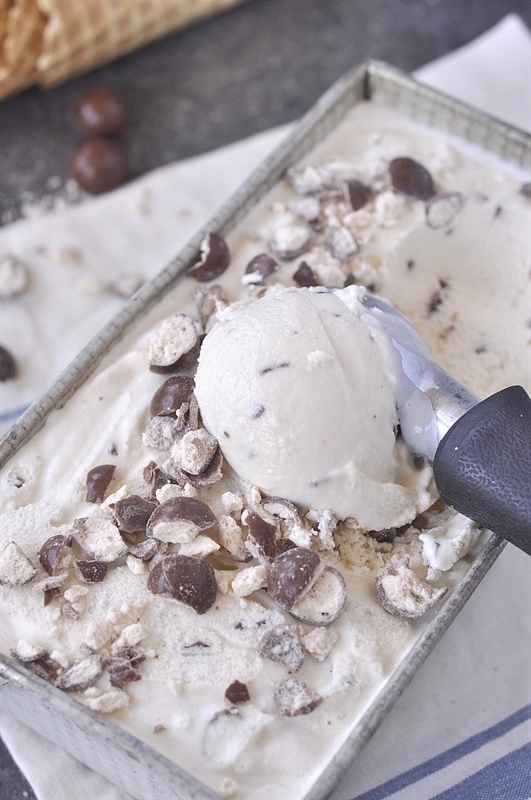 The best part of family night though is the treats! I was in charge this week.
I have been on a malted milk ball kick recently.
My favorite treat has been a bowl of Haagen Daz vanilla ice cream with crushed up Whoppers on top – yum! So I decided to combine the two and make this ice cream. I used my basic vanilla ice cream recipe and my 2 qt. Cuisinart Ice Cream Maker and went from there. Adding in Whoppers and malted milk powder. Put it on top of a waffle cone and yum!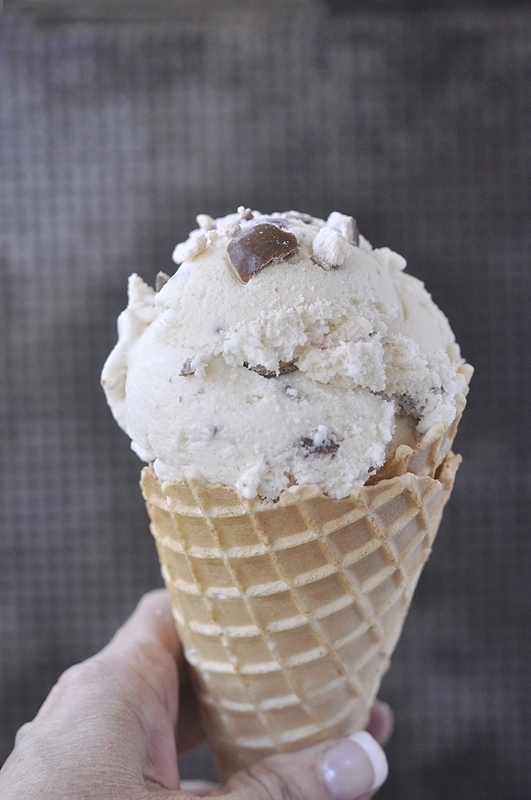 I like my ice cream a little harder so I put the container full of ice cream into the freezer for a while for it to firm up after the machine shuts off.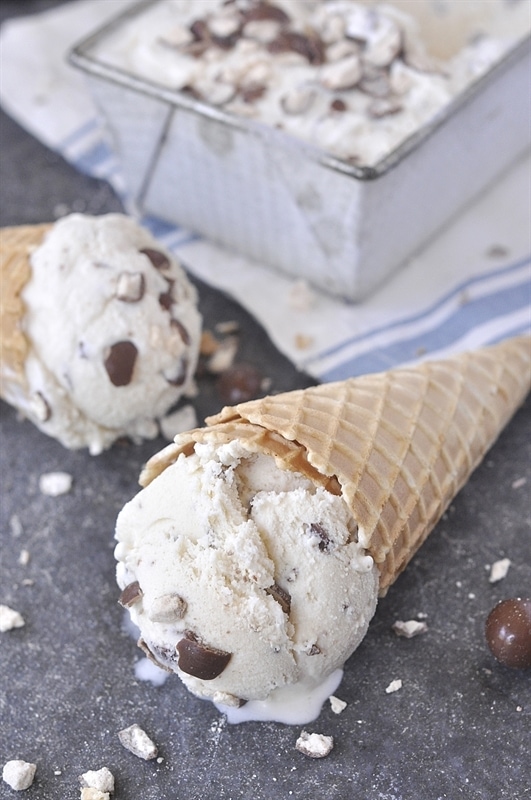 So if you don't have an ice cream maker but want to give my Malted Milk Ball Ice Cream a try just buy yourself a pint of Haagen Daz vanilla and crush up a few Whoppers and you are good to go! It won't be quite as "malty" but it's a close second. But you really should get yourself an ice cream maker. This is my favorite one and the one I use.
Check out more of my favorite malt recipes: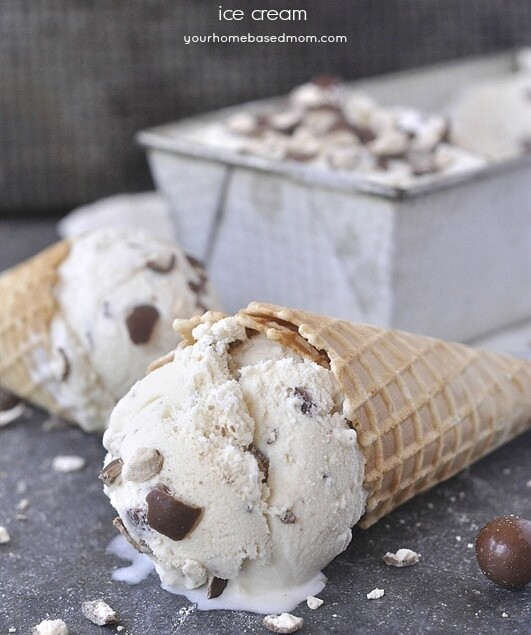 Malted Milk Ball Ice Cream
Creamy ice cream with the delicious flavor of malted milk balls. It will soon be a family favorite!
Ingredients
1 1/2 C whole milk
1 1/4 C sugar
1/4 tsp salt
1 1/2 C half and half
1 Tbsp vanilla
2 C whipping cream
1/2 C malted milk powder
1 C of crushed malted milk balls more to garnish the top with
Instructions
Mix together all the ingredients except for the crushed malted milk balls and put into ice cream freezer

Once it has thickened  but before it is finished  pour in the crushed malted milk balls

Makes 1 quart
Nutrition Facts:
Calories: 300kcal (15%) Carbohydrates: 28g (9%) Protein: 3g (6%) Fat: 19g (29%) Saturated Fat: 12g (75%) Cholesterol: 69mg (23%) Sodium: 110mg (5%) Potassium: 148mg (4%) Sugar: 25g (28%) Vitamin A: 750IU (15%) Vitamin C: 0.7mg (1%) Calcium: 108mg (11%) Iron: 0.1mg (1%)
* Disclaimer: All nutrition information are estimates only. Read full disclosure here.