Everyone loves cake balls. They are as fun to eat as they are to make.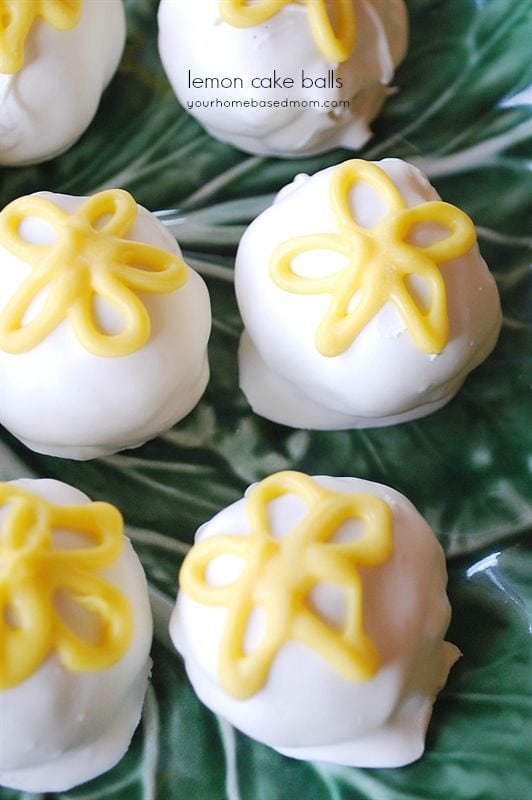 A delicious bite of cake covered in chocolate, cake balls can be made with any flavor of cake mix. of course I chose lemon! 
How to Make Cake Balls
Your first step is to select your cake flavor and a can of frosting to go with it – I used lemon and lemon!
Making cake balls is more like a craft project than a cooking project.
You start by baking your cake according to the directions and letting it cool.
After it is cool I cut it into fourths and crumbled it all into a bowl.
After it is crumbled add in 2/3 of the container of frosting. If it isn't quite moist enough add a little more frosting but you don't want them to be too moist and mushy!
Mix the frosting and the cake crumbs together using a fork until well blended. You should not see any of the frosting.
Using a cookie scoop form balls of cake dough. Place on cookie sheet.
Freeze cake balls for at least an hour. They need to be firm when you dip them in the chocolate or you will have a mess.
The next part is the fun part and the messy part -coating the cake balls.
I used white almond bark and yellow "melts" to go with my lemon theme.
I used my Pampered Chef vegetable steamer to melt my almond bark in the microwave but you can also use a double boiler.
You can place your cake ball on a fork and dip into the melted chocolate
I preferred placing the ball on the end of a lollipop stick and dipping it that way. When you remove it off the stick you will have to do a little patch work and fill in the hole left by the stick with some chocolate.
After all the cake balls are dipped let the chocolate harden – it won't take long.
My dipping skills could use a little work!
I then put my yellow "melts" right into a squeeze bottle and placed it in the microwave to melt the "melts!"
Using the squeeze bottle I decorated the tops of my cake balls with little yellow flowers – aren't they cute!
They looked better on a pretty plate.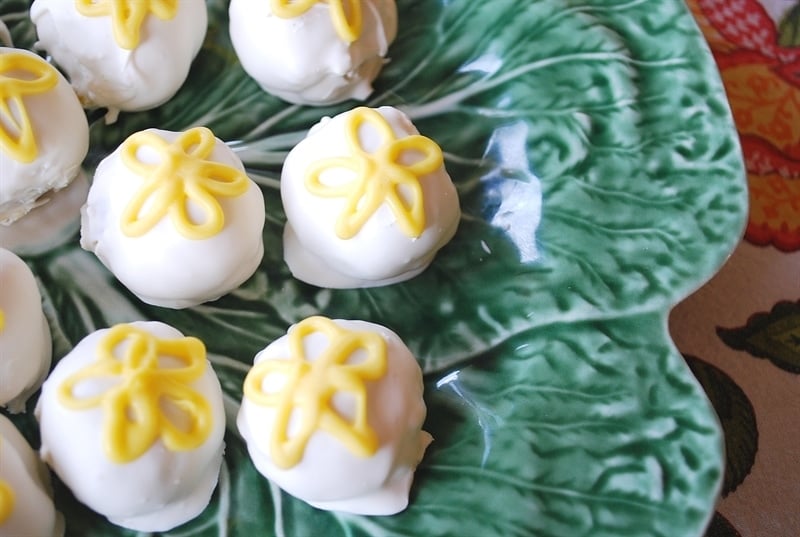 You can get creative with your cake balls – what flavor combination of cake and frosting will you use?? Leave a comment and let me know!