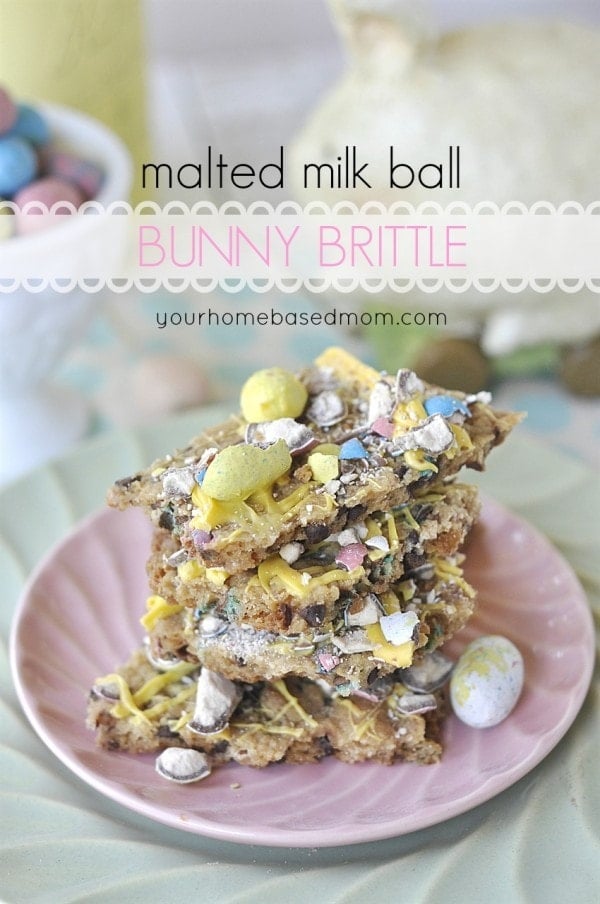 It's the tenth of the month and that means it's time for another fun Blog Hop with 9 of my favorite bloggers.  Our theme for this month is Bunnies and I hope you are as excited to see what everyone came up with as I am!
Ah, spring is in the air and what's more springy than sweet bunnies? Get your pin fingers ready and take a looksie at these 10 bunny themed projects then read on for my full tutorial how to create your own Malted  Milk Ball Bunny Brittle.
I decided to create a little bunny treat.  I am a huge malted milk ball fan and one of my favorite Easter candy's (besides Peeps) are those yummy malted milk ball eggs.  I am also a big fan of throwing malted milk powder into my baked goods so I decided to combine the two in some yummy bunny brittle.  Bunny brittle is a yummy and addictive thin and crispy version of a cookie.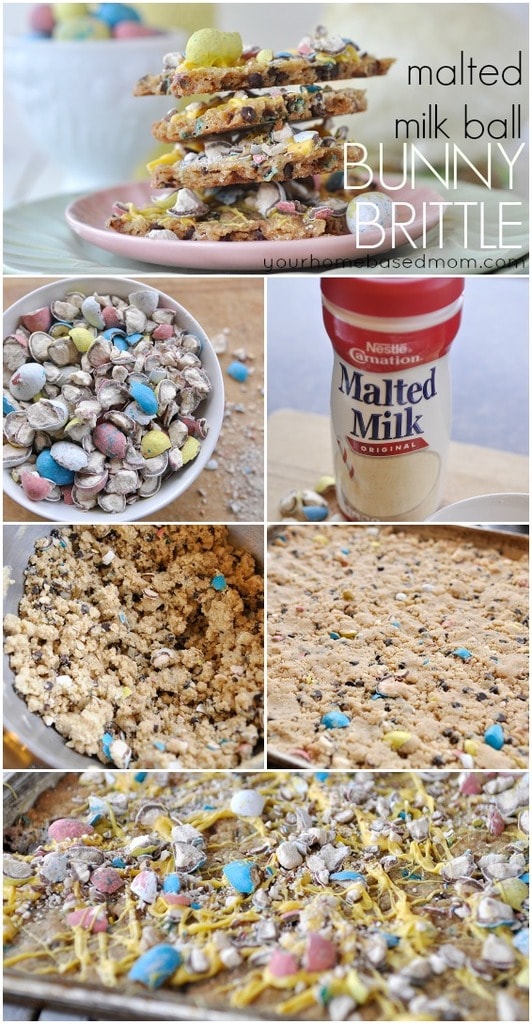 I love this stuff and it always disappears quickly when I take it to a party.  I have several other versions of it on the blog too that are just as yummy!  Here, here and here !The dough is similar to a shortbread (there are no eggs).  I added in malted milk powder, mini chocolate chips and crushed up malted milk ball eggs.  Of course if it is not Easter time and the eggs aren't available in the stores just use regular malted milk balls!
The dough may seem a little dry initially but just keep mixing it until the dough comes together. Bake it until it is golden brown, you want them to be crispy and crunchy.  I discovered that the malted milk version doesn't get quite a crispy as some of the others I make due to the malted milk balls melting in the dough but it is still just as delicious,  just a little chewier.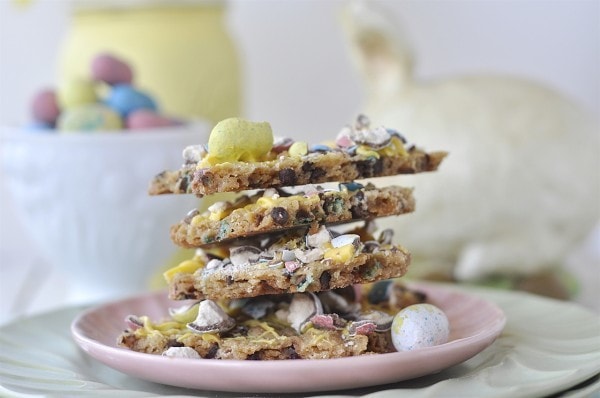 After the brittle cooled I drizzled it with some yellow Wilton  Melts and then sprinkled a cup of crushed malted milk ball eggs over the top.
Be sure and sprinkle the malted milk ball eggs over the areas where the chocolate is drizzled.  The chocolate provides the glue for the  malted milk ball eggs.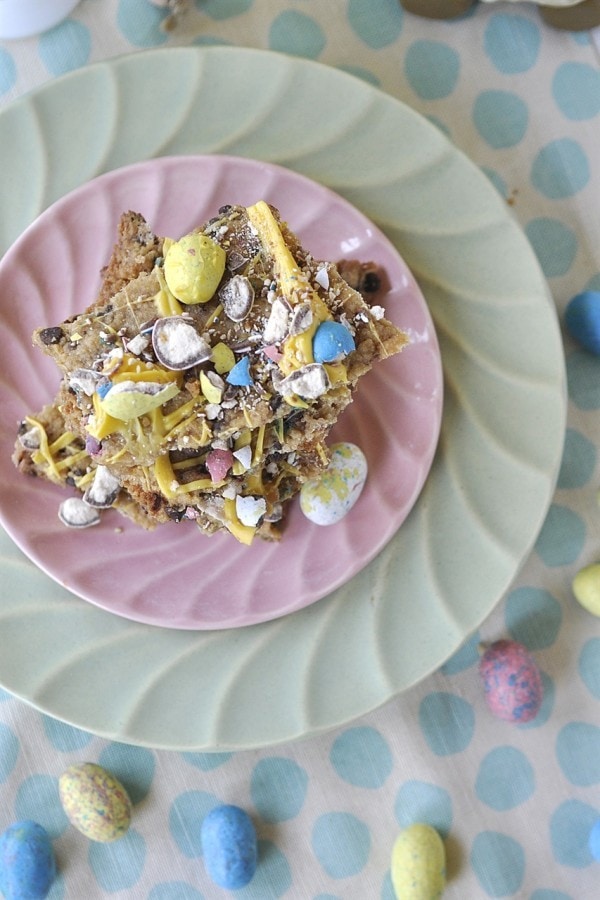 What bunny could resist a piece of Malted Milk Ball Bunny Brittle?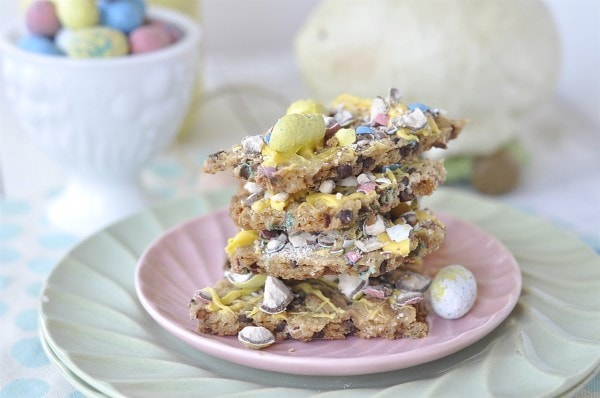 For other fun Easter treats check out these:
Easter Oreos – Peeps on a Stick  – Bunny Cookie Bark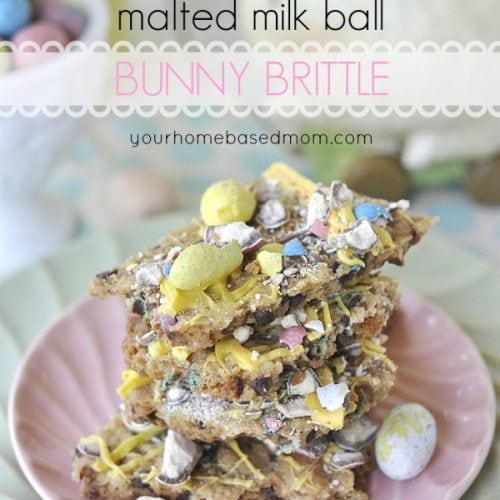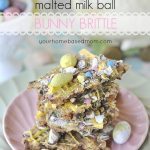 Print
Malted Milk Ball Bunny Brittle
Ingredients
1

C

butter

softened

1

tsp

vanilla extract

1/2

C

sugar

1/2

C

brown sugar

2

C

flour

1/2

C

malt powder

1/4

tsp

salt

1

C

mini chocolate chips

1

C

malted milk ball eggs

smashed

2

oz.

white chocolate

melted to drizzle

1/2

C

malted milk ball to sprinkle on top
Instructions
Mix together butter, vanilla, salt and sugars and beat until blended.

Add in flour and chocolate chips and 1 C crushed malted milk balls.

Press into an ungreased 15 x 10 jelly roll style cookie sheet. Bake at 375 for 15-20 minutes or until golden brown and crisp.

Cool.

If it is not crisp enough return the oven for another 5 minutes.

Drizzle with 2 oz. of white chocolate and sprinkle with 1/2 C chopped malted milk balls

After cool and chocolate is set, break into pieces.
Enjoy!
Leigh Anne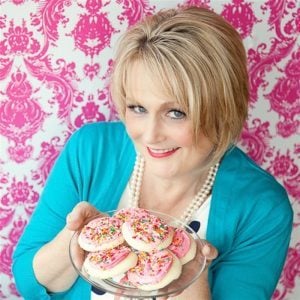 You can also visit me on Facebook, Pinterest, Twitter or Instagram.
Get my Weekly Menu Plan for FREE!
Receive my FREE "What's for Dinner?" Meal Planning Course, a copy of my FREE ebook that includes my most popular recipes and my FREE weekly Meal Plan.