This Greek Quinoa Salad combines all my favorite flavors and ingredients with the extra bonus of quinoa.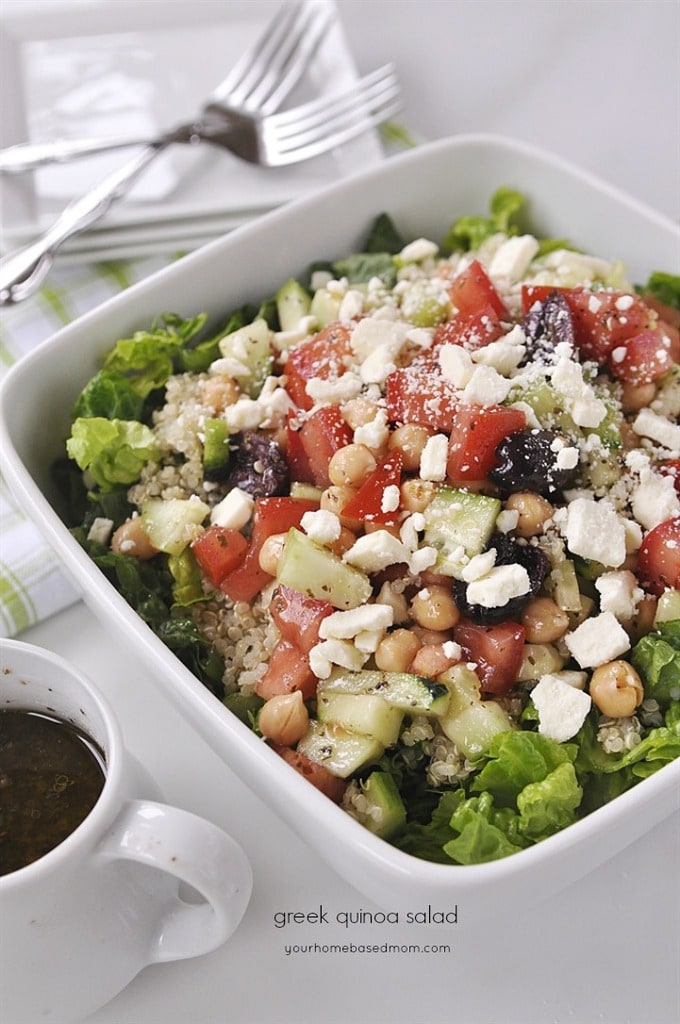 I made this salad twice in the past week.  I love a good Greek salad and I love quinoa so combining the two was pretty brillant I thought.  We've been enjoying summer like temperatures here in Portland and this salad is the perfect summer salad.  We had friends over for dinner last weekend so we grilled a tri tip, had some roasted carrots, homemade no knead bread and this delicious Greek Quinoa Salad. Pretty much a perfect summer dining experience.  Good friends, good food and good conversation.  After dinner we enjoyed a fun game of Five Crowns, one of our family's favorite card games.
The salad was so good I couldn't wait to make it again on Sunday to go along with the steaks we were grilling for dinner.  This salad is a combination of fresh tomato, cucumber, garbanzo beans, kalamata olives and feta cheese over a bed of romaine lettuce and quinoa.  It is great because not only do you get your veggies but you get protein too with the garbanzo beans and quinoa.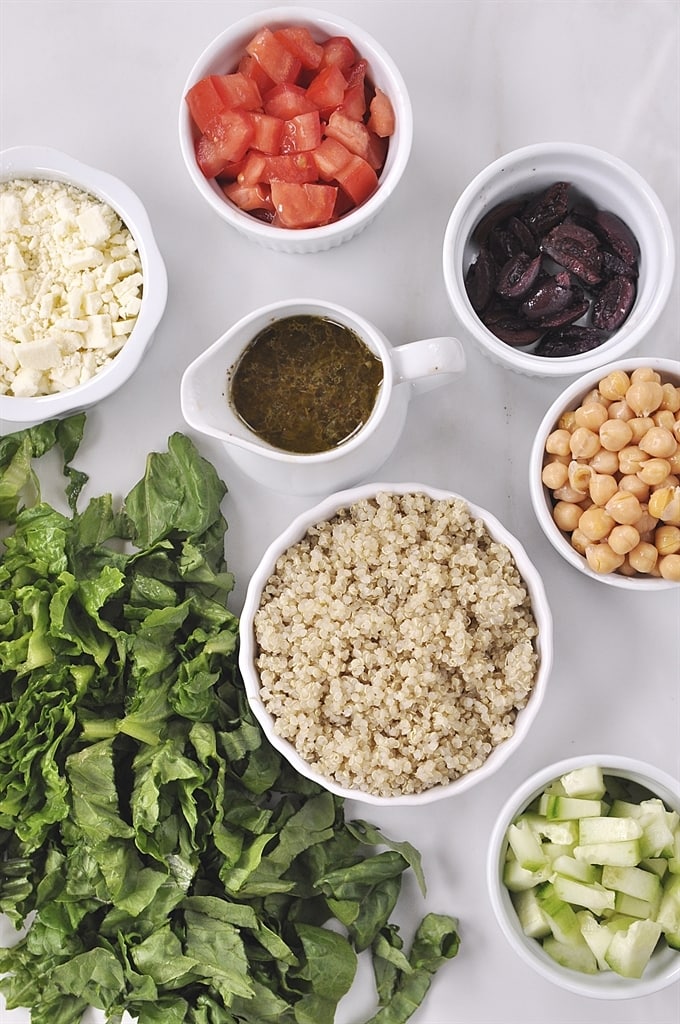 I made a yummy Greek salad dressing to go with it and then marinated the veggies in a few tablespoons of the dressing to start with.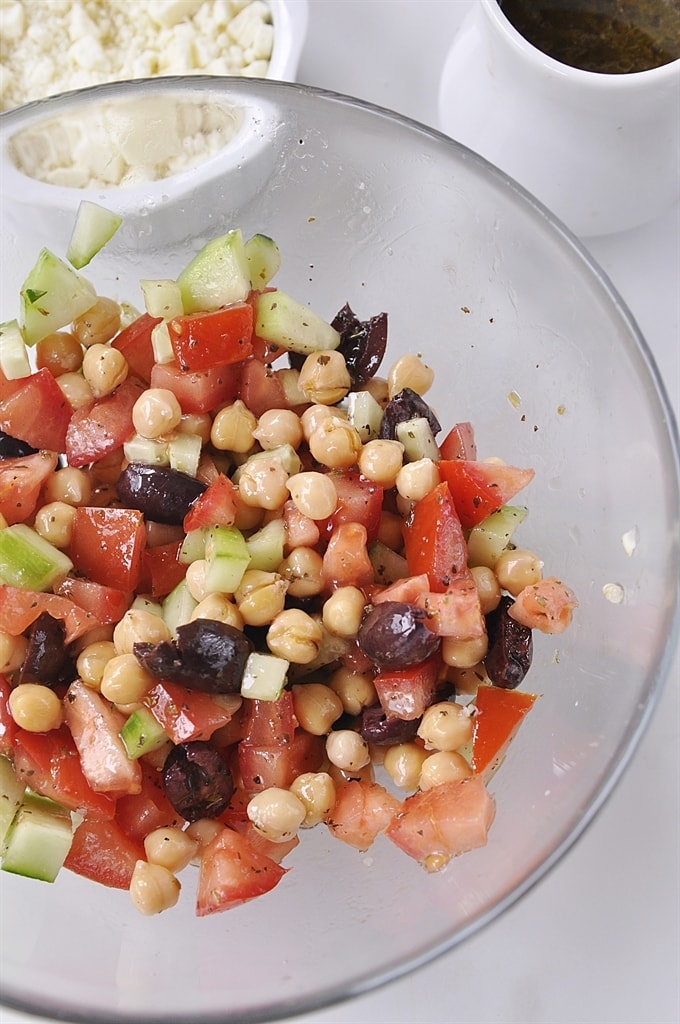 I then put a layer of romaine lettuce in the bowl, topped it with quinoa and then added the veggie mixture and a sprinkling of feta on top.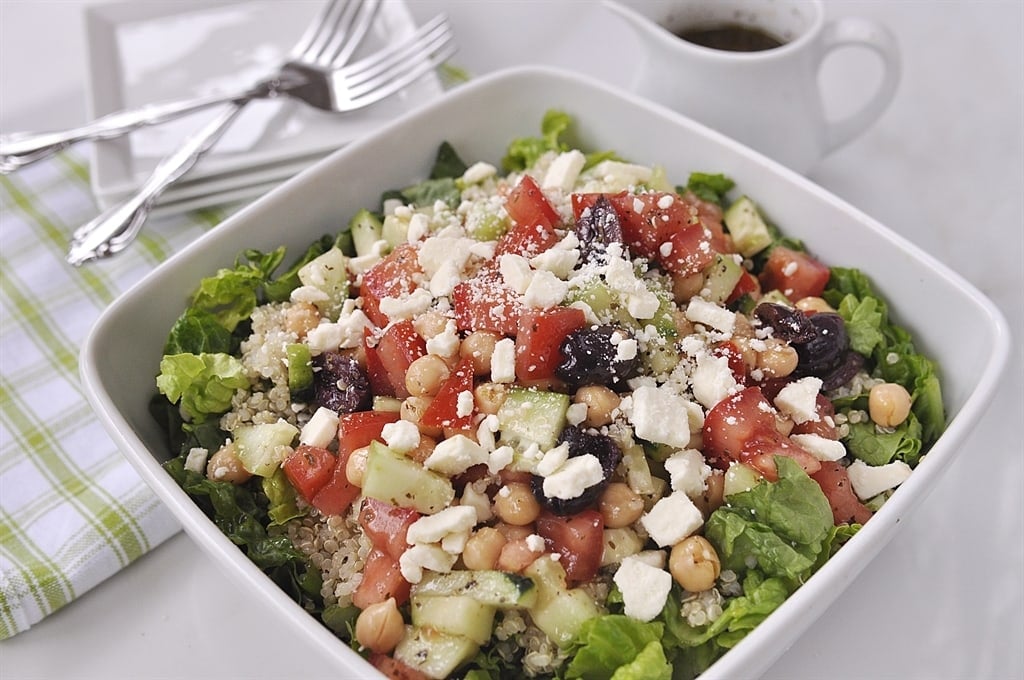 Then I dressed it with the homemade Greek salad dressing.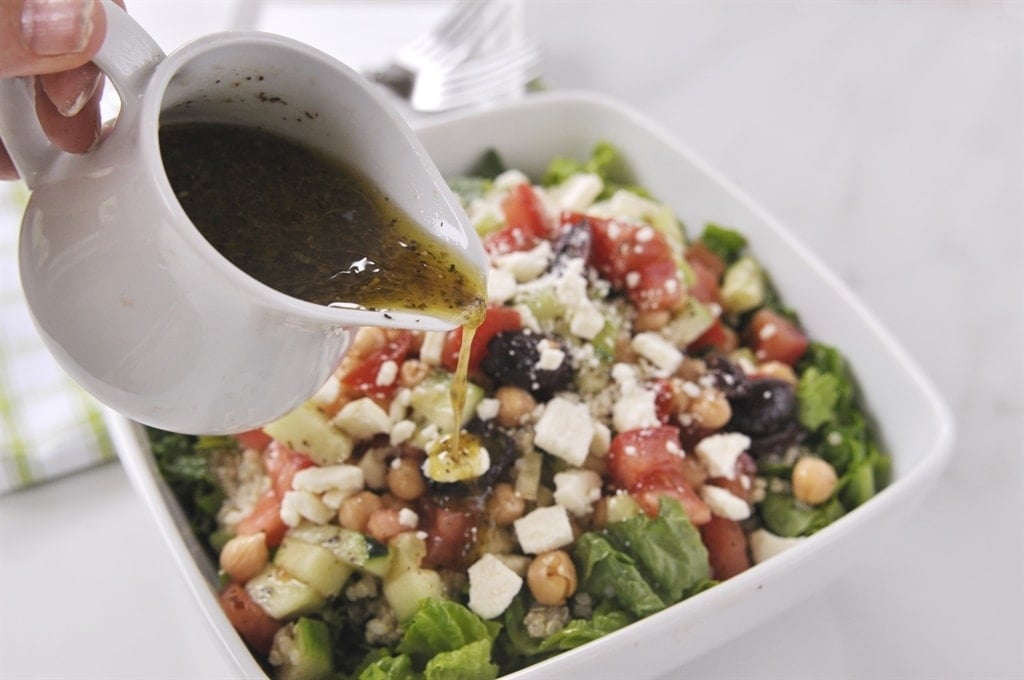 Just give the salad a nice toss and enjoy!  It is the perfect side dish to any meal.  I can't wait to make it again!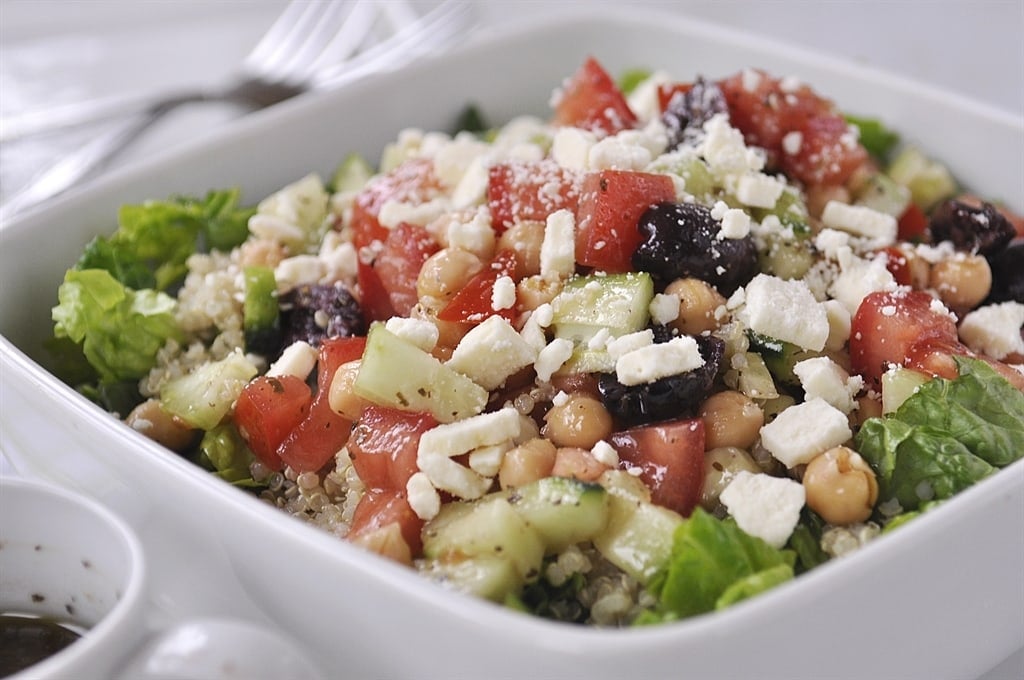 Greek Quinoa Salad Recipe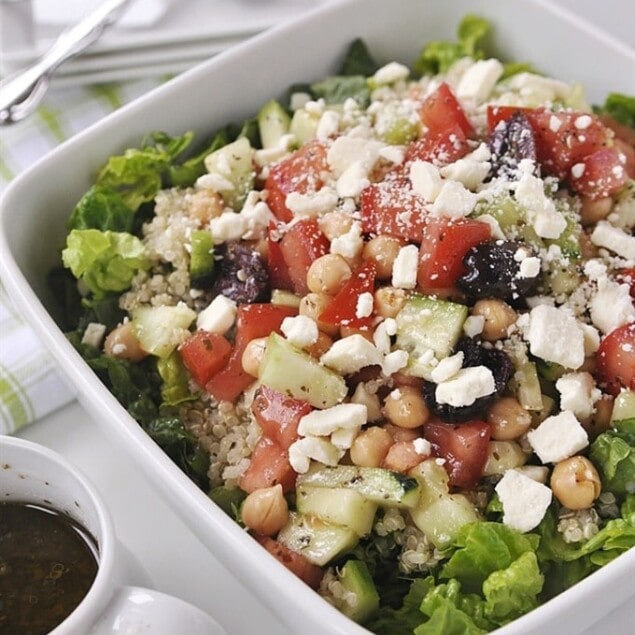 Greek Quinoa Salad
Delicious greek salad with the extra protein from quinoa. A perfect healthy meal for a busy night.
Ingredients
2 C quinoa cooked
1 C garbanzo beans drained and rinsed
1/2 cucumber chopped
2 roma tomatoes chopped
1/3 C kalamata olives pitted and halved
1 head romaine lettuce chopped
1/2 C feta cheese crumbled
Greek Salad Dressing (this makes more than you will need but you will be glad!)
3/4 C olive oil
1 C red wine vinegar
2 tsp garlic salt
2 tsp oregano
2 tsp basil dried
1 tsp pepper
1 1/2 tsp onion powder
1 1/2 tsp yellow mustard
Instructions
Combine garbanzo beans, cucumber, tomato and olives in a bowl and add 2 Tablespoons salad dressing. Stir to coat and let sit for 10 minutes.

Place lettuce in bowl

Top with cooked quinoa

Add vegetable mixture

Add dressing

Top with feta cheese
Salad Dressing
Combine all ingredients and refrigerate until ready to use
Nutrition Facts:
Calories: 575kcal (29%) Carbohydrates: 48g (16%) Protein: 13g (26%) Fat: 37g (57%) Saturated Fat: 7g (44%) Cholesterol: 11mg (4%) Sodium: 1277mg (56%) Potassium: 520mg (15%) Fiber: 8g (33%) Sugar: 3g (3%) Vitamin A: 328IU (7%) Vitamin C: 4mg (5%) Calcium: 129mg (13%) Iron: 4mg (22%)
* Disclaimer: All nutrition information are estimates only. Read full disclosure here.