We have a favorite little local pasta place near us that we love to go to and we frequent it for date night often. Everything they make is delicious but my favorite thing on their menu is their Garlic Cheesy Bread. The best part is, since Jim has gone gluten free and dairy free, I no longer have to share it with him. I get the whole thing to myself. I decided that I needed to figure out how to make it at home so when Panasonic sent me this cute little toaster oven with double infrared heating to check out I knew that the Garlic Cheesy bread would be the perfect thing to make in it.
First the toaster oven. I love this little thing. It can do amazing things from heating up leftovers to actually baking!  One of my biggest frustrations in my kitchen is my lack of oven space.  This little toaster oven will help alleviate that problem.  It is perfect for not only making your garlic cheesy bread but for cooking a veggie, a potato, or heating up whatever leftovers you might have.  You can cook frozen pizza in it, make toast and cook a frozen waffle.  On a hot summer day you won't have to turn the oven on either and heat up the whole house.  It heats up 40% faster than conventional toaster ovens. I'm not sure what kind of cheese my favorite little restaurant uses in their cheesy bread but I decided to go with cheddar, mozzarella and parmesan. I combined this with some butter and fresh chopped garlic.
Mix the butter, the cheeses and the chopped garlic together in a bowl.
And then spread it on your sliced baguette.
I then popped it into my cute little toaster oven at 375 degrees  for about 5-7 minutes.  Just watch it so it doesn't burn.
The toaster oven has a great little light feature so you can easily see right into the toaster oven.
Then slice up your bread and it's ready to enjoy!
 The beauty of the toaster oven is it doesn't have to be preheated.  Just turn it on and it is ready to go.  The settings are easy to use and all you have to do to make a piece of toast is push a button.  It automatically calculates the cooking time for you.  It will heat up to 500 degrees and has a digital timer.  So easy to use.
Be sure and check out #InaFlash and @HomePanasonic. This post was sponsored by Panasonic but all opinions are my own. Now for the best part!  Panasonic is also hosting a giveaway today. Giveaway: *Panasonic  FlashXpress Toaster Ovens Enter through Rafflecopter
Garlic Cheesy Bread & Giveaway
Ingredients
1

baguette

cut in half horizontally

1/2

C

butter

softened

3

cloves

garlic

minced

3/4

C

shredded cheese

I used 1/4 cheddar, 1/4 mozzarella and 1/4 Parmesan cheese

pinch

of salt
Instructions
Mix together butter, garlic and cheese until combined.

Spread a layer on both sides of baguette halves.

Place in oven or toaster.

In a regular oven put under broiler and bake until cheese is melted and bubbly. Watch carefully.

In toaster oven turn heat to 375 and bake until cheese is melted and bubbly - 5-7 minutes. Watch carefully
Enjoy!
Leigh Anne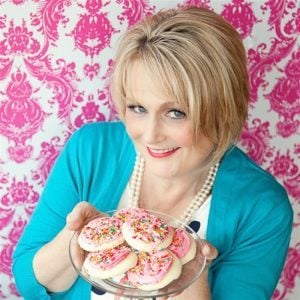 You can also visit me on Facebook, Pinterest, Twitter or Instagram.
Get my Weekly Menu Plan for FREE!
Receive my FREE "What's for Dinner?" Meal Planning Course, a copy of my FREE ebook that includes my most popular recipes and my FREE weekly Meal Plan.