Need to make cinnamon rolls for a crowd? This recipe for Big Batch Cinnamon Rolls is for you!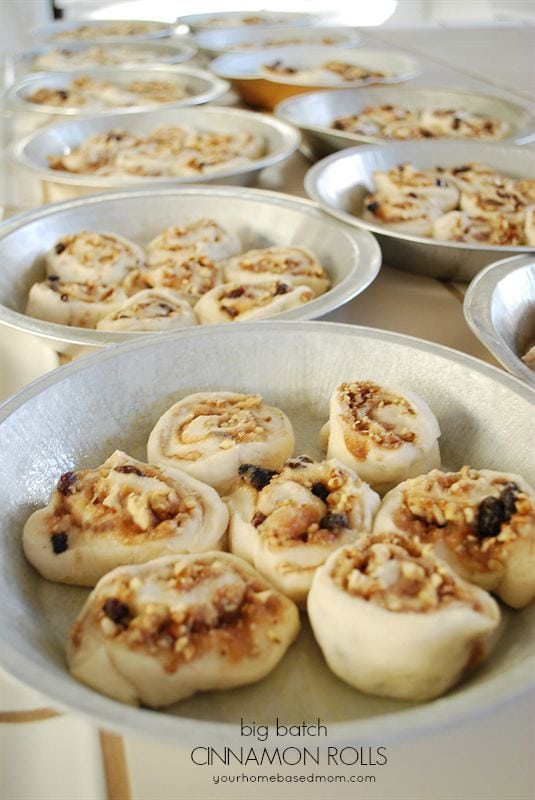 Last week I shared with you the pretty picture up above.  It is a picture I took at my neighbor Carmen's house.  This is Carmen's beautiful work!!
Not only is it a pretty picture but  it makes me drool just thinking about how yummy they are going to be and how good they will smell!  Because Carmen shared some with us I know for a fact that they were yummy!
I received quite a few emails and comments wanting more information about the rolls, the recipe and how my  neighbor ships them so I have details for you today!
We have been blessed with wonderful neighbors.  Just a few houses down live Rod and Carmen.  They are retired empty nesters.  Rod is my husband's early morning racquet ball partner and at the age of 70 beats my husband quite often!!  They are also wonderful grandparents who spend a lot of time loving and supporting their children and grandchildren.
One of the ways Carmen shows her love is by making a big batch of cinnamon rolls.  Not all of her children live here locally so in order to share she has to mail them – yes, she mails cinnamon rolls.  Seeing as I too have the majority of my children living away from home right now I was intrigued by the whole idea!
The recipe Carmen uses makes 8 pans of cinnamon rolls!!  After mixing them up and rolling them out Carmen lets them rise and then bakes them.    It looks like she and Rod have been eating  alot of Marie Callendar pies with all those pie tins she has!  You could also use the disposable ones.
After the rolls have baked and are cool she covers them in foil and places them in a large Ziploc bag and freezes them.  After they are frozen they are quickly taken to the post office and mailed off via Priority Mail.  They arrive at her children and grand children's homes ready to be warmed up and the glaze put on!  The glaze is also sent in a Ziploc bag.  Don't forget to include the directions for reheating and glazing which are at the end of the recipe.
Wouldn't you love to receive a box of fresh baked cinnamon rolls just ready to be warmed up and enjoyed!!
I happen to personally know 3 college kids who would love to receive a box full of fresh cinnamon rolls from their mother – right kids?!!
Here's the recipe Carmen uses.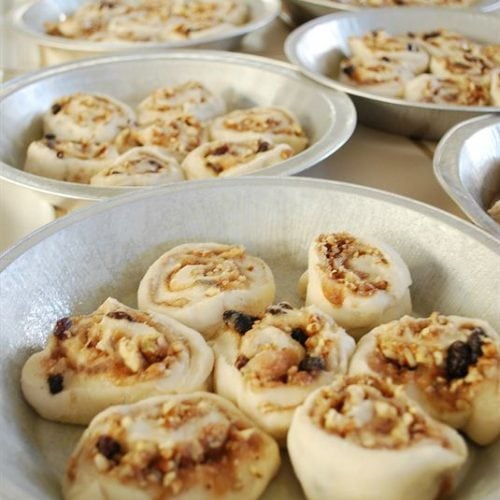 Print
Big Batch Cinnamon Rolls
The perfect recipe for making a large batch of cinnamon rolls.
Servings
54
cinnamon rolls
Ingredients
2

packages dry yeast

4

C

warm water

105 to 115 degrees

1

C

instant nonfat dry milk powder

1

C

sugar

1

C

vegetable oil

1

Tbsp

salt

2

tsp

baking powder

1

tsp

baking soda

11-12

C

all purpose flour

melted butter
Cinnamon Roll filling:
2

C

sugar

1-2

Tbsp

ground cinnamon

1

C

butter

melted

4 1/2

C

powdered sugar

1/3-1/2

C

orange juice
Instructions
Dissolve yeast in warm water in a large mixing bowl; let stand 5 minutes

Add dry milk and next 5 ingredients; beat at medium speed until well mixed

Gradually stir in enough flour to make a very soft dough

Place dough in a well greased bowl, turning once to grease top

Cover and refrigerate at least 4 hours or overnight

Punch dough down; divide dough into 4 portions

Working with one portion of dough at a time, turn dough out onto lightly floured surface; knead until smooth and elastic, adding extra flour, if necessary

Roll dough into a 14 x 9 inch rectangle

Combine 2 C sugar, cinnamon and butter, mixing well

Spread one fourth of cinnamon mixture on dough

Roll dough jellyroll fashion, starting at long side

Pinch seam to seal (do not seal ends)

Cut roll into 14, 1 inch slices; (I use thread or dental floss to do this, wrapping the thread around the roll of dough and then using the thread to cut through the dough) place rolls in 2 greased 9 inch round cake pans (pie pans), with 7 rolls in each pan

Repeat process with remaining 3 portions of dough

Cover and let rise in a warm place (85 degrees) free from drafts, 40 minutes or until doubled in bulk.

Bake at 375 for 13 to 15 minutes

Cool on wire racks

Combine powdered sugar and orange juice, stirring until smooth

Drizzle or pipe glaze over warm rolls

Yield - about 4 1/2 dozen
Note:To freeze
Prepare and bake rolls as directed; let cool.

Omit glaze

Wrap in foil; freeze

To serve let rolls thaw, and bake in foil at 375 for 5-10 minutes

Drizzle with glaze
Nutrition
Calories:
249
kcal
|
Carbohydrates:
42
g
|
Protein:
4
g
|
Fat:
8
g
|
Saturated Fat:
6
g
|
Cholesterol:
10
mg
|
Sodium:
197
mg
|
Potassium:
93
mg
|
Fiber:
1
g
|
Sugar:
22
g
|
Vitamin A:
160
IU
|
Vitamin C:
1
mg
|
Calcium:
45
mg
|
Iron:
1
mg