The addition of mashed potatoes to these Amish Cinnamon Rolls makes for a soft and light roll and the caramel frosting is perfection.
It's that time of year again at our house and here on the blog. You can pretty much count on me posting a new cinnamon roll recipe twice a year, in April and in October (or almost October) I've talked about this family tradition here on the blog before, just about every April and October when our church broadcasts it's annual General Conference on TV and we stay home in our jammies and watch church on TV and eat cinnamon rolls.
Be sure and scroll down below to see a roundup of all the yummy cinnamon roll recipes I've shared over the years – there's a lot of them!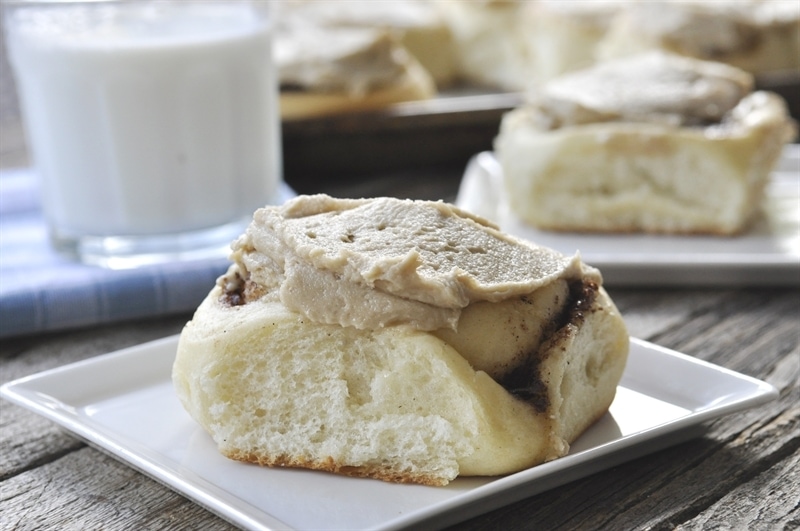 Today's recipe is for Amish Cinnamon Rolls. If you have ever been to Amish country you will have learned one thing, the Amish can cook! When you visit, be sure and visit an Amish restaurant. All the food is served family style and there is a lot of it, and I mean ALOT! My teenage boys thought they had died and gone to heaven. One thing you can count on there being is mashed potatoes.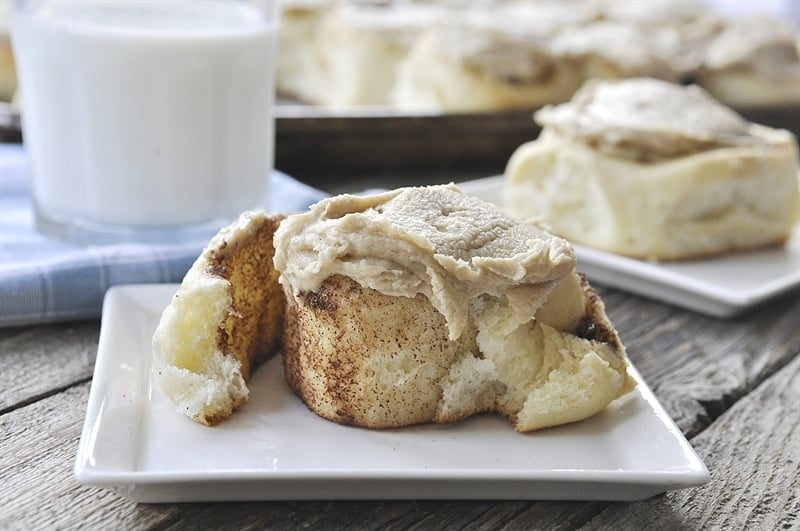 Leftover mashed potatotes are the secret to these delicious cinnamon rolls. The addition to potatoes to bread makes for a very soft, light texture. When I decided to make these cinnamon rolls I only had one problem. I didn't have any leftover mashed potatoes. So I decided I would make some mashed potatoes so I could try the recipe but I had another problem, I don't make mashed potatoes. I know, a food blogger that doesn't make mashed potatoes. Crazy! For those of you who have been reading my blog for a while you know I don't eat potatoes, specifically mashed potatoes (I have texture issues) but my husband and my kids love mashed potatoes so if we have mashed potatoes at our house it is because my husband makes them. He is the mashed potato maker and he wasn't home so I decided I better figure out how to make them. Fortunately for me, they aren't too hard.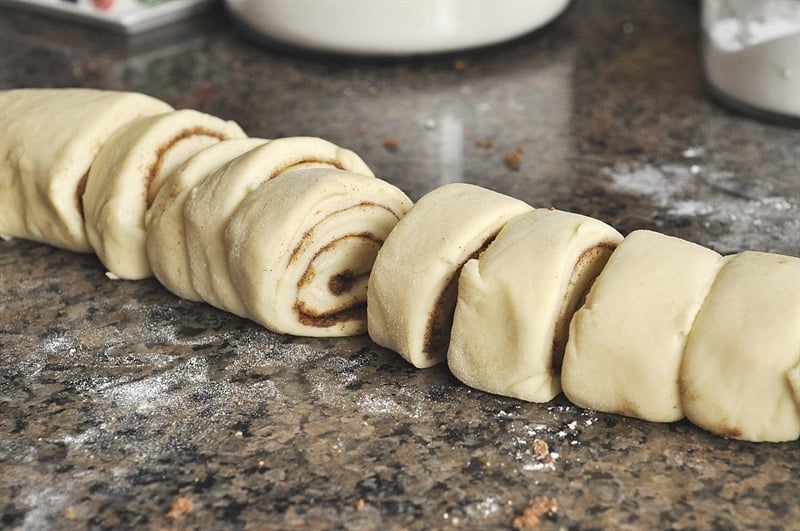 When my husband came home and saw that I had made mashed potatoes he was pretty shocked! The fact that they tasted pretty good was even more of a shock I think!! Thanks to the mashed potatoes the dough is so soft! The recipe makes 24 good size rolls so it fills a large baking sheet. If you have questions about working with yeast check out this blog post I did.
After you bake them let them cook a bit before putting on the frosting.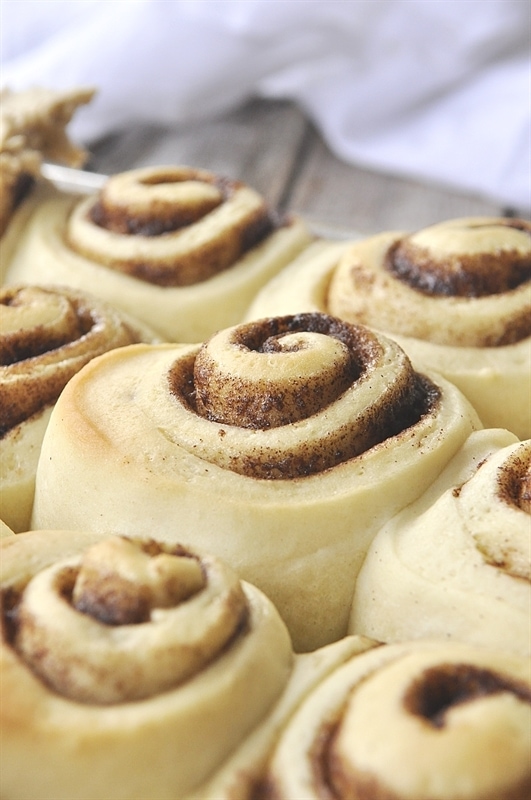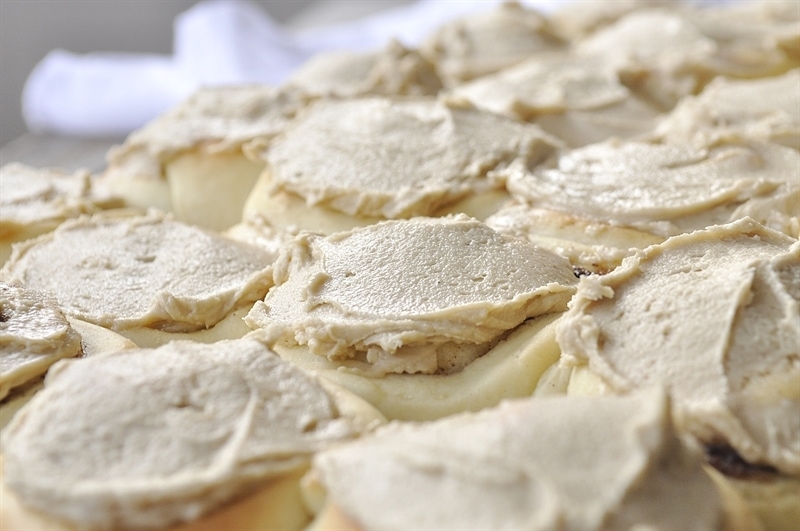 The frosting on these babies is AMAZING!! You should make these rolls just so you can enjoy this delicious caramel frosting. I love caramel frosting (remember that caramel cake I shared a while back!?) Slather that frosting on!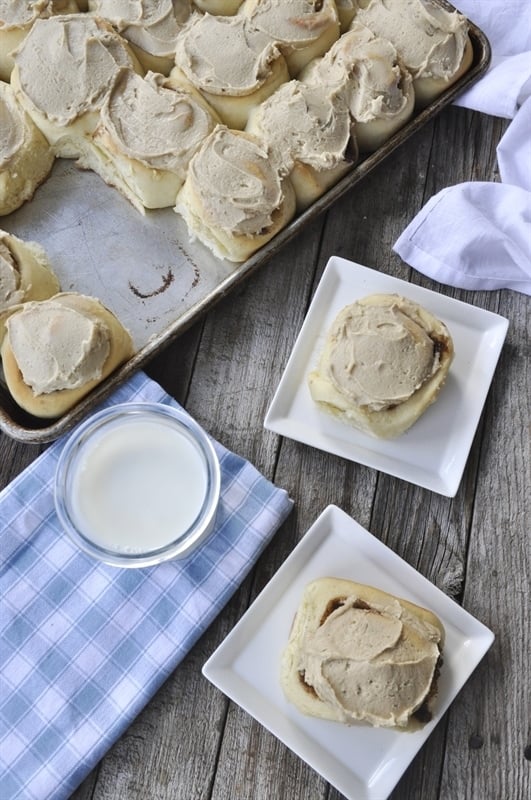 My one cinnamon roll rule went out the window with these babies so I quickly packaged some up to share with the neighbors so I didn't consume the entire pan.  My neighbors are always so grateful when I share treats with them but they are really doing me a favor and saving me from eating them all!  
Check out more of my other favorite cinnamon roll recipes: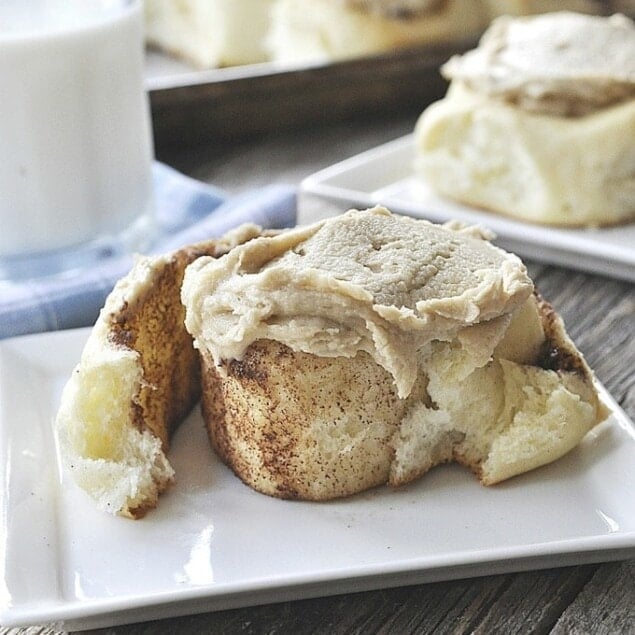 Amish Cinnamon Rolls with Caramel Frosting
Amish cinnamon rolls are made with powdered milk and mashed potatoes for a soft texture and frosted with caramel frosting.
Ingredients
1/2 cup mashed potatoes
3 Tbsp powdered milk
2 Tbsp active dry yeast
1/2 cup sugar
2 tsp salt
1 1/2 cups water divided
1/2 cup canola oil
1 egg
3 cups all purpose flour
3 cups bread flour
Filling
4 Tbsp softened butter
3/4 cup brown sugar
1 1/2 Tbsp cinnamon
Frosting
1/2 cup butter
1 cup brown sugar
1/4 tsp salt
1/4 cup milk or whipping cream
1 tsp vanilla
2 1/2 cups powdered sugar
Instructions
Add yeast to 1/2 cup warm water. Stir and let sit for 10 minutes until it bubbles and activates.

In a bowl combine 1 cup all purpose flour, powdered milk, sugar and salt.

Add yeast mixture, oil, egg and remaining water.

Mix to combine.

Add in mashed potatoes

Add in remaining flours, one cup at a time.

Use a dough hook to knead or do by hand. Knead until dough is smooth. It will be tacky but not sticky.

Grease a large bowl and place dough in bowl, flip dough to grease both sides.

Cover with plastic wrap or cloth and allow to rise until double in size, about 1 hour.

After it has doubled, punch down and divide dough in half.

On a floured surface, roll out each piece of dough into a 12 x 8 inch rectangle.

Combine filling ingredients in a bowl and mix until it is spreadable, can warm in the microwave if needed for about 20-30 seconds to soften.

Spread each piece of dough with half of the cinnamon mixture.

Starting at wide end roll dough up tightly. Pinch the seam to seal the dough.

Using a serrated knife or a piece of thread or dental floss to cut each roll of dough into 12 pieces (1 inch each).

Place on a greased baking sheet and cover and allow to rise in a warm, draft free place until double, about 30 minutes.

Bake at 350 degrees F until lightly browned, 15-17 minutes

Remove from oven and allow to cool.

While rolls are baking make frosting.

Melt butter in a pan over low heat.

Add in brown sugar and salt. Cook on low for 2 minutes, stirring constantly.

Add milk. Remove from heat and add vanilla.

Let cool and add powdered sugar, mix until smooth.

Spread over rolls once they are cooled.

Frost with caramel frosting.
Nutrition Facts:
Calories: 347kcal (17%) Carbohydrates: 58g (19%) Protein: 4g (8%) Fat: 11g (17%) Saturated Fat: 4g (25%) Polyunsaturated Fat: 2g Monounsaturated Fat: 5g Trans Fat: 1g Cholesterol: 23mg (8%) Sodium: 283mg (12%) Potassium: 93mg (3%) Fiber: 1g (4%) Sugar: 33g (37%) Vitamin A: 201IU (4%) Vitamin C: 1mg (1%) Calcium: 38mg (4%) Iron: 1mg (6%)
* Disclaimer: All nutrition information are estimates only. Read full disclosure here.