If you love take out Deep Dish Pizza, you need to try this homemade deep dish pizza recipe.  It's easy so easy to make your own at home and the kids can personalize them with their favorite toppings.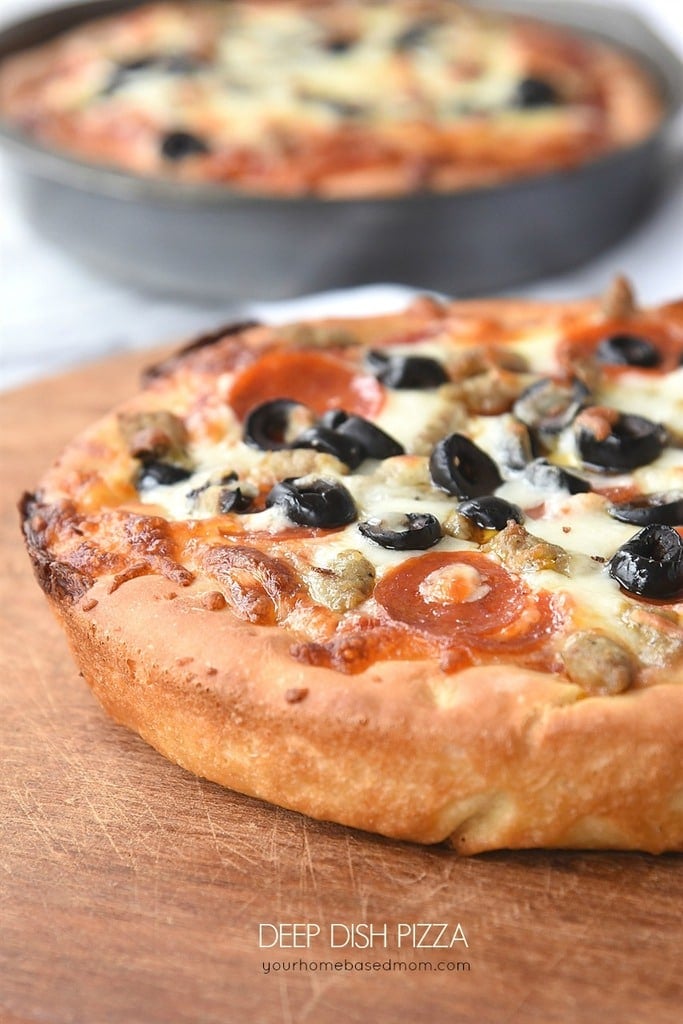 My family had our first taste of deep dish pizza years ago when we went on a trip to Disney World.  We got into town late and we were all starving.  The only restaurant near our hotel that was open was a Pizza Hut.
We ordered a pan pizza, their yummy deep dish pizza, and I remember it being the most delicious thing I had ever eaten.  Now it could have been that I was ABSOLUTELY STARVING and anything would have tasted good, but ever since then I have had an affection for deep dish pizza.
After we got home, I found a recipe for Pizza Hut Deep Dish Pizza online and I knew we had to try it. With a few modifications to the pizza recipe, it was a huge hit!  The entire family loved it and the three pizzas feed us all with some left over.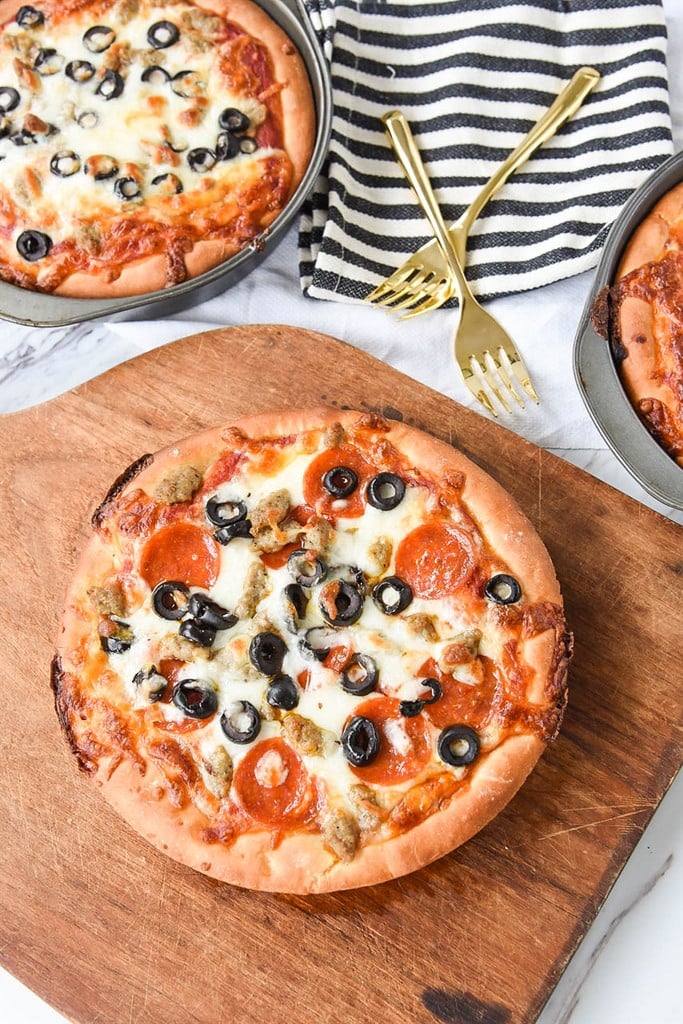 Make Your Own Pizza
The recipe makes three 8 inch pizzas.  You always have to have leftovers when pizza is involved! My favorite topping is sausage and black olive but pepperoni is my husband's favorite. One of the things that makes the crust so yummy is olive oil.  You are going to heavily coat your pan with olive oil and then add the dough.  Don't skimp on the olive oil.  It makes the crust super yummy. Let the dough rise until doubled, about an hour or so.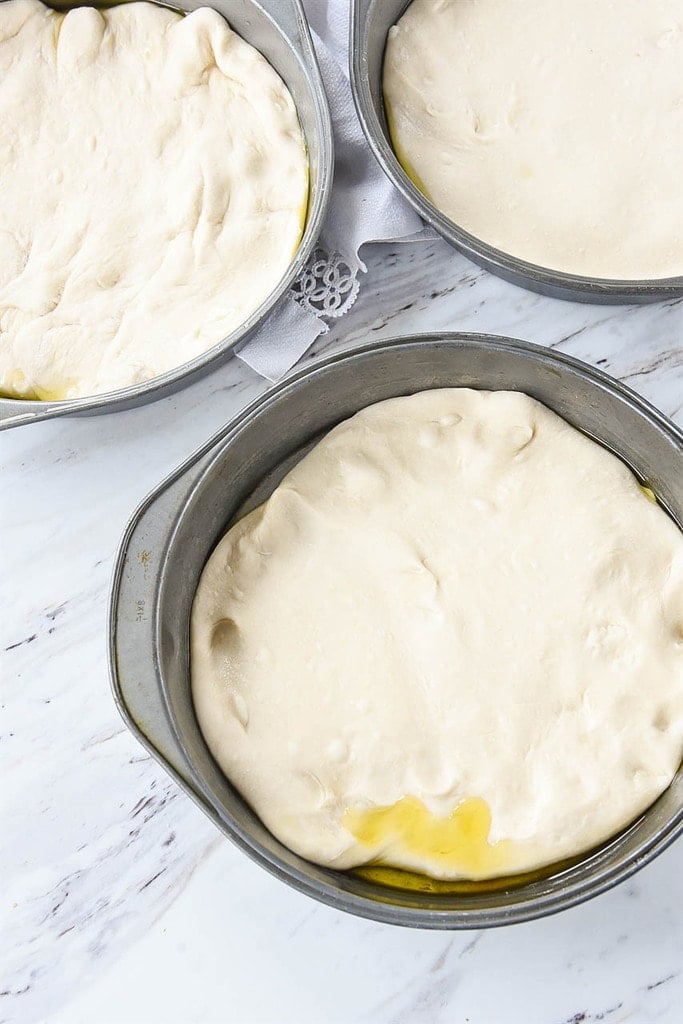 After the crust has risen, add your pizza sauce, your favorite toppings and cheese.  You can buy store bought pizza sauce but it is so easy to make your own.  Use this homemade pizza sauce recipe. Leave about an inch of crust uncovered around the edges.  Bake them for about 12-15 minutes.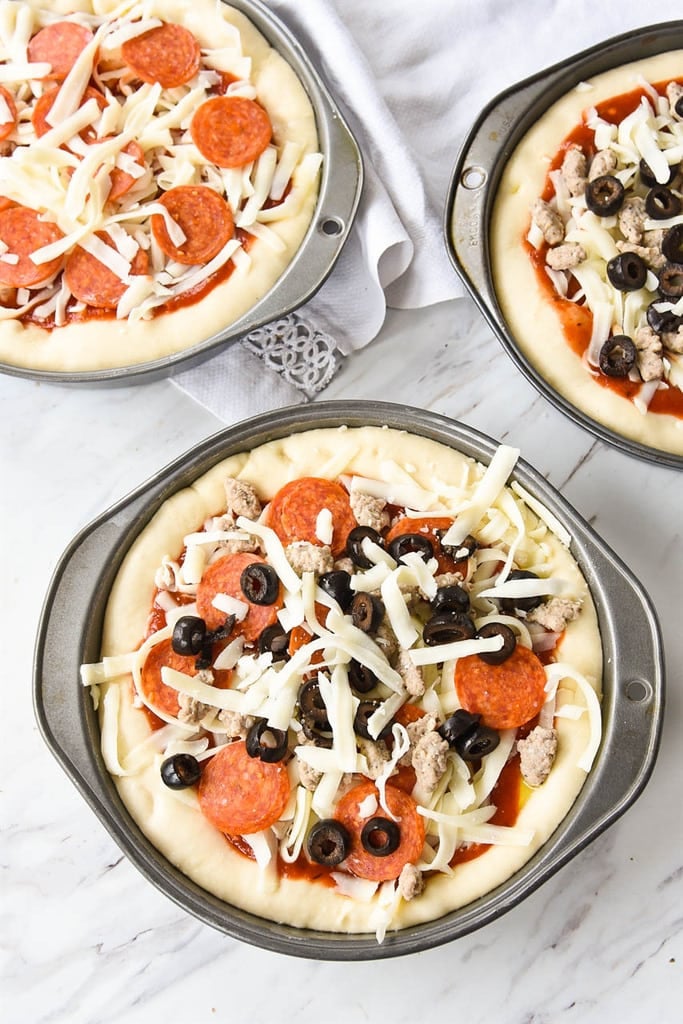 We all love olives on our pepperoni pizza too? What's your favorite pizza topping? Are you a thin crust or a pan crust fan?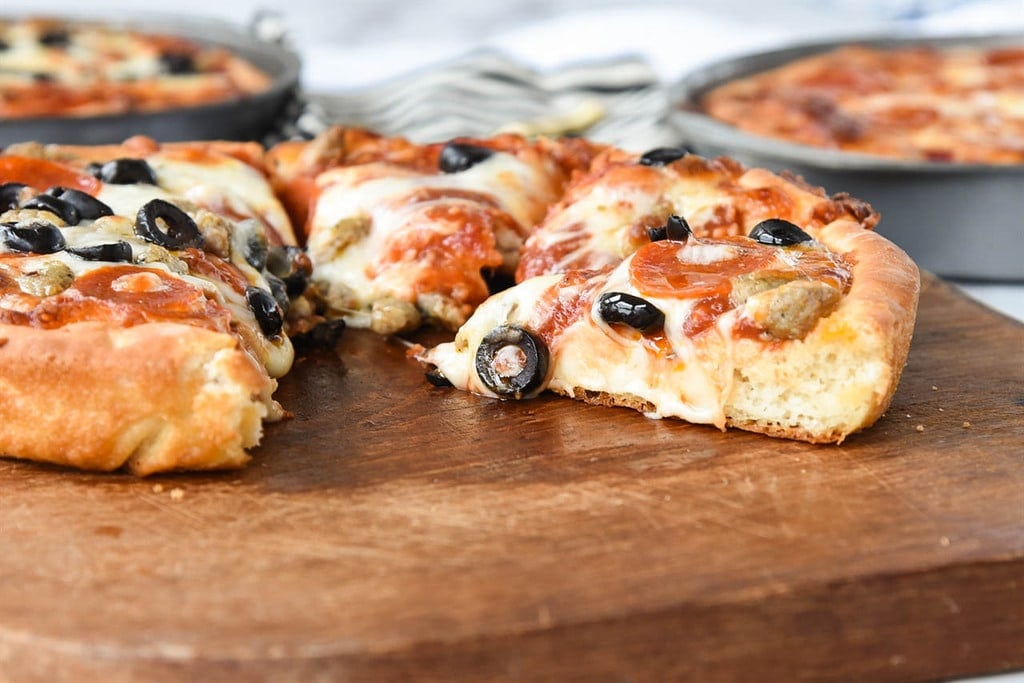 Check out some of my other favorite pizza recipes:
Some of my favorite kitchen tools I use to make DEEP DISH PIZZA:
8 inch CAKE PANS -This are perfect for a layer cake or deep dish pizza.  I own three of them.
9 x 13 GLASS PAN – I actually own three of these and they seem to be in constant use.
FRENCH ROLLING PIN– I love this thing. There are no handles to get in the way.  Just use the palms of your hands on the ends. Just like the French!
Deep Dish Pizza Recipe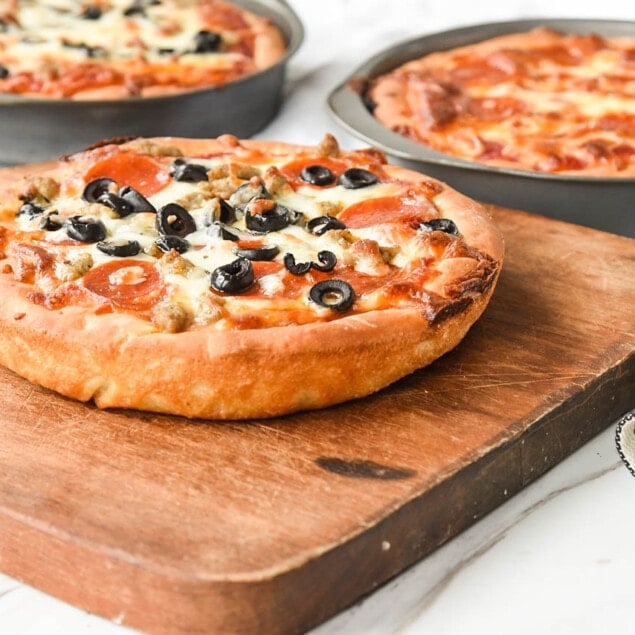 Deep Dish Pizza
If you love take out Deep Dish Pizza, you need to try this homemade deep dish pizza recipe.
Ingredients
Dough:
1 1/3 C Warm water 105F
1/4 C Non-fat dry milk
1/2 tsp Salt
4 C Flour
1 Tbsp Sugar
1 pk Dry yeast
2 Tbsp olive oil for dough
6 Tbsp Vegetable oil or olive oil 2 Tbsp per pan
premade pizza sauce or use my favorite Pizza Sauce Recipe
12 oz. mozzarella cheese, grated (about 2 cups)
favorite toppings, sausage, pepperoni, black olives etc.
Garlic Butter
4 Tbsp butter melted
1 Tbsp garlic minced
Instructions
Put yeast, sugar, salt, and dry milk in a large mixing bowl

Add water and stir to mix well

Allow to sit for two minutes

Add oil and stir again

Add flour and stir until dough forms and flour is absorbed

Turn out on to a flat surface and knead for about 10 minutes or use stand mixer

Divide dough into three balls. In three 8" cake pans ( or can use 1 - 8 inch pie plate and 1 - 9 x 13 dish) , put 2 Tbsp of oil in each making sure it is spread evenly

Using a rolling pin, roll out each dough ball to about a 8" circle

Place in cake pans

Cover with a plate or twoel

Place in warm area and allow to rise for 1 to 1 1/2 hours.

Preheat oven to 450 degrees

Spoon 1/3 cup sauce on each pizza and spread to within 1 inch of edge

Distribute 3 oz. of shredded mozzarella cheese on each pizza

Add favorite toppings (sausage, pepperoni, etc.)

Top with 1 oz. mozzarella cheese

Cook until cheese is bubbling and outer crust is brown - about 15 minutes

I then brush outer edge of crust with garlic butter
Garlic Butter
Combine butter and garlic and allow to sit for 20 minutes so that garlic flavor infuses butter.
Nutrition Facts:
Calories: 366kcal (18%) Carbohydrates: 35g (12%) Protein: 12g (24%) Fat: 20g (31%) Saturated Fat: 12g (75%) Cholesterol: 33mg (11%) Sodium: 325mg (14%) Potassium: 114mg (3%) Fiber: 1g (4%) Sugar: 3g (3%) Vitamin A: 368IU (7%) Vitamin C: 1mg (1%) Calcium: 185mg (19%) Iron: 2mg (11%)
* Disclaimer: All nutrition information are estimates only. Read full disclosure here.