Curried Butternut Squash soup is a delightful blend of flavors and it's dairy free!

A party is always a good excuse to experiment with a new recipe, right?!  That's my entertaining philosophy.  I know it can be a bit risky but most of the time it works out for me.  There was that one dinner party disaster but fortunately they are few and far between.
I was hosting my Ugly Christmas Sweater Tea Party last week and I was in charge of soup. My Beach Babe girlfriends are all great cooks so I wanted something delicious and impressive.  Fortunately my experiment paid off and this soup was a big hit.  In fact, it was so yummy I made it again two nights later because I was craving it.
 I roasted my butternut squash first in the oven for about an hour, until it was fork tender.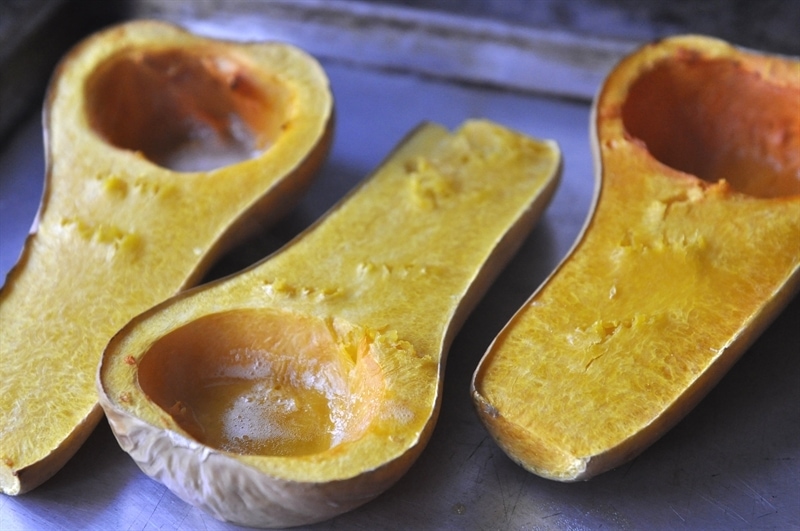 And then scooped out all the meat from the inside into a bowl.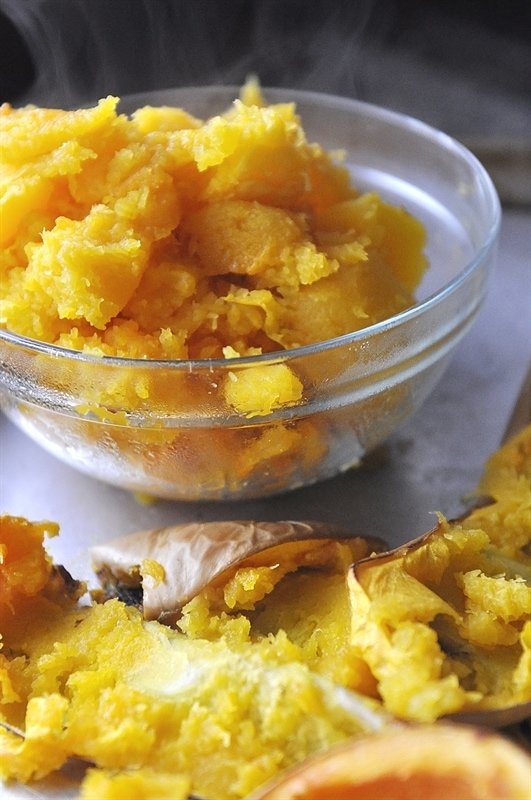 Combine the squash with chicken broth and all the seasonings and then let it simmer for a while.  I then added in coconut milk and some honey to sweetened it up a bit.  Yum!

I garnished it with some pistachios and cilantro.  The soup is dairy free which is great for my dairy free husband but if you aren't cooking for dairy free eaters you could also garnish it with a little sour cream.  I got kind of fancy and made a sour cream Christmas tree for my Ugly Christmas Sweater Tea Party.  I then added a garnish of chopped pistachios for a star.  I had some cilantro to add to but I forgot!
 You puree the soup in your blender so you can control the thickness.  If you aren't using a high powered blender like a Kitchen Aid or Blendtec be sure you let your soup cool or you will have a mess. I am not a fan of real thick soups so I made mine on the t hinner side.  I did find that it thickened up in the refrigerator some too.
Curried Butternut Squash Soup
Prep:1 hour

Cook:30 minutes

Total:1 hour 30 minutes
Ingredients
2 Tbsp butter
1 medium size onion chopped
4 C chicken broth
2-3 lb. butternut squash roasted (see directions below)
2 tsps curry powder
1 tsp salt
1/2 tsp ground cumin
1/4 tsp cayenne pepper
1/2 C coconut milk
2 Tbsp honey
sour cream cilantro and pistachios for garnish, if desired
Instructions
Cut squash in half and remove seeds.

Bake in 350 oven for about an hour or until meat is fork tender.

Scoop out meat and place in a bowl.

Melt butter in a pot over medium heat. Cook and stir onion and garlic in hot butter until softened and browned,

Add inchicken broth, squash, curry powder, salt, cumin, and cayenne pepper into onion mixture. Bring mixture to a boil, reduce heat to low, and simmer for about 15 minutes. Remove from heat. Add in coconut milk and honey into squash mixture.

Put squash mixture into a high powered blender blende, no more than half full. Cover and hold down the lid down.

Pulse a few times for desired consistency. Do in batches

Garnish with sour cream, cilantro and pistachios if desired
Recipe adapted from allrecipes.com