Having a crepe bar for the bridal shower I hosted last Saturday was so much fun.  It was fun, pretty and delicious.  The perfect combination for a party.
I love crepes and fell even more in love with them after my visit to Paris last summer where I ate as many as I could.  I loved watching the crepe makers on the street do their thing!
They made it look so easy with their super cool big crepe makers and their smooth wrist action.
I decided I needed to learn to make crepes so I went onto Amazon and bought myself one of those nifty little crepe making spreaders.
Since I didn't think I could afford one of those fancy crepe making griddles I decided to use my frying pan.
I tried two different methods.  The swirl it in the frying pan method which worked pretty good. Just pour about 1/4 c of batter into the pan ( I grease my pan first) and start swirling the pan around.  It's all in the wrist.
and I used the crepe spreader method using my flat bottomed cast iron skillet.
The main trick is you need to have your batter the right consistency – it needs to be pretty runny so that it spreads evenly and quickly.
After you pour in your batter (I used about 1/4 C you hold your little spreader straight up and start to turn it.
Just keep turning as the batter spreads out.
Because they are so thin they cook quickly – you don't want it to get too done or brown.
This is just about right!

I then place it on a piece of wax paper and put another piece on top.  Layer crepe with wax paper and repeat.  The wax paper keeps them from sticking together and helps keep them soft so they roll up really nice.  You don't want them to dry out.
You will eventually end up with a nice little pile of crepes
For the shower I was lucky to have a party guest who just graduated from culinary school volunteer to make all the crepes!  That is the easiest way to make crepes.
Next up – all the fun crepe fillings.  That's the best party!
For the crepe fillings go here.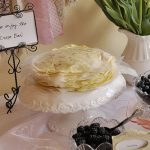 Print
Crepe Bar}The Crepes
Ingredients
2

C

flour

3

eggs

1

Tbsp

oil

2

C

milk

pinch

of salt
Instructions
Combine all the ingredients into the blender and mix until well combined

Heat pan and pour in batter (about 1/4 C at a time)

Twirl pan to evenly spread out batter or use a crepe spreader

Cook until lightly browned on bottom and then flip