Whether you are planning a romantic meal for two or a family celebration, these Chocolate Lava Cake are perfect.  Make the recipe as is for two or double or triple it for feeding the whole family!
If you are feeding a crowd be sure and check out my chocolate lava cupcake recipe, they are a little smaller than the cakes but just as delicious! Some of my other favorite Valentine desserts include this White Chocolate Raspberry Cheesecake, Chocolate Fondue and  these Red Velvet Cupcakes.
Molten Lava Cake for two Recipe
Molten Chocolate Lava Cake is one of my favorite desserts to get at a restaurant and possibly my favorite chocolate dessert.  There was a restaurant in Portland  we go to, just for dessert, we don't ever get dinner, we just get dessert.  We went so we could have the lava cake.  It's so fun taking that spoon and digging in and having that chocolate lava flow out onto your plate!!  How does that happen anyway??
All I know is it's delicious and I think it's the perfect dessert for a romantic dinner for two.  Most recipes for Chocolate Lava cake make more than two and it is the kind of dessert that needs to be eaten warm out of the oven, so what do you do with the leftovers?  Well, you could eat them too but….
Well, I've solved your dilemma!  I have a recipe for Chocolate Lava Cakes for Two.  And if it is only you, make it for yourself and eat both of them, I won't tell.
Can I Double the Recipe?
Absolutely, if there are more than two of you this recipe easily doubles or triples. Don't forget if you are feeding a crowd it may be easier to make my chocolate lava cupcakes.
Chocolate Lava Cake Ingredients
You only need:
Chocolate – I usually use semi sweet but have also used a combination of dark and milk chocolate.  Use your favorite combo, just be sure to use a good quality of chocolate. You use 1/2 cup of chocolate.
Powdered Sugar
Flour
Eggs 
Vanilla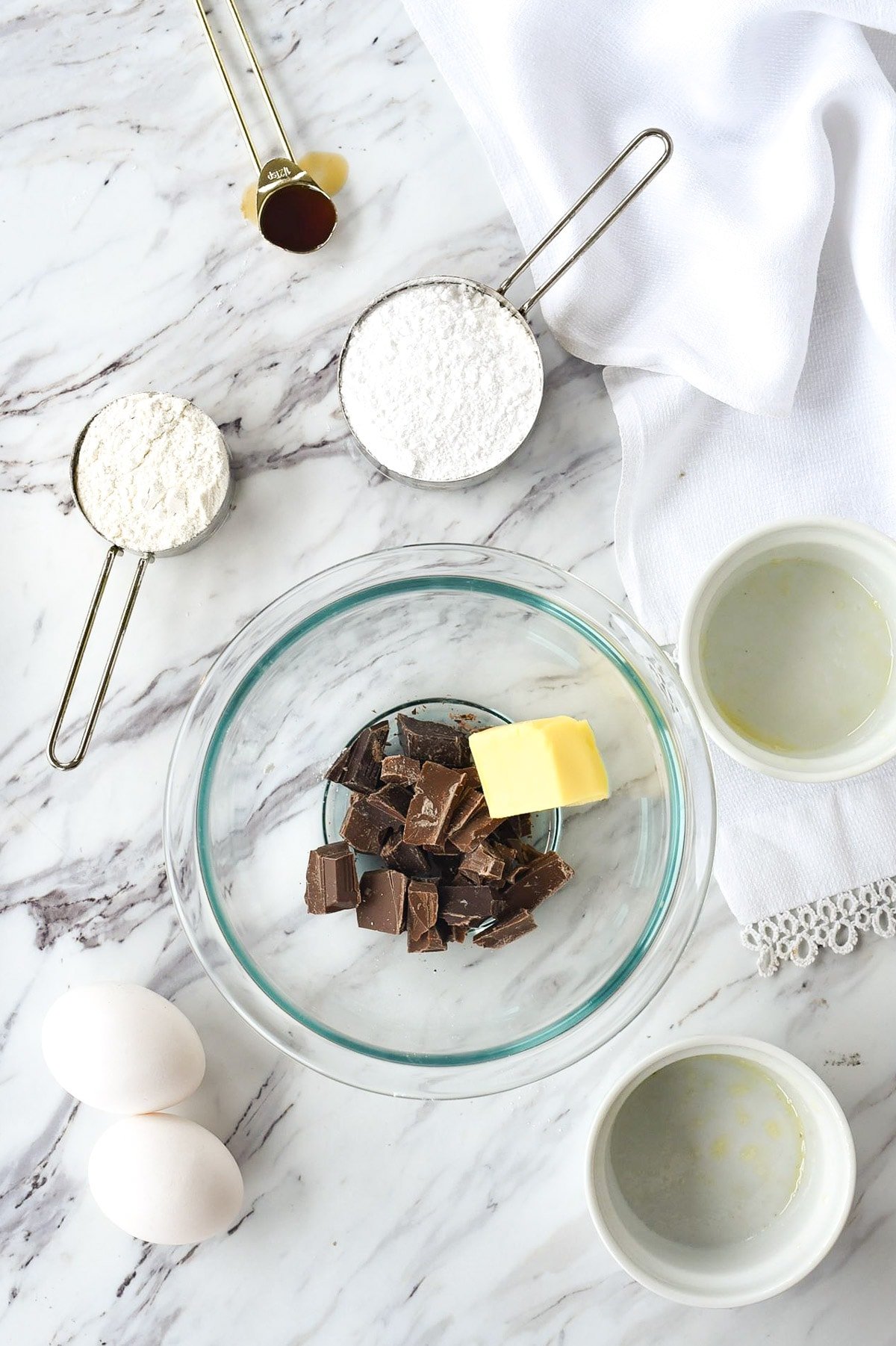 How to Make Chocolate Lava Cakes
Once you see how easy these are to make they are going to be on repeat at your house.
Be sure and grease your ramekins well.  This is my favorite baking spray.
Melt your butter and chocolate on the stove top or in the microwave.  If using the microwave, stir every 30 seconds to prevent burning.
Add in eggs, powdered sugar and vanilla.  Whisk to combine and then add in flour.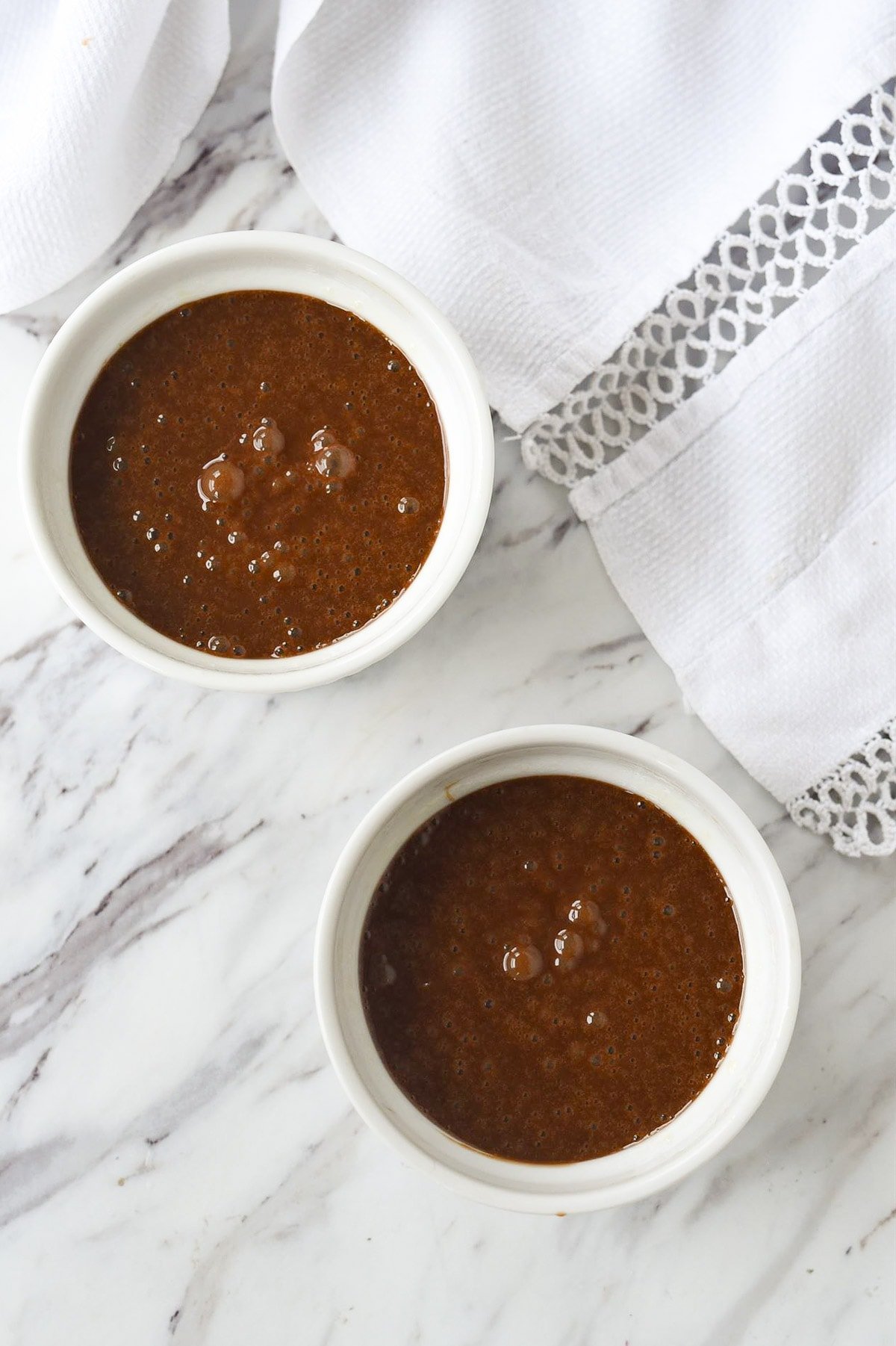 Divide the mixture between the two ramekins.  Bake at 425 degrees F for 12-14 minutes.  After removing them from the oven allow them to sit for one minute in the ramekin.
I usually take a sharp knife and gently loosen the cake around the edges to make sure it comes out nice and clean.  You can eat the chocolate lava cake right out of the ramekin but it is much more fun to turn it upside down onto a small cake and remove it from the dish. That way when you cut into it the lava flows out!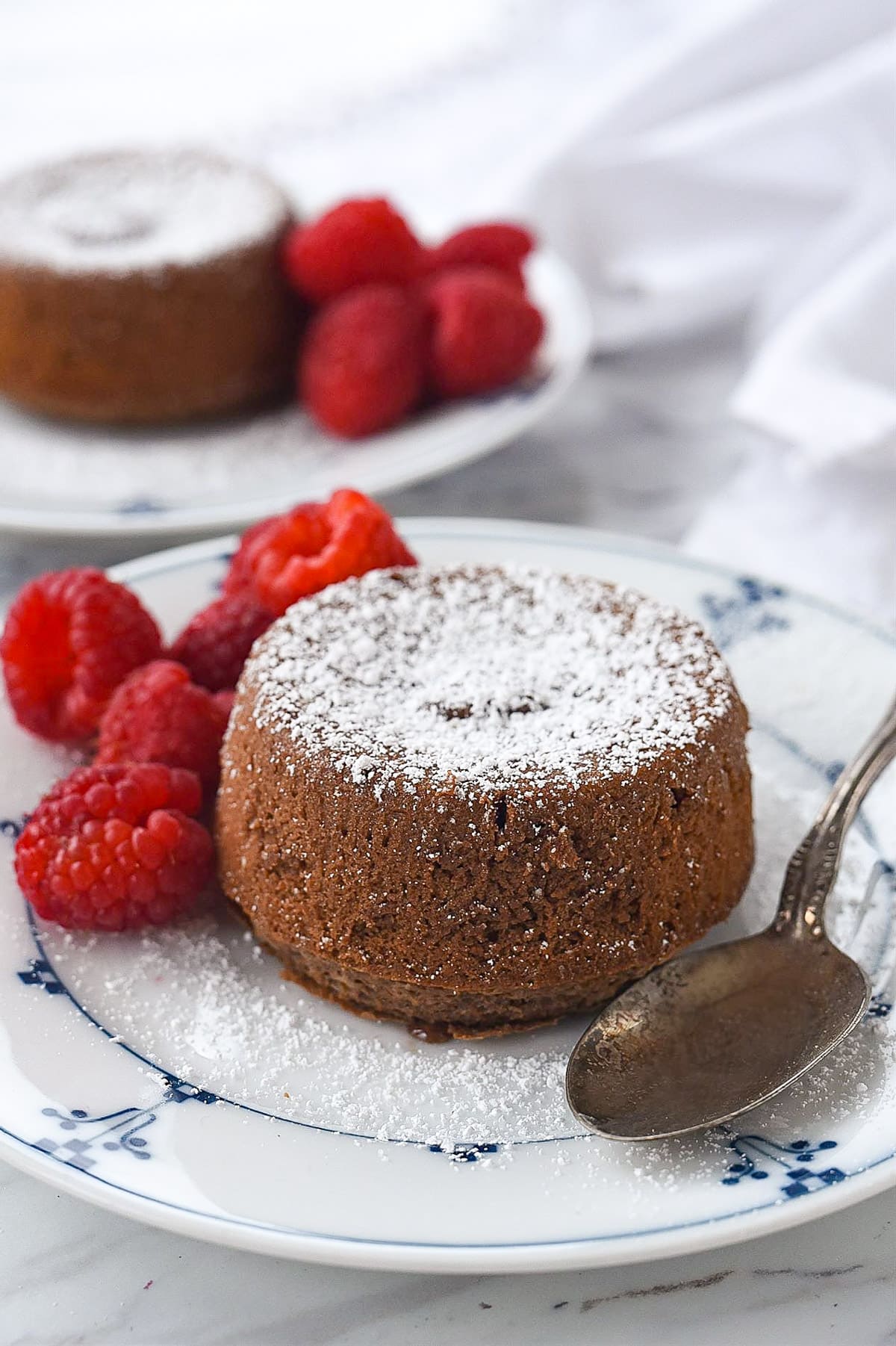 How Do You Serve Molten Chocolate Lava Cake for two?
There are several ways to serve it, you can serve just as it is and enjoy the chocolate cake and hot chocolate lava.  To pretty it up a bit, I like to sift some powdered sugar over the top and serve it with some fresh berries.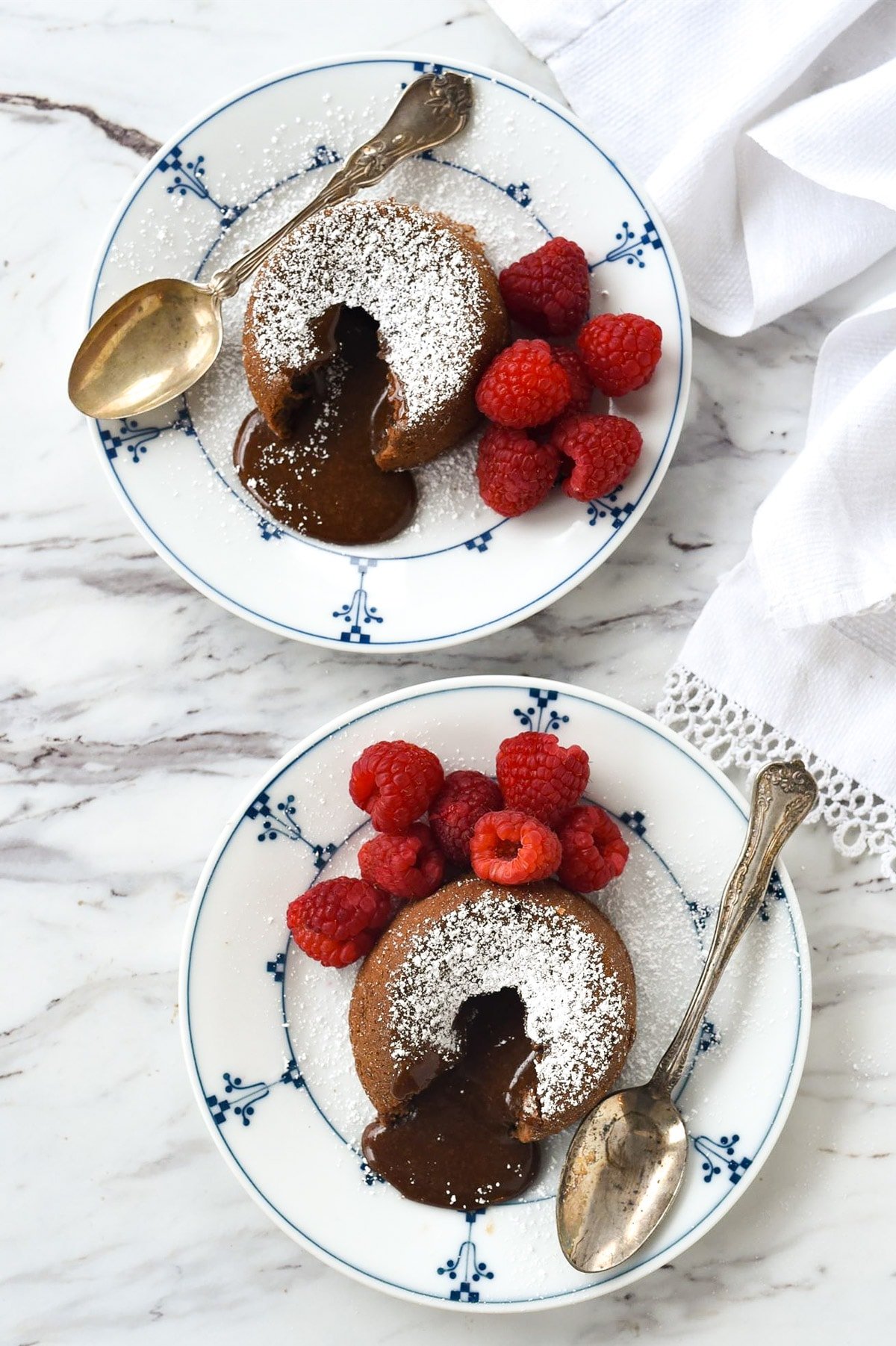 But my very favorite way to serve it is with a scoop of vanilla ice cream.  The warm cake and warm chocolate lava combined with the ice cream is the best!!But however you decide to serve it, I promise you , it will be delicious!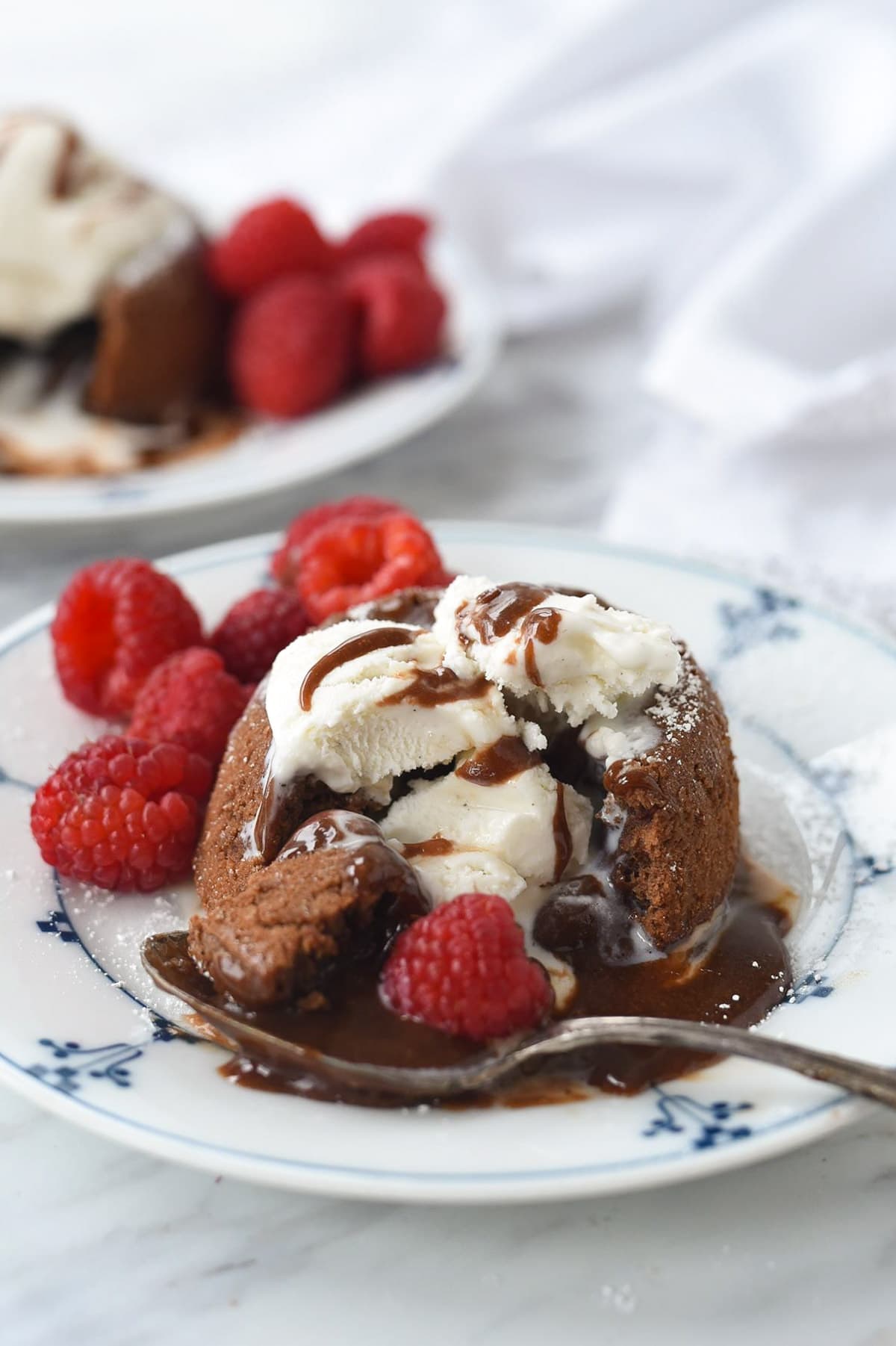 For more delicious dessert ideas try these:
For all of my other favorite kitchen products and tools visit my Amazon Store. 
Did you know I wrote a cookbook?  Check out the Holiday Slow Cooker Cookbook for 100 delicious recipes.
Chocolate Lava Cake Recipe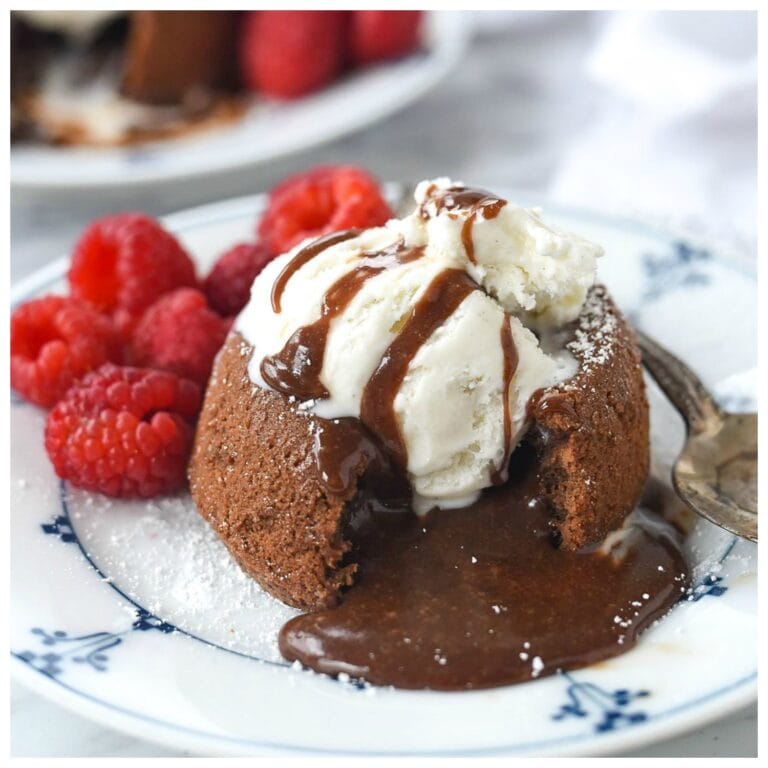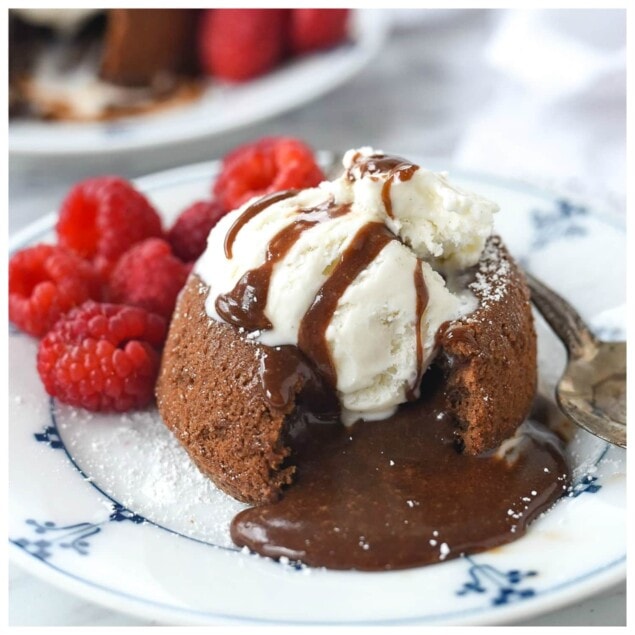 Chocolate Lava Cake for Two
Whether you are planning a romantic meal for two or a family celebration, these Chocolate Lava Cake Recipe will work.  Make the recipe as is for two or double or triple it for feeding the whole family! 

Ingredients
3 Tbsp butter
1/2 cup semi sweet chocolate chopped
1/2 cup powdered sugar
1 egg
1 egg yolk
1/2 tsp vanilla
1/4 cup all purpose flour
non stick baking spray
Instructions
Preheat oven to 425 degrees F.

Spray two 6 oz. ramekins with non stick baking spray.

In a bowl, combine butter and chocolate and melt in microwave or on stove top. Stir every 30 seconds in the microwave until melted and smooth.

Add in powdered sugar, eggs and vanilla. Stir until combined.

Add in flour and mix until just combined. Don't over stir.

Evenly divide mixture into the two ramekins.

Bake for 12-13 minutes or until the edges are firm but the center is still slightly soft. Remove from the oven and let sit for 1 minute.

Turn ramekin upside down onto a serving plate. Sprinkle with powdered sugar, serve with fresh berries and ice cream if desired.
Nutrition Facts:
Calories: 641kcal (32%) Carbohydrates: 65g (22%) Protein: 9g (18%) Fat: 38g (58%) Saturated Fat: 22g (138%) Cholesterol: 227mg (76%) Sodium: 191mg (8%) Potassium: 278mg (8%) Fiber: 4g (17%) Sugar: 46g (51%) Vitamin A: 773IU (15%) Calcium: 56mg (6%) Iron: 4mg (22%)
* Disclaimer: All nutrition information are estimates only. Read full disclosure here.