Dinner in under fifteen minutes? Really!
She has sent me several recipes that she has seen them prepare on the show and they are always delicious and this recipe was no different. We loved it. We try a lot of new recipes at our house but sometimes you try one that everyone loves and everyone repeatedly says how much they love it, including myself. We loved the Chicken Amandine Recipe she sent.
Not only did I love it because it was super quick and easy to prepare but it was delicious. 
How to Make Chicken Amandine
Can I Use Chicken Thighs with the Bone In?
The recipe uses boneless thighs with the skin on.  I could only find them with the bone so I cut the bone out.  You can leave the bone it but it will take longer to cook so you might not have dinner in under fifteen minutes. This recipe would also be delicious with boneless chicken breasts.  You want the skin on though because that is the star of the recipe.  The nice brown, crispy skin that forms.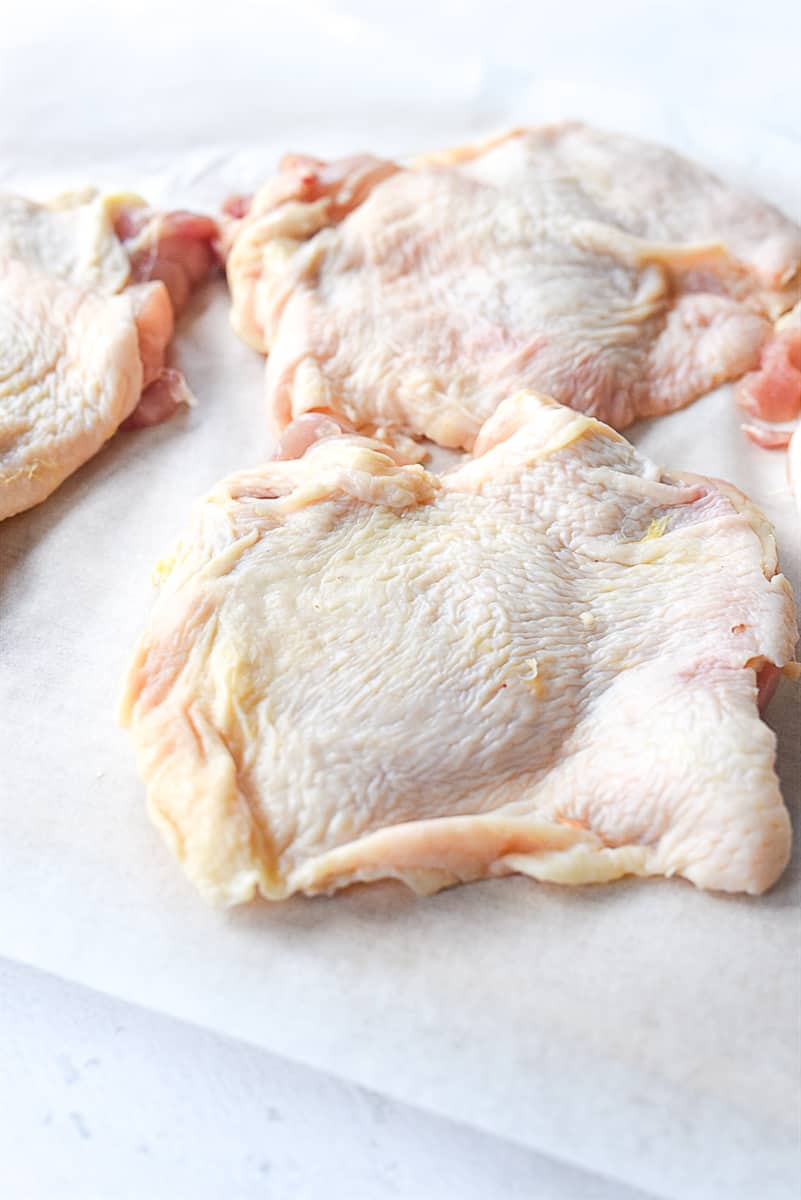 After removing the bone pound the thigh into a uniform thickness.  It will also cook faster this way.  Give it a nice sprinkle of salt and pepper on both sides.
You are then going to add 4 Tbsp olive oil and 3-4 garlic clovesto your frying pan. You do not have to remove the skin from the garlic, just smash it a bit and throw it in. It is just to give some flavor, you are not going to eat it. I used my trusty old cast iron pan. Get the oil nice and hot and add in the chicken, skin side down. Cook for 3-4 minutes until the skin is nice and brown and crispy. Turn over and cook the other side another 3-4 minutes or until chicken is cooked through. Time may vary depending on how thin your chicken is.

After chicken is cooked through remove from pan to a plate. Drain off most of the oil and toss the garlic cloves. Add in 4 Tbsp butter, 1/4 C almonds and stir until they begin to brown.

Add in 1 handful of chopped flat leaf parsley. Add in the juice of l lemon and the grated lemon zest from the lemon.

Pour the butter mixture over the chicken.

I served it with rice and the rice just soaked up the yummy buttery juices from the chicken.

Not only was the flavor amazing I loved the crunch and texture that the crispy skin and the almonds gave the dish.
This was definitely a winner at our house and I can't wait to make it again
Recipe adapted from The Chew.
Chicken Amandine Recipe
Chicken Amandine – dinner in under fifteen minutes
Ingredients
4 chicken thighs boneless with skin on, slightly pounded
4 Tbsp olive oil
4 Tbsp butter
1/4 C sliced almonds
juice and zest of 1 lemon
Handful of chopped flat leaf parsley
3-4 garlic cloves smashed with the skin on
salt and pepper
Instructions
Season both sides of chicken with salt and pepper

In a skillet over medium high heat add olive oil. Add garlic and stir for a minute.

Place chicken into oil skin side down and cook for 3-4 minutes or until skin is crispy and brown.

Turn and cook other side of chicken until cooked through.

Remove chicken from pan to a plate.

Drain off most of the oil

Add in butter and allow it to melt and foam.

Add in nuts and stir until nuts begin to brown.

Add in garlic, parsley and lemon juice and zest. Stir for a few minutes

Pour over the top of chicken