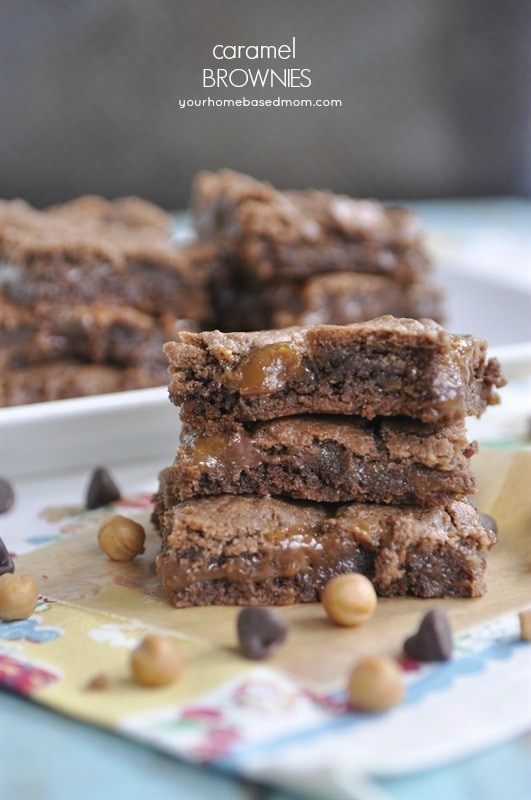 Today's recipe is one I have had for years and I originally shared it back in 2009.  It is a favorite of the entire Wilkes family and it deserved a recipe redo and better photos!
It is one of those recipes that everyone should have in the recipe collection and I am sure many of you do have it.
If you don't have it, you SHOULD have it.
This recipe alone has made me a VERY popular mother with my boys and many of their friends.  This is one of my most requested recipes from my kid's friends.  It earned me lots of Mom Points over the years.
I have made batches of these and delivered them to tour buses passing through town.  Mailed them to missionaries.  I have made them, wrapped them in plastic and foil and packed them into my suitcase to deliver them to certain college students.  In other words – they are good!
They are also pretty easy to make because they use a cake mix.  The only hard part of the whole recipe is that the original recipe called for those wrapped Kraft caramels, the kind you make caramel apples out of. But these brownies are so good that it was always easy to get one of the kids to unwrap them for me with the promise of a warm, gooey caramel brownie. A few years ago Kraft came out with Caramel Bits and the unwrapping no longer became necessary!!  Now there is no excuse not to make them!
They look just like chocolate chips but are made out of caramel.  So easy to use – no unwrapping!!!
The process is easy for these Caramel Brownies.  You mix up the cake mix with some melted butter and evaporated milk and spread half of the batter in the bottom of a 9 x 13 pan.
Melt together the caramel bits and some evaporated in a pan until it is nice and melted and smooth.  While you are doing this bake the pan of batter for 6 minutes. After you pull it out of the oven sprinkle the chocolate chips on top.
Pour your melted caramel over the top of the chocolate chips.
Add the other half of the batter.  You won't be able to spread the batter so I just drop it in flat little clumps over the top.
Then bake it again for 15-18 minutes. Then, if you can, allow them to cool before cutting.  If you are like me, you can't wait, and you cut your self off a piece right away – nice and warm and gooey!!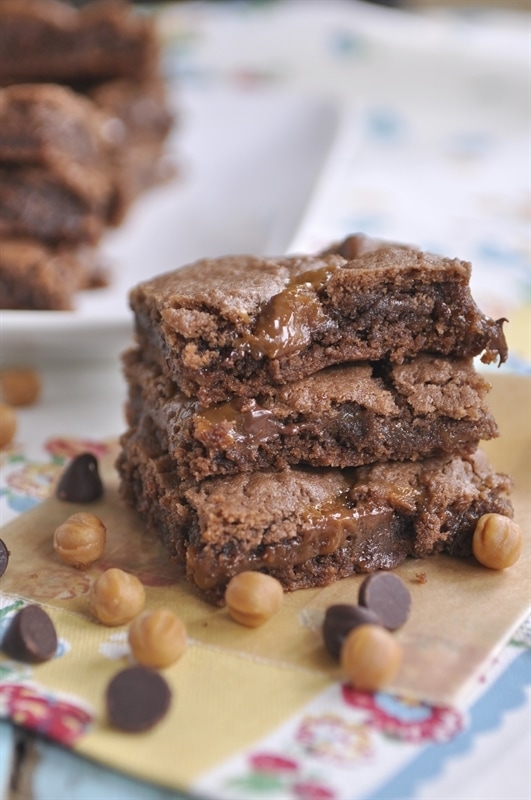 What better combination than chocolate and caramel – yum!!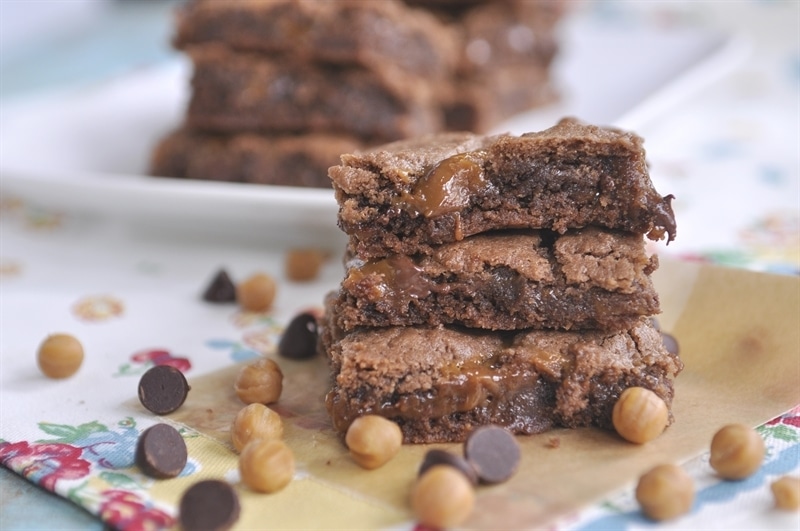 So next time you want to get in good with your children's friends – make them a batch of Caramel Brownies.  They will love you forever!!
I originally got this recipe from my sister in law years ago and it is a favorite of the entire Wilkes family!!  Everyone loves Aunt Tricia's caramel brownies.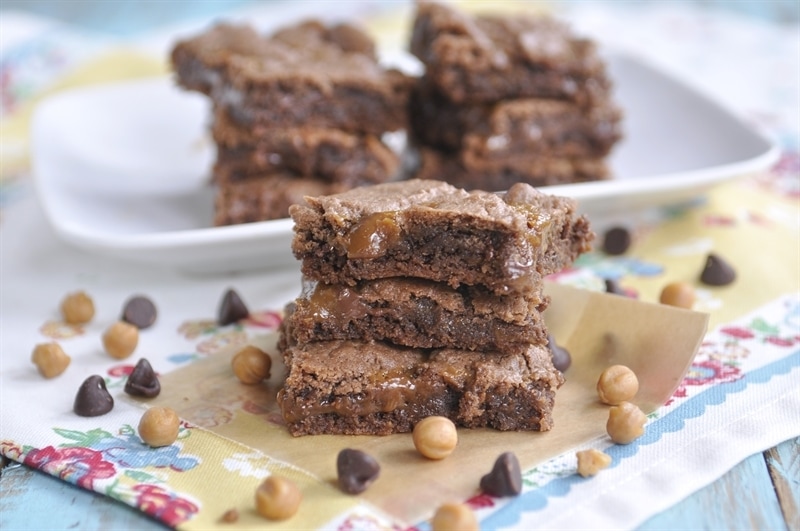 Other brownies treats:
Mud Hen Bars – Fudgy Marshmallow Brownies – Inside Out S'more Brownies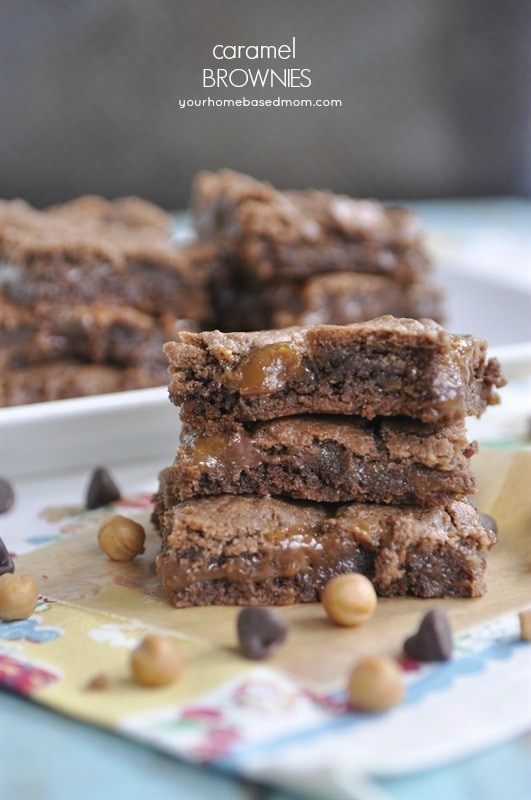 Caramel Brownies
Ingredients
14

oz

package Kraft caramels

about 50 or 1 bag of Caramel Bits

2/3

C

evaporated milk

divided

1

box of German Chocolate cake mix

3/4

C

butter

melted

1

C

semi sweet chocolate chips

1

C

chopped nuts

optional. I don't use.
Instructions
Over medium low heat, melt 1/3 C evaporated milk and caramels in a saucepan

Grease a 9 x 13 pan

Mix cake mix, butter, 1/3 C evaporated milk and nuts (optional)

Mix together well

Press 1/2 of the dough into bottom of pan

Bake at 350 degrees for 6 minutes

Sprinkle chocolate chips over the top and spread caramel on top of that

Sprinkle remaining dough on top (will not completely cover)

Bake 15-18 minutes

Can refrigerate to set caramel but we never do!

Just eat them warm!!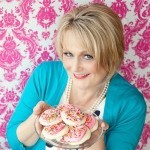 Hi – I'm Leigh Anne! I have been a homebased mom for 30 years since my first baby boy was born! I love working with women and helping to inspire them to achieve their goals and dreams while still maintaining motherhood and family as their number one priority. I blog about everything I enjoy – creating treats and meals in my kitchen, spending time in my garden, entertaining and party planning, reading, self improvement and tips and ideas on style and fashion.
Stay Updated!
Need more recipes and creative ideas? Sign up and get a FREE copy of my ebook! Do you think your friends would love this too? Please share my blog with them. Thanks!