Bruschetta is a favorite way to use up ripe tomatoes at our house.
I've been having to do some readjusting to my cooking this week. Now that we only have one child at home I am finding I am making too much food! For dinner last night I cut the recipe in half and still had enough leftovers for another meal! Yikes! One plus is my grocery bill should go down.
Another thing we have lots of at our house is tomatoes! Yes, it's tomato time! We've got lots of ripe tomatoes in the garden so expect a few tomato recipes over the next couple of weeks.
In fact, if you have a favorite tomato recipe I'd love for you to share it – just leave it in the comment box below so everyone can enjoy it. By the looks of this tomato crop I'm going to need a few new recipes. Thanks!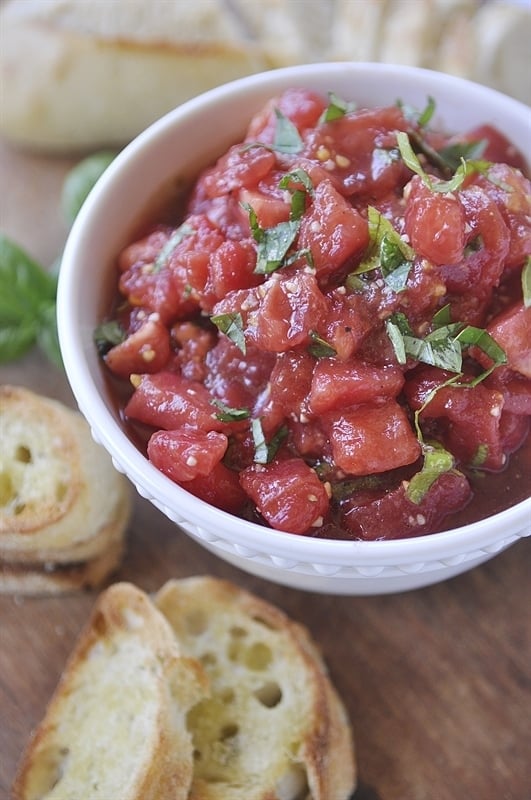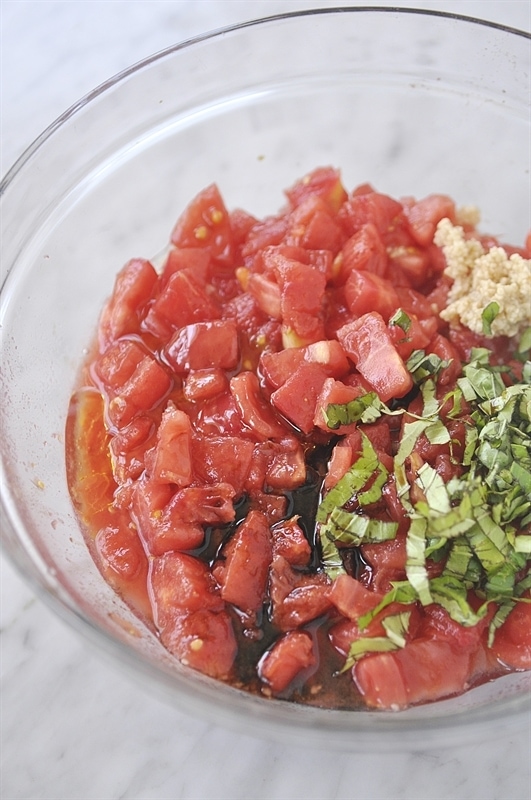 One of our favorite things to do with the tomatoes is make bruschetta. Tessa is the official bruschetta maker at our house and when it is tomato time we eat it several times a week.
Our neighbor and friend Hannah shared with us a great bruschetta tip she learned when she and her family went to Italy. We just brush some olive oil on the sliced bread and then toast them under the broiler.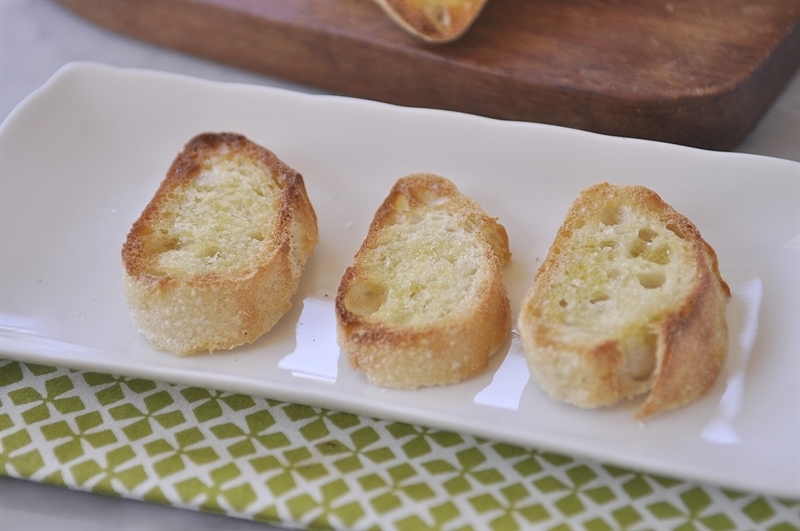 Then just pile on the yummy tomato/basil mixture. The more, the better.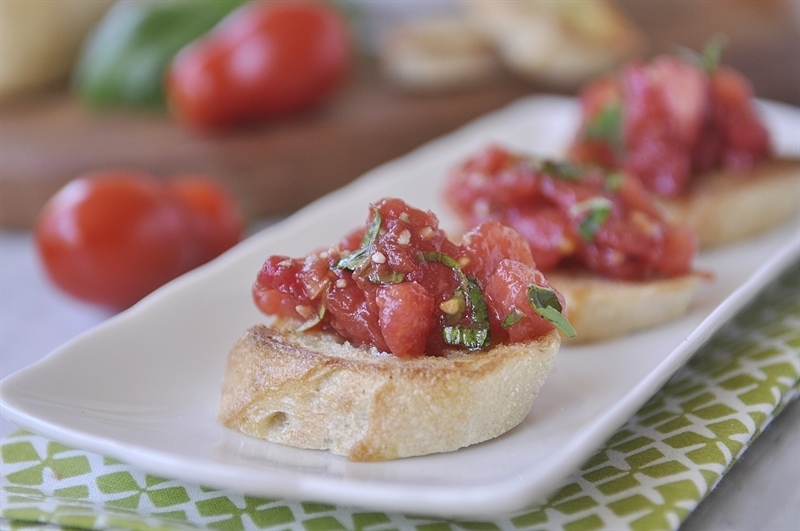 I can basically make a meal out of bruschetta. I really don't need anythng else and I think I could eat it every night during the summer when garden tomatoes are ripe!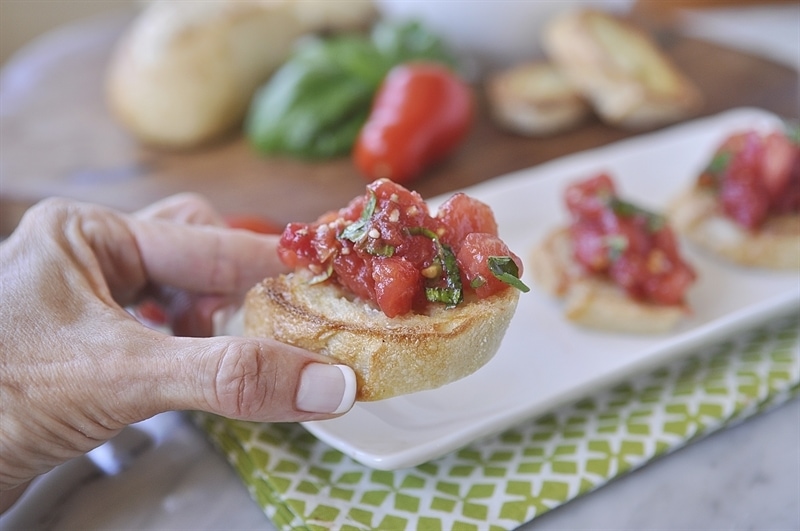 This recipe was originally posted on the blog in September of 2008.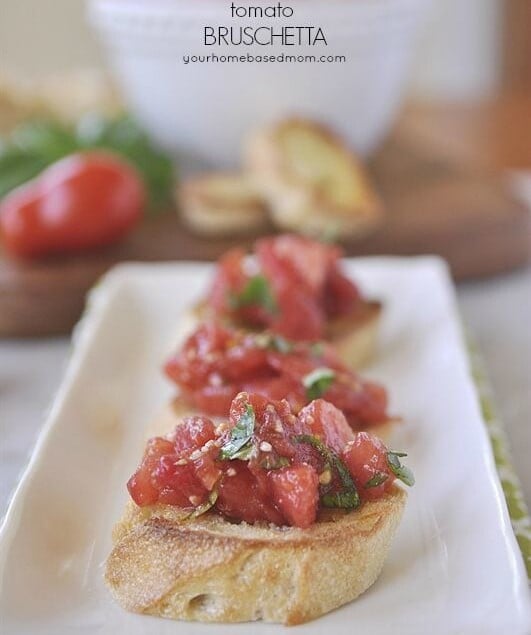 Bruschetta
Toasted Italian bread drenched in olive oil and served with garlic and tomatoes.
Ingredients
7 roma tomatoes skinned and chopped into small pieces
2 cloves garlic minced
1 Tbsp. extra virgin olive oil
1 tsp. balsamic vinegar
8 fresh basil leaves chopped
salt and pepper to taste
1 baguette style bread sliced into 3/8" thick slices
Instructions
Cut 1 baguette style bread sliced into 3/8″ thick slices

Brush on a thin layer of olive oil and then toast under broiler to toast until golden brown.

To skin the tomatoes we put them into boiling water until the skins crack and then place them in cold water – the skins pop right off.

Chop tomatoes finely, add garlic, olive oil, balsamic vinegar in a bowl and mix.

Chop the basil thinly, add to tomato mixture and add salt and pepper to taste.

Spoon tomato mixture onto bread toasts – enjoy! Yum!!!
Nutrition Facts:
Calories: 225kcal (11%) Carbohydrates: 36g (12%) Protein: 7g (14%) Fat: 6g (9%) Saturated Fat: 1g (6%) Polyunsaturated Fat: 1g Monounsaturated Fat: 3g Sodium: 389mg (17%) Potassium: 336mg (10%) Fiber: 3g (13%) Sugar: 4g (4%) Vitamin A: 946IU (19%) Vitamin C: 15mg (18%) Calcium: 64mg (6%) Iron: 2mg (11%)
* Disclaimer: All nutrition information are estimates only. Read full disclosure here.