Breakfast Cookies make the perfect breakfast on the go – easy, delicious and good for you too!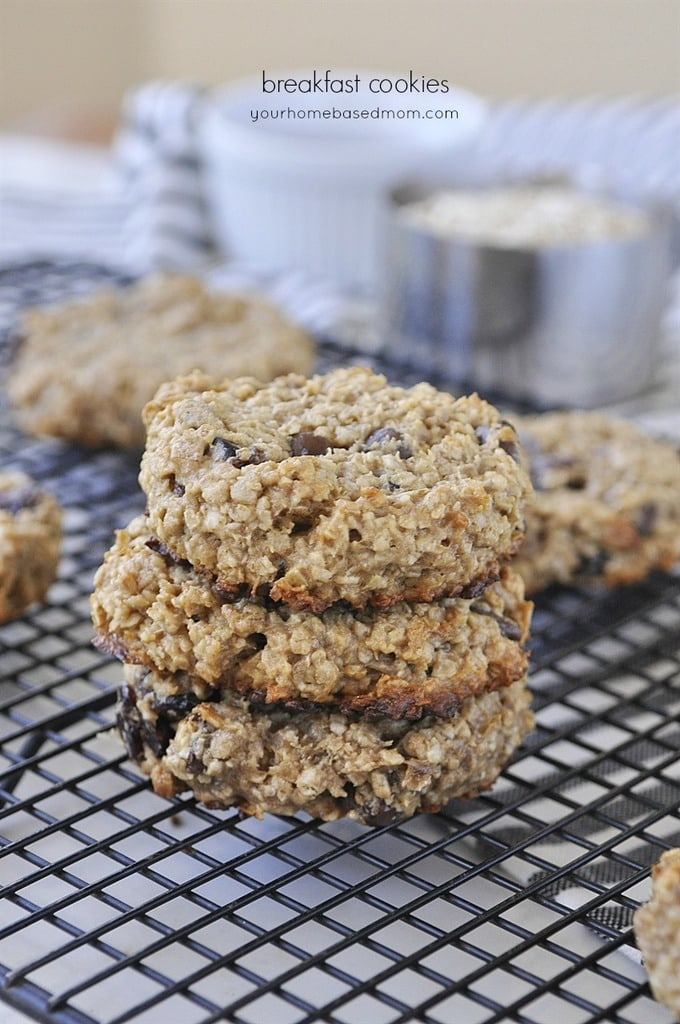 Breakfast has always been a bit of a struggle for me. When my kids were home and in school I wanted to make sure they started their day off right with a good nutritious breakfast, but getting them up early enough so that they had time to eat a good breakfast was difficult. This only got harder when they became teenagers.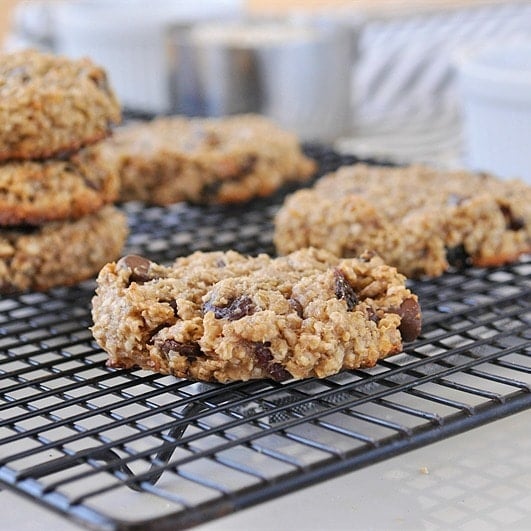 Even as a grownup, making sure you have time for a nutritious breakfast is hard when you're busy trying to get yourself out the door, let alone the kids too. Breakfast cookies are a great way to get in a delicious and healthy breakfast on the go.
Healthy Breakfast Tips
Plan ahead. One of the best ways I found to get the kids to eat a good breakfast in the morning was to get them involved in making it ahead of time and Breakfast Cookies are the perfect way to do that. Bake up batch of these cookies on the weekend with the kids help and then put them in the freezer and pull them out as you need them.
Provide Variety It is easy to get in a breakfast rut. You can get out of that rut with this basic breakfast cookie recipe by just changing it up with the mix ins that are used and using different nut butters.
Personalize it. Just mix up the cookies. Or let the kids do it and then let the kids pick their own mix ins. I put out a selection of dried cranberries, dried blueberries, sunflower seeds, cashews, raisins and chocolate chips.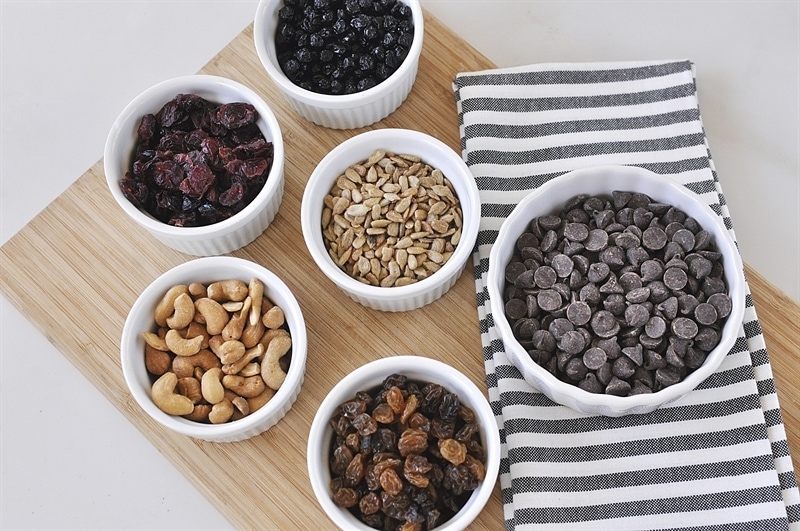 Let the kids go crazy with their combination of mix ins. My favorite combo is dried cranberries, sunflower seeds and chocolate chips!
Thanks to the banana and the apple sauce these breakfast cookies are nice and soft and moist. Bake them on a parchment covered baking sheet and flatten them as they will not spread as they bake.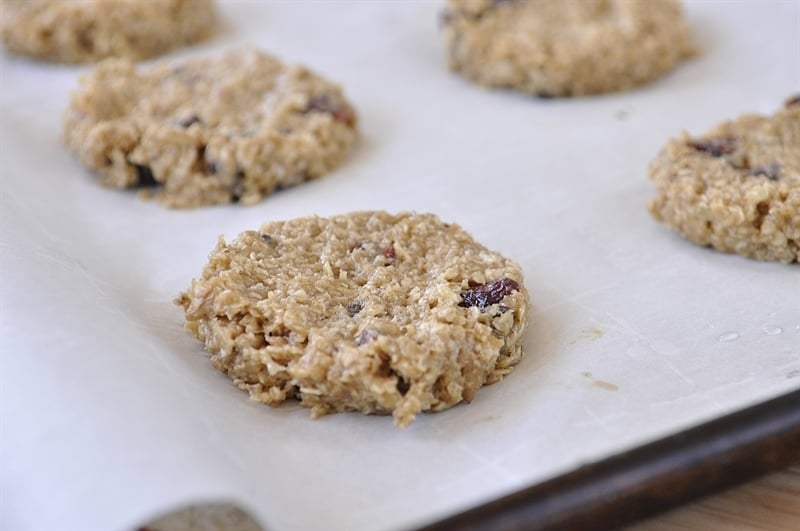 They bake at 325 degrees F for about 15 minutes.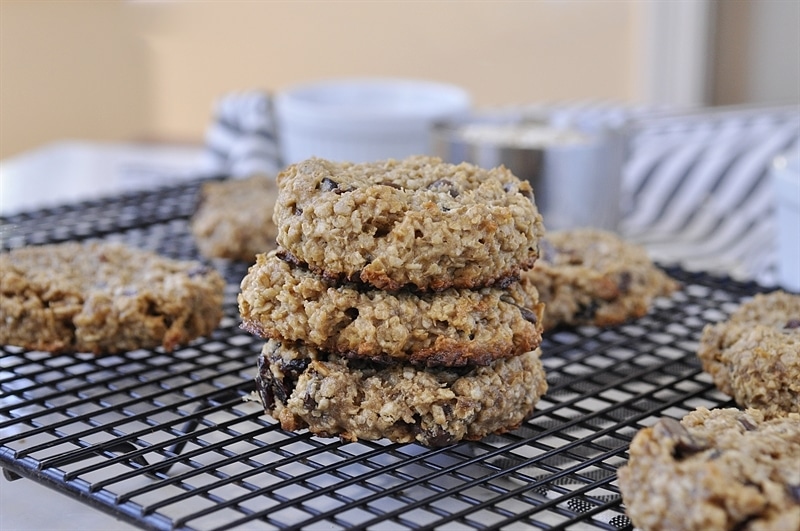 Store them in an airtight container. Or, make a large batch ahead of time and store them in the freezer. Just pull them out the night before and you've got breakfast to go in the morning.
Check out more healthy breakfast recipes:
Breakfast Cookies
Peanut butter oatmeal breakfast cookies are full of protein and fiber and are easy to customize for your individual taste.
Ingredients
2 cups of quick oats
1/2 tsp salt
1 cup peanut butter
1/2 tsp cinnamon
1/4 cup honey
1/4 cup applesauce
1 ripe banana mashed
1 1/2 cups raisins You can substitute any mix in for the raisins. Any combination of seeds, dried fruit, and nuts work great.
Instructions
Preheat oven to 325 degrees F. Line a baking sheet with parchment paper.

Combine all ingredients except mix -ins and mix with a hand mixer or a stand mixer.

At this point you can divide the dough and add in different mix-ins to personalize the cookies or if you want them all the same add in 1 1/2 cups (total) of dried fruit, nuts, or seeds.

Scoop dough with a large cookie scoop or ice cream scoop (1/4 cup) and drop onto prepared baking sheet.

Flatten cookie with your hand.

Bake for 15 minutes or they begin to brown around edges.

Cool and store at room temperature or freeze.
Nutrition Facts:
Calories: 315kcal (16%) Carbohydrates: 43g (14%) Protein: 9g (18%) Fat: 14g (22%) Saturated Fat: 3g (19%) Sodium: 242mg (11%) Potassium: 456mg (13%) Fiber: 5g (21%) Sugar: 12g (13%) Vitamin A: 10IU Vitamin C: 2mg (2%) Calcium: 27mg (3%) Iron: 2mg (11%)
* Disclaimer: All nutrition information are estimates only. Read full disclosure here.