Bread in a Bag
is going to become your new favorite family activity!  Little kids and big kids alike will love making their own loaf of bread. Be sure to check out Ice Cream in a Bag as well as the video below for making the bread in a bag!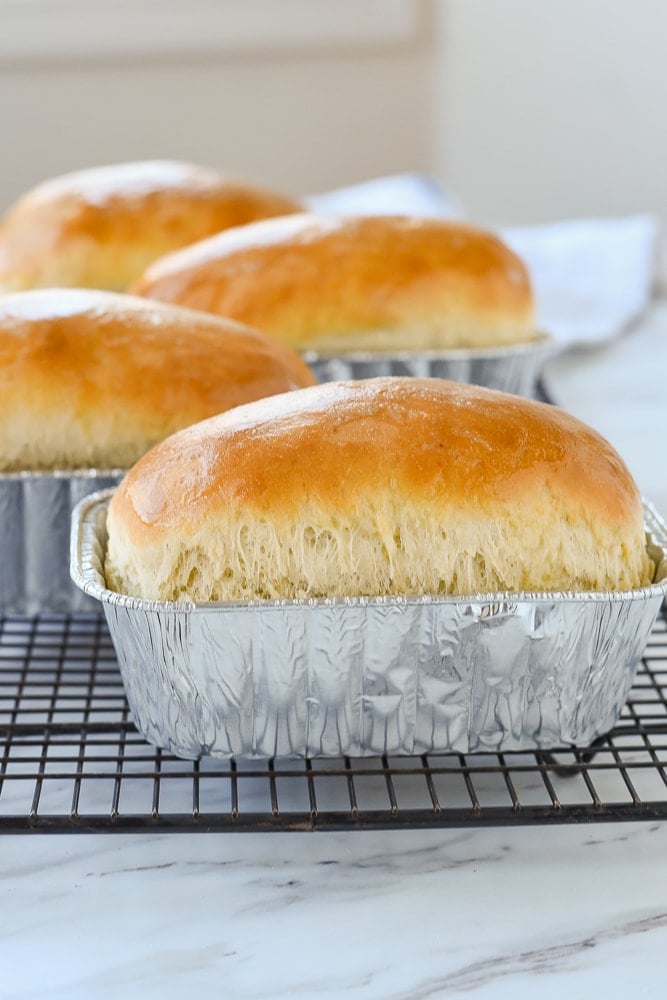 This summer I am going to have a fun little series for you – Kids Can Cook.  Summer is a great time to spend some time in the kitchen with your kids.  Hopefully your schedules are a little slower and you can take advantage of that by spending some fun time in the kitchen.
A few summers ago I held a Kids Cooking Camp at my home and it was so much fun.  Kids love to cook if we just give them a chance!
So throughout the summer I will share with you some fun recipes and tips for cooking with your kids because Kids Can Cook!
Our first recipe is for Bread in a Bag.  This is a fun activity/recipe we did at my cooking camp a few years ago.  The kids LOVED it!
I enlisted three of the cutest little girls who just happen to be sisters from church to come and play with me in the kitchen.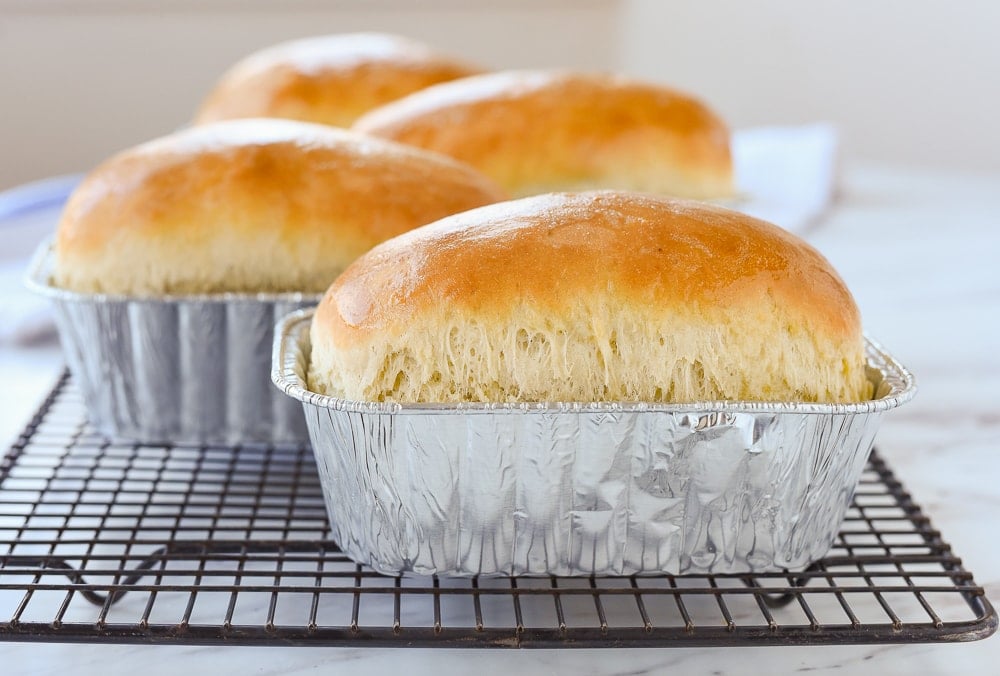 Tip One:  Make sure the recipe is readable and accessible.  I covered my table with parchment paper
 and then wrote the ingredients on the paper so the girls could easily see it.  Also,  have all the ingredients out and easy to reach.
Making bread was a great way to teach the girls the right way to measure flour – I prefer the scoop and level method.
The first step was to put a cup of flour into their bag
.
They then added the sugar, yeast and water.  We learned a little about yeast and what it does and how it is important for your water to be the right temperature. Water should be 105-110 degrees F.  A nice warm bathwater temperature.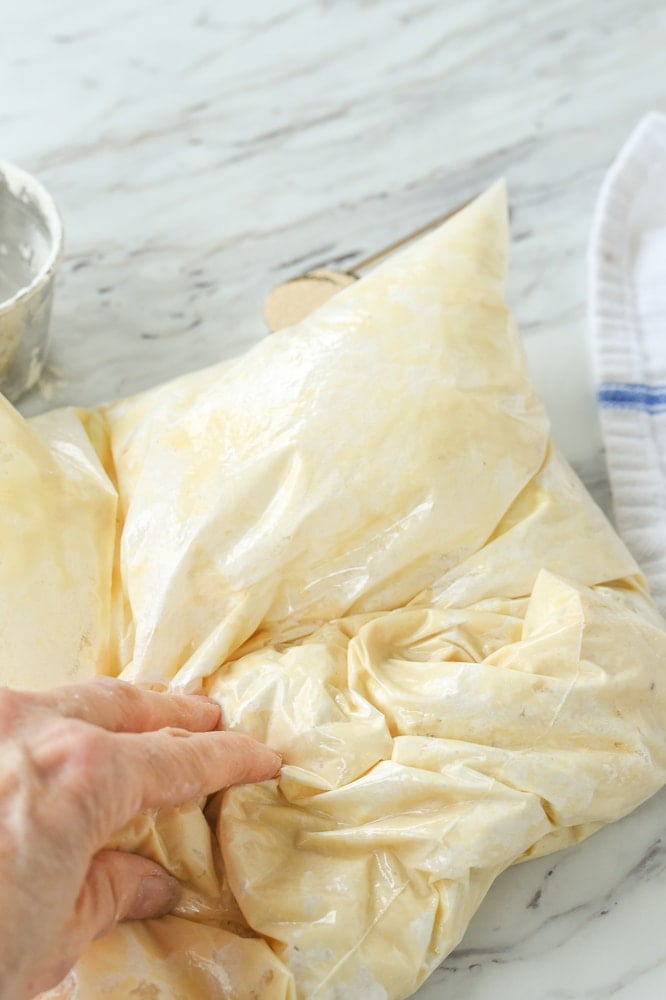 Then they zipped up their bags and smooshed it all together until the flour was all mixed it.
We then let it rest for 10 minutes so their yeast could activate and they went out in the backyard and played for a bit.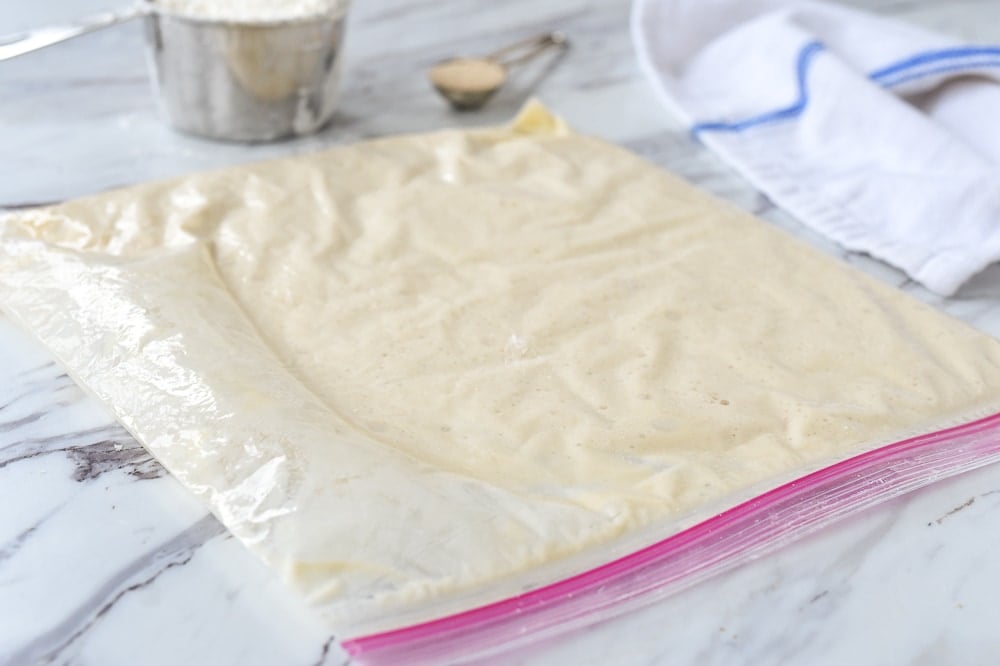 We then added some olive oil, salt and more flour into the bag.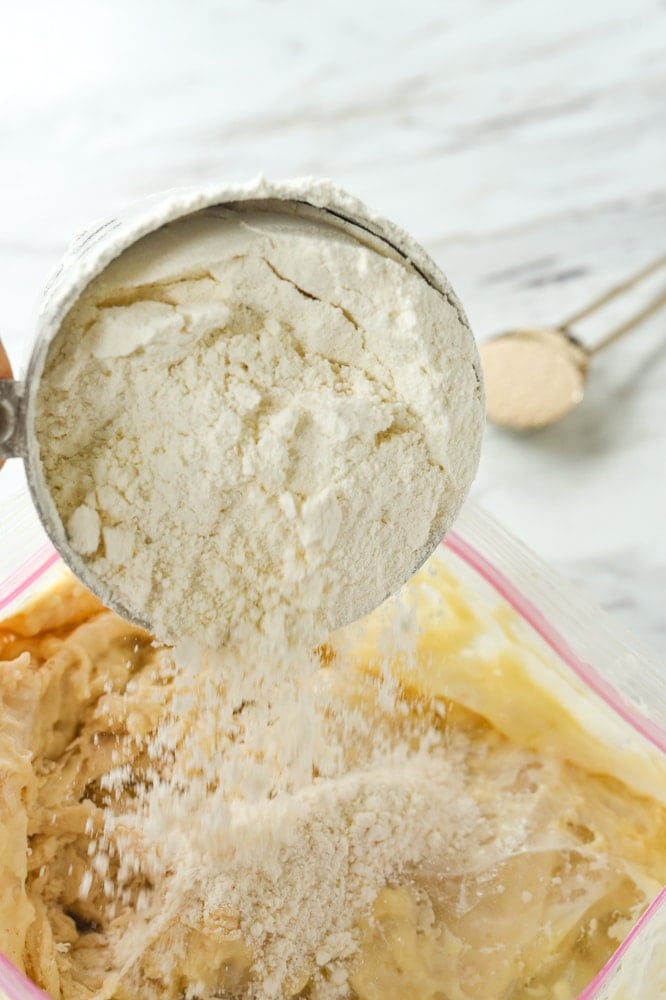 And then smooshed some more!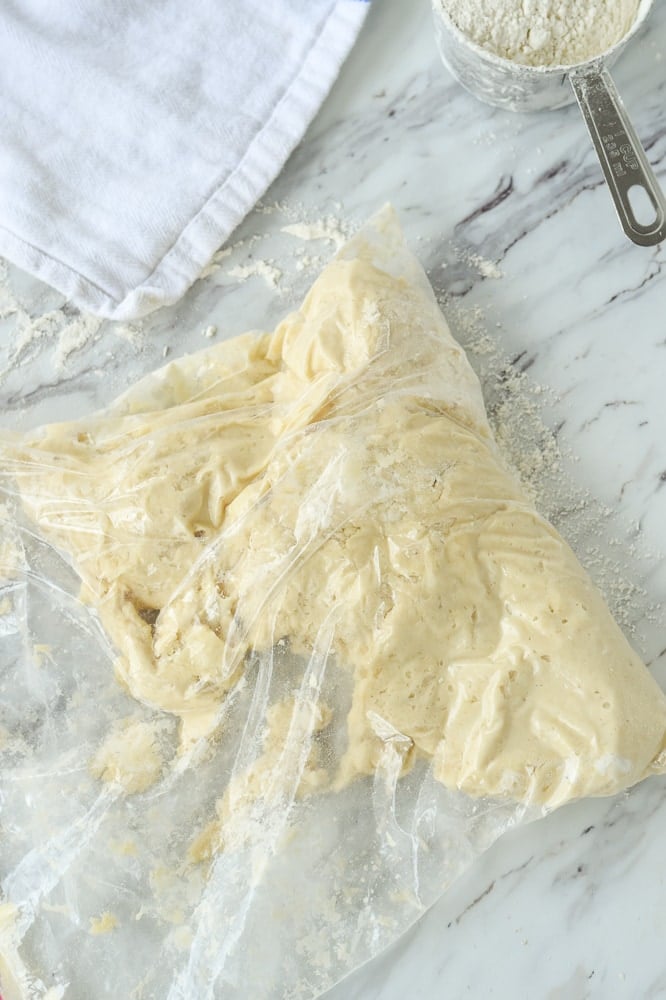 They then turned their dough out onto the table and kneaded it until smooth with a little bit extra flour.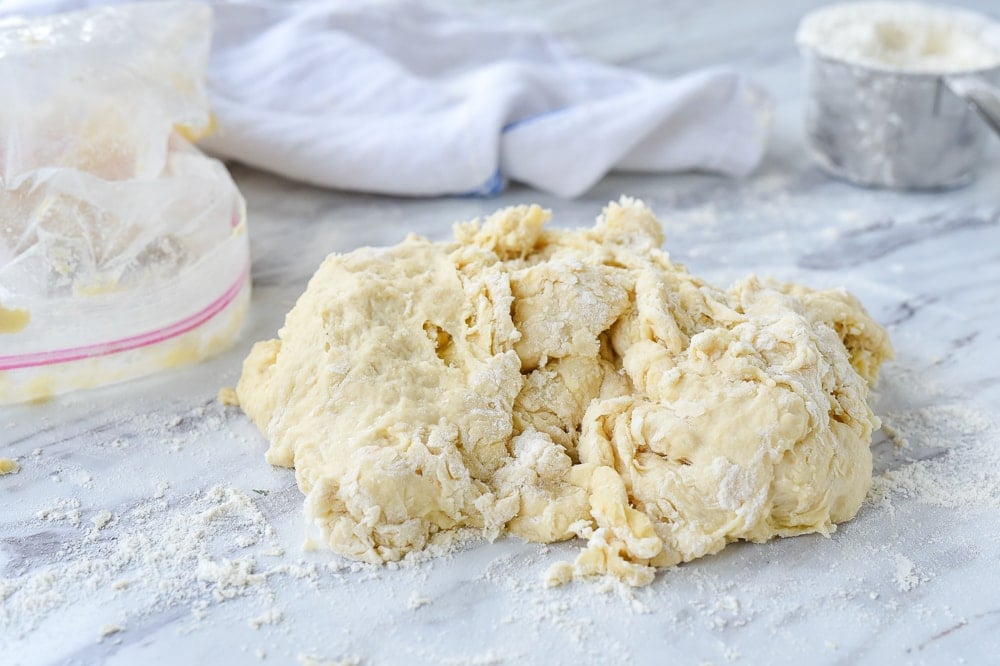 Tip Two:  Don't expect perfection.  The important thing is that they have fun.  Their loaves weren't perfectly shaped but it didn't matter.  They still tasted the same!
We greased mini loaf pans and each girl got two mini loaves out of one recipe.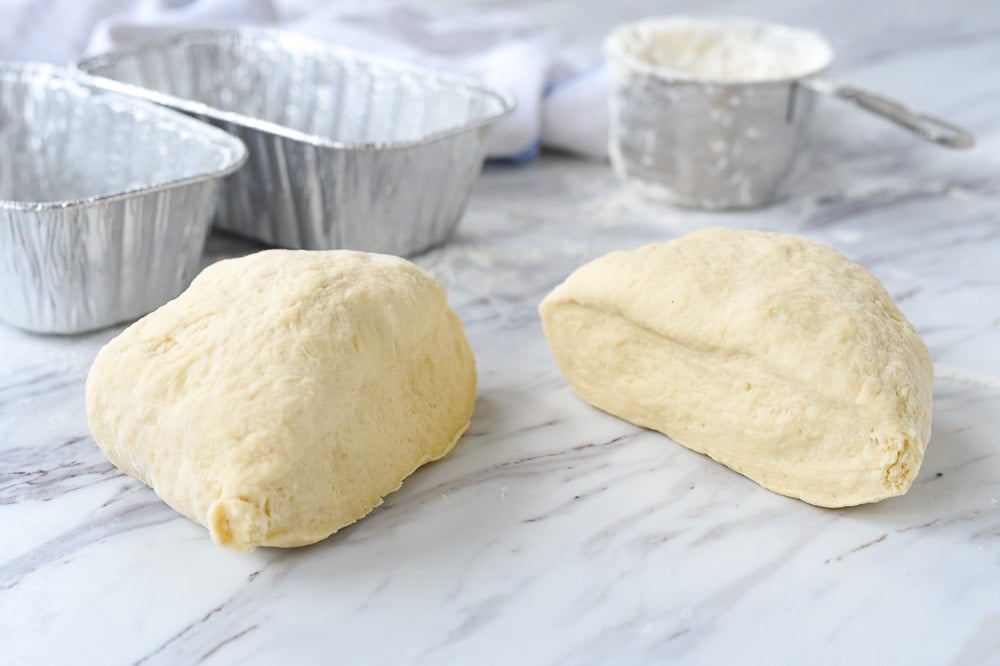 We then let them rise.  Because we used rapid rise yeast it didn't take long – about 20-30 minutes.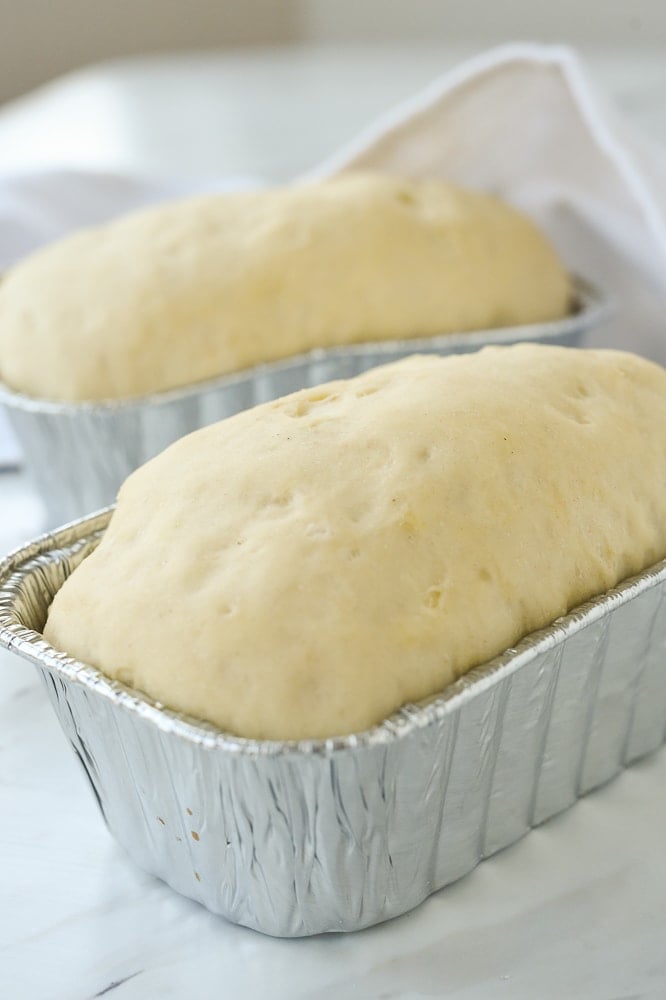 Tip Three:  Embrace the mess.  Kids will be messy and you will end up with flour all over the table and floor but they are going to have fun and so will you!  Enjoy it.  The mess will clean up quickly but the memories will last a long time!!
The bread then bakes for about 25 minutes or so when making a mini loaf.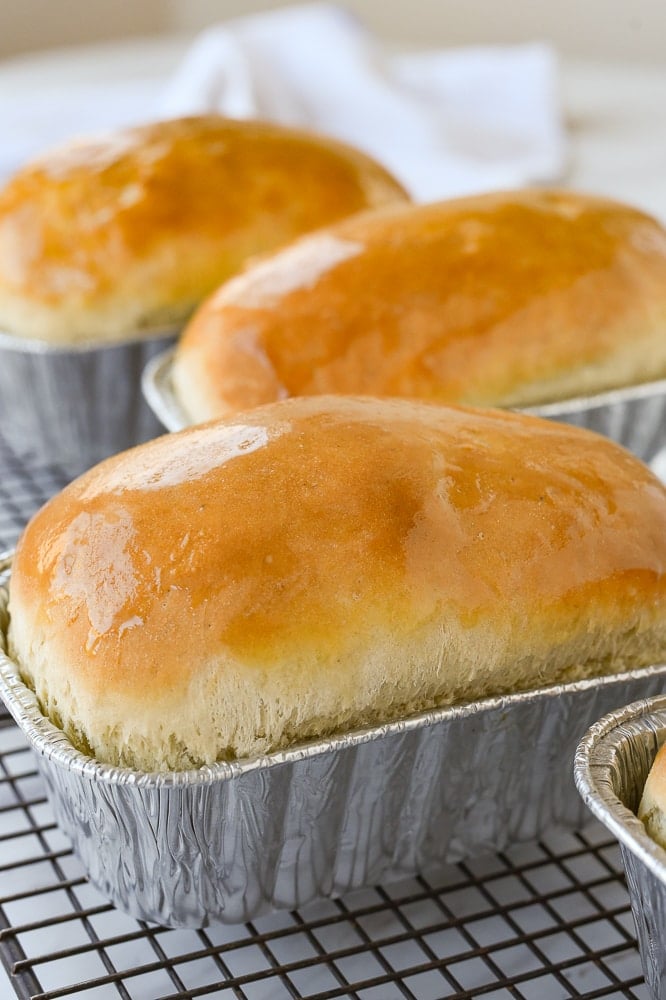 Then the next part is the best – ENJOY your bread!  The girls were so excited and proud of themselves – can't you just see it in their cute little faces!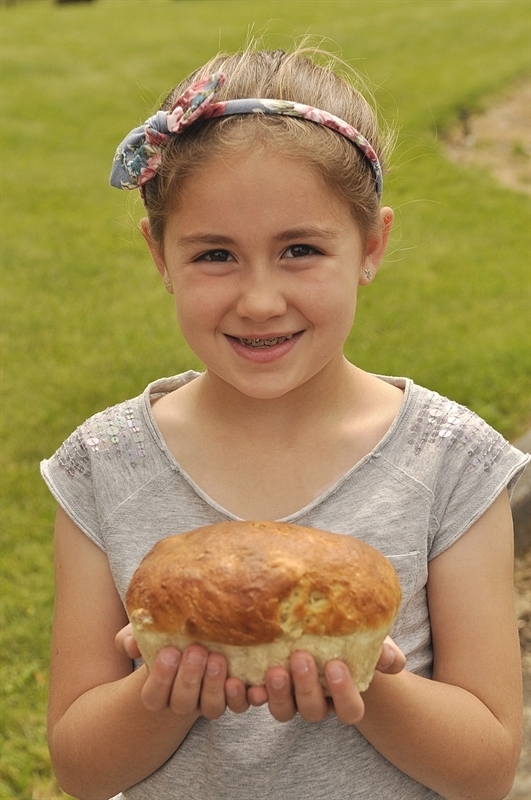 All that was left to do was EAT!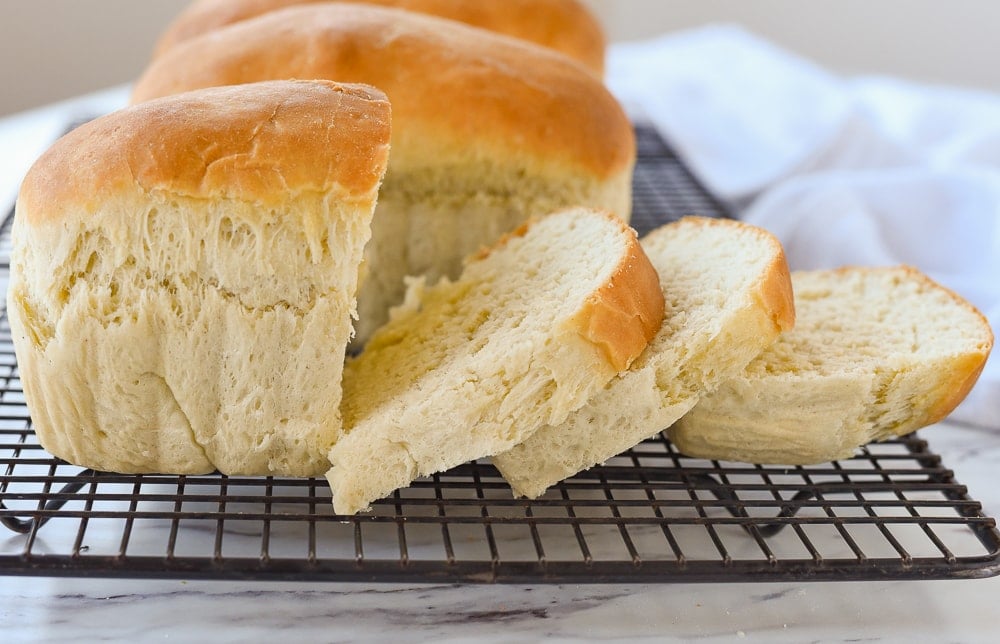 Make sure to check out all of my other fun kid friendly recipes under my Kids Can Cook section!
Bread in a Bag Recipe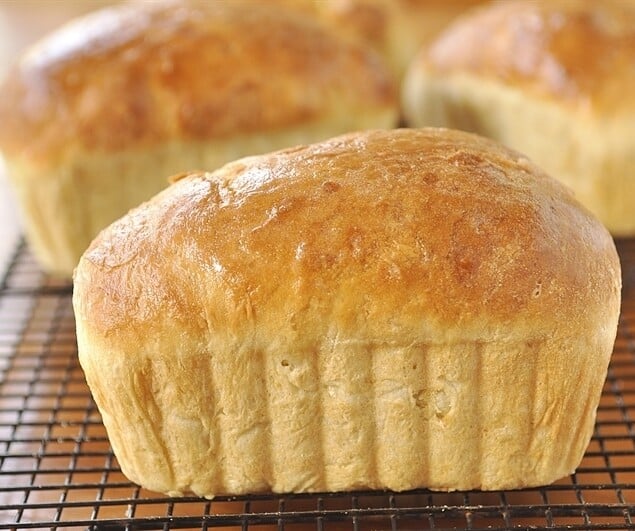 Bread in a Bag
Create a delicious loaf of bread in a bag. This is a great recipe to make with young children.
Ingredients
3 C all purpose flour divided
3 Tbsp white sugar
1 .25 package rapid rise yeast (2 1/4 tsp)
1 C warm water
3 Tbsp olive oil or vegetable oil
1 1/2 tsp salt
Instructions
In a resealable plastic bag place 1 C flour, sugar and yeast and add in warm water. Water should be 105-110 degrees F.

Squeeze air out of the bag and seal.

Squish with your hands until well mixed together.

Let it rest for 10 minutes at room temperature. Bubbles will form.

Open bag and put in 1 C of flour, oil and salt.

Seal bag again and squish until well blended.

Add last cup of flour and continue mixing in the same manner until well blended.

Remove dough from bag and put onto a lightly floured surface.

Knead for 5-10 minutes or until smooth.

Divide dough in half and place each half into a greased

mini loaf pan

. Or make one large loaf

Cover with a towel and allow to rise for about 30 minutes.

Bake in a 375 degree oven for 25-30 minutes or until bread is golden brown.
Tips & Notes:
This recipe will make two mini loaves of bread.
Nutrition Facts:
Calories: 154kcal (8%) Carbohydrates: 27g (9%) Protein: 3g (6%) Fat: 4g (6%) Saturated Fat: 3g (19%) Sodium: 292mg (13%) Potassium: 33mg (1%) Fiber: 1g (4%) Sugar: 3g (3%) Calcium: 5mg (1%) Iron: 1mg (6%)
* Disclaimer: All nutrition information are estimates only. Read full disclosure here.
Need some help figuring out what's for dinner tonight?
Come join our Facebook Group!  Join hundreds of others who love sharing dinner time ideas.  You don't want to miss out on the fun!

You'll find lots of ideas for dinner from all our awesome members and you can share your ideas too!  Join the Family Dinner Table today.