Create delicious homemade ice cream in a bag. It's a fun activity for kids on a warm summer day or any time. No ice cream maker needed!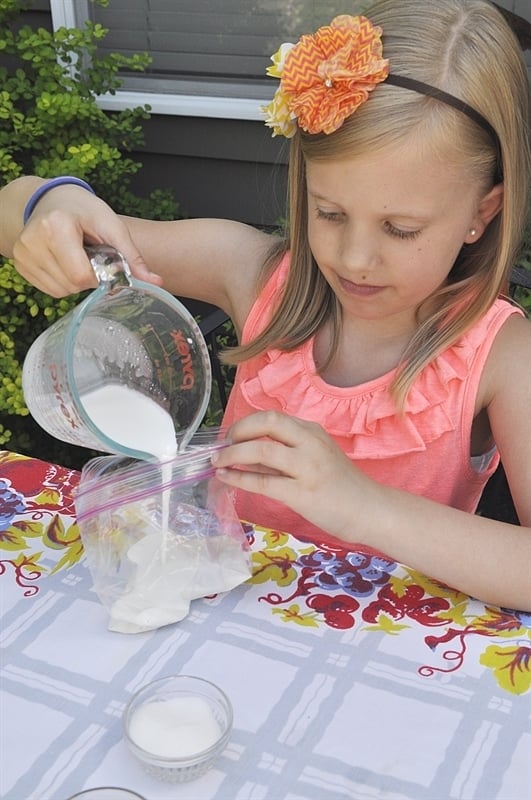 Supplies Needed:
Gallon resealable plastic bag
Sandwich size resealable plastic bag
Ice
Half and Half. This is half whole milk and half whipping cream.
Sugar
Vanilla Extract. Could use flavored extract if you prefer.
Rock Salt. This is not table salt. You can find it in the baking aisle of the grocery salt near the regular salt. It may also be called ice cream salt.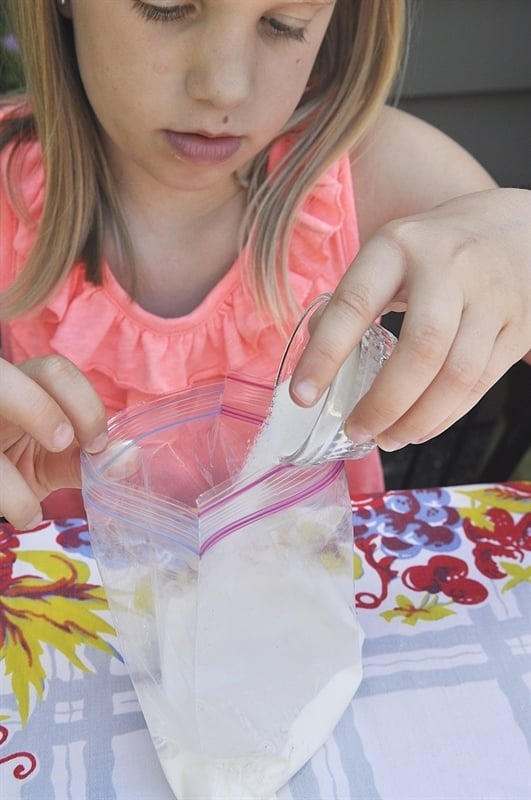 How to Make Homemade Ice Cream in a Ba
Combine the milk, sugar and vanilla in the sandwich size bag. If you want to make chocolate ice cream add in some chocolate syrup too. Don't add any solid ingredients like cookies or chocolate chips at this point. You can add those later.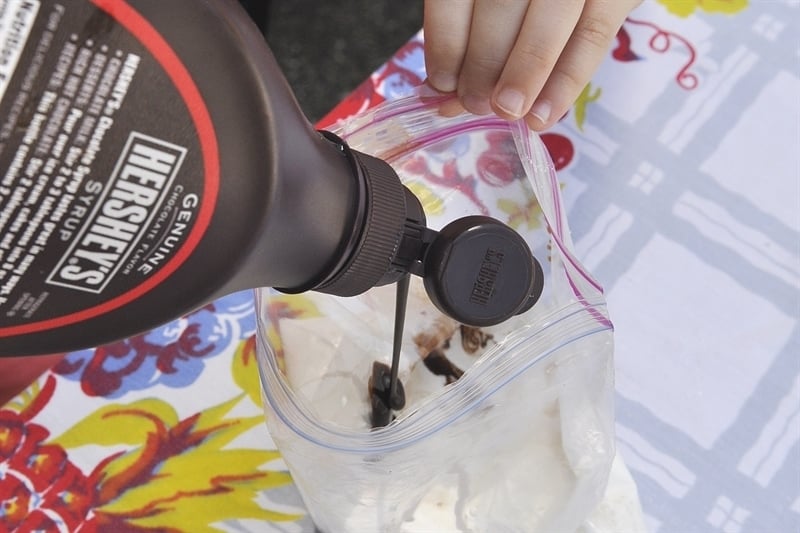 Seal the ziplock bag and mix the ingredients by smooshing the bag around in your hands until it is combined. Smooshing is fun! But make sure the bag is securely zipped first! And make sure to get as much air out as possible.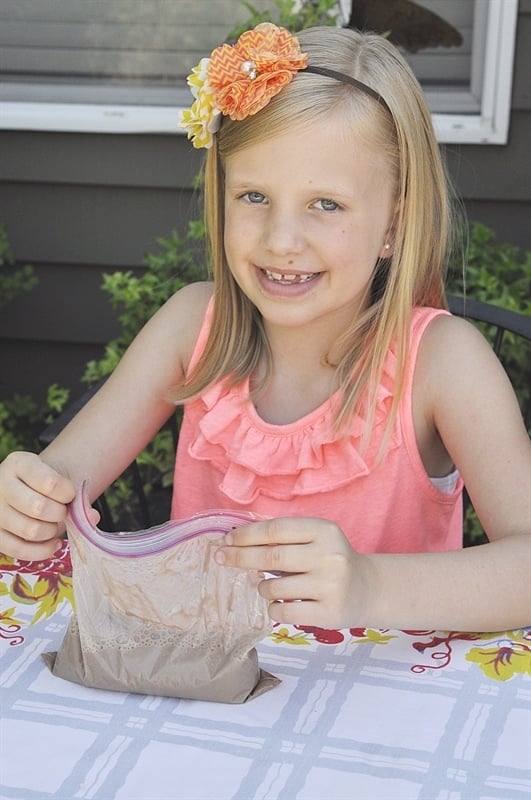 Fill your gallon size bag with ice until it is half way full.
Place the smaller sealed bag of ice cream ingredients into the larger bag. Remove the air from the gallon bag and zip it closed.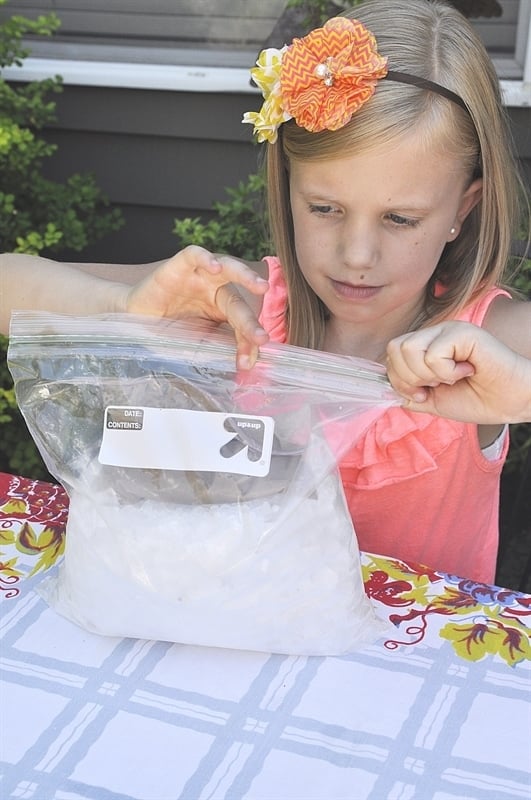 For about 5-10 minutes, shake the bag!
Have fun with this part. Have a dance party, shake it around, jump up and down, or play catch. Just make sure not to drop it! You don't want the back to break open. The temperature will effect how quickly your ice cream sets up. The warmer the weather, the longer it will take to set. If your hands get cold, wrap a dish towel around the plastic bag.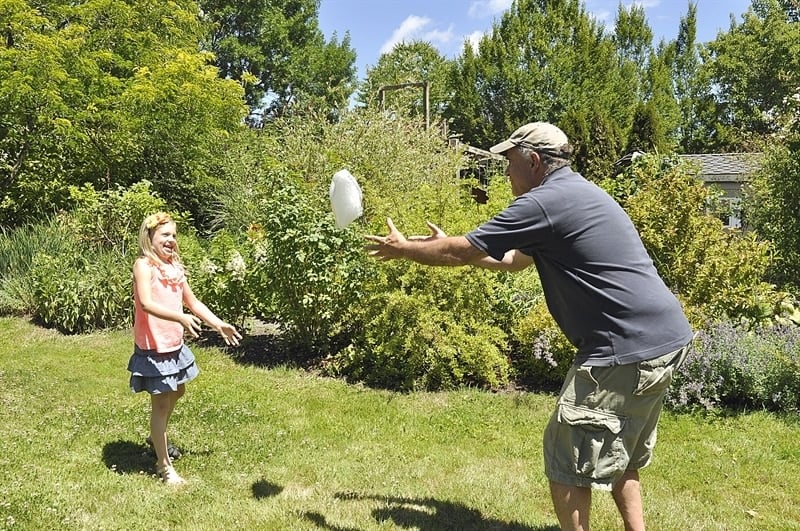 After the ice cream has set, squeeze it out of the bag into a bowl. If the ice cream is still a little too soft, you can place the smaller bag into the freezer for a bit to help it harden. we found ours did just fine by shaking it. It will have the consistency of soft serve ice cream.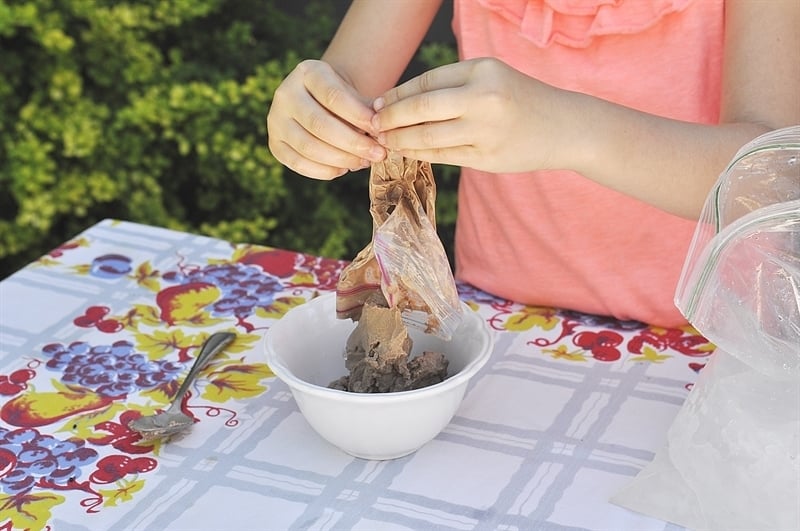 Ice Cream Mix-Ins
Sprinkles
Chopped up cookies such as Oreos
Nuts
Marshmallows
Fruit such as strawberries, raspberries or blueberries.
Frequently Asked Questions
What is half and half?
Half and half is a mixture of half whipping cream and half whole milk. If you can't find half and half where you live just substitute with whipping cream and whole milk.
Ice Cream in a Bag is so yummy and so fun to make. You can have homemade Ice cream in about ten minutes.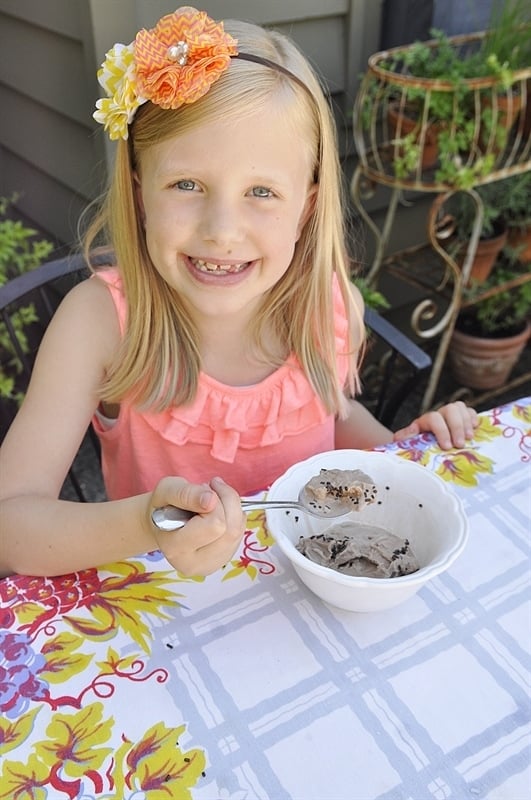 For more fun ideas to do with kids check out these: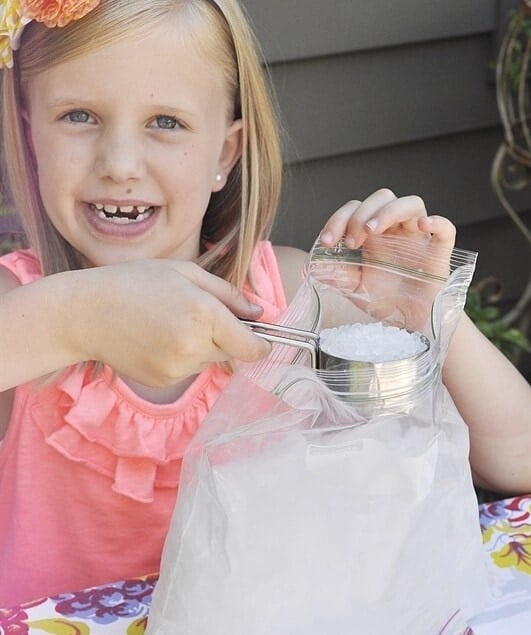 Ice Cream in a Bag
Ice cream in a bag is a fun way to enjoy a cool treat on a hot summer day. A fun activity for cooking with kids.
Ingredients
1 gallon zippered plastic bag
1 sandwich size zippered plastic bag
1/2 cup half and half
1 Tbsp sugar
1/2 tsp vanilla
2 Tbsp chocolate syhrup
1/3 cup rock salt
ice
Instructions
Fill gallon bag half way with crushed ice.

Fill sandwich bag with half & half, sugar, vanilla and chocolate syrup. Smoosh to combine ingredients.

Zip bag closed removing as much air as possible.

Add rock salt into large bag with ice.

Place smaller bag with liquid inside larger bag and remove as much air as possible and zip closed.

Shake or toss bag for 5-10 minutes until the ice cream sets up.

Remove smaller bag from larger bag and squeeze ice cream into a bowl. Enjoy!
Tips & Notes:
What is half and half? Half and half is a mixture of half whipping cream and half whole milk. If you can't find half and half where you live just substitute with whipping cream and whole milk.
Nutrition Facts:
Calories: 209kcal (10%) Carbohydrates: 17g (6%) Protein: 3g (6%) Fat: 13g (20%) Saturated Fat: 8g (50%) Cholesterol: 44mg (15%) Sodium: 37774mg (1642%) Potassium: 157mg (4%) Sugar: 12g (13%) Vitamin A: 430IU (9%) Vitamin C: 1.1mg (1%) Calcium: 151mg (15%) Iron: 0.3mg (2%)
* Disclaimer: All nutrition information are estimates only. Read full disclosure here.