Making their own ice cream in a bag is a perfect summer activity for the kids.  It's easy, fun and delicious!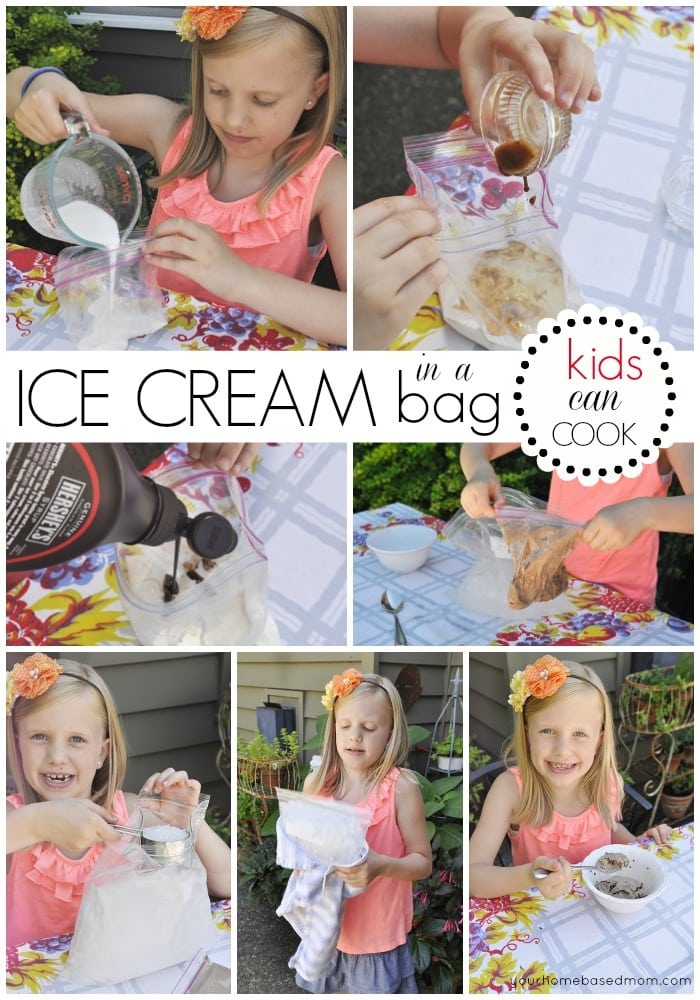 Originally post July 3, 2016
Three summers ago I shared Bread in a Bag as part of my Kids Can Cook series.  It was a huge hit and a video of the process recently went viral on Facebook!  You can check out the video in the post here, just scroll down.  This summer, I thought it would be fun to do Ice Cream in a Bag.  It's as much fun as Bread in a Bag and what is more fun than making your own ice cream on a warm summer day!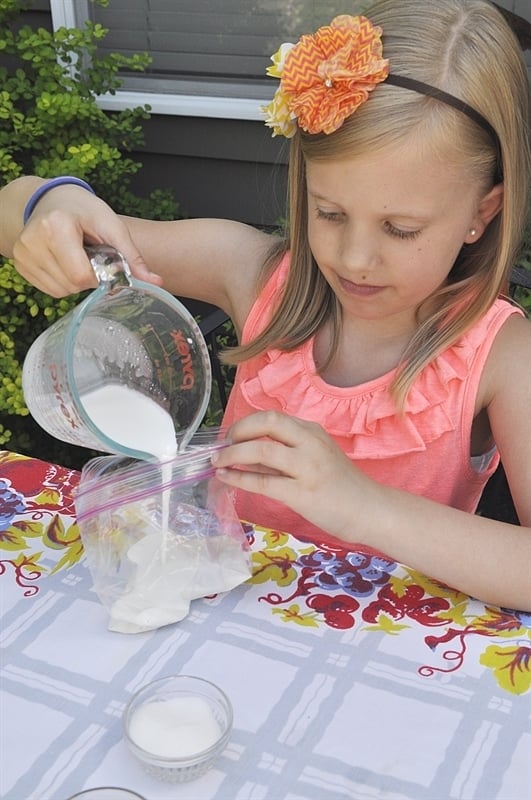 I enlisted the help of my little friend Brooke.  She is in my husband's Primary class at church and she was more than willing to help me out when she heard ice cream was involved and she got a ride home in Ruby.
The supplies are pretty simple, a large gallon size zippered plastic bag and a sandwich size plastic bag.  You will also need half and half (a combination of whole milk and whipping cream), some sugar, vanilla, chocolate syrup, ice and rock salt. The first step is to combine the milk, sugar and vanilla into the sandwich size bag.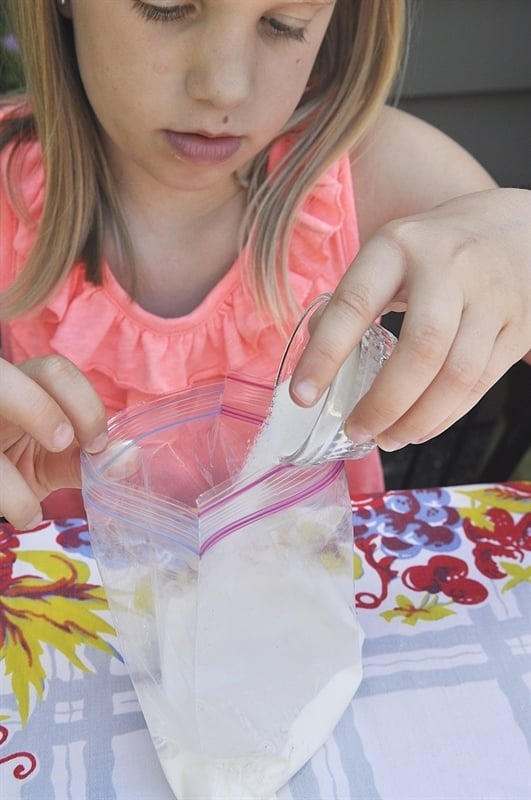 You can leave it like this if you are a vanilla fan but if you are a chocolate fan, like Brooke, add in some chocolate syrup!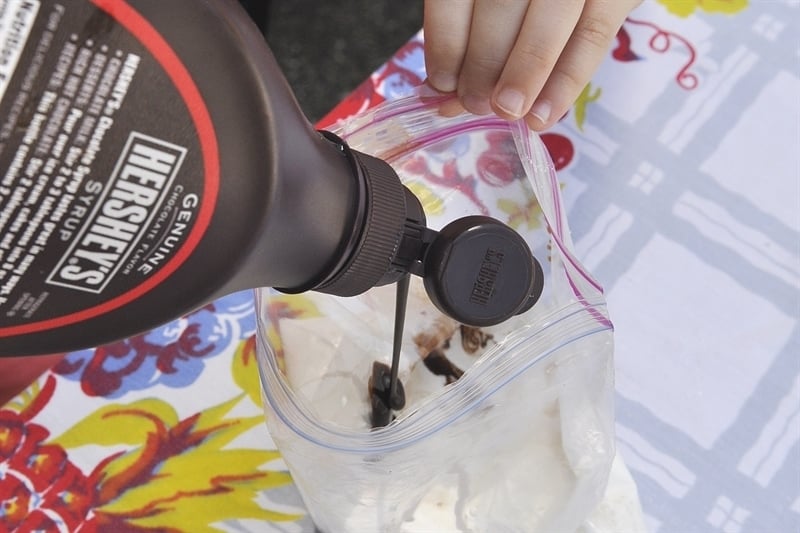 She then smooshed the bag around to get all the ingredients combined and the chocolate syrup nice and mixed in.  Smooshing is fun, just make sure the bag is securely zipped and get as much air out as possible.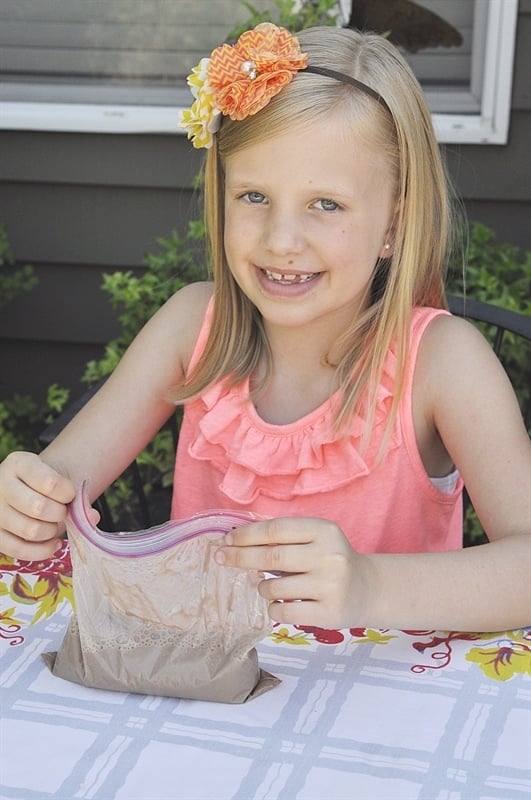 Fill your larger bag full of crushed ice, about half way full and then pour in the rock salt.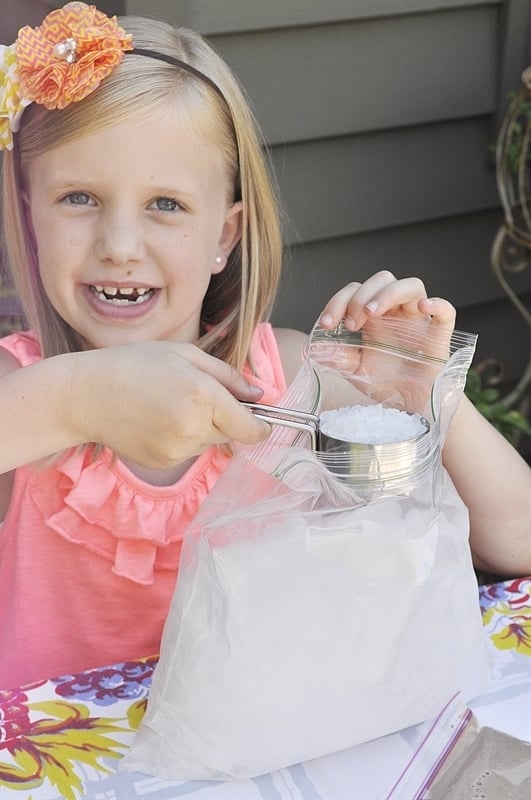 Place the smaller bag into the larger bag and again, remove the air and zip it closed.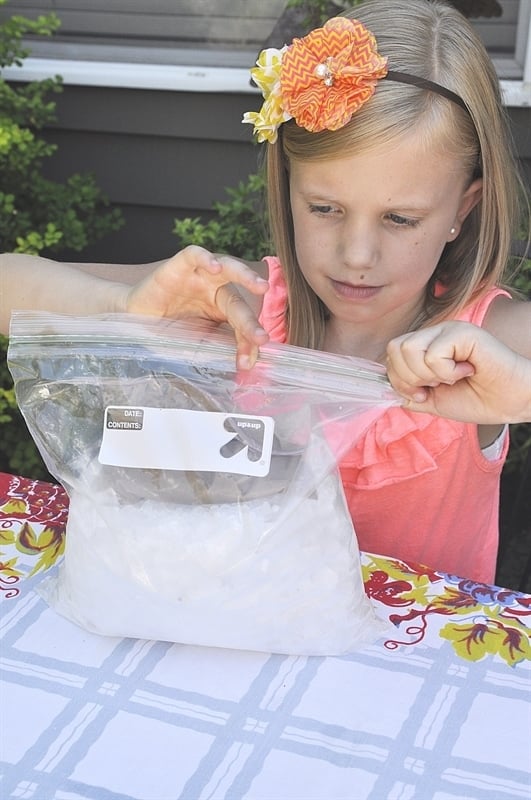 Then comes the fun part, for about 5-10 minutes shake the bag! Your weather temperature will effect how quickly your ice cream sets up.  If it's really hot out, it might take a bit longer.
Have fun with this part.  Place a little catch with the bag but just make sure you catch it!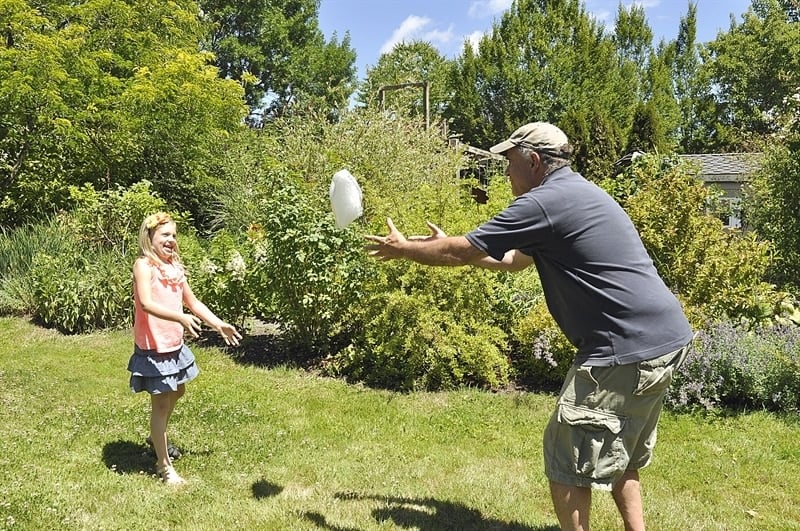 And you can just shake and shake.  If the bag is too cold to hold, just wrap a towel around it.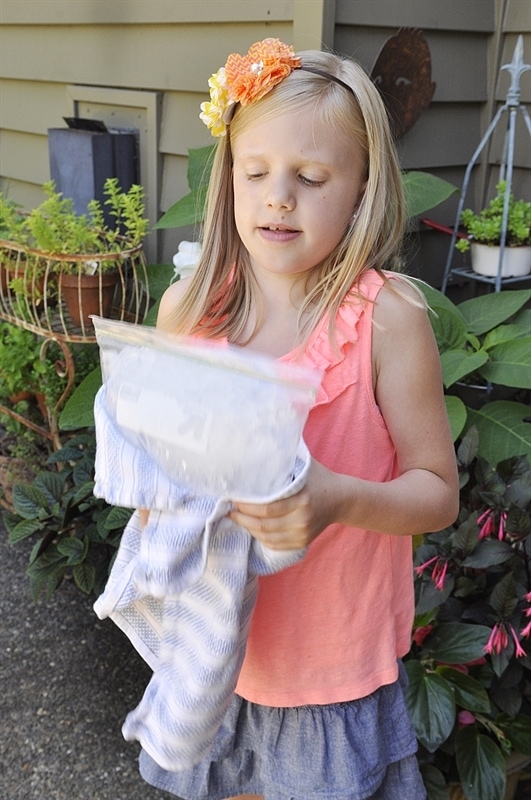 Once the ice cream is set up just squeeze it out of the bag into a bowl.  You can always place the smaller bag into the freezer for a bit to help it harden up more if you'd like but we found ours did just fine by shaking it.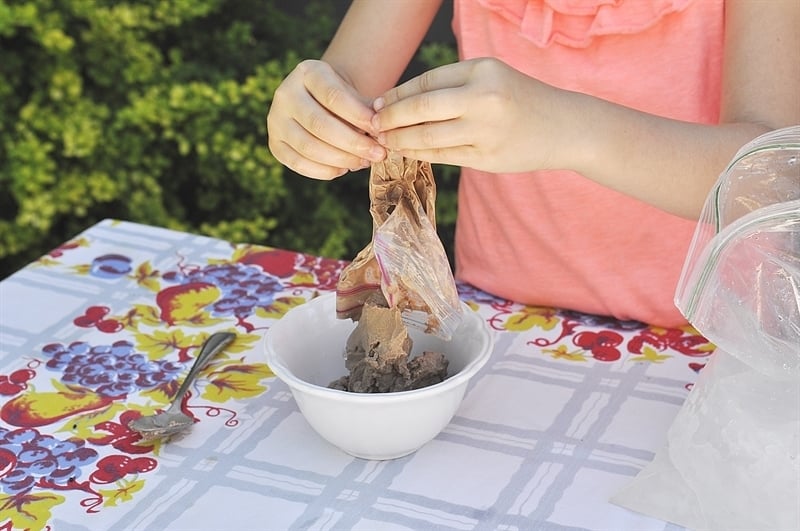 Of course the addition of some sprinkles is required.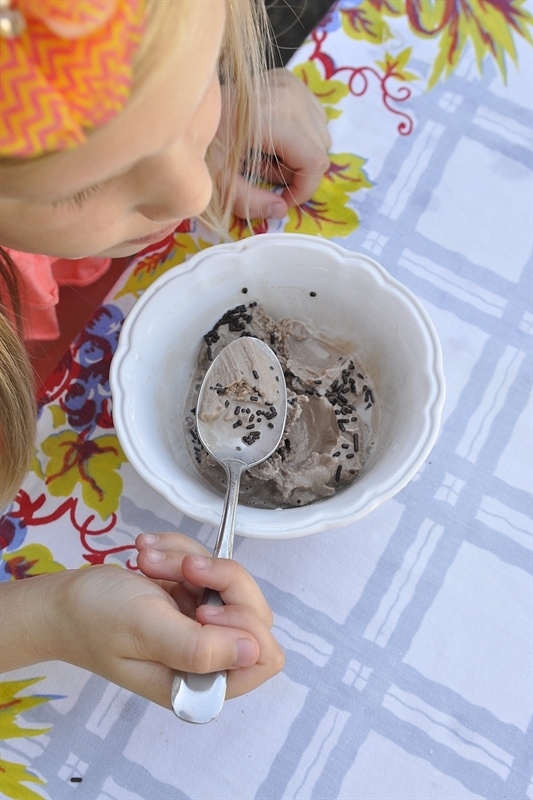 And then just add a spoon!  It is so yummy and so fun to make.  Ice cream in about ten minutes. The amount is the perfect single serving size.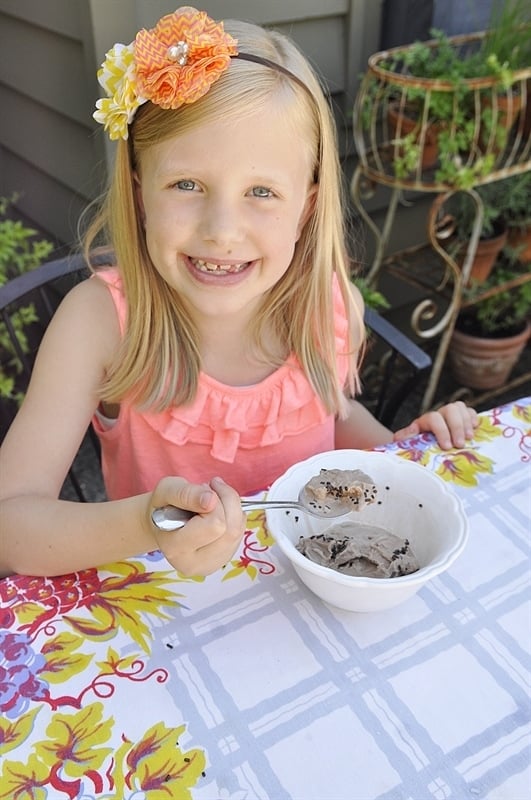 DIY Ice Cream In A Bag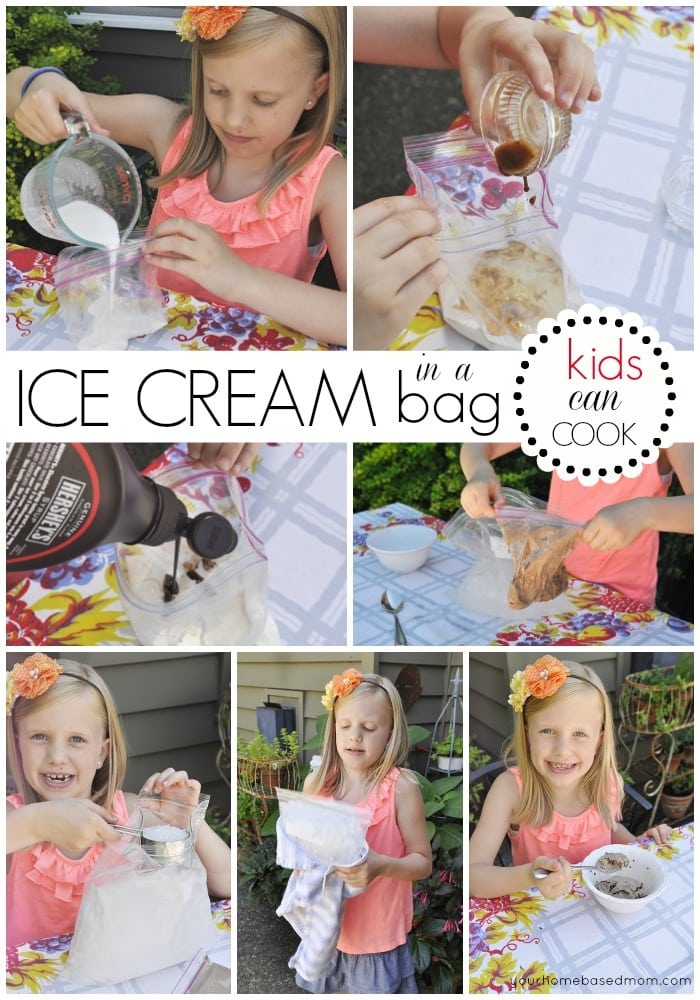 Ice Cream in a Bag
Ingredients
1

gallon

zippered plastic bag

1

sandwich size zippered plastic bag

1/2

cup

half and half

1

Tbsp

sugar

1/2

tsp

vanilla

2

Tbsp

chocolate syhrup

1/3

cup

rock salt

ice
Instructions
Fill gallon bag half way with crushed ice.

Fill sandwich bag with half & half, sugar, vanilla and chocolate syrup. Smoosh to combine ingredients.

Zip bag closed removing as much air as possible.

Add rock salt into large bag with ice.

Place smaller bag with liquid inside larger bag and remove as much air as possible and zip closed.

Shake or toss bag for 5-10 minutes until the ice cream sets up.

Remove smaller bag from larger bag and squeeze ice cream into a bowl. Enjoy!


Stay Updated!
Need more recipes and creative ideas? Sign up and get a FREE copy of my ebook! Do you think your friends would love this too? Please share my blog with them. Thanks!