Some other favorite recipes that combine peanut butter and chocolate include my amazing Peanut Butter Chocolate Chip Cookies, Peanut Butter Pie and Peanut Butter Cheesecake Brownies.
Peanut Butter and Chocolate is a match made in heaven and a perfect flavor combinations. Not only are the two flavors combined in the frosting on these cupcakes but in the cake too.
The cake is basically a peanut butter cake and then you add some chocolate into half of the peanut butter cake batter and you've got heaven!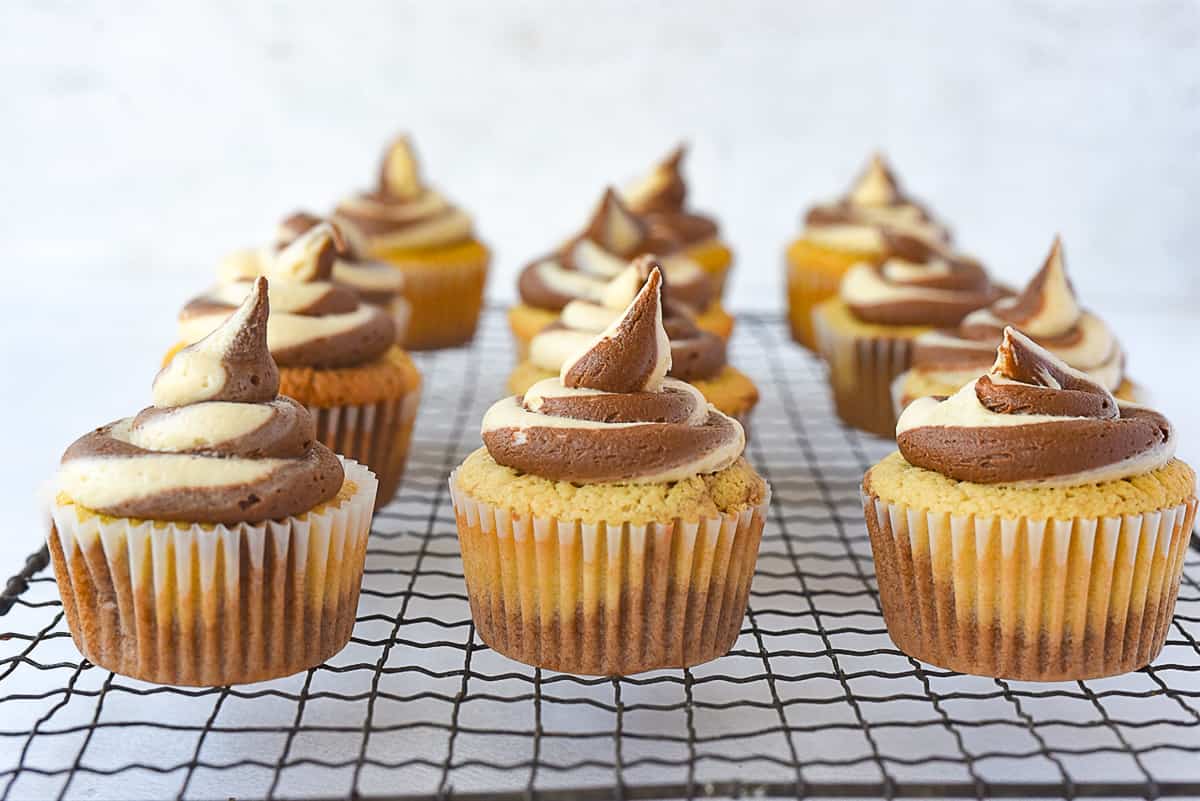 How to Make Chocolate Peanut Butter Cupcakes
Beat your butter for about 30 seconds until smooth. Add in peanut butter and mix to combine.
Add in sugars, 1/4 cup at a time. Beat on medium speed until well combined and mixture is fluffy. Scrape bowl a few times while mixing.
Add in eggs, beating well after each one.
Add in vanilla.
Add in flour and milk alternating each one on a low speed.
Put half of batter into another bowl and add in melted chocolate to that half. Beat on low until just combined.
ADD PHOTO
Line muffin tin and add a scoop of peanut butter batter, 1/3 full.
Add another scoop of chocolate batter. Cup should now be about 2/3 full.
Use a knife to swirl the batters together.
ADD PHOTO
Bake at 375 degree F oven for 15-18n minutes or until a toothpick comes out clean.
Cool on a baking rack before frosting.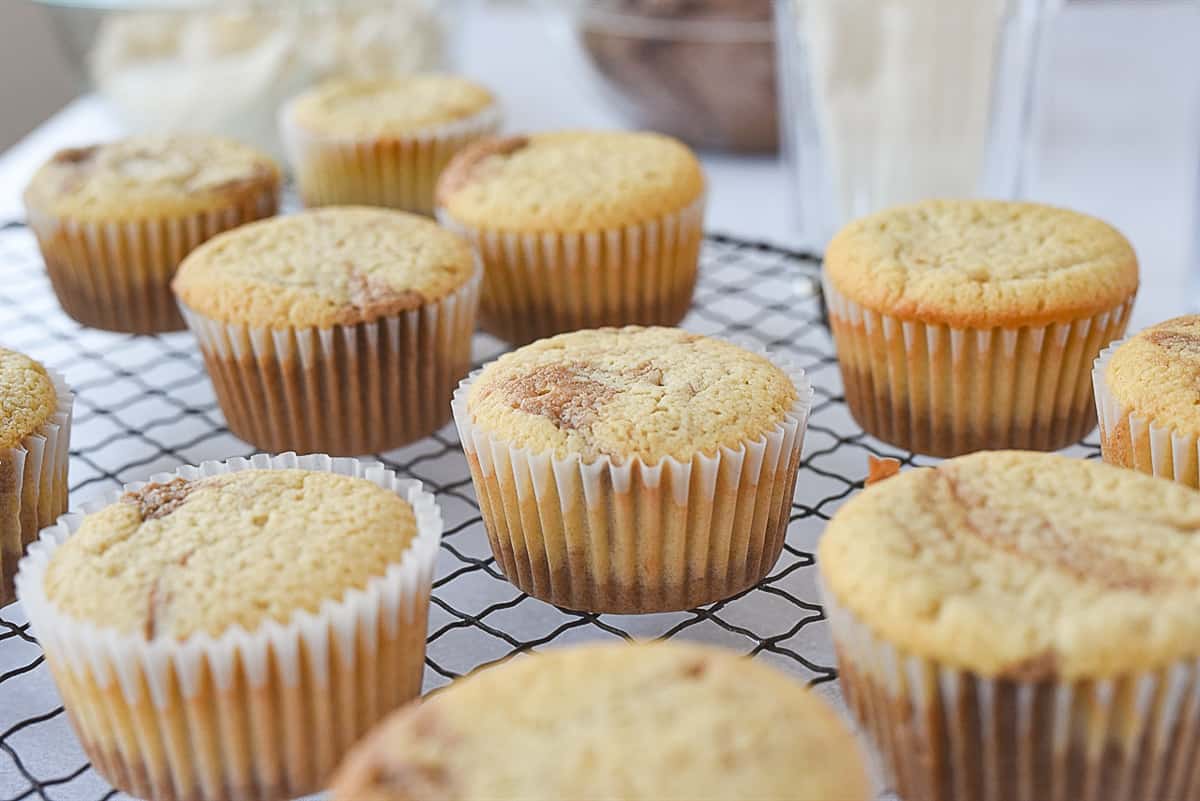 Now it's time to add the amazing frosting that tastes delicious too.
How to Swirl Multiple Frostings Together
Mix together peanut butter frosting.
Remove half into another bowl and add 1/2 cup of cocoa.
Place each frosting into its own individual plastic decorating bags. (I used plastic disposable ones)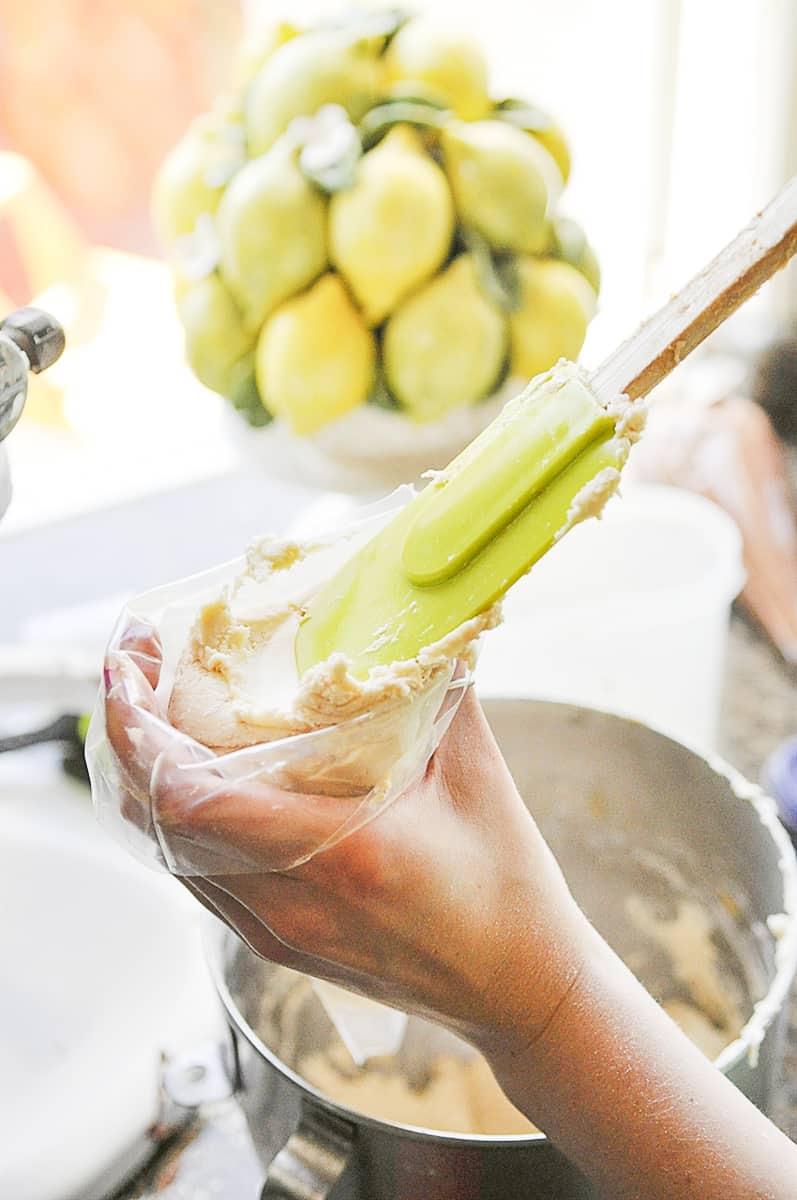 Then place the two bags into one really big disposable decorating bag.
Attach a large round tip to the end of the outside bag.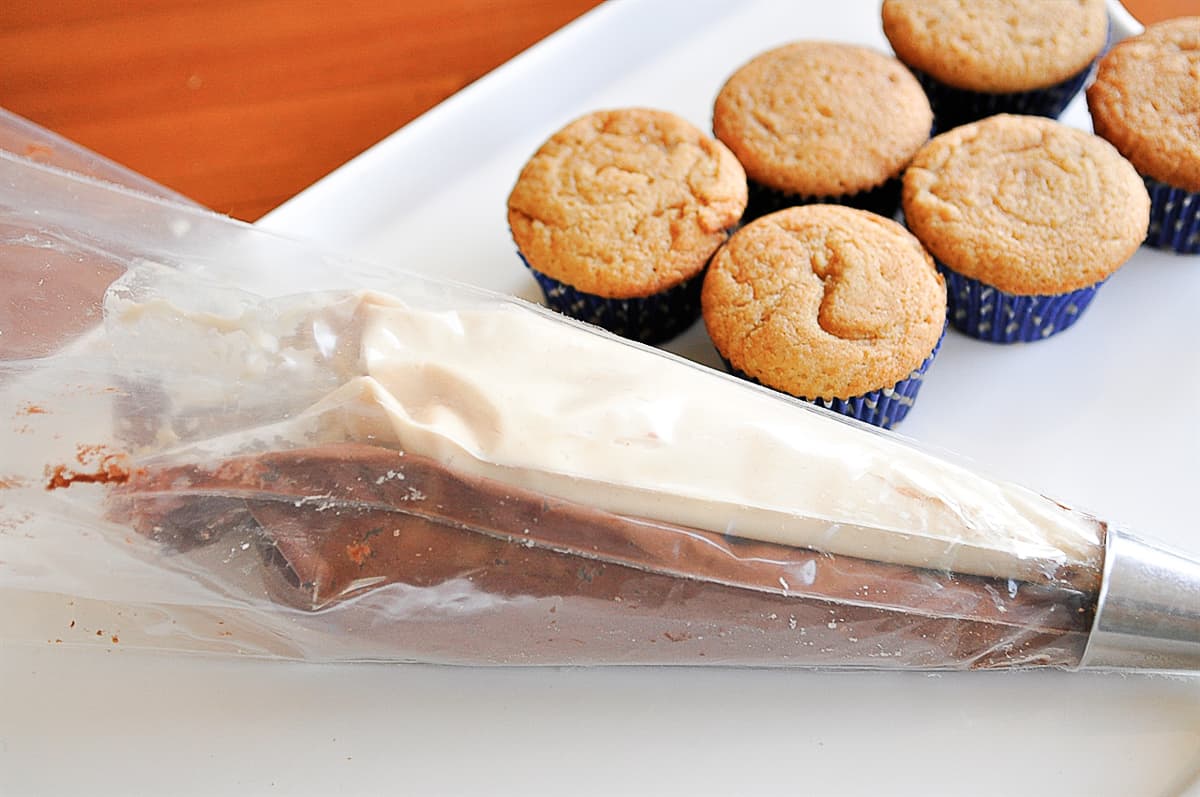 Can I Do This Without 3 Frosting Bags?
You can make your own frosting bag with some plastic wrap but you will need one large bag to put it into.
Lay a large piece on the counter and pipe or spread the frosting into log shapes onto the plastic.
ADD PHOTO
Roll up in plastic wrap and twist the wrap together at the end. Snip off the end creating a hole for the frosting to come out.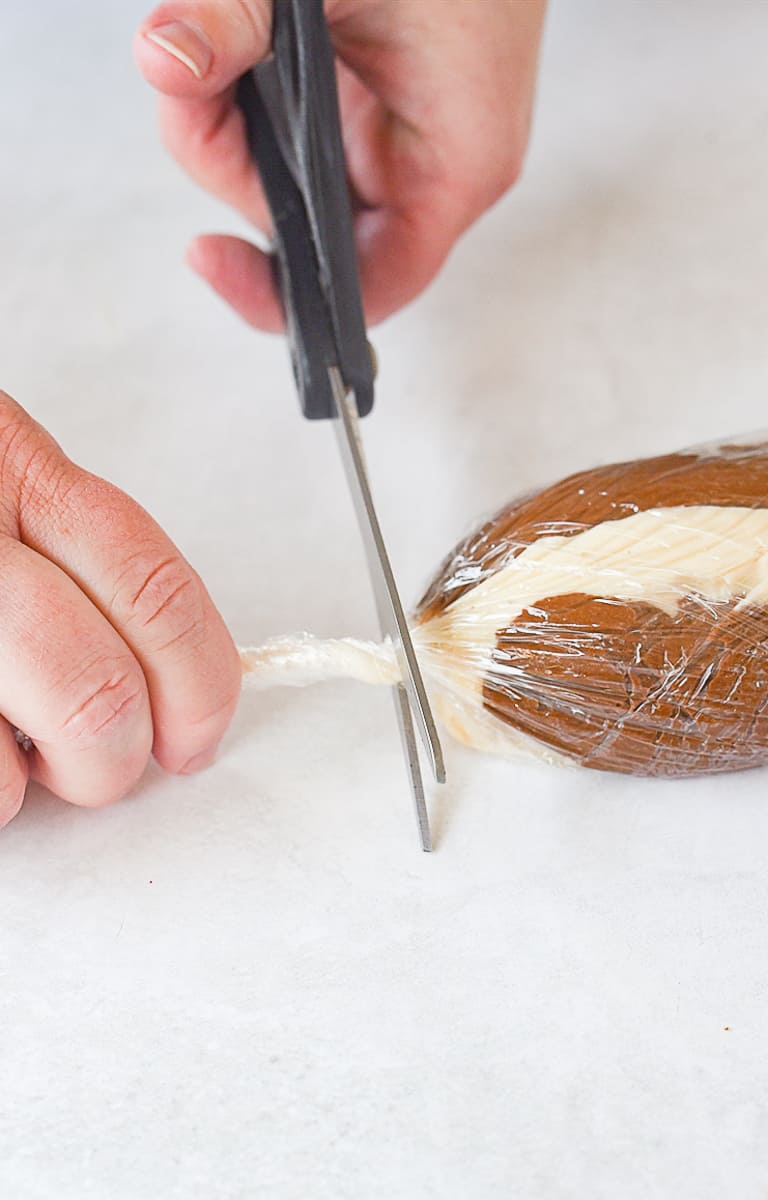 Attach large round tip to the end.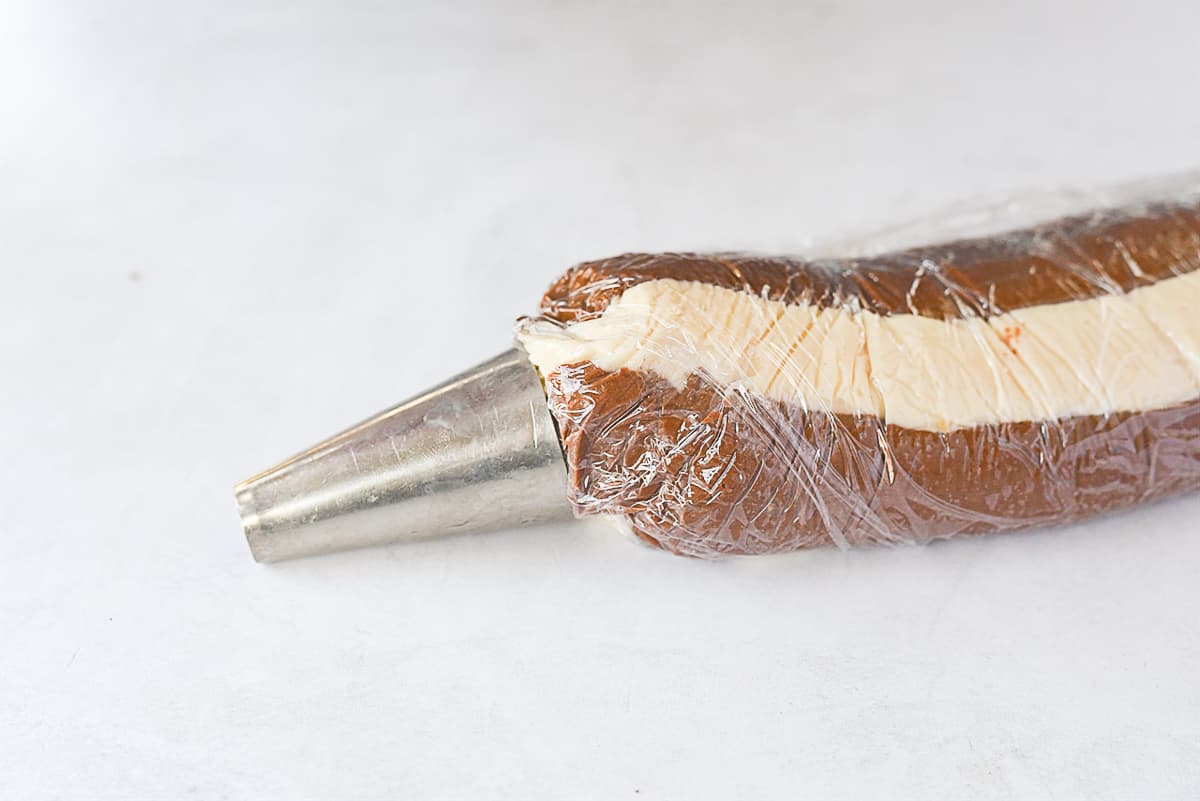 Insert frosting into a large decorating bag.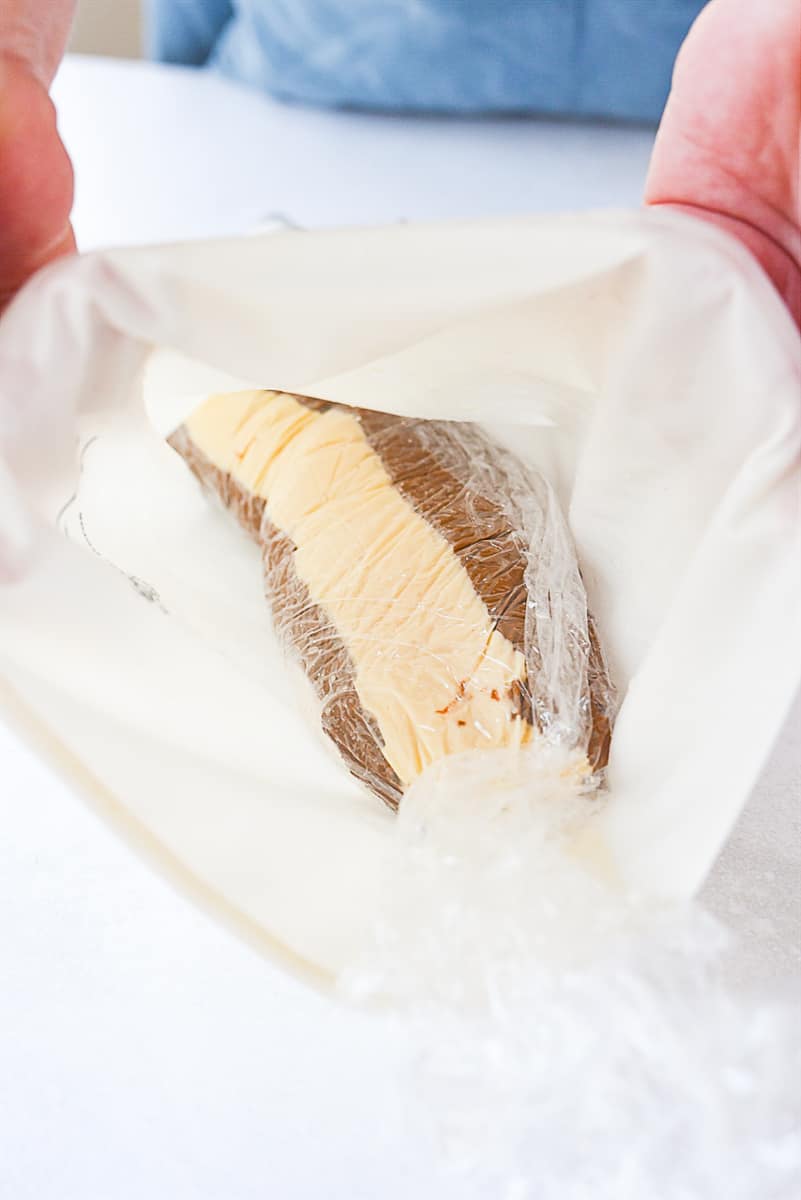 How to Frost a Cupcake
Holding the bag upright start squeezing frosting onto the cupcake.
Move your tip in a circular movement.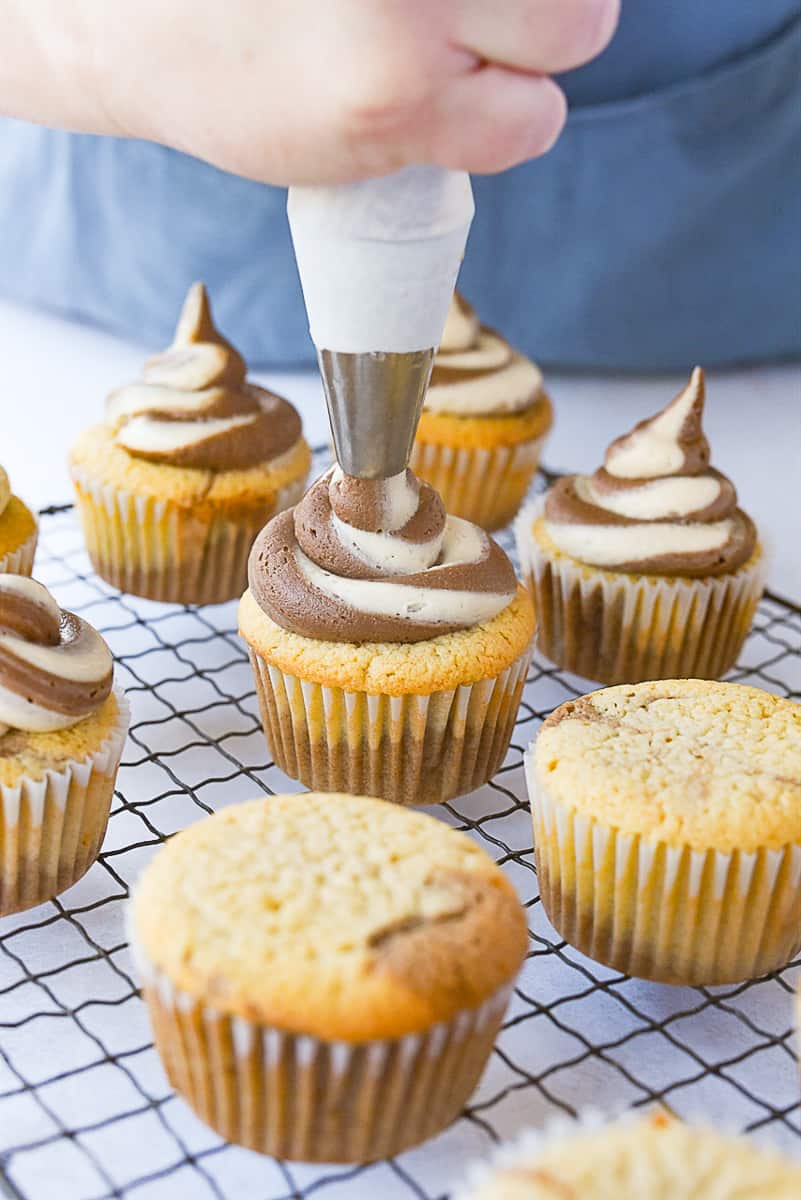 Keep squeezing until you get a nice little mountain of frosting.
Release pressure on the bag and lift your tip straight up.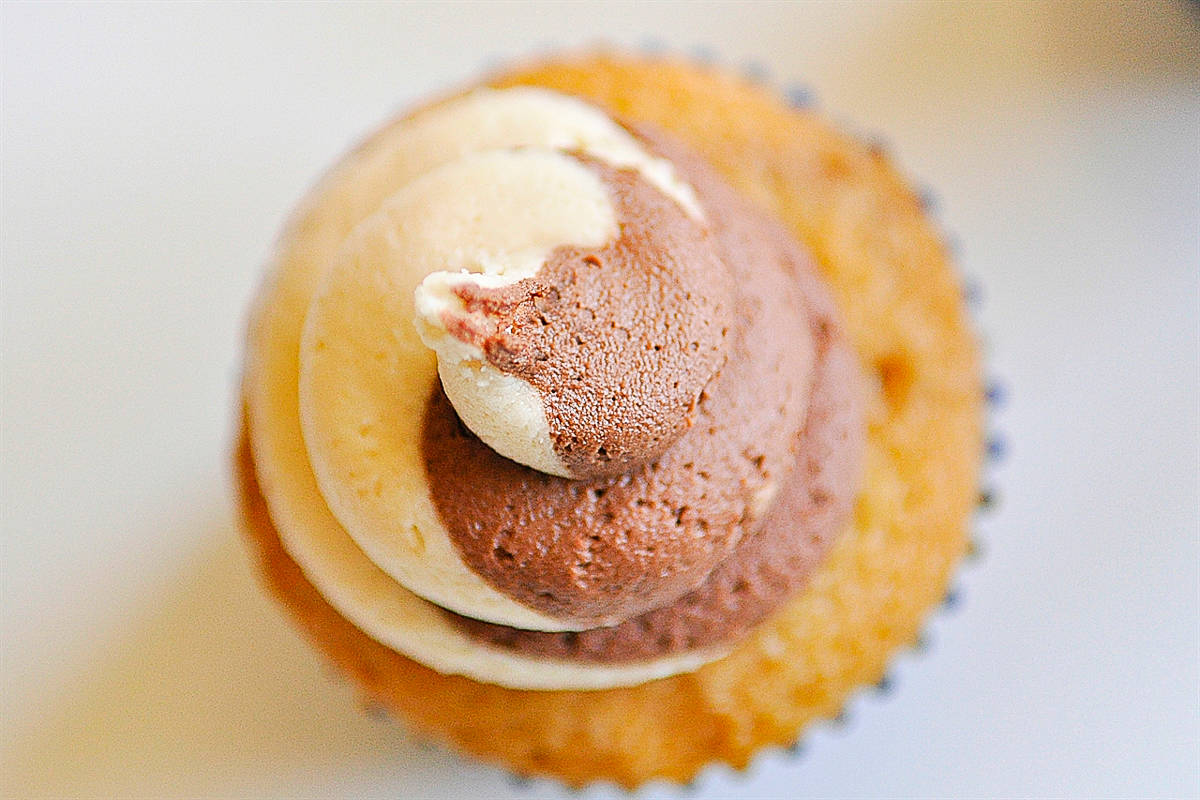 Garnish the top of each cupcake with half of a miniature Reese's Peanut Butter Cup if you want even more chocolaty peanut butter goodness.
The process looks a little complicated but is easier than it looks and the results look so amazing and complicated.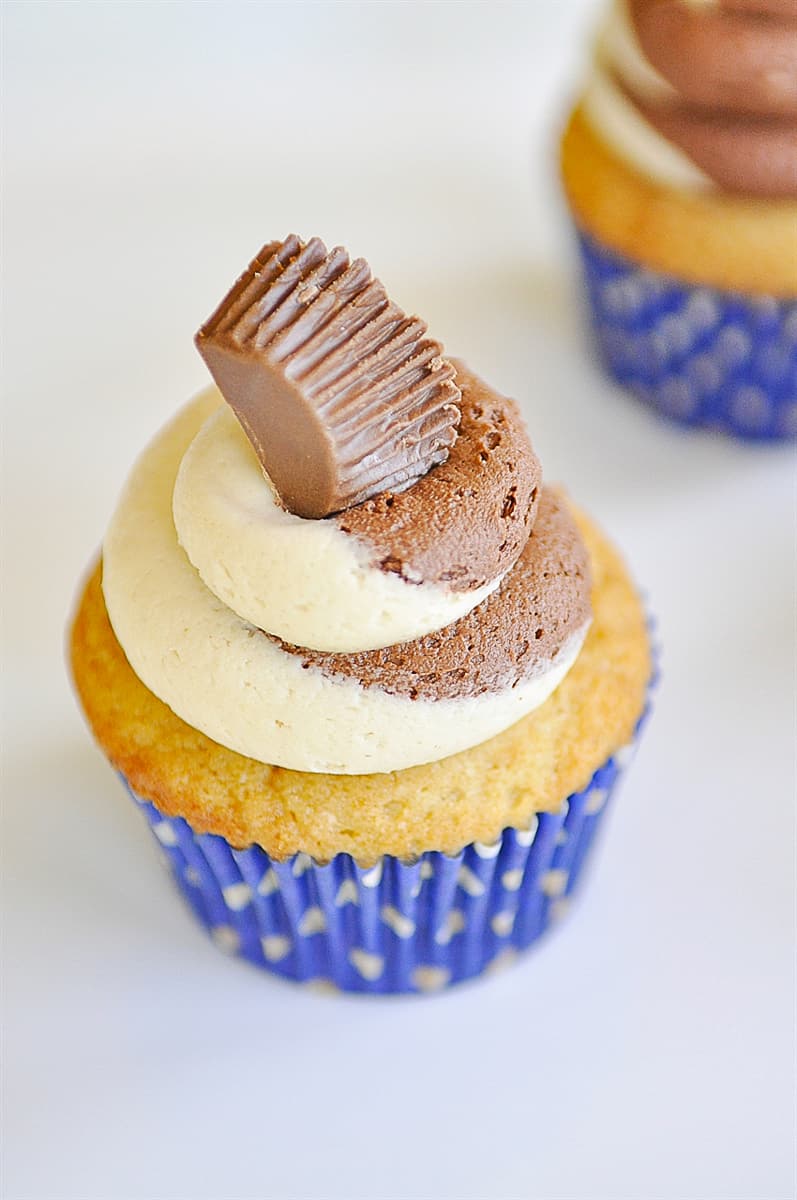 Do I Need to Refrigerate Cream Cheese Frosting?
Yes, cream cheese frosting should be refrigerated. Store cupcakes in an airtight container, deep enough not to smash the frosting in the refrigerator for 4-5 days.
If you are fan of chocolate and peanut butter together you are going to love these cupcakes.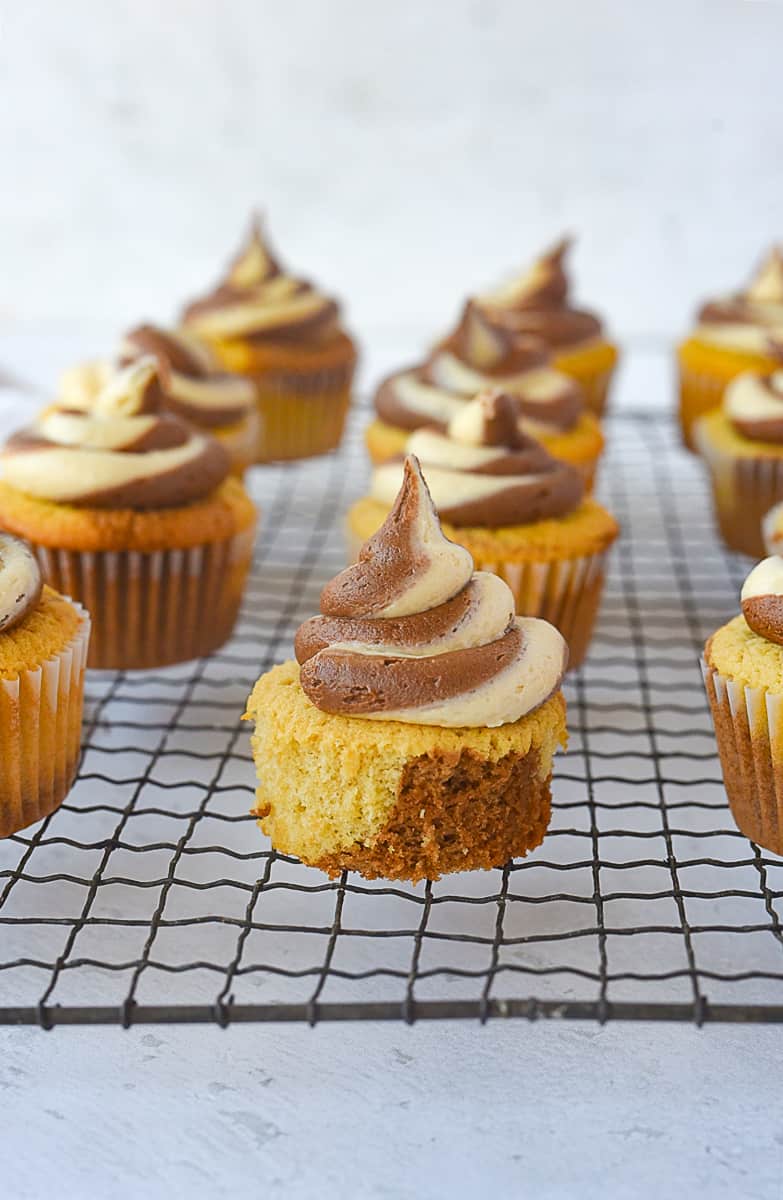 Be sure and follow me on YouTube for lots of recipe videos!
For all of my other favorite kitchen products and tools visit my Amazon Store. Did you know I wrote a cookbook? Check out the Holiday Slow Cooker Cookbook for 100 delicious recipes.
Peanut Butter Chocolate Cupcakes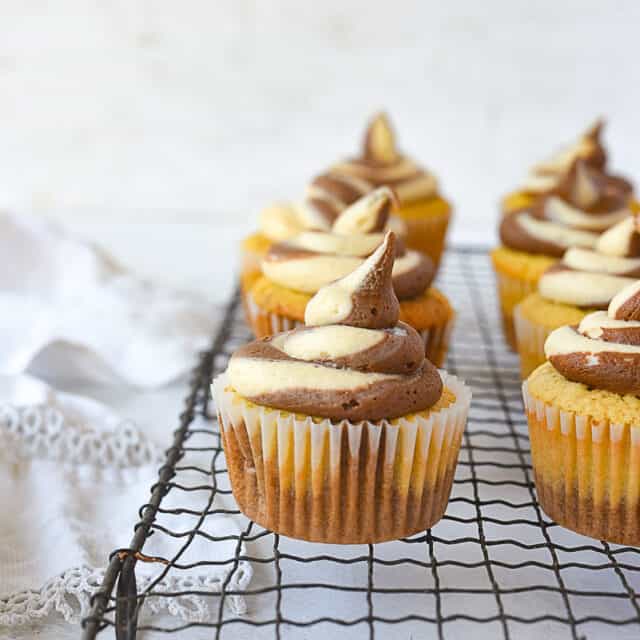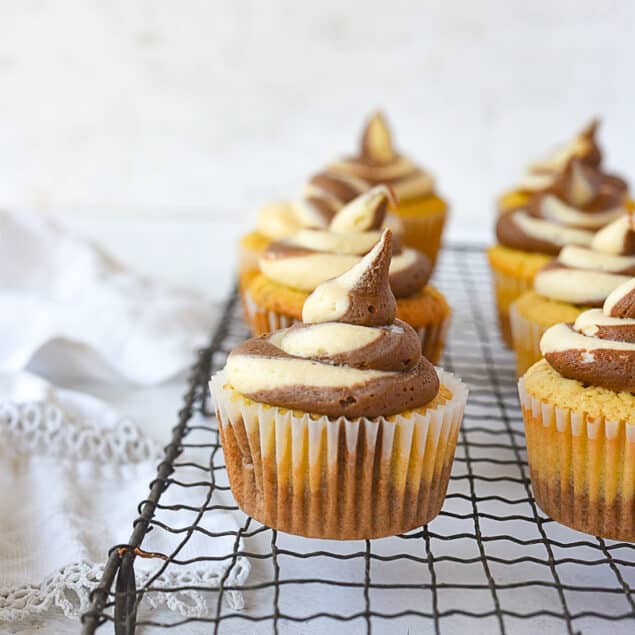 Peanut Butter Chocolate Cupcakes
Everyones favorite flavor combination, peanut butter and chocolate, in a delicious cupcake.
Ingredients
1/2 cup butter
3 eggs
2 1/2 cups flour
2 1/2 tsp baking powder
1/2 tsp salt
1/3 cup creamy peanut butter
1 cup packed brown sugar
3/4 cup granulated sugar
1 1/2 tsp vanilla
1 cup milk
4 oz. milk chocolate melted
Peanut Butter Frosting:
8 oz. cream cheese softened to room temperature
1/2 cup creamy peanut butter
2 tsp vanilla
6 cups powdered sugar
2-4 tsp milk
Chocolate Frosting:
1/2 peanut butter frosting
1/2 cup cocoa or more to desired taste
Beat until well combined.
Instructions
Bring butter and eggs to room temperature

In a bowl mix together the flour, baking powder and salt

Preheat oven to 375 degrees

In a large bowl beat butter for about 30 seconds and then add in peanut butter until well combined Add in brown sugar and granulated sugar, about 1/4 cup at a time

Beat on medium speed until mixed together well

Scraping sides of bowl beat for an additional 2 minutes or until fluffy

Add in eggs, beating well after each one

Add in vanilla

Add in flour and milk alternating, beat on low speed after each addition

Put half of batter into another bowl, add in melted chocolate

Beat on low until well combined

Fill lined muffin cups with half peanut butter batter and half chocolate batter

Fill cup about 2/3 full, 1/3 full of each flavor.

Use a knife to swirl the batter in each cup

Bake for 15-18 minutes or until a toothpick comes out clean

Cool cupcakes before frosting
Peanut Butter Frosting:
Beat cream cheese, peanut butter and vanilla until light and fluffy

Gradually add in powdered sugar

Add milk, 1 tsp at a time until desired consistency

Divide into two portions

Set aside one for the Chocolate Frosting
Chocolate Frosting:
Mix until well combined

Fill decorating bags with each frosting

Put both bags into one large bag and add desired tip

Pipe onto cupcakes