Atlantic Beach Lemon Cream Pie is a delicious dessert with a salty crust and a sweet lemon filling.  A combination that goes together perfectly!

Occasionally I get an email from my good friend Sherra and it begins with the words  – Must Make!  Then there is a link to a recipe.  I know if it comes from Sherra and it starts with those two words I can pretty much be guaranteed it's going to be a good one.  So I usually do just what she says and I make it!
Pretty much right then and there!
This recipe came with a fun story.  My friend found the recipe in the Our State: North Carolina online magazine.  The story goes that in the 50's in North Carolina they believed that if you ate dessert after a dinner of seafood you would die.  Honest!  The only exception to that though was lemon pie. Atlantic Beach Lemon Pie.  I guess it has something to do with how lemon and fish go together.
I am pretty much lemons greatest fan but I have to say that the star of this dessert is not the lemon, it is the crust which is made out of saltine crackers.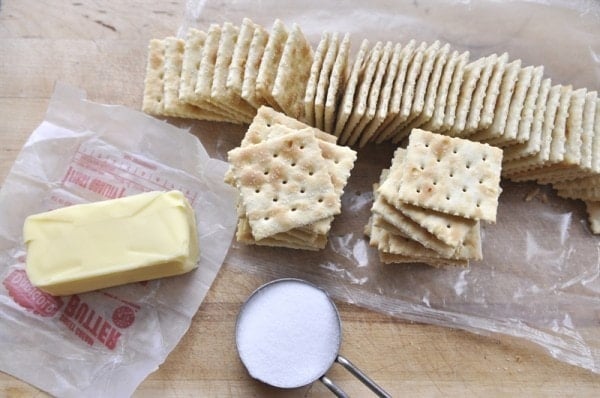 The saltiness of the crust along with the sweetness of the filling is simply lovely!  I guess the original pie recipe came with a meringue crust but this saltine crust is delicious!  This version was developed by cookbook author Bill Smith.  The salty cracker crusts helps make the pie not too sweet.
Just crush up the saltines, you don't want them totally pulverized though.  Combine the crumbs with some sugar and some softened butter and press into the bottom of a pie tin and back.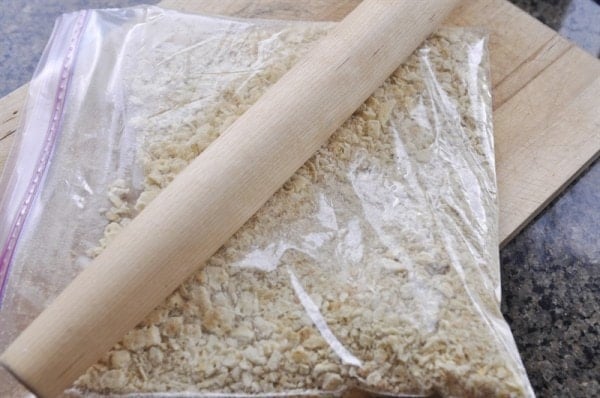 The filling is a combination of fresh lemon juice, sweetened condensed milk and eggs.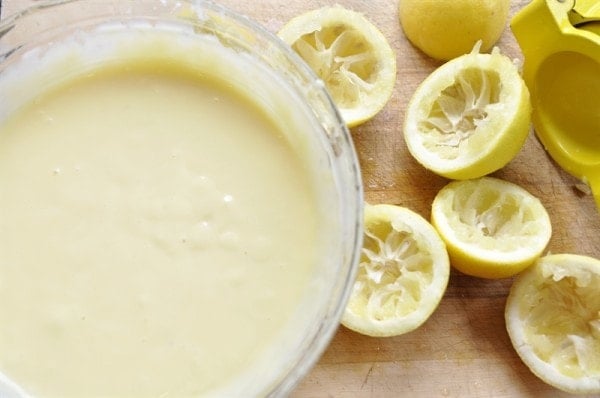 Once the crust cools a bit pour in the filling and then bake again.  Refrigerate the pie until ready to serve.
I topped it with a bit of whipped cream and it was perfect!  Some sweet and some salt, pretty much the perfect combination.
Pretty much the only thing you need to add at this point is a fork!  Dig in!!
Other lovely lemonness:
Lemon Angel Pie – Lemon Sour Cream Pie –Frozen Lemon Dessert

Atlantic Beach Lemon Cream Pie
Ingredients
1½ sleeves of saltine crackers
½ C softened unsalted butter
3 tablespoons sugar
For the filling:
1 can 14 ounces sweetened condensed milk
4 eggs
½ cup lemon juice
Fresh whipped cream for garnish
Instructions
Preheat oven to 350?.

Crush the crackers finely, but not to dust.

You can use a food processor or place in a plastic bag and use a rolling pin to crush.

Add the sugar, then knead in the butter until the crumbs hold together like dough.

Press into an 8-inch pie pan. Chill for 15 minutes, then bake for 18 minutes or until the crust colors a little.

While the crust is cooling (it doesn't need to be cold), beat the egg into the milk, then beat in the lemon juice.

Mix well.

Pour into the shell and bake for 16 minutes until the filling has set. The pie needs to be completely cold to be sliced. Serve with fresh whipped cream