Steak Bites are about as easy as they get – just three ingredients.
For more pretty and delicious be sure and follow me on Instagram.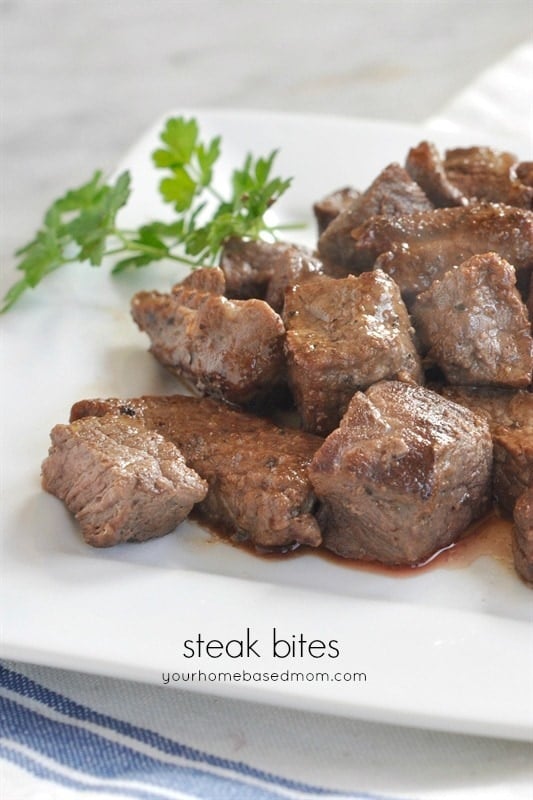 Today I've got a recipe redo for you.  The photos in the original post were so bad it just had to have a redo.  I had actually taken the original photos at the dinner table as we were sitting down to eat and the lighting was terrible.  I have made these twice in the last few weeks because they are so easy and delicious.  If you are eating Paleo or Whole30 these work great.
Here's the original post with new photos!
I have a confession to make!
I skipped Sunday School last week!  Shh – no one tell my mother or my husband  – o.k.?
I really didn't skip on purpose, well I guess I kind of did.  I came home to get something really quick and before I knew it I was on my computer surfing around the food blog world.  It had been  a while since I had paid a visit over at Pioneer Woman – one of my favorite blogs.  She truly is a rock star blogger.
Before I knew it I was lost in her amazing pictures of amazing food and I had missed Sunday School!
One of the recipes I found was for Steak Bites.   I knew this was exactly the kind of meal my big boys – all three of them would love!
My husband was leaving town for the week so I decided to fix him a "Manly Meal" – steak and potatoes.  For my Idaho boy there is nothing he likes better!
The nice thing about the Steak Bites is that we lighter eaters don't have to deal with a whole piece of steak – just take as many bites as you like!
The week prior I had been talking to my husband about trying to eat healthier and trying to integrate some vegetarian meals into our diet.  After eating the Steak Bites his only comment was – "You sure about that vegetarian thing?"  He loved them and so did Tessa and I!
Just for fun – here is the original photo!  
The Steak Bites were so yummy and so incredibly quick and easy to prepare!  I could not find the precut steak bites like Pioneer Woman did so I just bought a nice piece of Sirloin Steak and cut it up myself.
I cooked them up in my cast iron frying pan with some butter.  Make sure your pan is nice and hot.
Just cook to your desired doneness.  I like my meat medium well.
I served them with some roasted sweet potatoes and a spinach salad.
I use my cast iron pan for so many things it really is a must have in the kitchen for me.  In fact I have 3 of them!!
For other beef dishes try these:
Fast Fire Flank Steak – Slow Cooker Cuban Beef – Sunday Pot Roast
Steak Bites
Ingredients
1 sirloin steak or 1 pkg. pre-cut beef tips
Kosher salt and freshly ground black pepper
Butter
Instructions
Trim off the large obvious pieces of fat that run along the side of the meat
Cut strips less than 1 inch wide
Rotate the meat and cut into small bite-sized pieces
If you see anymore large chunks of fat, gristle or long silvery membranes cut them off
Sprinkle generously with kosher salt and freshly ground black pepper
Toss the meat around a bit to thoroughly coat with the seasonings
Turn on your ventilation fan overhead
Heat the skillet over medium high to high heat
As the pan heats, add about 2 tablespoons butter to the skillet
The point here is to allow the butter to melt, then brown, before you add the meat
Place some of the meat in the pan in a single layer
It should sizzle loudly when it hits the pan - if it doesn't, the pan isn't hot enough
Don't stir or disrupt the meat for 30 to 45 seconds
You want it to sizzle and brown on one side
Now scoop as many steak bites as you can with your spatula and flip them over
Repeat until all the meat is turned
Cook for an additional 30 seconds or so - just long enough to sear the outside of the meat but NOT cook the inside
(LA Note: I like my meat medium to medium-well so I cooked mine longer.)
Remove the meat to a clean plate
Add a little more butter to the pan and repeat the cooking process with the next batch just as before
Lastly when all the meat is nicely browned and removed to the plate pour all that browned/blackened butter all over the meat
Want Tips for Using a Cast Iron Skillet?
Want my Top 10 Tips for cooking in a cast iron skillet? Enter your email below and get the printable download instantly! You'll also be subscribed to my newsletter so you can stay updated on my latest recipes.