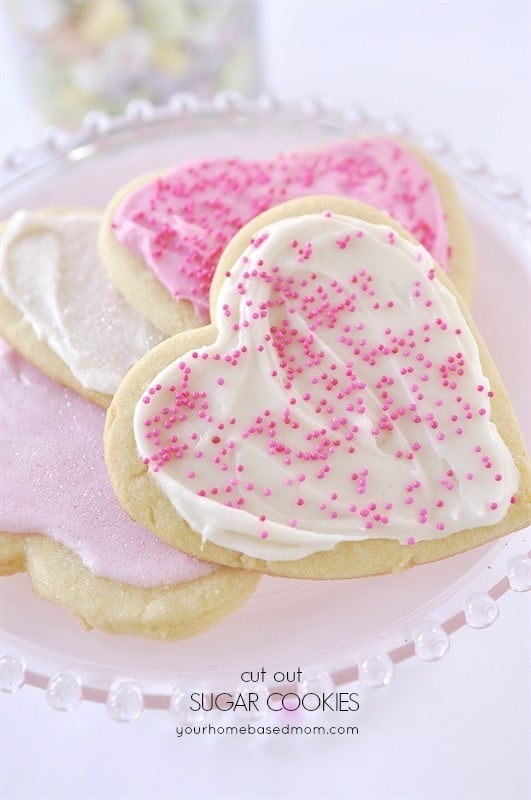 I have been blogging for four and a half years.  That's a lot of recipes.
Combine that with the fact that I'm getting a little forgetful in my old age and you end up spending the better part of the day working on a recipe to post on the blog only to realize that you posted that recipe, or at least one almost like it before!
Well,  you're getting a sort of repeat today.  Last year I shared with you the sugar cookie recipe I use to make sugar cookies for cookie bouquets.  It's a great recipe.
Today's recipe is a slight variation on that and since I spent all day working on it and the pictures are just too pretty not to post I'm doing it anyway!  I've got a Valentine Sugar Cookie Tutorial for you.
I know for most people cut out sugar cookies are part of their Christmas tradition.  At our house it is part of our Valentine's tradition.
I always make heart shaped sugar cookies for Valentines.  I love me a good sugar cookie!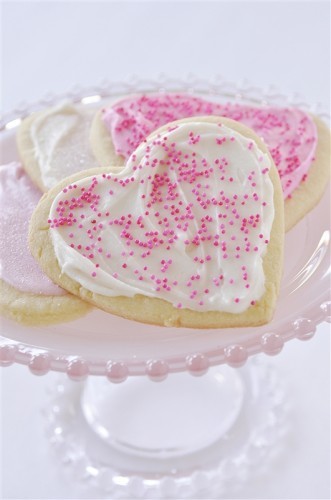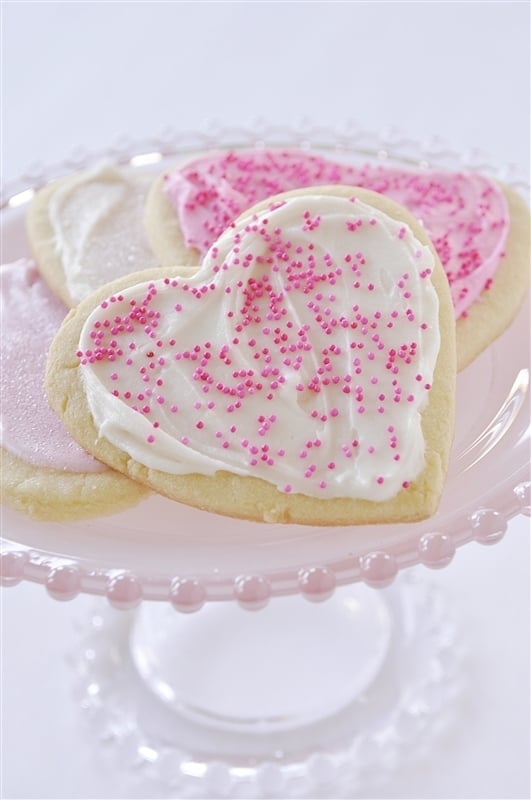 This recipe does use butter and butter flavor Crisco.  I know some of you don't cook with Crisco, even though it no longer has trans fats, so you can just use all butter.  But there is something about using Crisco in certain recipes that just works better.  You get a better texture and the flavor is just as good as if you used all butter many times.  So please forgive me but I used Crisco in this recipe!
Remember my paint stick trick that my friend Dawn shared with me.  The best way to get perfectly even cookies.  I prefer a thinner sugar cookie so I only use one layer of paint sticks.  If you like thicker sugar cookies use two. Just place your dough between the two sticks and make sure your rolling pin rests on the sticks and roll away.  Nice flat, even dough.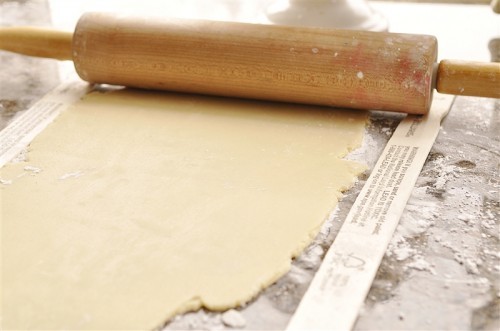 Of course I used heart cookie cutters for Valentines Day.  I have a major collection of cookie cutters – all holidays, all shapes, all sizes.  It takes up an entire cabinet in my kitchen. Out of control!  You need a cookie cutter of the state of Oregon, I've got it!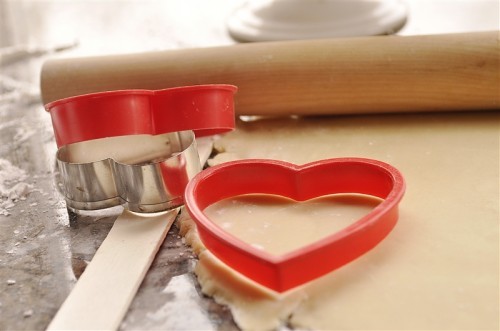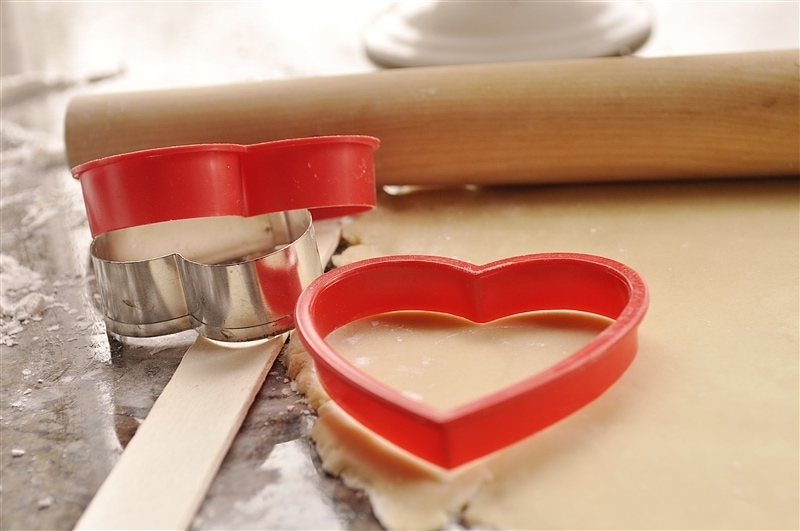 Make sure not to put your cookies too close together on the cookie sheet.  Nothing worse than two cookies that bake together!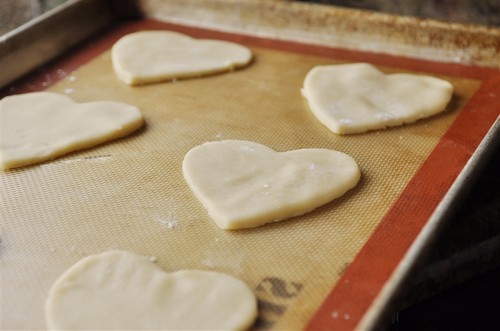 Of course let them cool before frosting.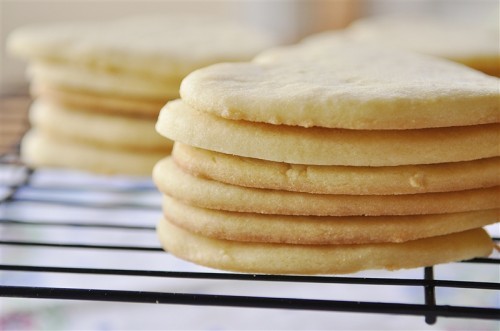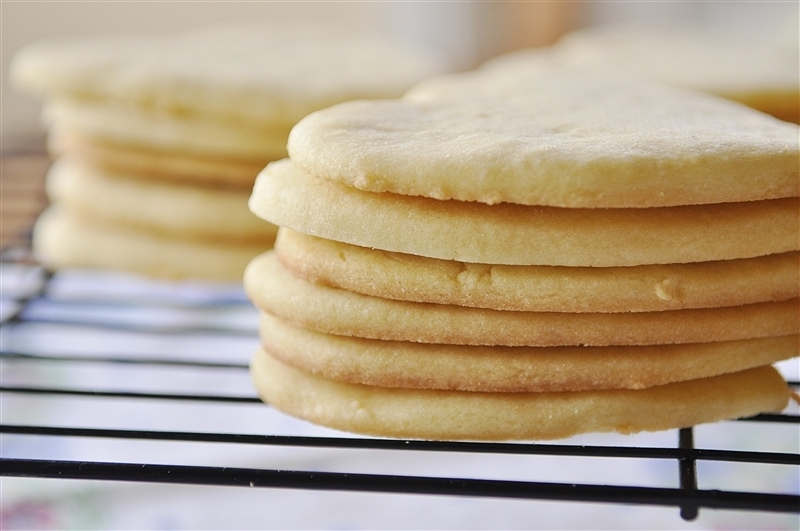 I have two different sugar cookie frosting recipes I use.  It depends on what kind of look you want.  For a shiny, flat look to your cookies you will want to use the glaze recipe.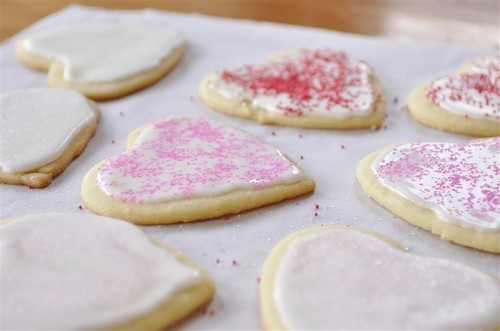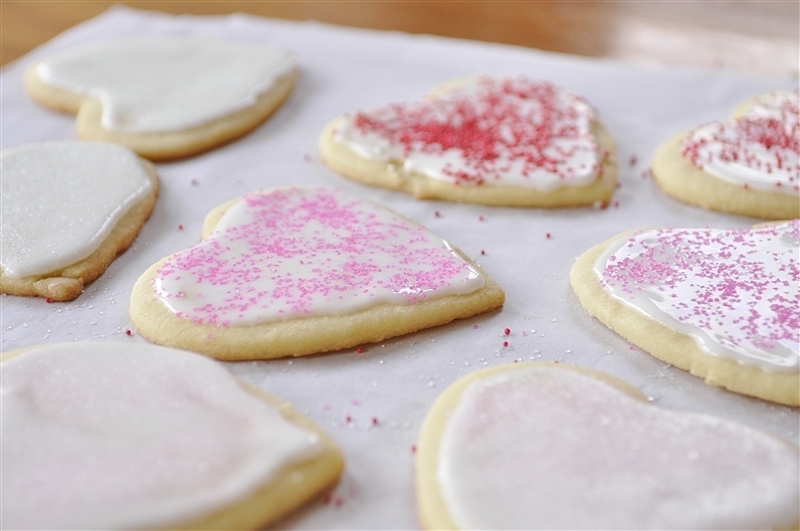 Or if you like a thicker layer of frosting with a bit more texture use the buttercream frosting recipe.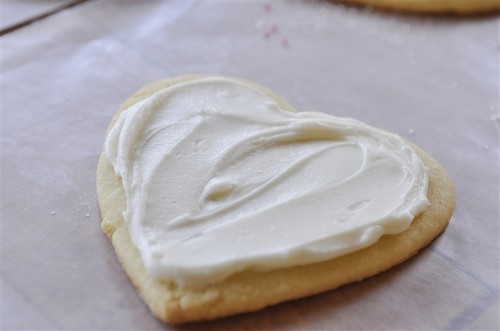 Once you add the sprinkles they don't look that much different!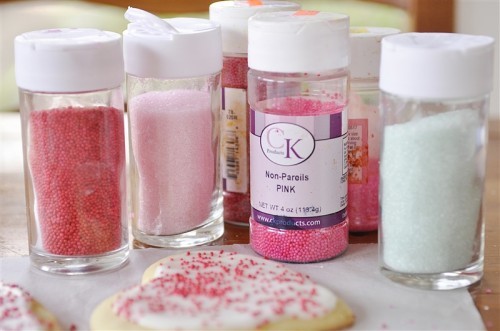 For the glaze you want it to be runny but not too runny.  You want it thin enough that it is easy to spread but thick enough that it doesn't run off the edges of the cookie.
I just use a spoon to place a nice spoonful right in the middle of the cookie.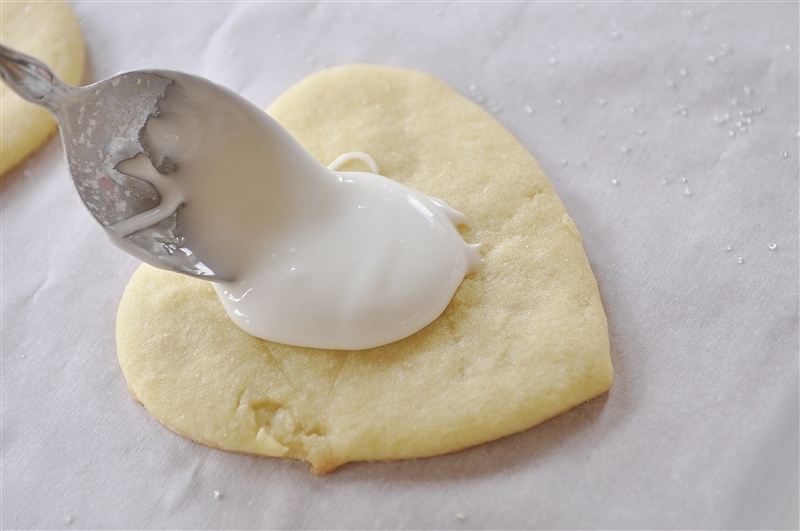 Then use a knife to spread it in a nice even layer .  I always leave a bit of the edge of the cookie showing.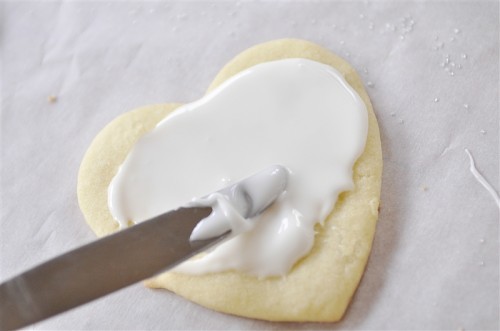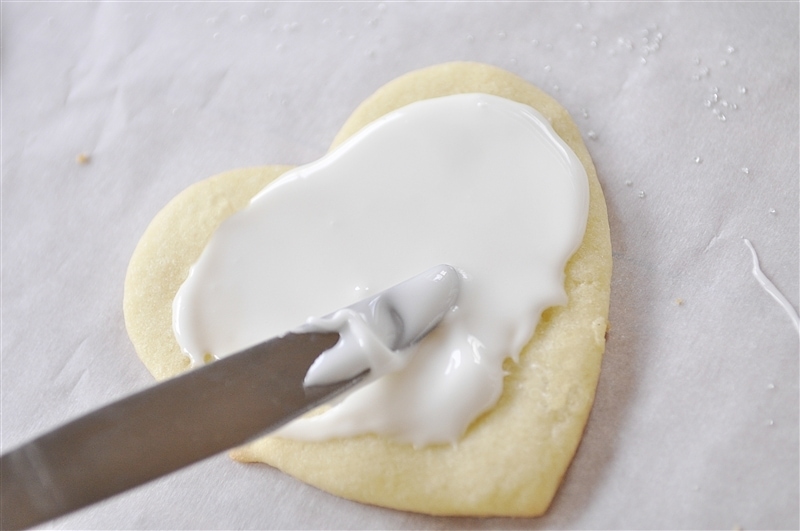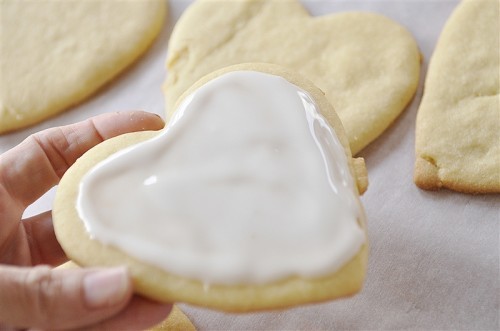 Then before the frosting sets up and dries add your sprinkles.  I also have a collection of sprinkles!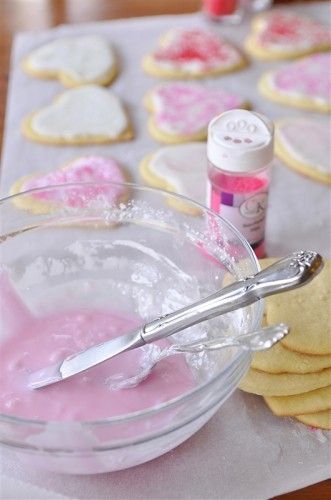 The butter cream frosting is just spread with a knife also.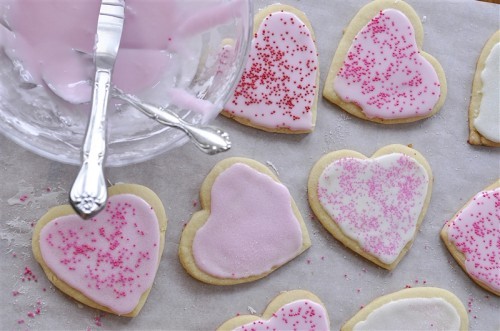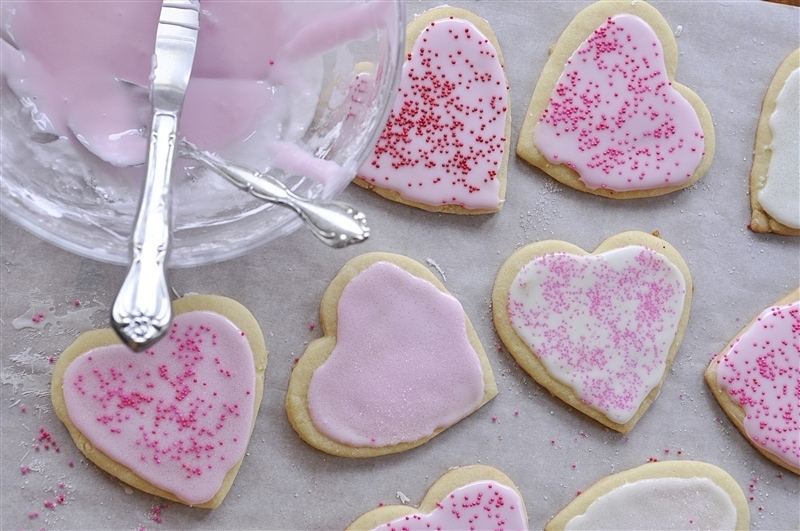 I always frost the cookies I want with white first and then add my food coloring into the remaining frosting.
Allow the frosting to set.  The glaze frosting will set up better and more firm than the buttercream.  If you are going to be packaging them up and stacking them  the glaze may be a better choice.  Just be sure to let them set up long enough.
Of course after they are nice and dry it's time to package them up and deliver them to people you love!
I found these cute little bakery boxes at Standard Restaurant Supply in Salt Lake City on one of my Utah visits last year.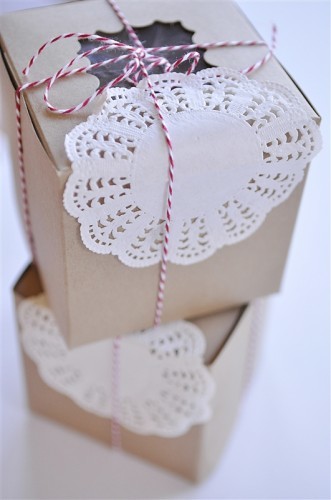 A doily and some baker's twine dresses them up quite nicely.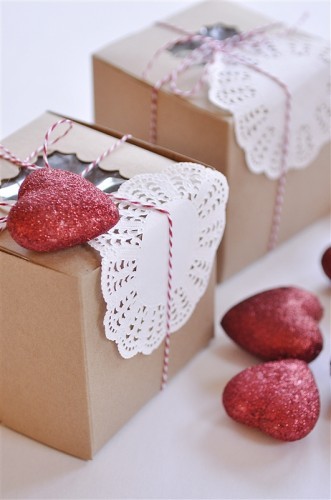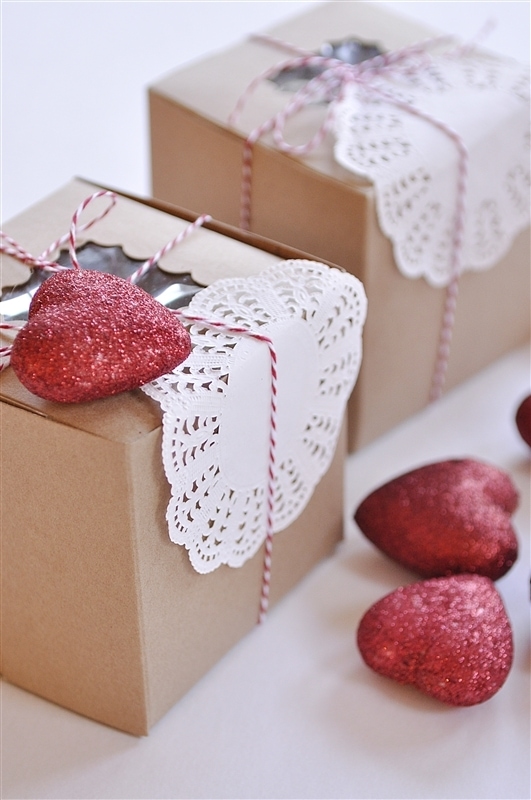 Will you be my Valentine?  Do you have a favorite Valentine treat you make every year?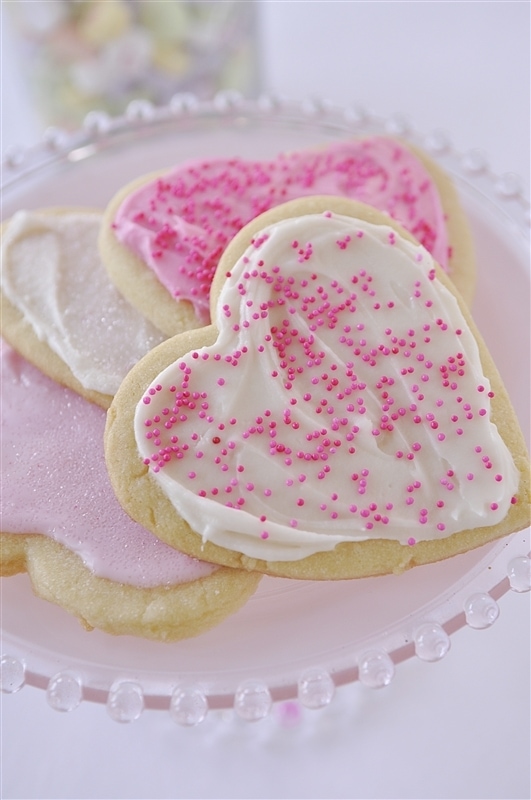 Valentine Sugar Cookie Tutorial
Servings
:
3
dozen depending on size of cookie cutter
Ingredients
Sugar Cookie Dough
3/4

C

butter

3/4

C

butter flavor Crisco

2

C

sugar

4

eggs

2

tsp

vanilla or almond extract. I prefer almond.

5

C

flour

2

tsp

baking soda

1

tsp

salt
Glaze Frosting
1

C

powdered sugar

1

Tbsp

milk or whipping cream

1

tsp

vanilla or almond extract

1

Tbsp

Corn Syrup

few drops of flavoring of your choice

I like almond
Buttercream Frosting:
3

Tbsp

soft butter

1 1/2

C

powdered sugar

3

Tbsp

cream or milk

1

tsp

vanilla

food coloring of choice
Instructions
For the Sugar Cookie Dough
Combine butter, Crisco and sugar in bowl and beat.

Add in eggs and extract and mixed until combined

Add in dry ingredients and mix until well combined.

Refrigerate for at least one hour.

Roll out cookies to desired thickness and cut with cookie cutter.

Bake at 350 for 10-12 minutes depending on thickness of cookie. If you like them softer, bake less.
Glaze Frosting
Combine powder sugar, extract and corn syrup in bowl.

If you are using a liquid food coloring, you will need to use LESS milk. If you are using a gel food coloring, your milk quantity can remain the same. Add in milk to desired consistency. It will get too runny fast so be careful.

The corn syrup gives the "shine" to the frosting that you want.
Buttercream Frosting
Combine all ingredients and mix until smooth and desired consistency
Will you be my Valentine?
Stay Updated!
Need more recipes and creative ideas? Sign up and get a FREE copy of my ebook! Do you think your friends would love this too? Please share my blog with them. Thanks!