Delicious Crepes Filled with Cream Cheese and Berries
Crepes are the perfect dish to serve guests.  They are quick and easy to make and can be personalized for every taste.  These tripe berry cream cheese crepes can be served anytime from breakfast to dessert.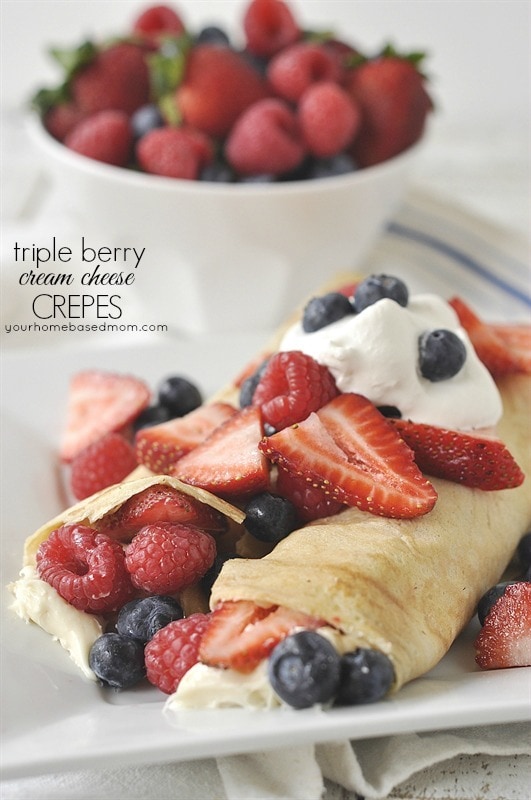 When I host book club at my home, I am in charge of serving refreshments after our book discussion.  It is fun to try to coordinate the refreshments with the book we are reading.  One of my favorite books that we have read as a book club is  Swan House by Elizabeth Musser.  Part of the story takes place in France, so I served one of my favorite treats, crepes.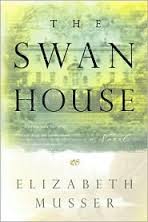 To make it extra fun, I set  up a pretty little crepe bar so all of my book club guests could choose their favorite crepe ingredients.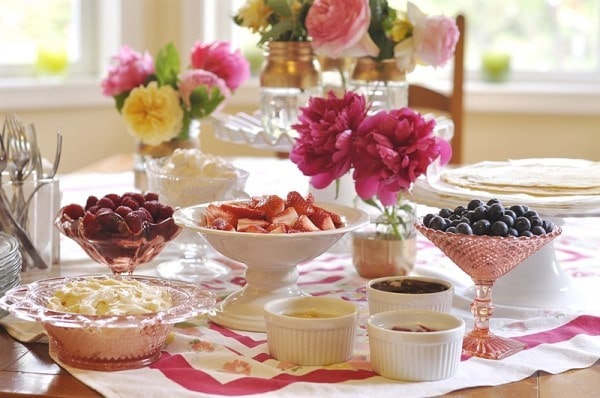 I made the crepes the night before using my favorite crepe recipe.  I just put a piece of wax paper between each crepe and then wrapped them in plastic wrap to keep them from sticking to each other and drying out.  Crepes are a great make ahead recipe when you are hosting a large group.
Filling for Crepes
I also made a cream cheese filling for the crepes.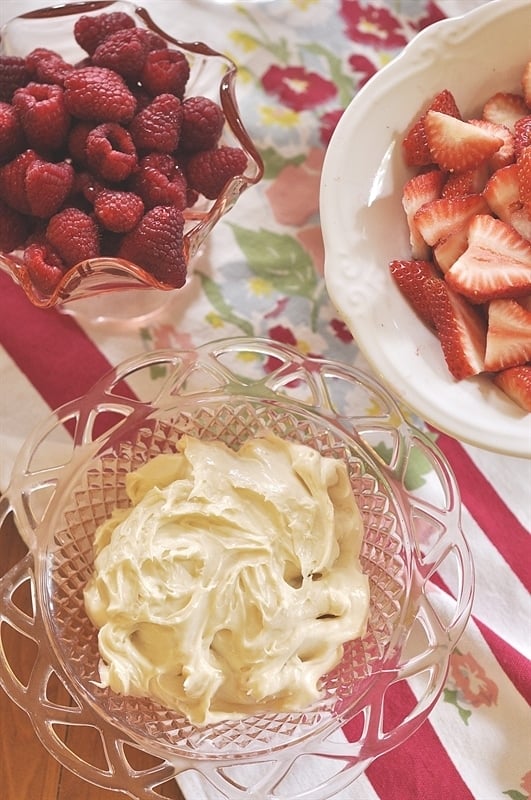 And there were three kinds of berries to choose from.  Blueberries, raspberries and strawberries are always a crown favorite.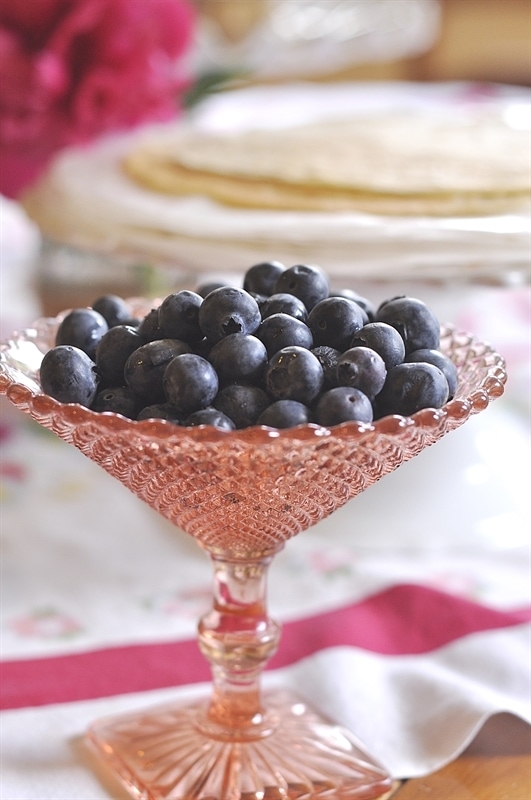 Also, you can't have a crepe bar without delicious lemon curd, raspberry curd and Nutella.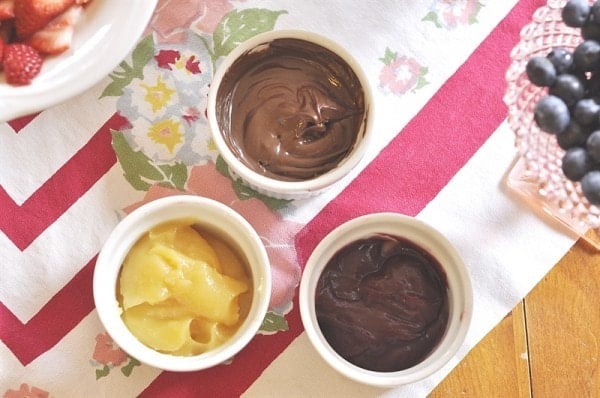 And of course there was plenty of whipped cream.  What are crepes without whipped cream?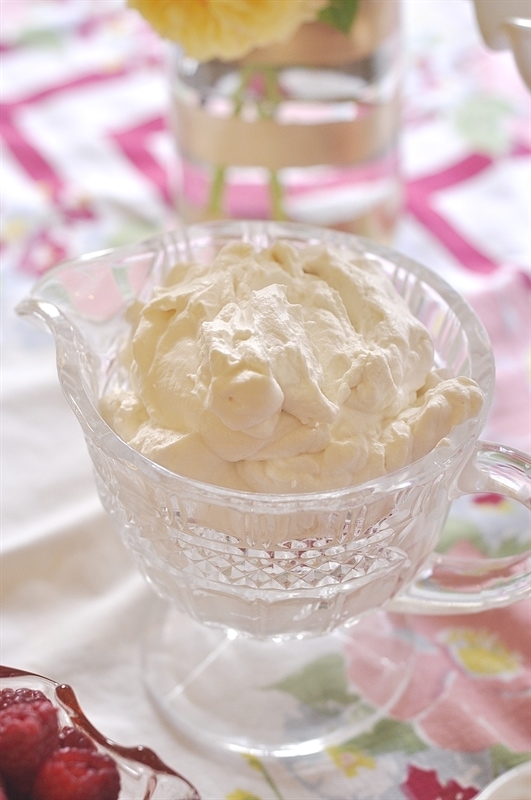 And evenmore berries to top the crepes with.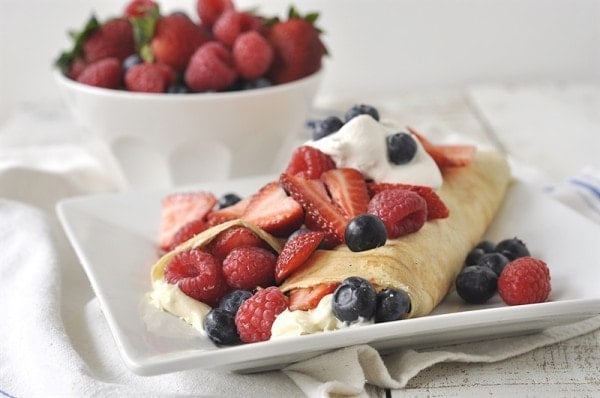 If you have never made crepes before, don't be afraid.  They are very easy to make and you don't need a fancy crepe pan.  I make my crepes in my cast iron skillet.  I even have a post with directions on how to make crepes.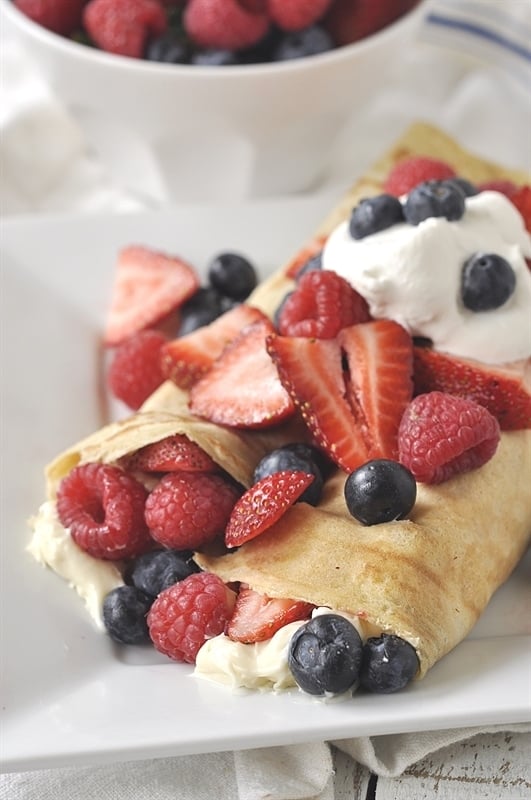 Assembling crepes is the best part.  There is no wrong way, but I love to start with a layer of the cream cheese filling down the middle.  Then I add some berries and roll the crepe.  I finish it off with whipped cream and more berries.  Another delicious option is to add a little lemon curd or Nutella to the cream cheese filling or drizzle it over the top of the crepes.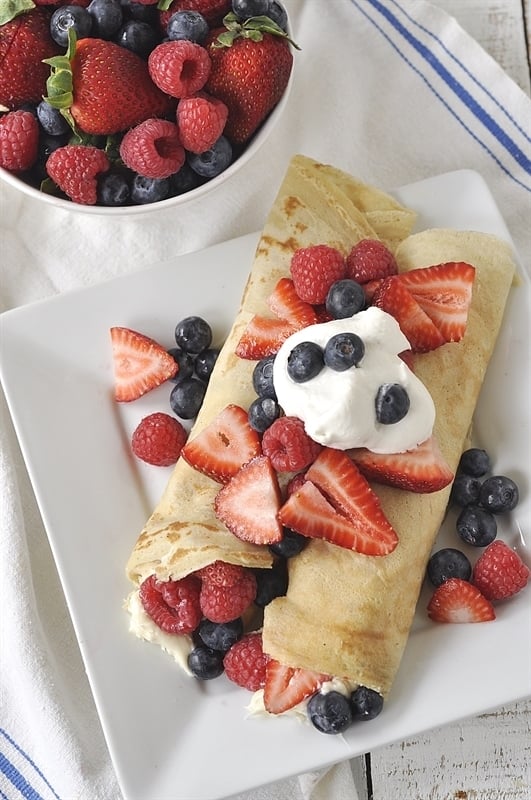 And finally, the most important step, is to enjoy!
Crepe Recipe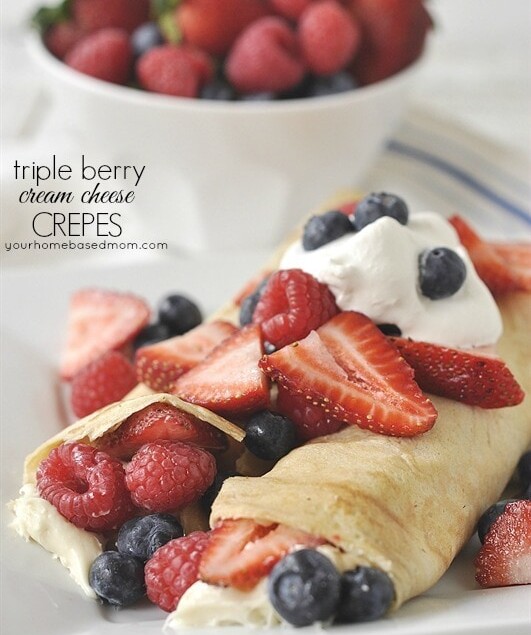 Triple Berry Cream Cheese Crepes
Ingredients
Crepes
2 C flour
3 eggs
1 Tbsp oil
2 C milk
pinch of salt
Cream Cheese Filling
8 oz. cream cheese softened
1 C powdered sugar
4 Tbsp butter softened
2 tsp vanilla
Toppings
strawberries raspberries, blueberries
Instructions
Crepes
Combine all the ingredients into the blender and mix until well combined

Heat pan and pour in batter (about 1/4 C at a time)

Twirl pan to evenly spread out batter or use a crepe spreader

Cook until lightly browned on bottom and then flip
Cream Cheese Filling
Combine all ingredients and mix until smooth
Are you part of a book club?  Love to read?  Make sure to check out my recommended reads!