This Trader Joe's Salad is amazing! It's pretty and delicious and has become a favorite at our house.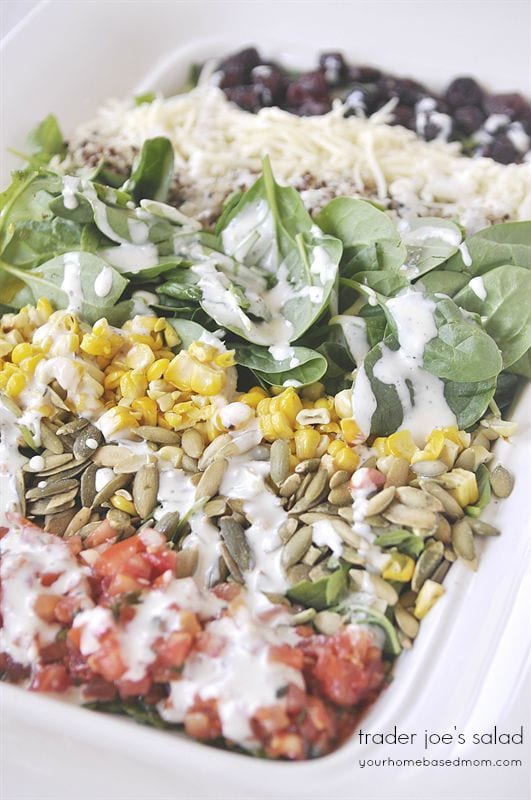 What is Trader Joe's?
I am lucky enough to live five minutes from a Trader Joe's Grocery Store. I know not everyone is as fortunate to live near one. Today's salad is called Trader Joe's Salad for a reason, all the ingredients can be bought at Trader Joes. But don't despair if you don't live near a Trader Joe's, you can still make this salad. I will provide you with substitutions for you. Trust me, you want to make this salad.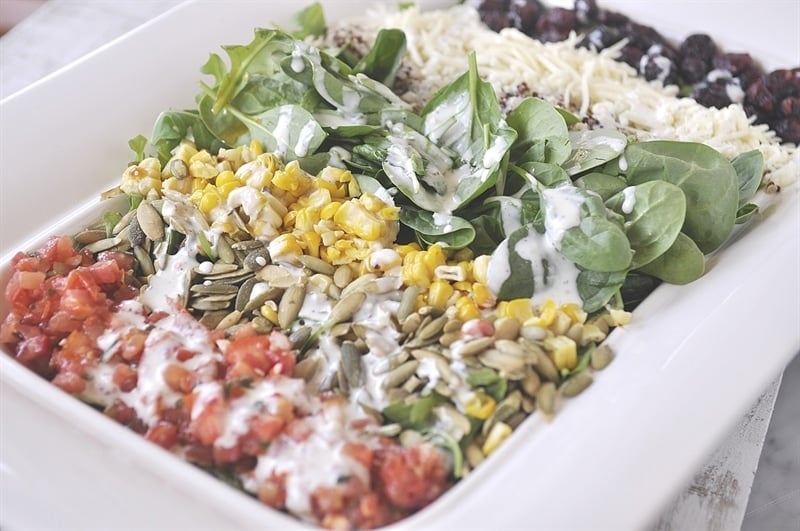 I actually made this salad three times in the last week and each time I made it the first thing I was asked was, "Is it on the blog?" The recipe totally went viral on Facebook the first time I posted it and we have been in love with it ever since. It is so darn pretty and easy to make!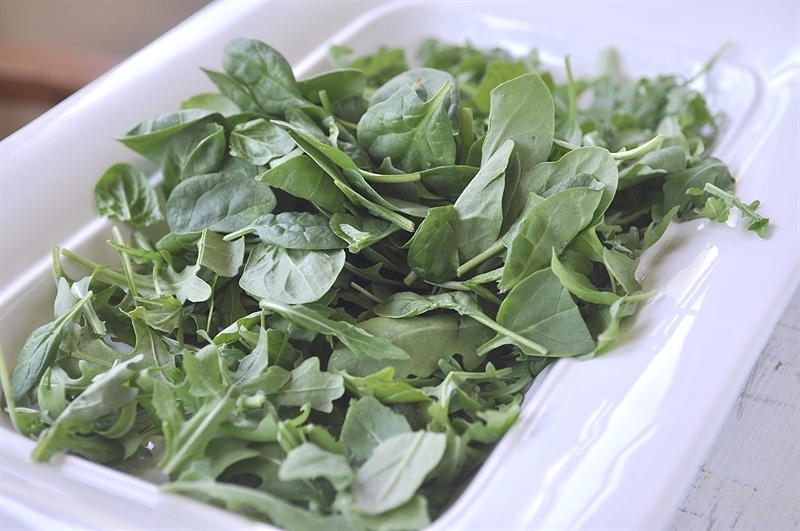 Ingredients Needed
Arugula. The salad starts with a base of arugula.

Spinach. I also like baby spinach in my salad so I added a nice pile of spinach right in the middle of the dish.
Dried cranberries
Trader Joe's Quattro Formaggio shredded cheese or you could use your favorite blend of cheese. This one is a blend of Asiago, Fontina, Parmesan and Mild Provolone.
Quinoa. I used the Tri Color Quinoa blend from Trader Joes. The original recipe called for Orzo. Cook the quinoa according to the directions on the package. Use it warm or chilled.
On the other side of the Spinach layer your:
Corn. I roasted my own corn but you could use canned corn
Pepitas or pumpkin seeds. I think sunflower seeds would be great too.
Trader Joe's Bruschetta. You could easily use chopped tomatoes for this or make your own bruschetta blend. The Trader Joe's version is found in the refrigerator section.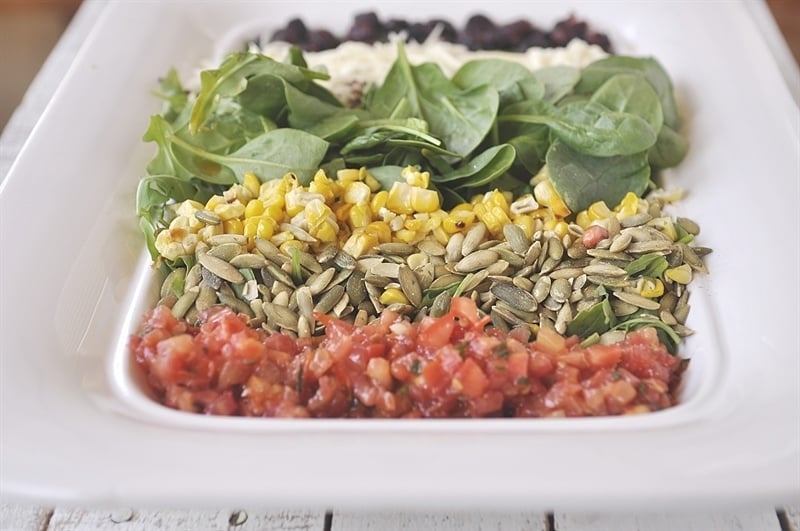 How to Make Trader Joe's Salad
You are going to need a nice long, flat or round dish for this salad as part of the appeal is how pretty it looks when you layer everything into the dish.
Trader Joe Salad Dressing
After it is layered all pretty in your serving dish, grab your salad dressing. The salad uses Trader Joe's Parmesan Ranch Dressing or just use your favorite Ranch dressing
And give the salad a nice drizzle.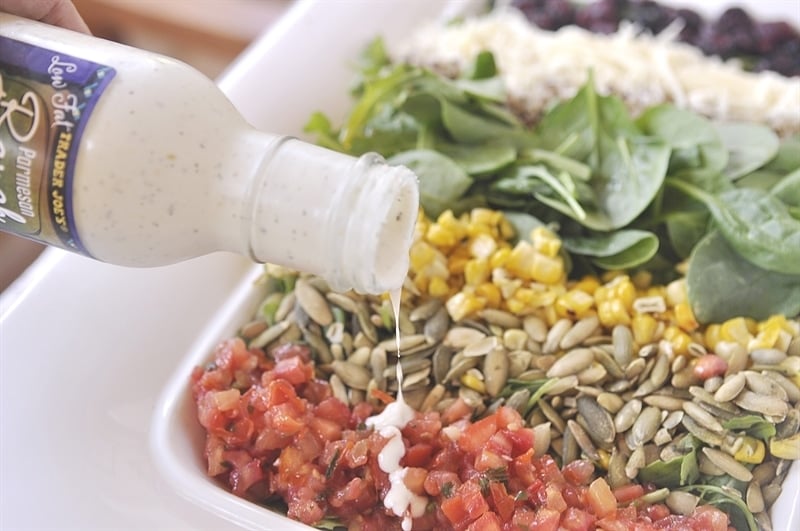 Then enjoy how pretty it looks before you toss it all together!
It may not look quite as pretty but it sure does taste delicious!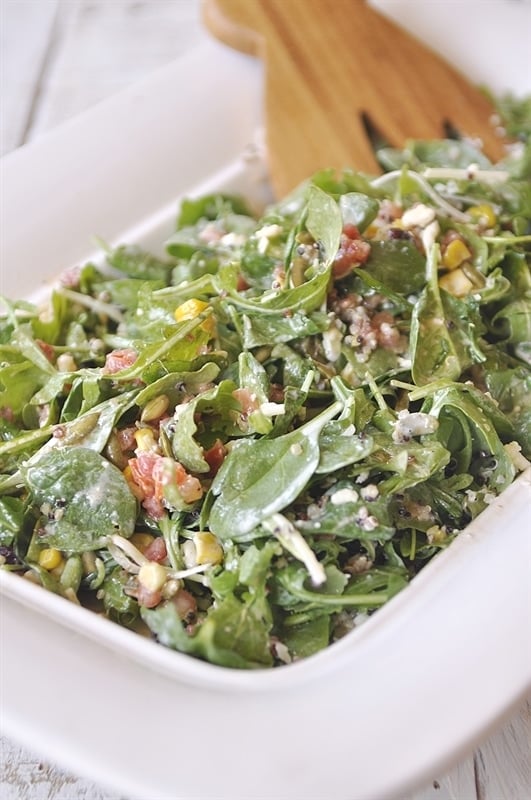 Check out more of my favorite salad recipe:
Be sure and follow me over on You Tube for weekly cooking demos.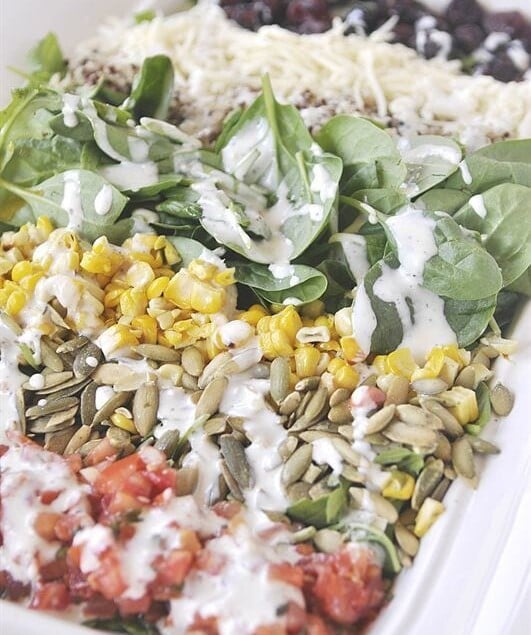 Trader Joe's Salad
Delicious Trader Joe's Salad, full of flavor and great ingredients, made in your own home!
Ingredients
1 c quinoa cooked. I used the Trader Joe's tri-color
1 bag baby arugula coarsely chopped
1 bag baby spinach
3/4 can corn drained or 2 ears of corn roasted and cut off the cob
1 container Trader Joe's fresh bruschetta sauce liquid drained (found in refrigerator section) or fresh chopped tomatoes
1 cup dried cranberries.
1 cup salted pepitas or pumpkin seeds or sunflower seeds
1 cup Trader Joes Quattro Formaggio shredded cheese blend of Asiago, Fontina, Parmesan and Mild Provolone
½ bottle Trader Joe's Parmesan Ranch Dressing found in refrigerator section or favorite Ranch Dressing
Instructions
Place a layer of arugula in bottom of dish.

Layer all other ingredients on top of arugula

Drizzle with dressing

Toss.
Nutrition Facts:
Calories: 502kcal (25%) Carbohydrates: 105g (35%) Protein: 12g (24%) Fat: 6g (9%) Saturated Fat: 1g (6%) Sodium: 8mg Potassium: 503mg (14%) Fiber: 9g (38%) Sugar: 40g (44%) Vitamin A: 47IU (1%) Calcium: 46mg (5%) Iron: 4mg (22%)
* Disclaimer: All nutrition information are estimates only. Read full disclosure here.