Symphony Brownies are a beautiful melody of chocolate and crunchy toffee goodness and one of the easiest brownies you will ever make.
A few of our other favorite brownie recipes include these Mint Brownies, White Chocolate Brownies, Small Batch Brownies and my mom's Chocolate Syrup Brownies.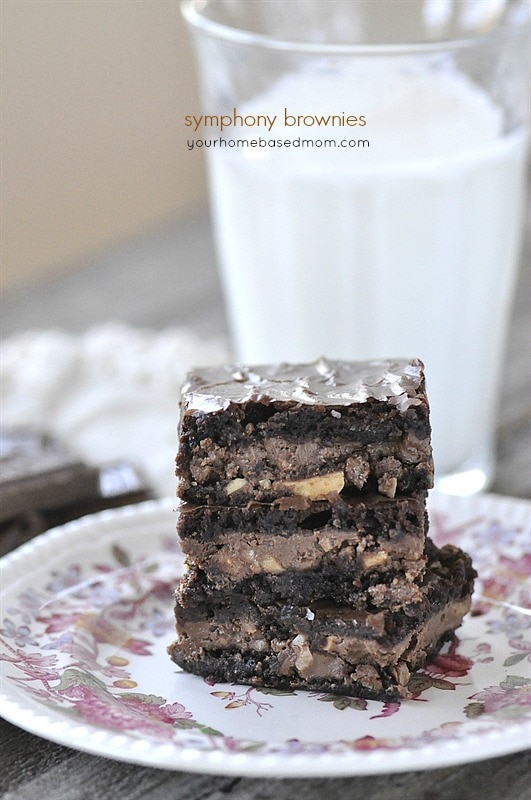 I had to dig deep into the archives to find this recipe.  I originally shared this recipe only a few months after starting my blog, almost 8 years to the date on Nov. 25, 2007.  The post was short and sweet and there were no photos with the original post!  
Here is what the original post said:
"Several of you have asked me why I started a blog.  Well – six months ago I had no idea what a blog was until I visited the website of a friend of mine.  My friend had started an online yarn store specializing in sock yarn.  Now I am not a knitter but I love visiting Sheri's website and blog, because I love reading Sheri's blog where she shares her life, ideas and on Fridays she always shares a recipe!  I make sure I always visit on Fridays to check out the newest recipe.  So Sheri was my inspiration for starting a blog  – and sharing recipes!"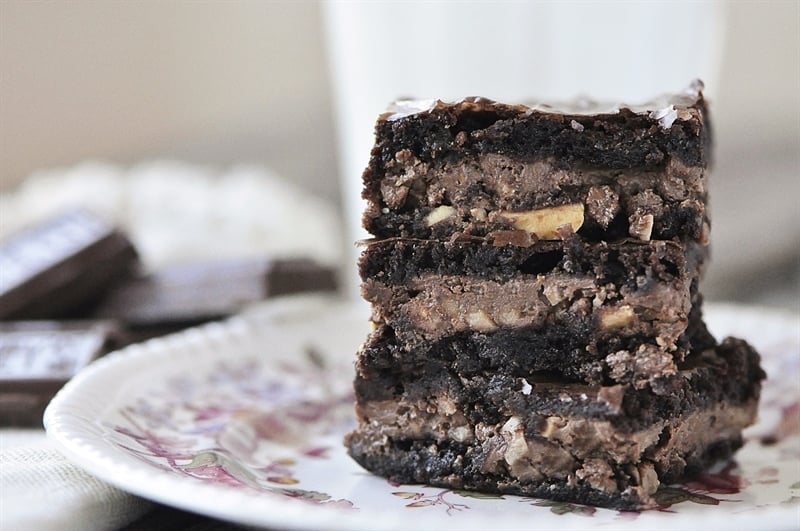 Symphony Brownie Ingredients
Brownie Mix (and ingredients called for on back of box)
Symphony Candy Bar. You will need three of the 8 oz. candy bars. If you can't find the Symphony brand use your favorite candy bar. I like the Symphony Bars with toffee bits.
How to Make Symphony Brownies
Mix up brownie mix according to directions and ingredients on the back of box.
Spread half of the brownie batter into a greased 9 x 13 pan. For easier removal, you can line the pan with foil or parchment paper.
Place 3 Symphony candy bars on top of batter.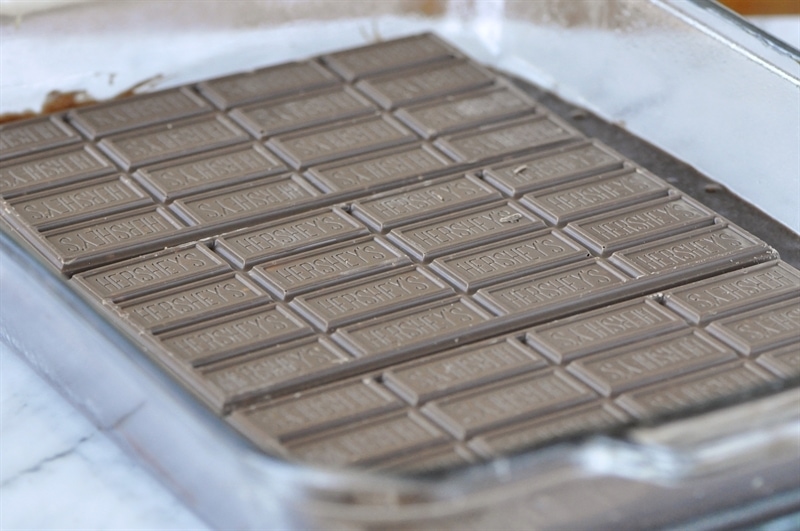 Spread the remaining batter on top of the candy bars.
Bake according to the directions on the back of the brownie box.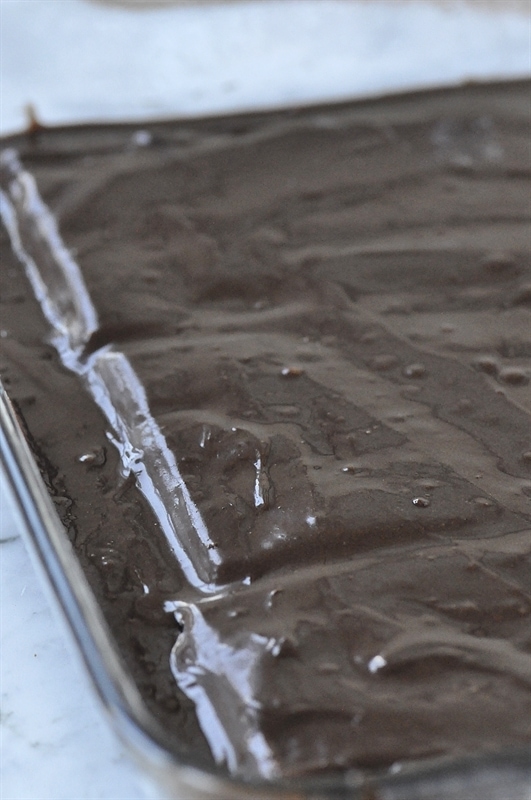 What If My Brownie Mix Only Makes an 8 x 8 size pan?
That is fine, just use two candy bars then. You just need enough to cover the surface of the pan.
Every time I have made these brownies they disappear. People can't believe how easy they are to make!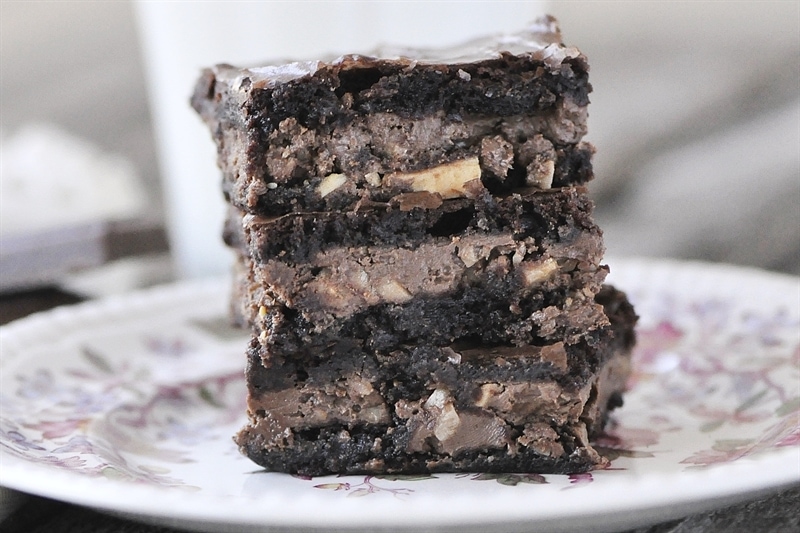 For all my other favorite kitchen products and tools visit my Amazon Store.
Did you know I wrote a cookbook?  Check out the Holiday Slow Cooker Cookbook for 100 delicious recipes.
Be sure and follow  me over on You Tube for weekly cooking demos.
Symphony Brownie Recipe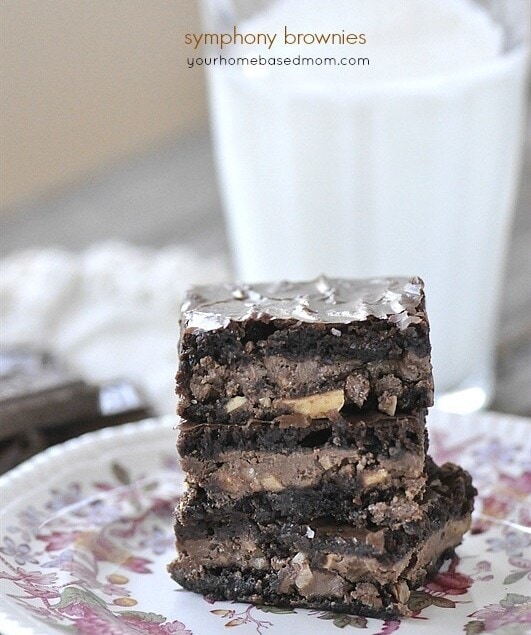 Symphony Brownies
Symphony Brownies are a beautiful melody of chocolate and crunchy toffee goodness and one of the easiest brownies you will ever make.
Ingredients
1 brownie mix along with ingredients called for on back of box.
3 8 oz. Symphony candy bars
Instructions
Mix the brownies according to box directions (I use the cakelike brownie instructions).

Line a 9 x 13 pan with tinfoil and spray with cooking spray (makes for easy clean-up).

Pour 1/2 the brownie mix into the pan.

Place the 3 candy bars(wrappers removed of course) side by side on top of the mix.

Don't break or chop up the candy bars – they will be whole.

Pour the remainder of the brownie mix over the top.

Bake according to directions.

Let cool and lift the tinfoil out of the pan.

Cut and serve.
Nutrition Facts:
Calories: 1kcal Carbohydrates: 1g Protein: 1g (2%) Fat: 1g (2%) Saturated Fat: 1g (6%) Polyunsaturated Fat: 1g Monounsaturated Fat: 1g Cholesterol: 1mg Sodium: 1mg Potassium: 1mg Fiber: 1g (4%) Sugar: 1g (1%) Vitamin A: 1IU Calcium: 1mg Iron: 1mg (6%)
* Disclaimer: All nutrition information are estimates only. Read full disclosure here.
Originally published Oct. 25, 2007