Reese's Snack Mix is the perfect combination of sweet and salty.  Easy microwave caramel corn combined with salty pretzels, potato chips and sweet Reese's Pieces and Minis is a definite winner!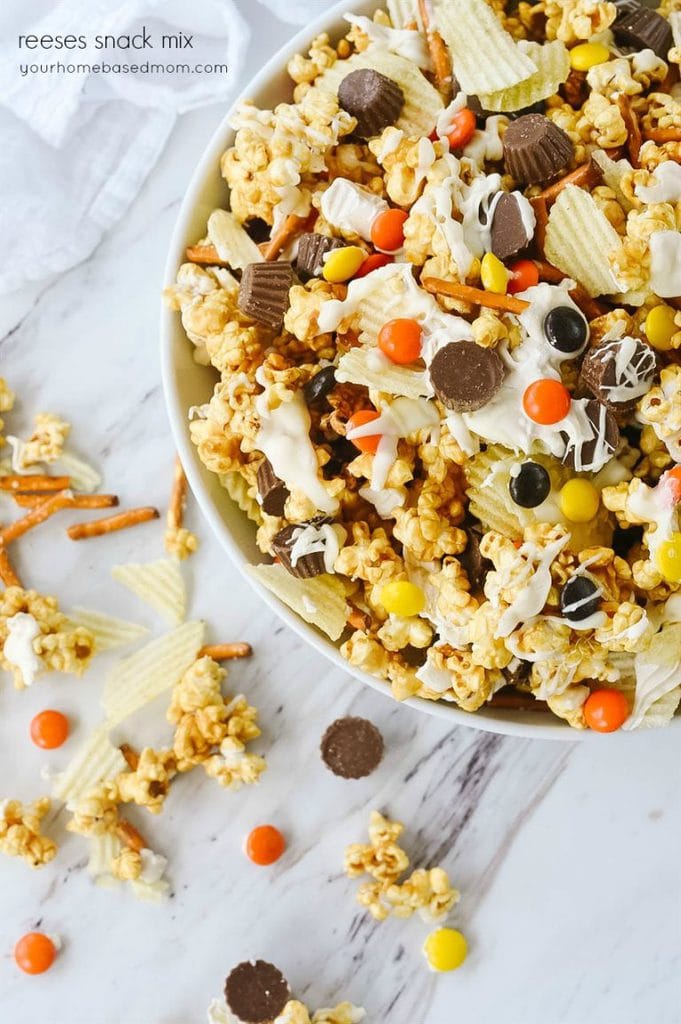 Whenever I am asked if I prefer sweet or salty, I always ask if I have to choose! I love them both and I love the two of them together even more! I have combined all my favorite flavors into an amazing peanut butter snack mix that is sure to be a hit with the whole family and especially with those sports watching fans who need a yummy snack on hand at all times! Peanut Butter and chocolate is a perfect flavor combo and by adding that in with the saltiness of potato chips and pretzels you have a definite winner. Reese's Peanut Butter treats are the perfect companion for this snack mix and will be the most requested guest at your sports watching parties!
It's March and March Madness is upon us and that means lots of ball game watching at our house! This Reese's Snack Mix is sure to be on the winning team of game snacks!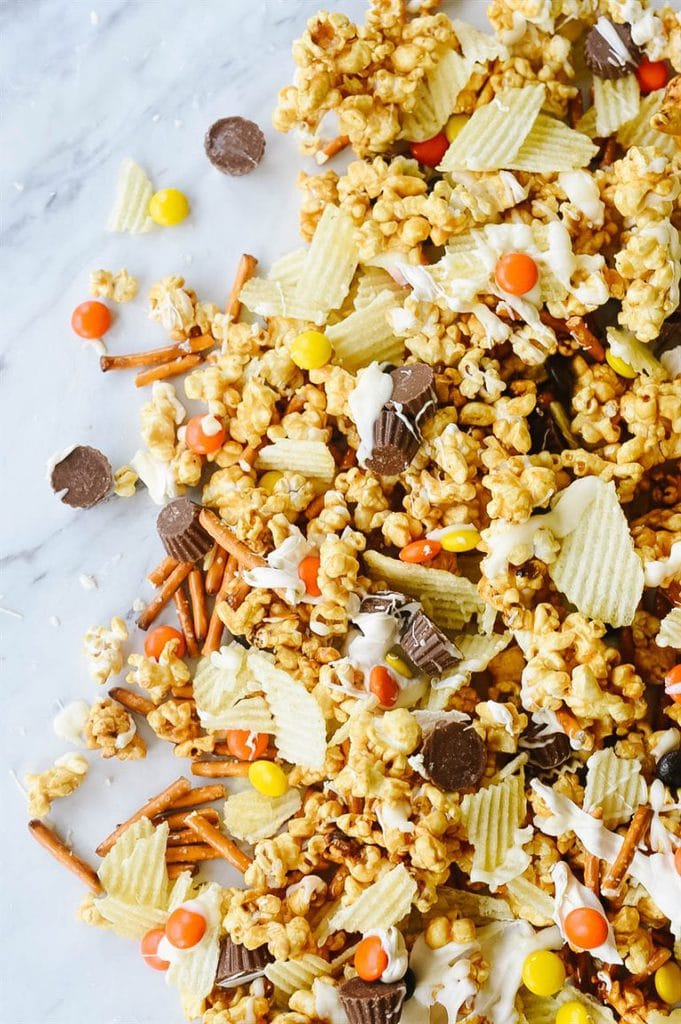 How to make Peanut Butter Snack Mix
This recipe begins with a batch of microwave caramel corn. I've been making this recipe for 25 years! It is the best caramel corn and making it in the microwave makes it so easy! It's made in a brown paper bag!!
After removing it from the microwave, pour your caramel corn onto some parchment paper and sprinkle on your pretzels, potato chips, Reese's Pieces and Reese's Peanut Butter Cups Mini. Work fast so that they stick to the wet caramel corn. Don't worry if they don't all stick together, you are going to add a drizzle of white chocolate which help.
Melt your white chocolate in the microwave. You can use white chocolate chips, almond bark or vanilla melts. I place it in a glass measuring cup. Be sure and stir it every 30 seconds or so as you melt it in the microwave as white chocolate can burn a lot a quicker than other chocolate. If it doesn't melt to a good drizzling consistency, add a little vegetable oil into the chocolate and stir to combine.
Use a fork to drizzle it over the snack mix.
Allow the peanut butter snack mix to set up and then place in a bowl and enjoy!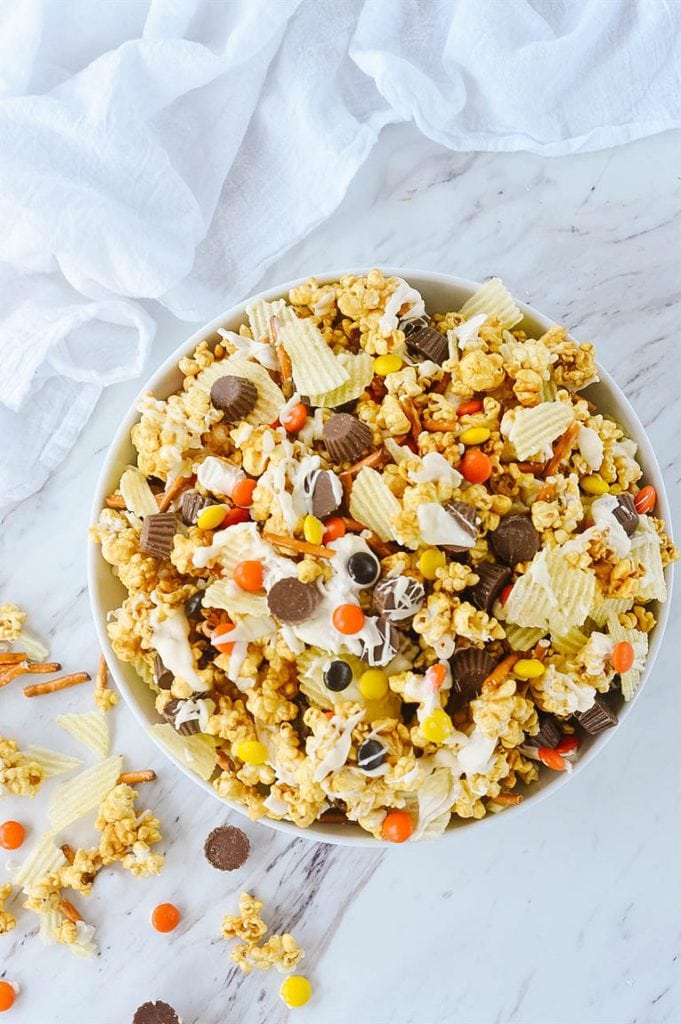 This stuff is addictive and you are going to want to make a trip to your local Kroger store as soon as possible.  It's your one-stop shop for all your game watching party needs with food
& beverage quick grabs and inspirations.  March Madness is here and this snack mix will be your most requested party food!  Here in Portland, Fred Meyer and QFC are part of the Kroger family.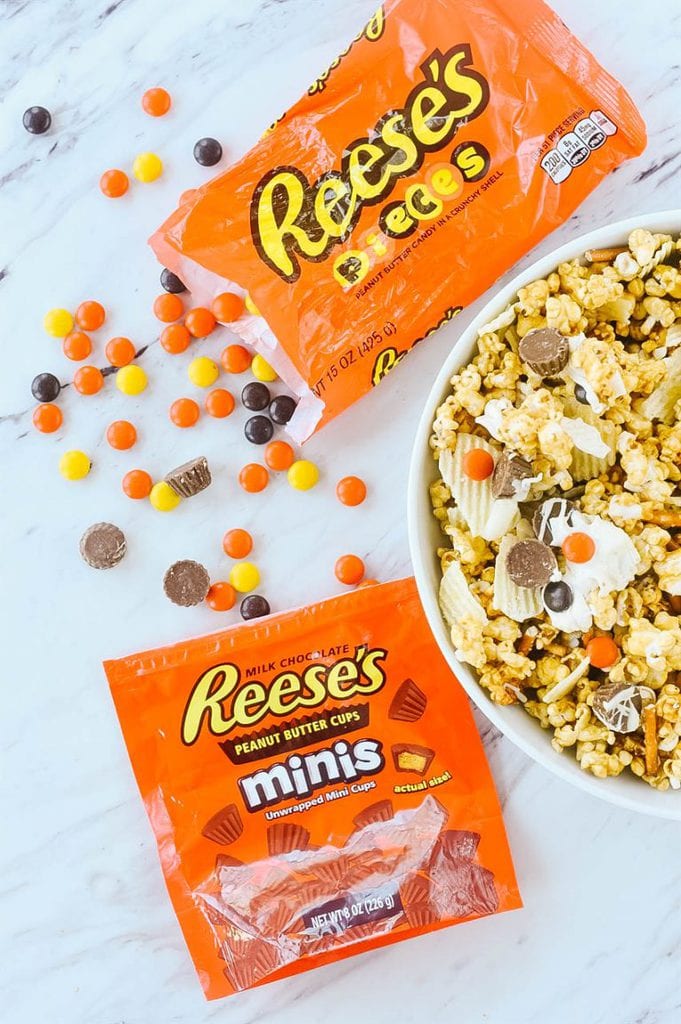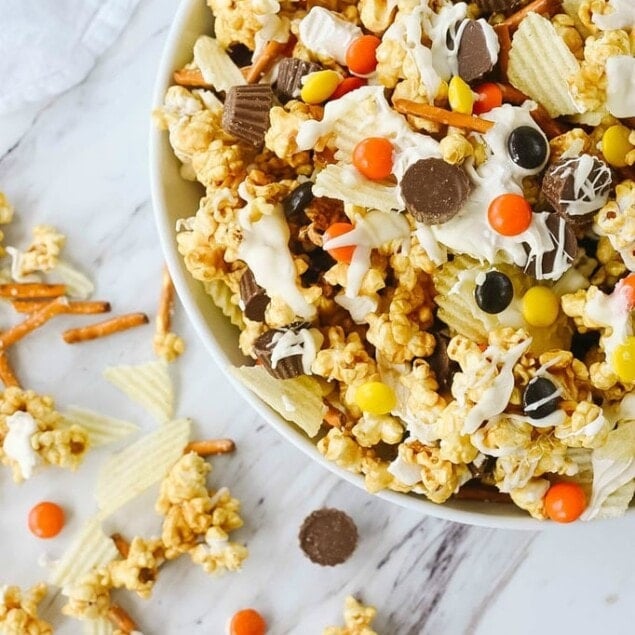 Reese's Snack Mix
Reese's Snack Mix is the perfect combination of sweet and salty. Easy microwave caramel corn combined with salty pretzels, potato chips and sweet REESE'S pieces and mini peanut butter cups is a definite winner!
Ingredients
16 cups popped pop corn remove old maids
1 cups brown sugar
1/4 cup corn syrup
1/2 cups butter
1/2 tsp baking soda
1 tsp vanilla
2 cups ridged potato chips roughly broken
1 cup pretzel sticks roughly broken
1 cup Reese's pieces
1 cup Reese's peanut butter cups mini
1/2 cup white chocolate melts
Instructions
Place sugar, syrup and butter in a glass bowl and microwave on high for one minute

Stir and repeat for a total of five minutes. It will be hot and bubbly

Add in baking soda and vanilla and stir to combine.

Place popped popcorn in a large brown paper grocery bag. Pour hot mixture over the top and stir to combine.

Fold bag over and place in microwave. Heat on high for one minute. Remove and shake bag. Repeat for an additional minute, shake and then heat for 30 seconds, shake and repeat for 30 seconds.

Spread caramel corn onto a parchment lined counter or baking sheet.

Sprinkle broken potato chips, pretzels, REESE'S pieces and mini peanut butter cups over the top quickly.

Melt white chocolate in microwave and using a fork drizzle over the top of the top of the caramel corn mixture. Allow to set up.
Nutrition Facts:
Calories: 976kcal (49%) Carbohydrates: 166g (55%) Protein: 22g (44%) Fat: 26g (40%) Saturated Fat: 9g (56%) Cholesterol: 17mg (6%) Sodium: 293mg (13%) Potassium: 761mg (22%) Fiber: 22g (92%) Sugar: 36g (40%) Vitamin A: 185IU (4%) Vitamin C: 2.1mg (3%) Calcium: 55mg (6%) Iron: 5.7mg (32%)
* Disclaimer: All nutrition information are estimates only. Read full disclosure here.