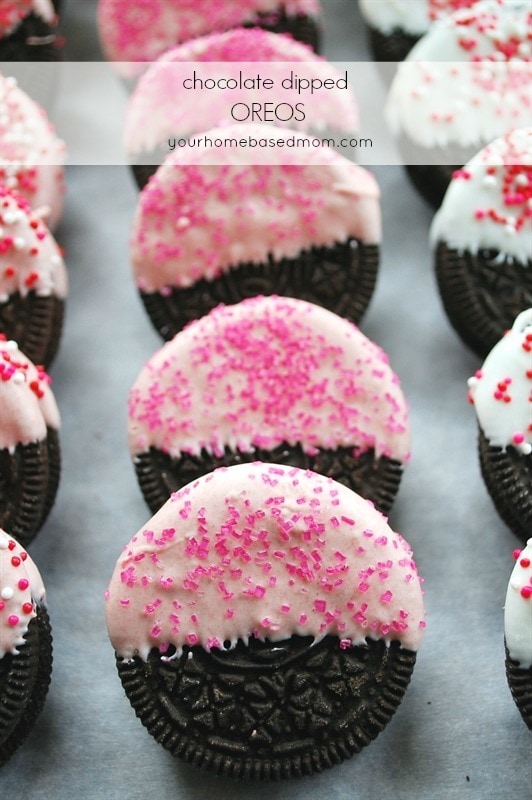 This is the final Sweet Treat recipe this week – hopefully you have found something amongst all this week's recipes to make for all the Valentines in your life!
I didn't start out making chocolate dipped Oreos.
My original plan was to share these yummy looking and sounding "Passion Pops" that were featured in the February issue of Ladies Home Journal. Friend and fellow blogger April had sent me a picture of them and the instructions. A dollop of caramel sandwiched between two Vanilla Wafers and then dipped in chocolate. Sounded yummy to me and they looked darling!
A day later April sent me an email warning me that the caramel layer was pretty hard. I decided to give it a try myself anyway – and guess what?! April was right, the caramel got way too hard. I didn't want to have another caramel tooth yanking episode like I've had before so I decided to throw the "passion pops" in the garbage. They looked pretty but didn't want to risk another tooth extraction.
If I ever attempt them again I will make the caramel from scratch using my caramel apple recipe not those square little caramels you buy in the store!
I actually pulled the ones I made out of the garbage to take this picture for you!
Plan B:
A friend of mine had delivered some darling chocolate covered Oreos on a stick to my daughter earlier in the week so I thought since I had a bag of Oreos in the cupboard I'd give those a try. I quickly realized that in order to get the stick into the Oreo I needed double stuffed Oreos so I ran to the store to get a bag. Well – I didn't just need double stuffed Oreos I needed thinner sticks! I made this mess trying to get the stick into the cookie!
Plan C:
I then tried dipping the whole cookie into the melted chocolate and it just made a mess and looked terrible.
Plan D:
I was determined at this point to get something to work so I decided to just dip half of the Oreo into the chocolate so I still had something to hold onto. This worked great and I sprinkled them with some Valentine colored sprinkles I had on hand. Finally – success!
I used Almond Bark for dipping. I just melted it in the microwave. I added red food coloring for the pink version.
I had some cute little Valentine themed Chinese style takeout boxes that I put them in for delivery to friends.
Despite the mess I made in the process, what I ended up with was really a quick and easy Sweet Treat!
So what are you doing for your Valentine this weekend??? Happy Valentine's Day!!