I am definitely a sucker for a good sugar cookie.  Most of the time I like to use My Favorite Sugar Cookie recipe because it is quick and easy to make.  No rolling or cutting out.
But there are times when you must have a sugar cookie cut out, meaning a sugar cookie you cut out with a cookie cutter.  Christmas is usually one of those times.
Growing up I was always in charge of making the Christmas wreath shaped sugar cookies.
It's not Christmas but several weeks ago I decided to make sugar cookies for the cast and crew of Hairspray.  We did it as a little thank you gift from Tessa.
We made them last year for Guys and Dolls and made the cookies in the shape of dice.
This year we decided to go with tiara or crown shaped cookies.  Tessa had the role of Amber and Amber wants to win the Miss Hairspray contest and the tiara or crown that goes with it.  You'll have to watch the movie to get the rest of the story if you haven't seen it!
I found the perfect crown shaped cookie cutter.
One of the hardest parts of making sugar cookie cut outs is getting your dough rolled out nice and even.  My friend Dawn shared a great tip with me that makes the job so easy!
Use paint sticks.  You know, the kind they give you for free at the paint store to stir your paint. Just pop into your nearest paint store and ask for some – get at least four (you'll see why later this week)
Just put your dough in between the two sticks and your rolling pin onto the sticks and you will get perfectly even dough!
So we cut out about 80 crown shaped cookies!
After they cook you can start the frosting process.
You want to use a frosting that dries with a nice glossy finish.  The recipe I have included today works great.
Fill your decorating bag with your frosting with one of your small round tips.  A great tip for filling your frosting bag is to set it inside a drinking glass like so…
Just fill the bag with your frosting and then use a rubber band or a clip to keep the bag closed and your frosting from escaping.
Using your small round cake decorating tip make an outline of frosting around the edge of the cookie.  This will create a barrier to hold the frosting in.
Using a bigger round tip and a little runnier frosting you can then fill in the inside of the cookie; just add a little more milk to make it runnier if needed.
I used one of those offset spatulas to spread the frosting .
Enlisting a lot of helpers also makes this job a lot easier!
After frosting we added some little white candies to the tips of the crown and then let them dry – for several hours.
After the frosting is nice and dry and set up we put them into clear plastic bags, added some ribbon and a tag.
The kids loved them and the best part – they taste good too!  Later this week I'll show you how I made my own cookie bouquet using this recipe.  So fun and inexpensive too!
I have included two frosting recipes.  Use the Glaze Recipe if you want your cookies to have a dry, shiny finish to them.  This is desirable if you are packaging them up or making a cookie bouquet.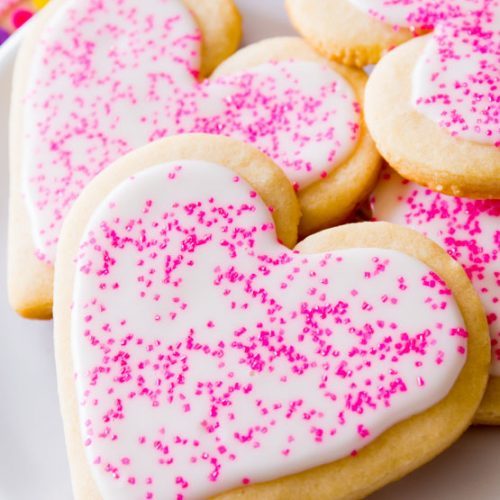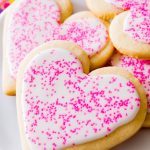 Print
Sugar Cookie Cut Outs
Ingredients
1

C

butter

2

C

sugar

2

eggs

4

Tbsp.

milk or cream

2

tsp.

vanilla or almond extract

4

C

flour

4

tsp.

baking powder
Glaze:
1

C

powdered sugar

1

Tbsp

milk or whipping cream

1

Tbsp

Corn Syrup

few drops of flavoring of your choice

I like almond
Butter Frosting:
3

Tbsp

soft butter

1 1/2

C

powdered sugar

3

Tbsp

cream or milk

1

tsp

vanilla

food coloring of choice
Instructions
Beat together butter sugar

Add eggs, milk and vanilla and beat until light and fluffy

Mix in dry ingredients mix well

Wrap in plastic wrap and chill for at least 4 hours

Roll out on well-floured surface

Cut and bake on lightly greased cookie sheet or Silpat

Bake at 350 degrees for 9-10 minutes or until lightly browned on edges

Cool and frost
Glaze:
Combine powder sugar, corn syrup bowl

If you are using a liquid food coloring, you will need to use LESS milk

If you are using a gel food coloring, your milk quantity can remain the same

The corn syrup gives the "shine" to the frosting that you want
Butter Frosting:
Cream together until smooth
Get my Weekly Menu Plan for FREE!
Receive my FREE "What's for Dinner?" Meal Planning Course, a copy of my FREE ebook that includes my most popular recipes and my FREE weekly Meal Plan.