This beautiful Watermelon Orzo Salad is as delicious as it is colorful.  The combination of lemon and basil with the sweetness of the watermelon and strawberries creates an unforgettably refreshing summer salad.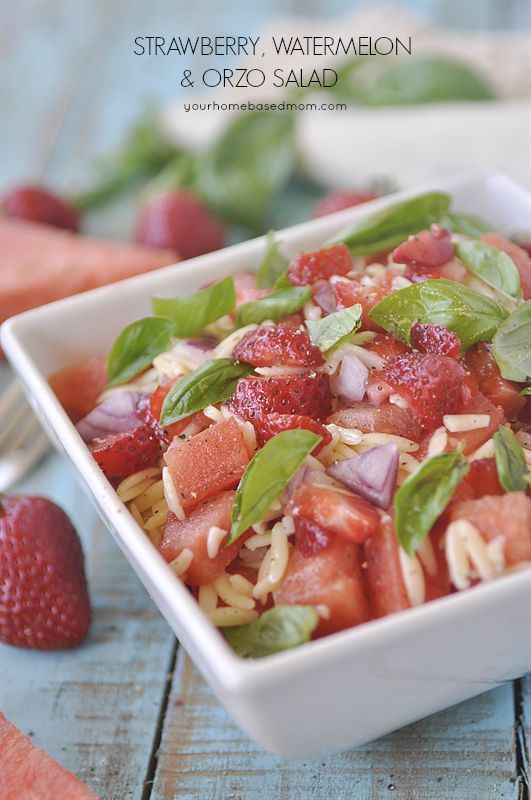 Many watermelon salads often have feta as an ingredient.  I love feta, but red onions and lemon in this salad offer the perfect contrast to the sweet fruit.  So this is a great alternative if you are not a fan of feta!
This salad is full of great flavor and texture.  I am not a huge fan of the texture of watermelon.  I love the flavor, but have to cut it into small bite size pieces.  Even with my aversion to watermelon, I still love this salad.  And that says a lot!  You can always slice your watermelon into larger pieces if it suits you.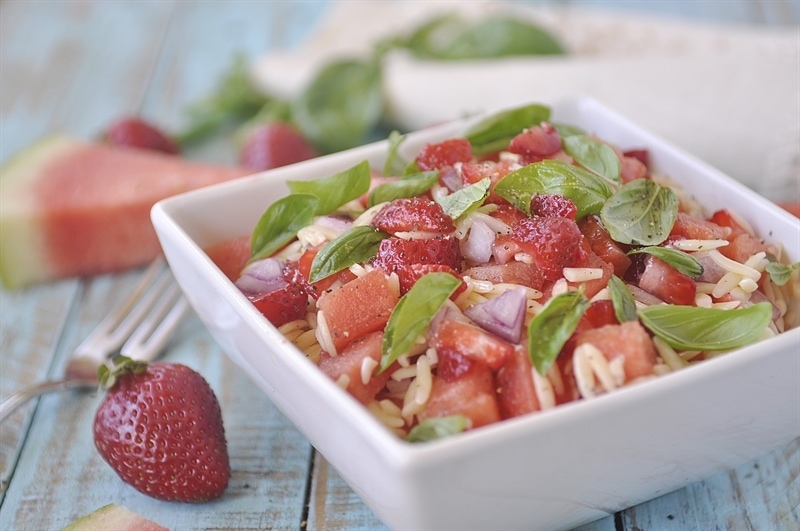 The flavor combo of the watermelon, strawberries, red onion, lemon vinaigrette and the basil is pretty magical.  The orzo is marinated in a yummy lemon vinaigrette which adds another dimension to the flavors.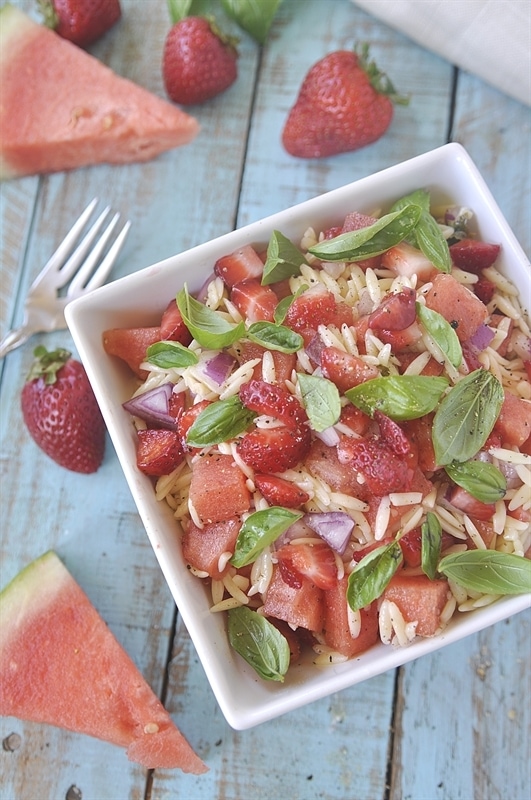 I also love the different textures at play here.  The crispness of the watermelon with the softness of the orzo and the strawberries is a great combination.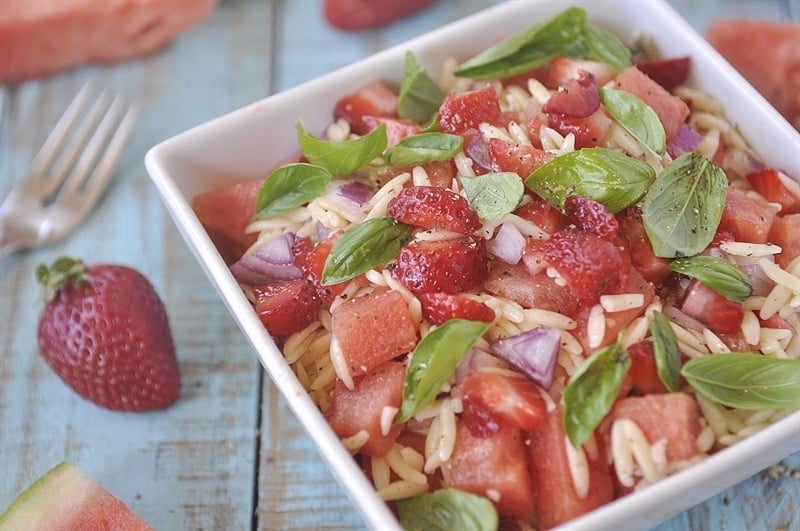 The next time you wants some oohs and aahs at a BBQ or potluck take this gorgeous watermelon orzo  salad.  You will get them!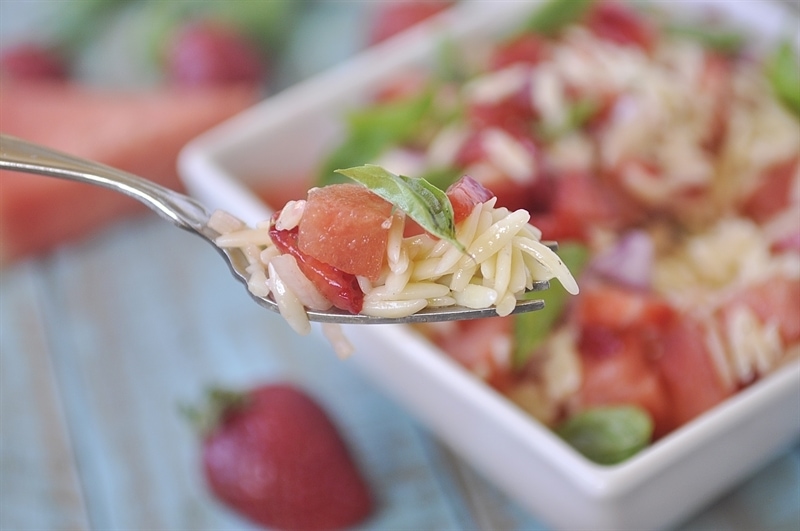 Watermelon Salad with Orzo, Strawberries, Lemon, and Basil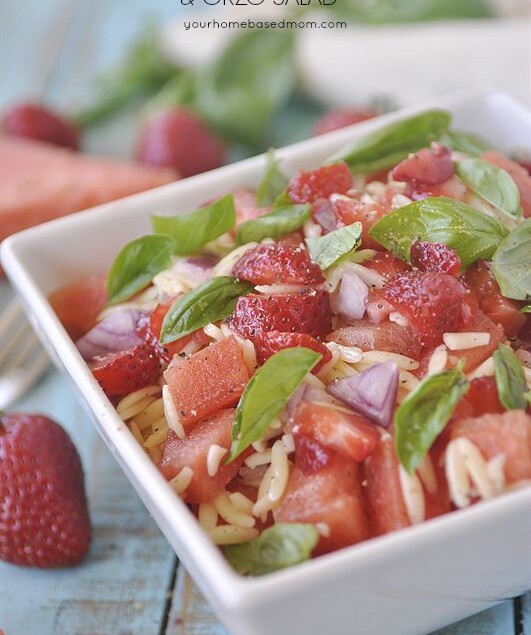 Strawberry Watermelon Orzo Salad
Ingredients
1 C orzo
1/2 C Lemon Vinaigrette see below
1 1/2 C watermelon diced
1/2 C red onion chopped
11 /2 C strawberries diced
1/3 C Fresh basil chopped or small leaves
salt and pepper to taste
Lemon Vinaigrette
1/2 C fresh lemon juice
2 Tbsp minced shallot
1 C olive oil
1/4 C chopped fresh parsley
1 Tbsp honey
1 Tbsp Dijon mustard
salt and pepper to taste
Instructions
Cook pasta in water according to directions on box.

Combine with 1/2 C Lemon Vinaigrette (see recipe below)

Chill for 2-24 hours

Toss watermelon, strawberries, red onion and basil into pasta.

Salt and pepper to taste.
Lemon Vinaigrette
Stir together lemon juice and shallot, allow to sit for 5-10 minutes

Add in olive oil, fresh parsley , honey and dijon mustard

Add salt and pepper to taste.

Refrigerate in container for up to one week
 If you love strawberries in your salad as much as I do, check out my strawberry poppyseed salad and my strawberry spinach salad.