Strawberry Rhubarb Crisp for two is the perfect combination of sweet strawberries and tart rhubarb.  And this recipe is the perfect size for two, but easily doubled to serve guests.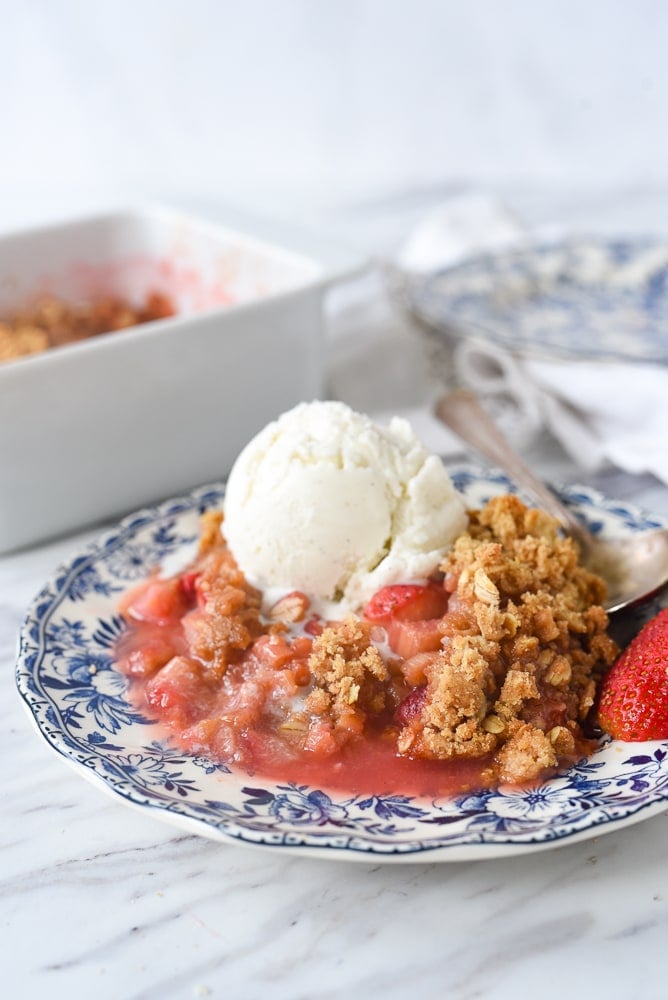 Because we are are a reduced size family I am always looking for recipes that I can make in smaller portions. Strawberry Rhubarb Crisp is the perfect dessert to make in a small batch. And it is easily doubled to serve 4-5 as well.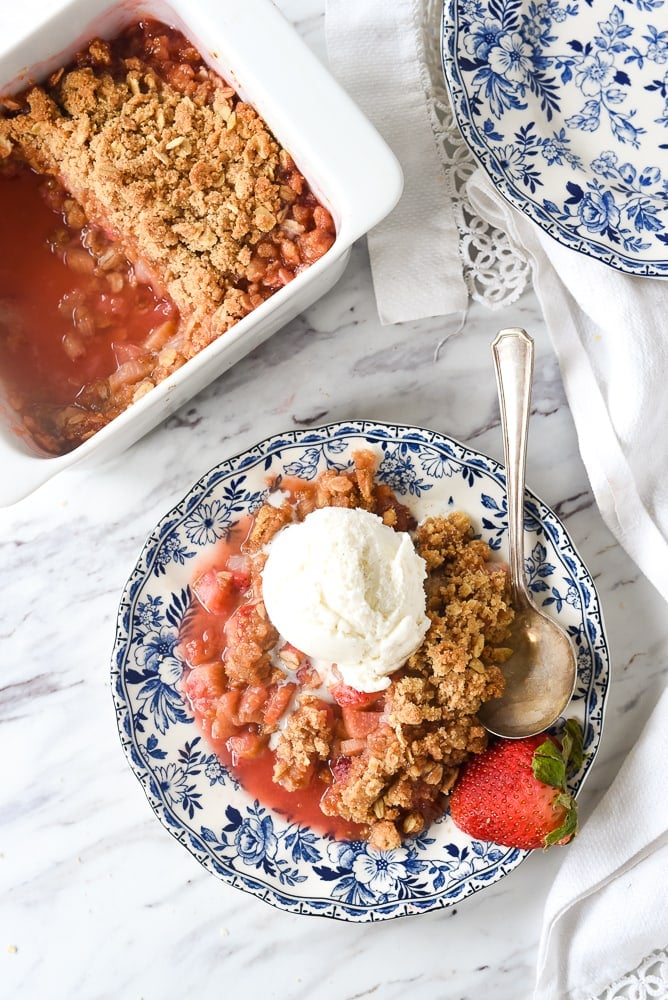 What is Rhubarb?
Rhubarb is technically a vegetable but was actually legally declared a fruit in 1947! You will find it sold by the stalk (like celery) at the grocery store or farmer's market. Rhubarb is naturally very tart in it's raw form and is usually cooked with lots of sugar and is most often combined with strawberries. The season is usually short lived so enjoy it while you can, April – June.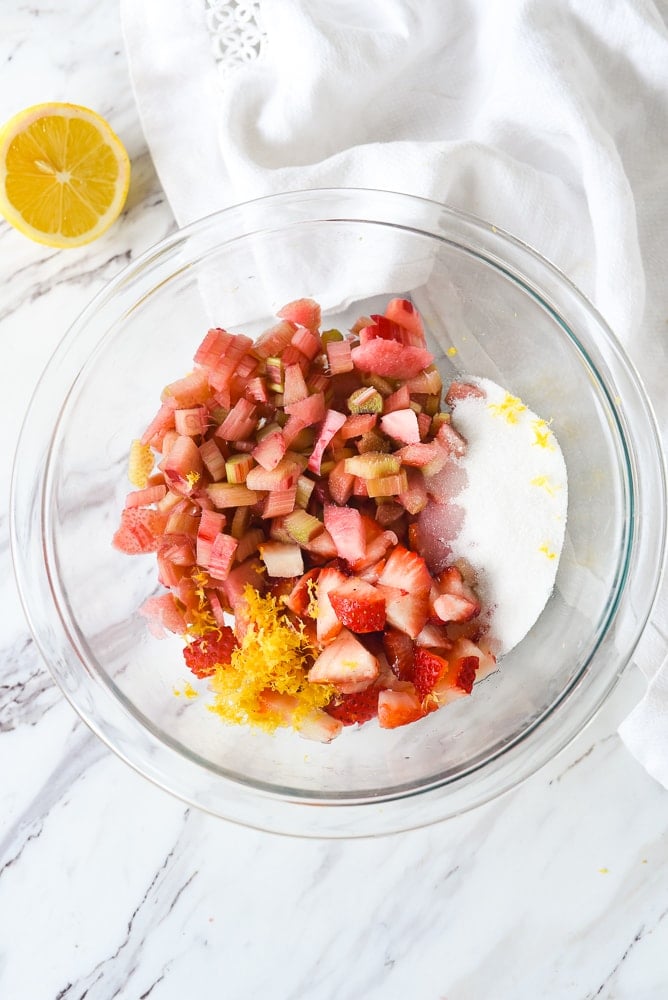 How to Prepare Rhubarb?
First, remove the leaves, they are not edible and are toxic.
After removing the leaves, wash the rhubarb.
Next, remove the stringy outer layer from the Rhubarb. You can use a potato peeler or you can just pull it off by hand. It comes off easily. Young, tender rhubarb may not need to be peeled. Finally, cut the rhubarb into 1/4-1/2 inch pieces jut like you would celery.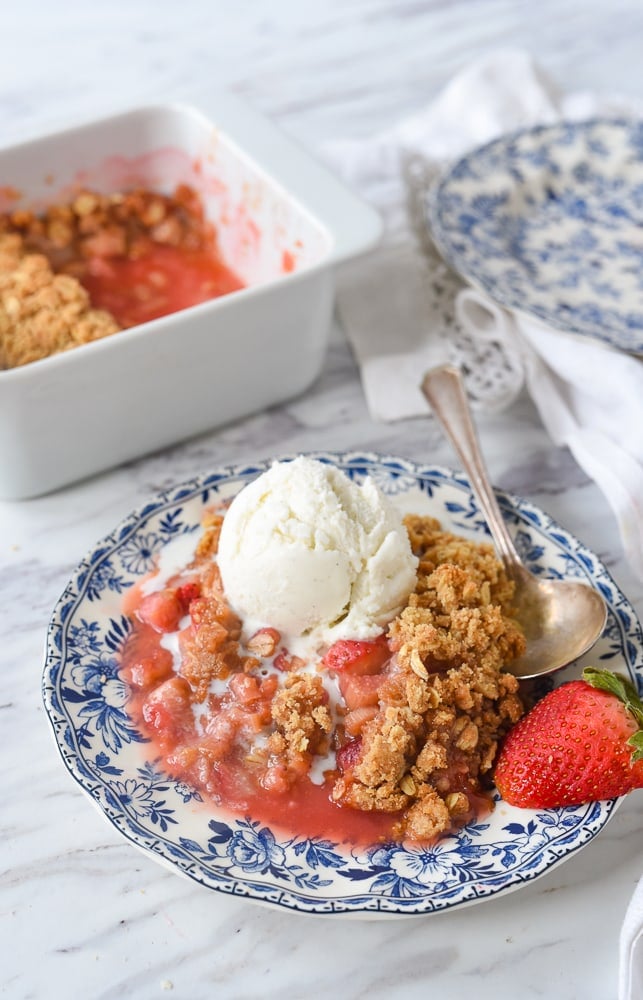 How to make Rhubarb Crisp
Fruit. Prepare fruit by washing, peeling and slicing.
Sugar. Add sugar, lemon zest and lemon juice.
Fill. Add mixture to baking dish and prepare topping.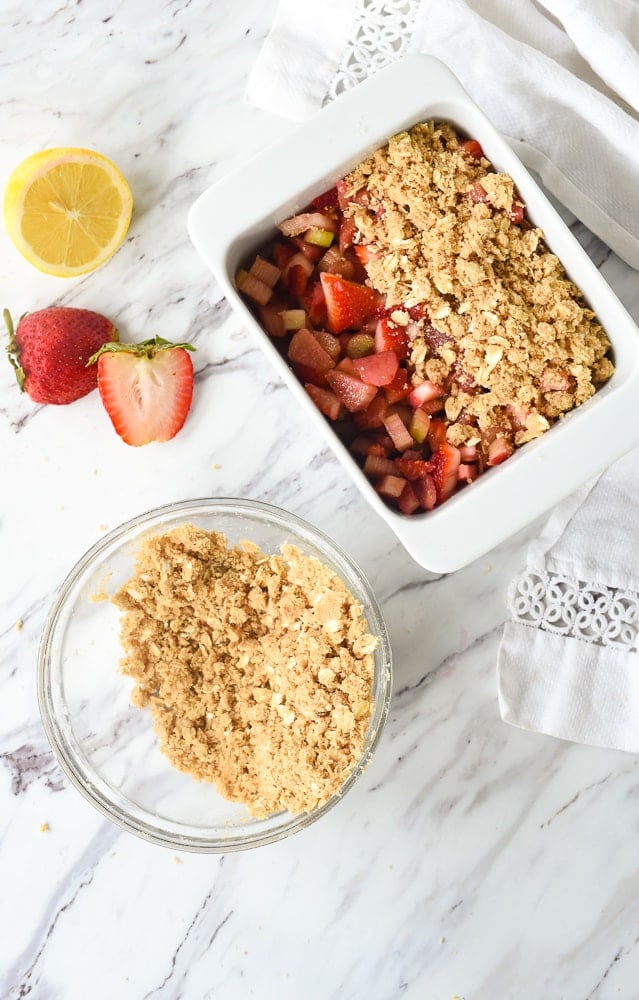 Fruit Crisp Topping
Combine brown sugar, flour, oats, salt, cinnamon and butter.
Cut the butter into the dry mixture and mix until coarse crumbs, about pea shaped are formed.
Cover fruit mixture with topping. and bake at 375 degrees F for 30-35 minutes or until topping is golden brown and fruit mixture is bubbling.

Serve warm, right out of the oven, with a scoop of ice cream! It is also delicious, the next day, cold out of the refrigerator.
Store in the refrigerator for 2-3 days, or at room temperature.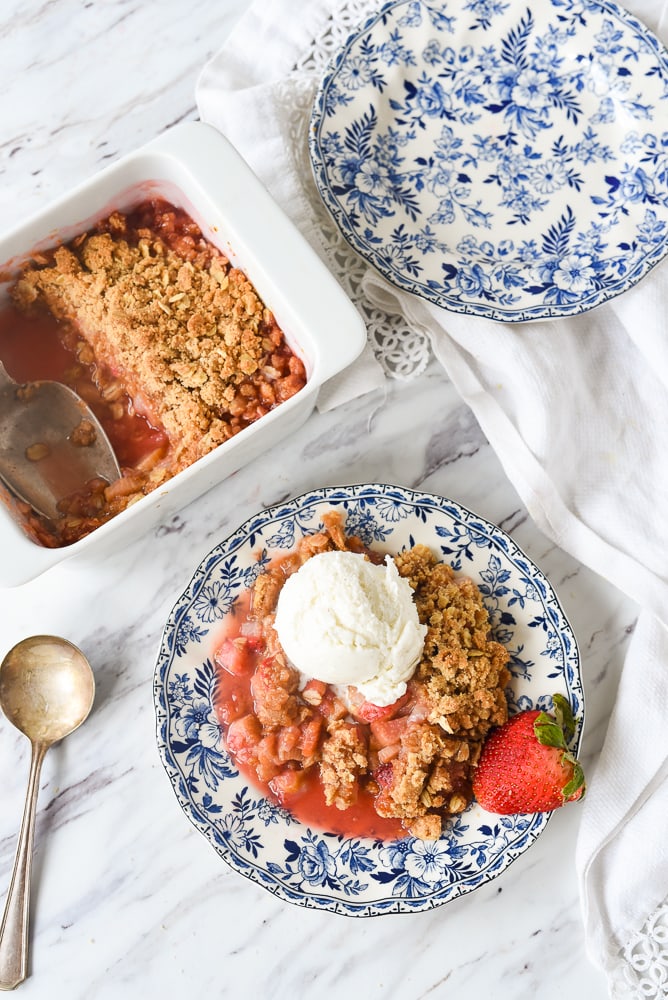 For all of my other favorite kitchen products and tools visit my Amazon Store.
Check out more of my delicious fruit desserts: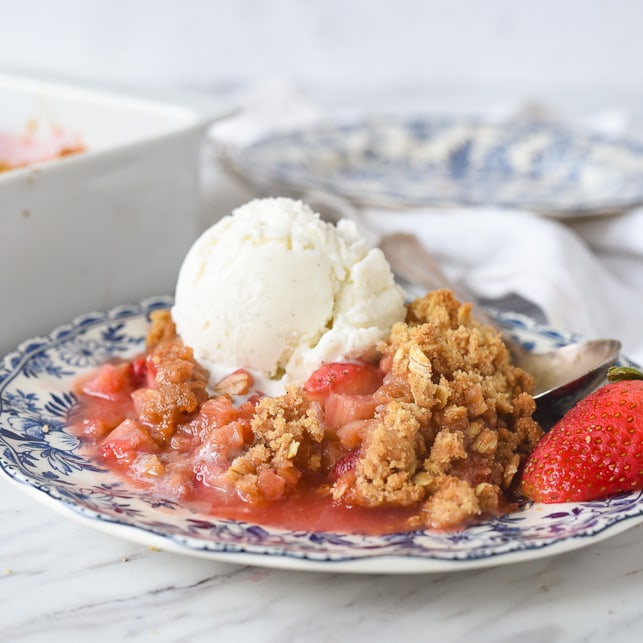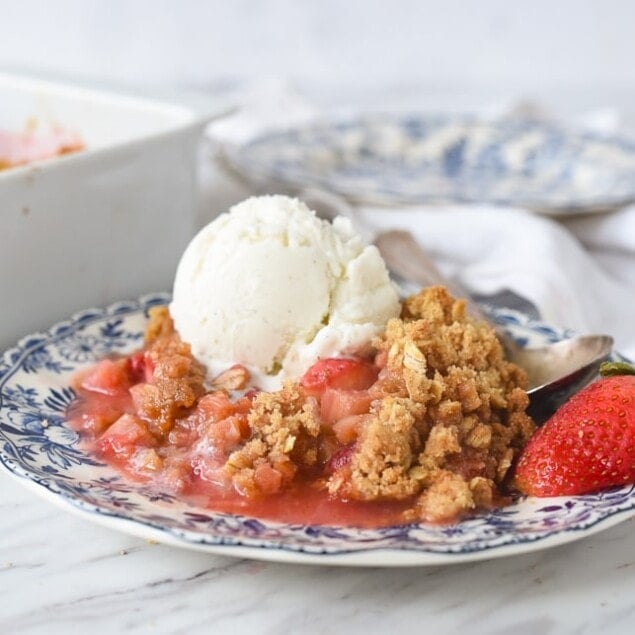 Strawberry Rhubarb Crisp for Two
This Strawberry Rhubarb Crisp is the perfect combination of sweet strawberries and tart rhubarb.  And the perfect size for two.
Ingredients
2 cups rhubarb peeled and diced
1 cup strawberries sliced
1/4 cup sugar
1 tsp lemon juice
1/2 tsp lemon zest
Topping
1/4 cup brown sugar
1/4 cup flour
1/4 cup old fashioned oats
1/4 cup graham cracker crumbs
1/4 tsp nutmeg
1/2 tsp cinnamon
2 Tbsp butter
Instructions
Preheat oven to 375 degrees. Grease a small 3 cup baking dish

Combine rhubarb, strawberries, sugar, lemon juice, lemon zest and stir to combne.

Place in prepared baking dish.
Topping
Mix together all topping ingredients and use a pastry blender or fork to blend until the mixture resembles coarse crumbs, about pea sized.

Sprinkle over top of fruit mixture

Bake for 25-30 minutes or until topping is golden brown and fruit is bubbling.
Tips & Notes:
This recipe is easily doubled to make 4-5 servings. Use a 2 qt. or 9×9 baking dish.  Cooking time remains the same.
Nutrition Facts:
Calories: 495kcal (25%) Carbohydrates: 91g (30%) Protein: 5g (10%) Fat: 14g (22%) Saturated Fat: 8g (50%) Cholesterol: 31mg (10%) Sodium: 185mg (8%) Potassium: 553mg (16%) Fiber: 6g (25%) Sugar: 59g (66%) Vitamin A: 479IU (10%) Vitamin C: 54mg (65%) Calcium: 159mg (16%) Iron: 2mg (11%)
* Disclaimer: All nutrition information are estimates only. Read full disclosure here.