Shredded Green Chile Chicken is not only delicious but it is versatile and done in the crock pot.  Use it in a salad, tacos or even a quesadilla for a easy and yummy dinner.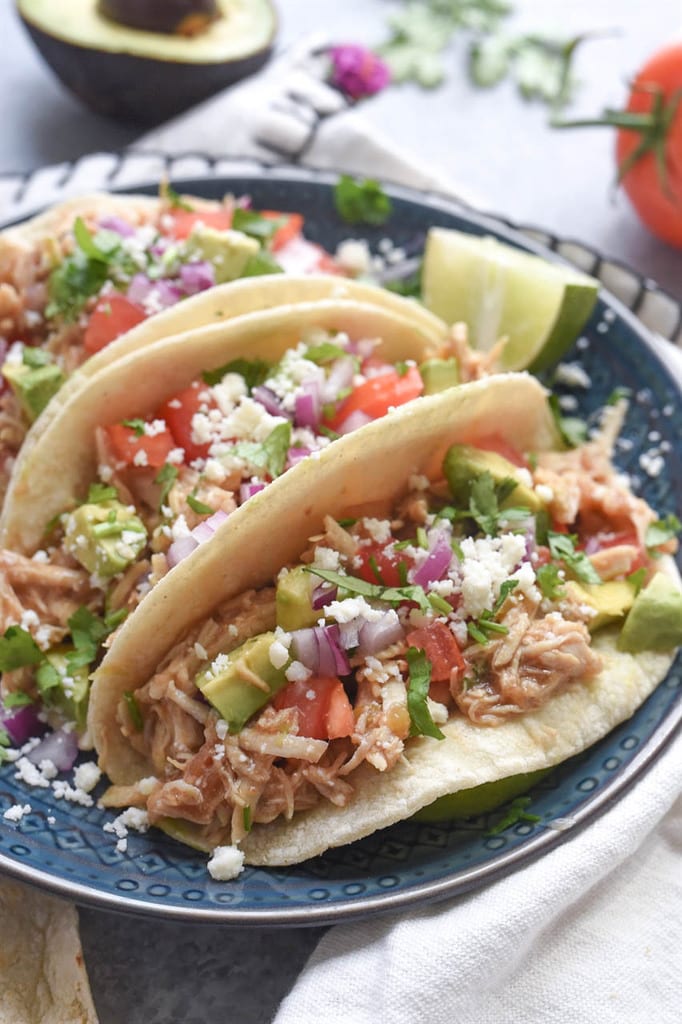 If you follow me on Instagram you know I am a frequent visitor to Utah.  Two of my children and lots of other extended family live there so I am there often.  I always have my list of favorite places to eat while I am there.
On a visit several years ago, I was introduced to Bajio Mexican Grill by my niece Emily. She told me I had to try the Bajio Chicken Chile Salad and she was right.  It was so yummy. After I had it the first time, I came home and got right to work to create a copycat version.  Although it's not exactly like the original I have to say it comes pretty close.  And in fact, my daughter Tessa said she liked it better than the real thing.  It wasn't quite as sweet.  I have to agree I prefer this recipe as well.  And my husband loves it too.  He is always very complimentary about whatever I make.  But when he tells me more than once how good something, is I know it is a keeper!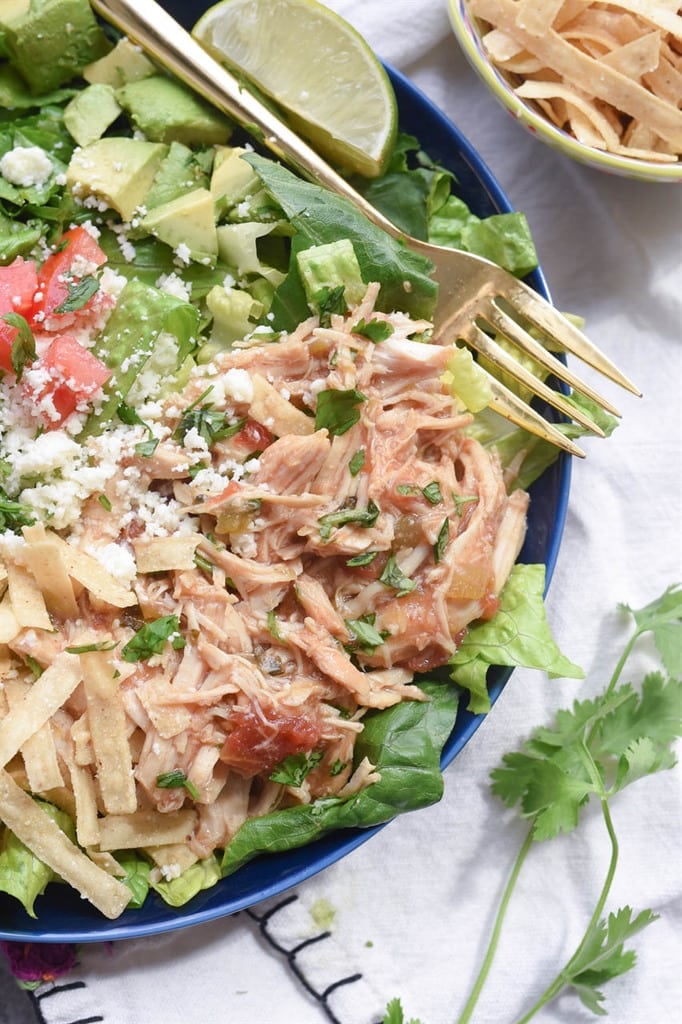 Easy Crock Pot Shredded Green Chile Chicken
This recipe goes together so quick, about 5 minutes and six ingredients in the slow cooker and 5-6 hours later you have dinner!
After I had shredded the chicken and returned it to the crock pot for an hour I drained off the juice and added a mixture of  cornstarch and water to it to thicken it up.  You can also at this point taste for sweetness and add more brown sugar if you'd like it a bit sweeter.
By thickening up the liquid you almost don't even need to add salad dressing to this salad.  The sweet glaze from the chicken acts as a salad dressing.  If you want to add dressing the Creamy Tomatillo Dressing is perfect on this salad.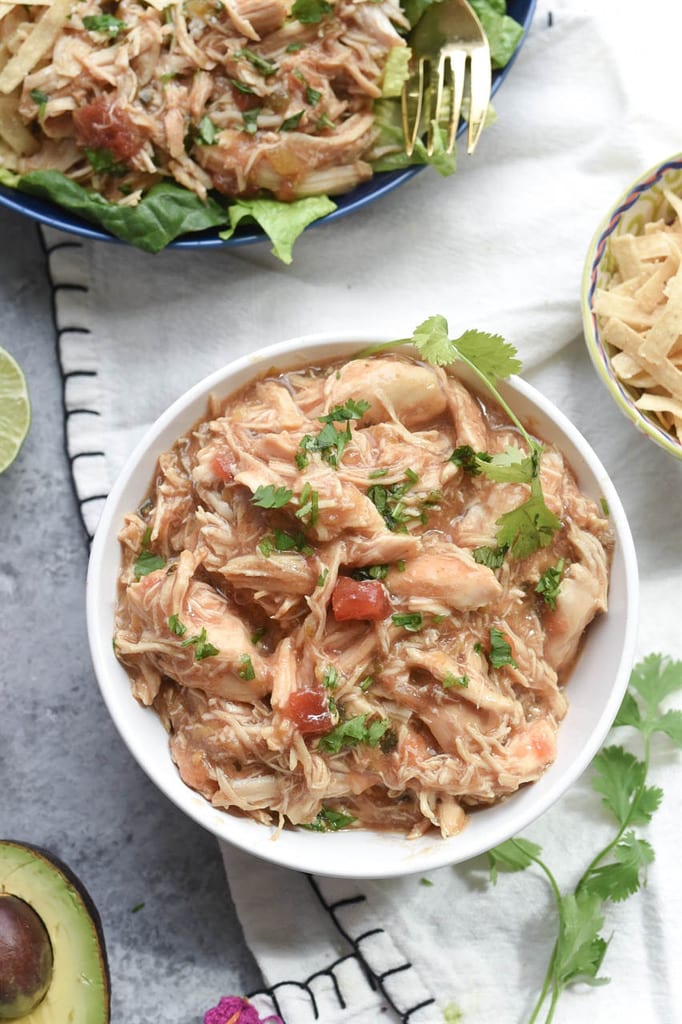 In addition to a delicious salad, this shredded green chile chicken makes amazing tacos too!  Just load up a corn tortilla with the chicken and your favorite taco toppings.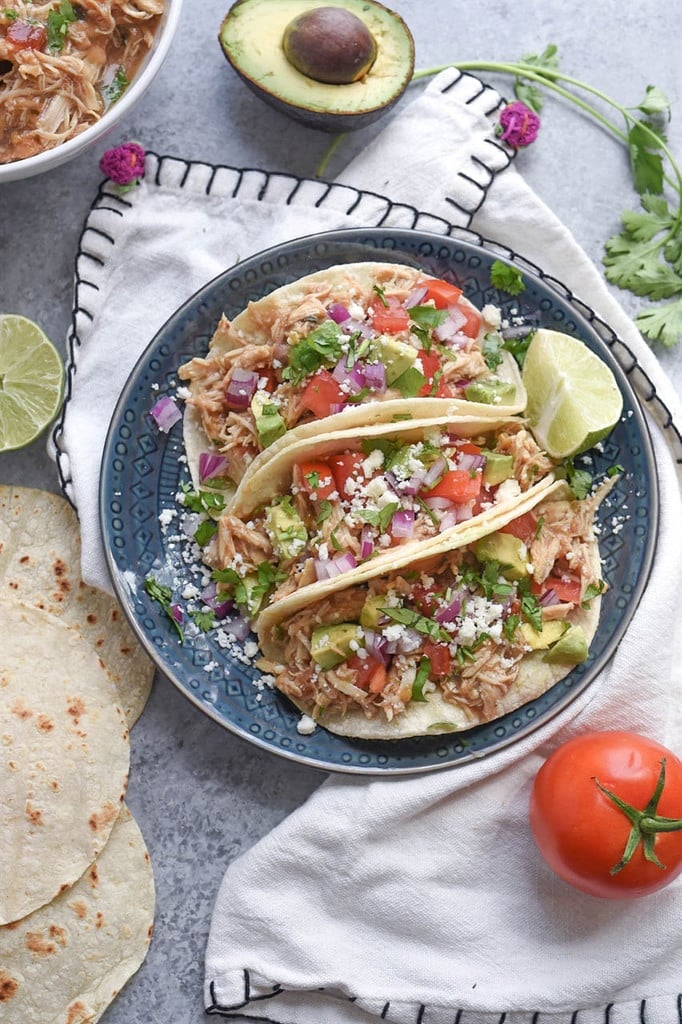 I've also used the shredded green chile chicken in quesadillas.  I added some Mexican cheese blend and it was delicious!  What's not to love about such a versatile recipe and the fact that it's done in the crock pot! Winner, winner, chicken dinner!!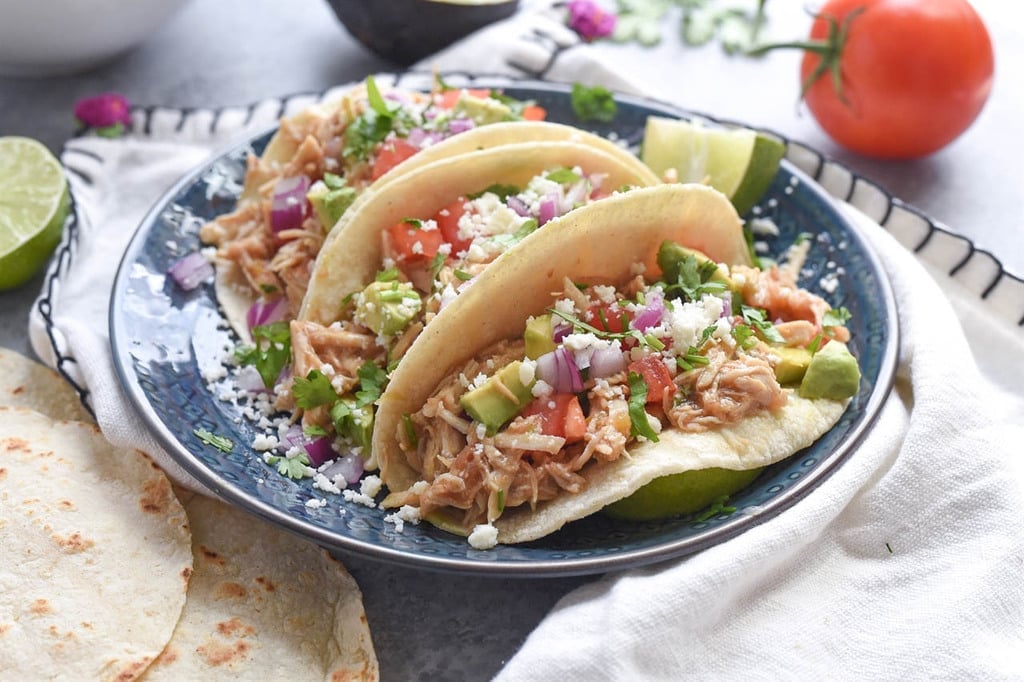 Some of my other favorite Mexican dishes:
Some of my favorite kitchen tools I used to make Shredded Green Chile Chicken:
SLOW COOKER – My favorite one is the classic, the Rival CrockPot.  In fact, I love it so much I own three of them. Two 6 qt and one 4 qt.
CROCK POT LINER BAGS – These liner bags are a life saver and make clean up so much easier and faster!  Stock up on them!
For all of my other favorite kitchen products and tools visit my Amazon Store.
Did you know I wrote a cookbook?  Check out the Holiday Slow Cooker Cookbook for 100 delicious recipes
Crock Pot Shredded Green Chile Chicken Recipe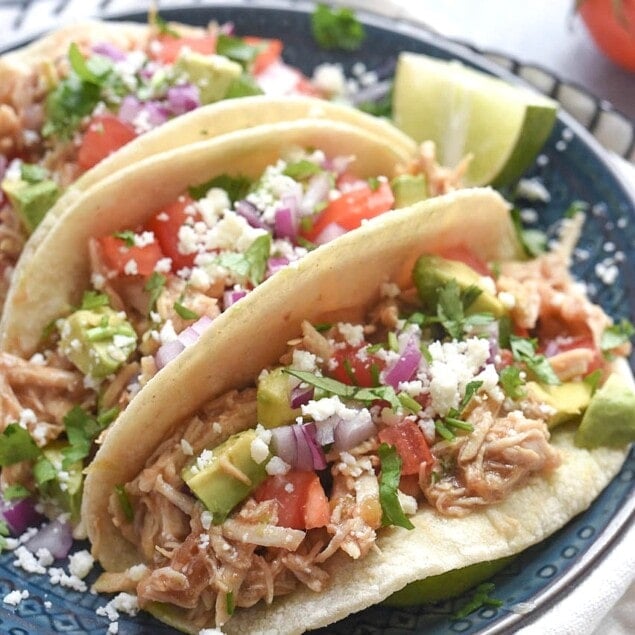 Shredded Green Chile Chicken
Shredded Green Chile Chicken is not only delicious but it is versatile and done in the crock pot. Use it in a salad, tacos or even a quesadilla for a easy and yummy dinner.
Ingredients
4 chicken breasts
1/2 cup salsa
1 Tbsp cumin
1/2 cup brown sugar more to taste
1 4 oz. can diced green chilies
6 oz. Sprite
3 Tbsp cornstarch
1/4 cup water
Instructions
Combine all ingredients in a crock pot.

Cook on low for 4-5 hours.

Remove chicken and shred.

Return to crock pot, thicken and cook for one more hour.

Thicken the juices if needed by mixing together cornstarch and water and stir in. It will thicken up during the last hour of cooking.

Serve on a salad or in a taco.

If you want it spicer rather than sweeter add a hotter salsa and more green chilies.
Nutrition Facts:
Calories: 212kcal (11%) Carbohydrates: 20g (7%) Protein: 24g (48%) Fat: 3g (5%) Cholesterol: 72mg (24%) Sodium: 300mg (13%) Potassium: 496mg (14%) Sugar: 16g (18%) Vitamin A: 120IU (2%) Vitamin C: 3.4mg (4%) Calcium: 29mg (3%) Iron: 1.1mg (6%)
* Disclaimer: All nutrition information are estimates only. Read full disclosure here.
Need some help figuring out what's for dinner tonight?
Come join our Facebook Group!  Join hundreds of others who love sharing dinner time ideas.  You don't want to miss out on the fun!

You'll find lots of ideas for dinner from all our awesome members and you can share your ideas too!  Join the Family Dinner Table today.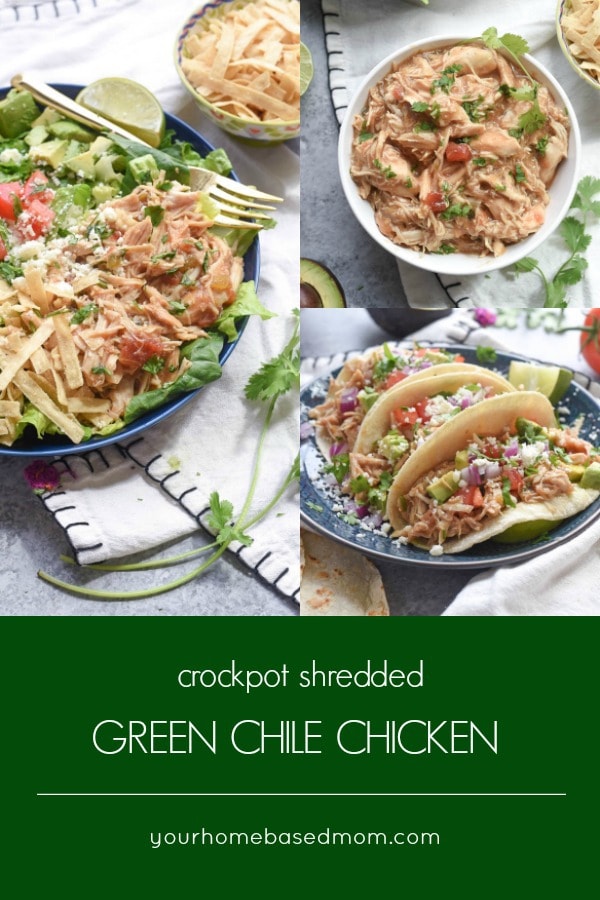 Originally posted November 2008