This Pioneer Scone recipe creates little soft sweet pillow of goodness.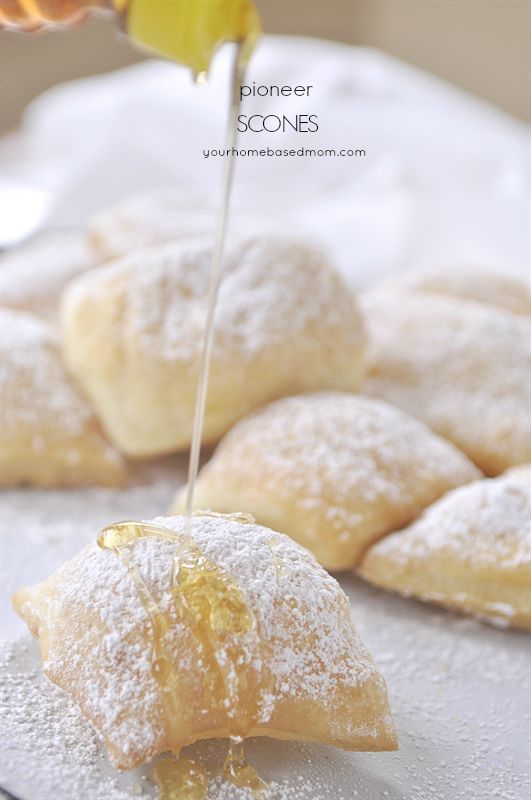 A few weeks ago we had the youth from church over at our home for a meeting or what we call a fireside.  They had recently participated in a Pioneer Trek where they went to Martin's Cove in Wyoming and re-enacted  a pioneer trek.  They dressed like pioneers, they walked through rivers like pioneers, they ate like pioneers, they pushed handcarts like pioneers.  They had an amazing experience.  The meeting at our home was an opportunity for them to talk about and share the experiences they had.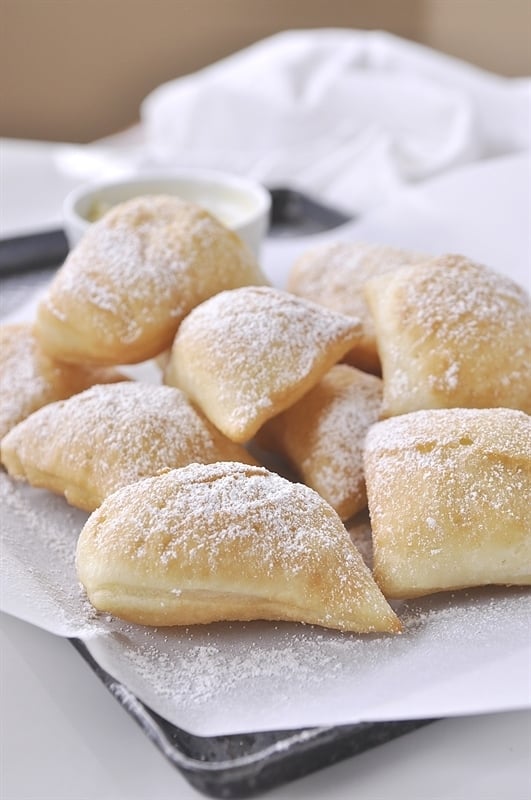 I, of course, was in charge of refreshments.  I decided that the most appropriate treat would be pioneer scones.  When my children were at home this use to be a Sunday evening tradition at our home.  I would make up a batch of scones and that was a regular Sunday evening treat. The scone recipe makes a lot so we always piled up a plate full and delivered it some lucky neighbor too.
A pioneer scone is basically fried dough.  They didn't have much food on the trek but they did have flour.   My scone recipe is made with flour, sugar   After your dough rises for an hour, roll it out and cut it into squares.   I fried them in my little handy dandy deep fat fryer but you can also do it in a frying pan.  I would use a cast iron pan if you have it. You will need a couple of inches of oil in the frying pan.  I use corn oil.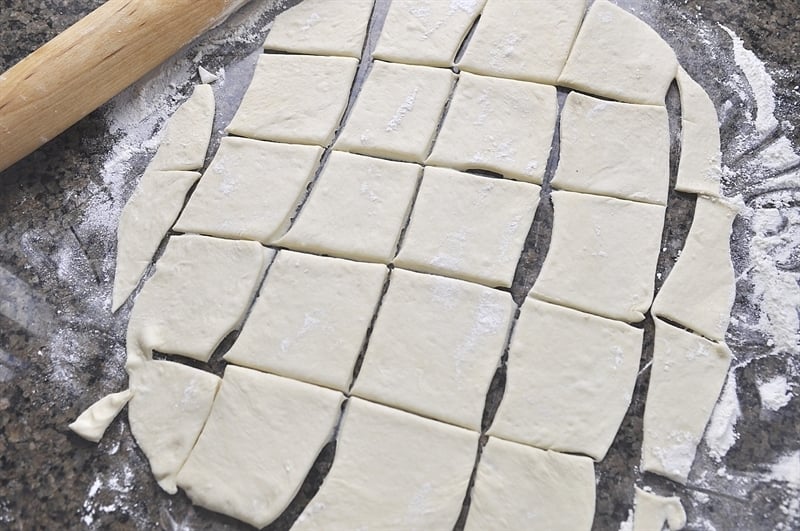 You want your oil temperature to be 350 degrees F. You want them nice and golden brown.  They will puff up as they fry.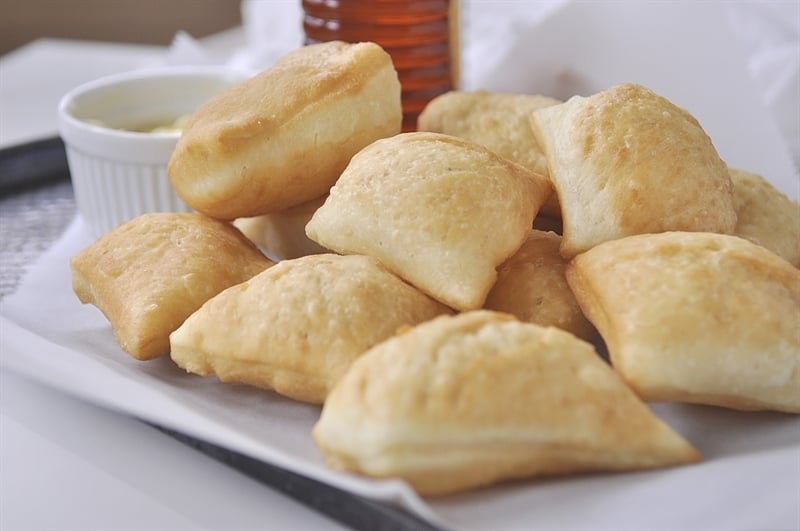 I like to give them a little shower of powdered sugar.  They look prettier that way and they taste better too.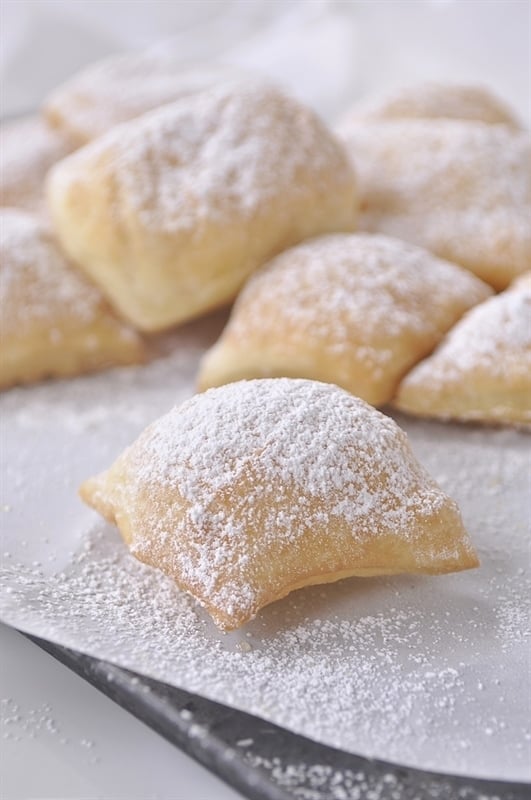 Then after their shower of powdered sugar they get a bath of honey!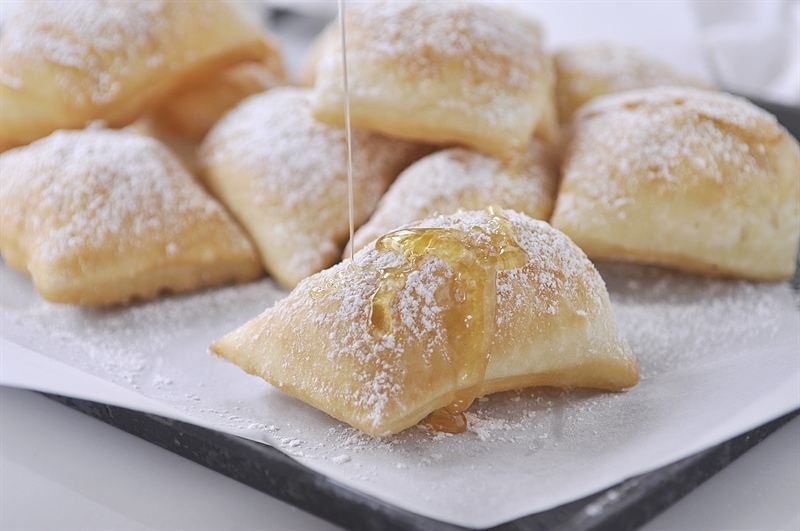 The sign of a good pioneer scone is that it puffs up while being fried and forms a beautiful little pillow.  When you break it open it will look like this.  They are so light and lovely you won't be able to eat just one or two or maybe even three!  They just seem to melt away in your mouth!  Glad I didn't have to go on a pioneer trek to enjoy these pioneer scones!!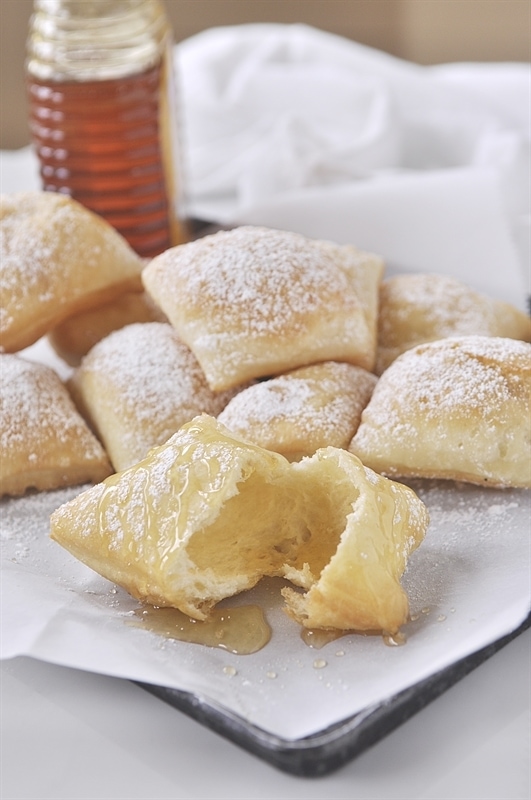 Pioneer Scones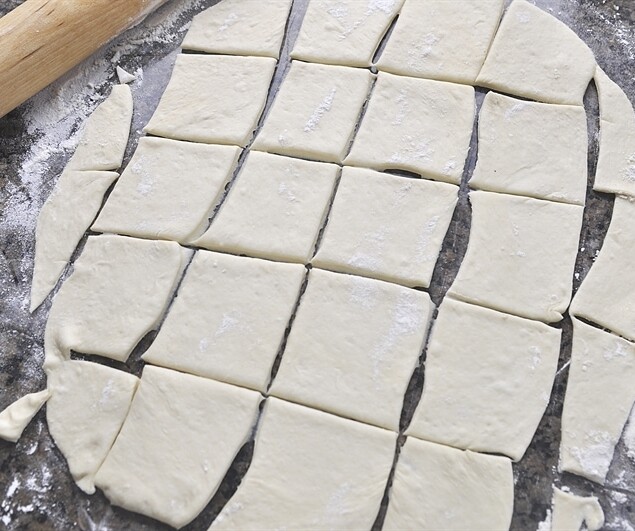 Pioneer Scone Recipe
Pioneer scones, or Utah scones, are quick to make. They only need a few minutes to rise before you fry them to golden delicious perfection.
Ingredients
1/4 C butter
1 tsp salt
4 1/2 tsp dry active yeast 2 packages
4 Tbsp sugar
2 C hot water
6 C flour you will use 4-6 cups
Instructions
Add butter into hot water and allow to melt.

After water cools to warm (105-110 degrees F) add in yeast, sugar and salt. Mix well.

Add in flour to make a stiff, but soft dough.

Knead 8-10 minutes

Let rise until double in size, about 1 hour.

Punch down and knead again several times.

Roll out dough to 1/4 inch thick and cut into strips and then squares.

Drop into hot oil (350 degrees F) and deep fry until golden brown and cooked through.

Scones will "pop" or inflate.

Serve with powdered sugar and honey.
Nutrition Facts:
Calories: 93kcal (5%) Carbohydrates: 17g (6%) Protein: 2g (4%) Fat: 1g (2%) Cholesterol: 3mg (1%) Sodium: 77mg (3%) Potassium: 27mg (1%) Sugar: 1g (1%) Vitamin A: 40IU (1%) Calcium: 4mg Iron: 1mg (6%)
* Disclaimer: All nutrition information are estimates only. Read full disclosure here.