Raspberry Chocolate Scones are perfect for any tea party or just a fun sweet treat. Filled with chocolate, raspberries and orange zest.
Some of our other favorite scone flavors include these Maple Pecan Scones, Eggnog Scones and Chocolate Chip Scones.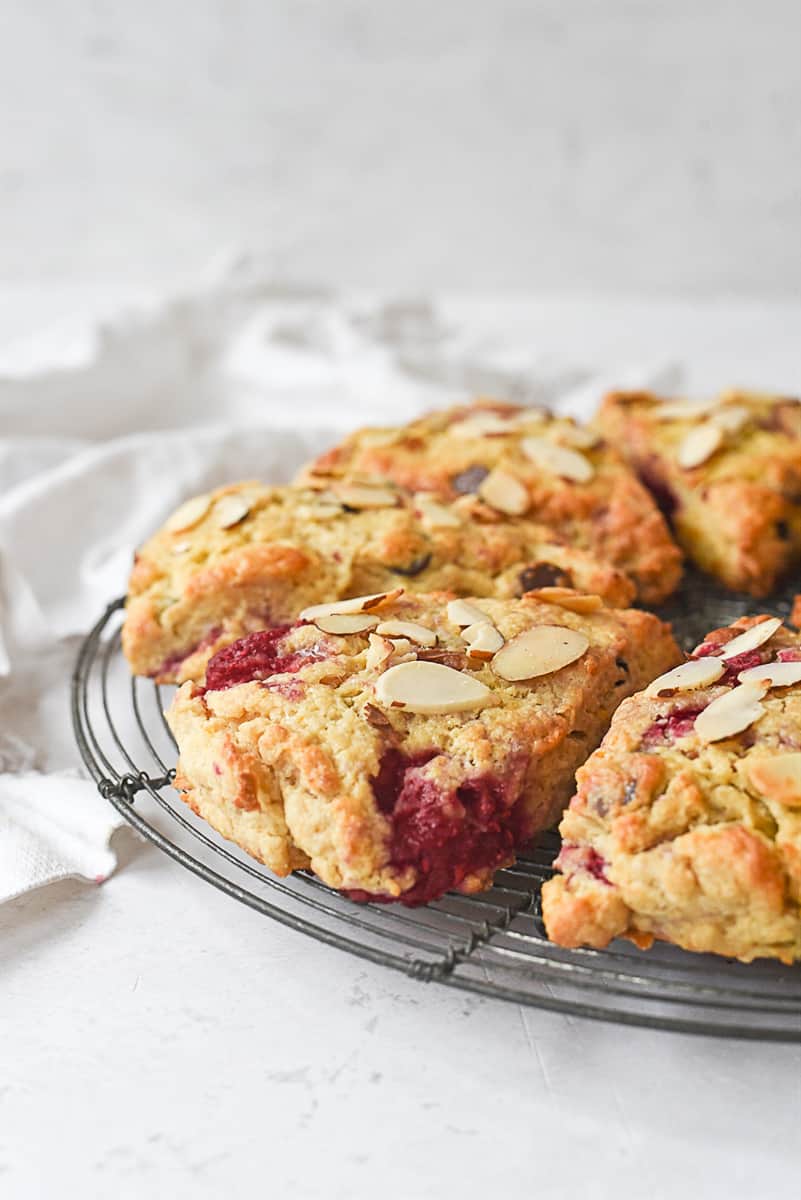 I love a good scone. Scones can be sweet or savory and are perfect paired with a cup of tea or all by themselves. I love them for breakfast, brunch, a tea party or at a shower.
A good scones should be light, tender, flaky, crispy on the edges, not dry and full of flavor.
What is a Scone?
Today we are making English scones which are different from an American scone which is usually a yeast based bread that is fried.
English scones are more like a biscuit. There is no yeast in this scone and baking powder is used as a leavening agent.
Scones can be served plain, with nothing added in. Just top them with some, butter, jam or cream.
Today though, we are adding in raspberries, chocolate and orange zest to make a delicious scone full of flavor! They really don't need anything else added on top.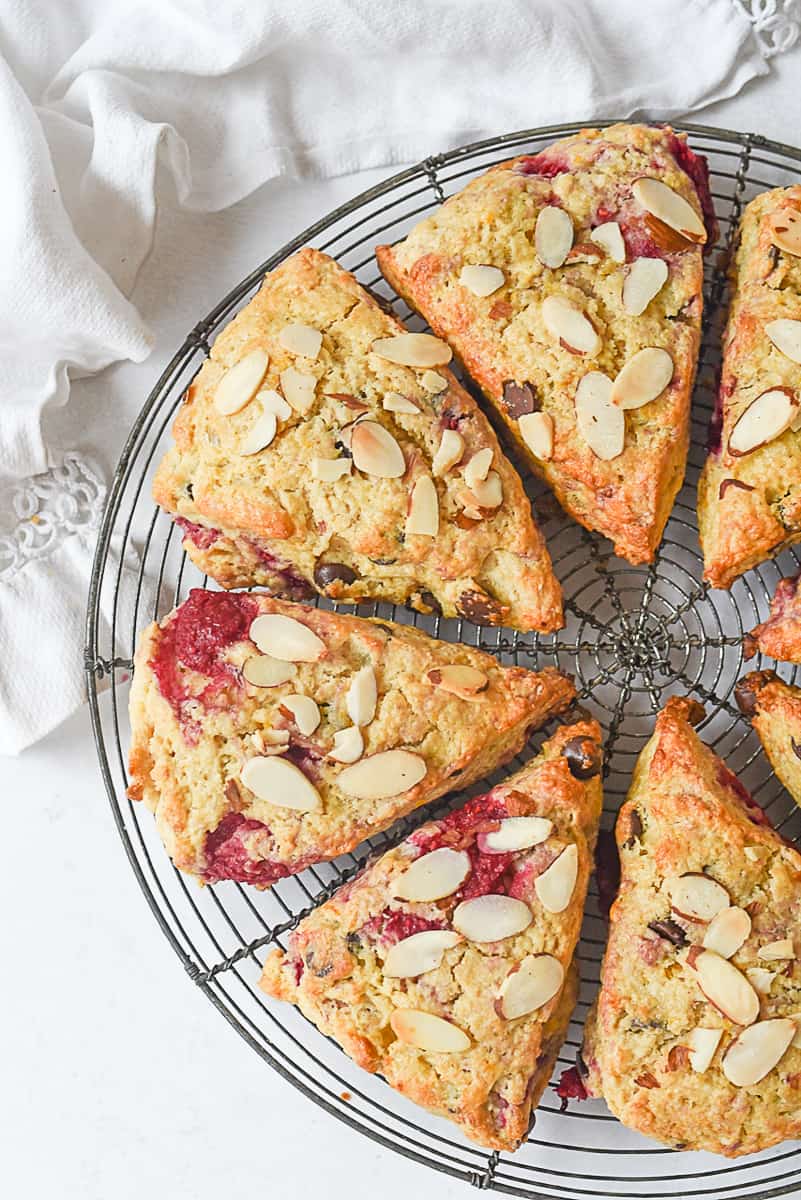 How to Make Raspberry Chocolate Scones
Combine flour, brown sugar, almond flour or finely chopped almonds (use a food processor), baking powder, baking soda, and salt. Stir to mix.
Almond Flour alternative
You can usually find almond flour in the regular baking aisle. If you prefer you can pulverize almonds in your food processor to make your own almond flour.
Use a pastry cutter, cut the butter into the flour mixture. You want to end up with small pea sized butter. If you don't have a pastry cutter use two forks or your hands.
Add in frozen raspberries, chocolate chips and orange zest and toss together.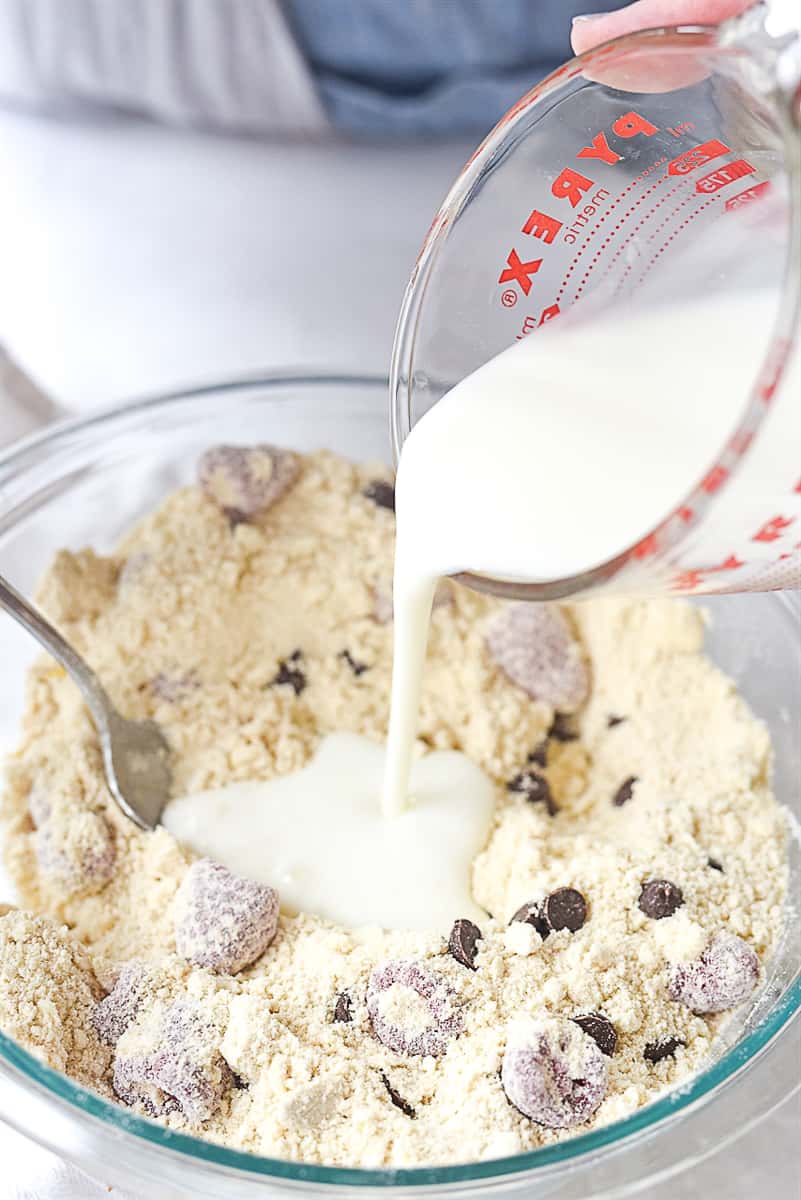 Add in the buttermilk. Buttermilk is one of the secrets to a good scone, helps make them tender.
Buttermilk Substitute
Add 2 tsp of lemon juice or vinegar to 2/3 cup of milk to make your own buttermilk.
Don't over work the dough, the less you work the dough the better.
Put the dough onto a floured surface. The dough will be dry so don't let that worry you.
Gently work the dough together with your hands.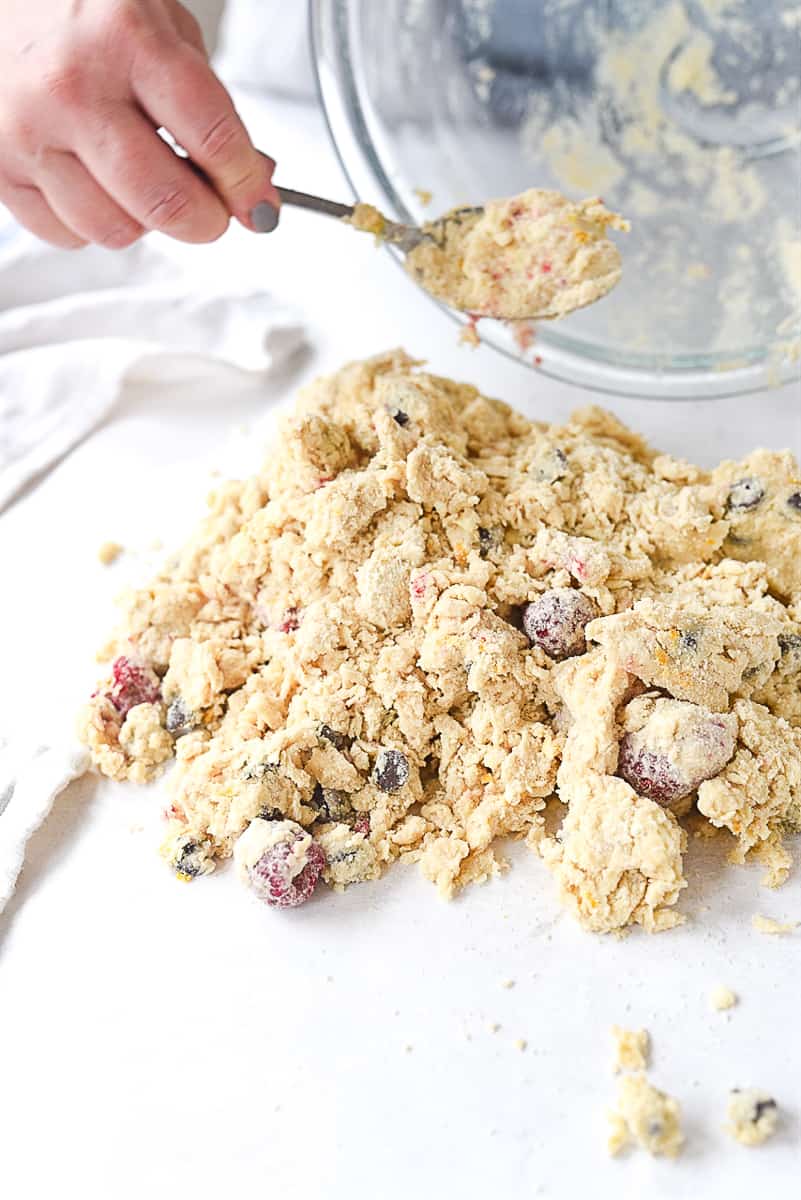 Form the dough into an inch thick round circle. Remember, the less you handle the dough the better.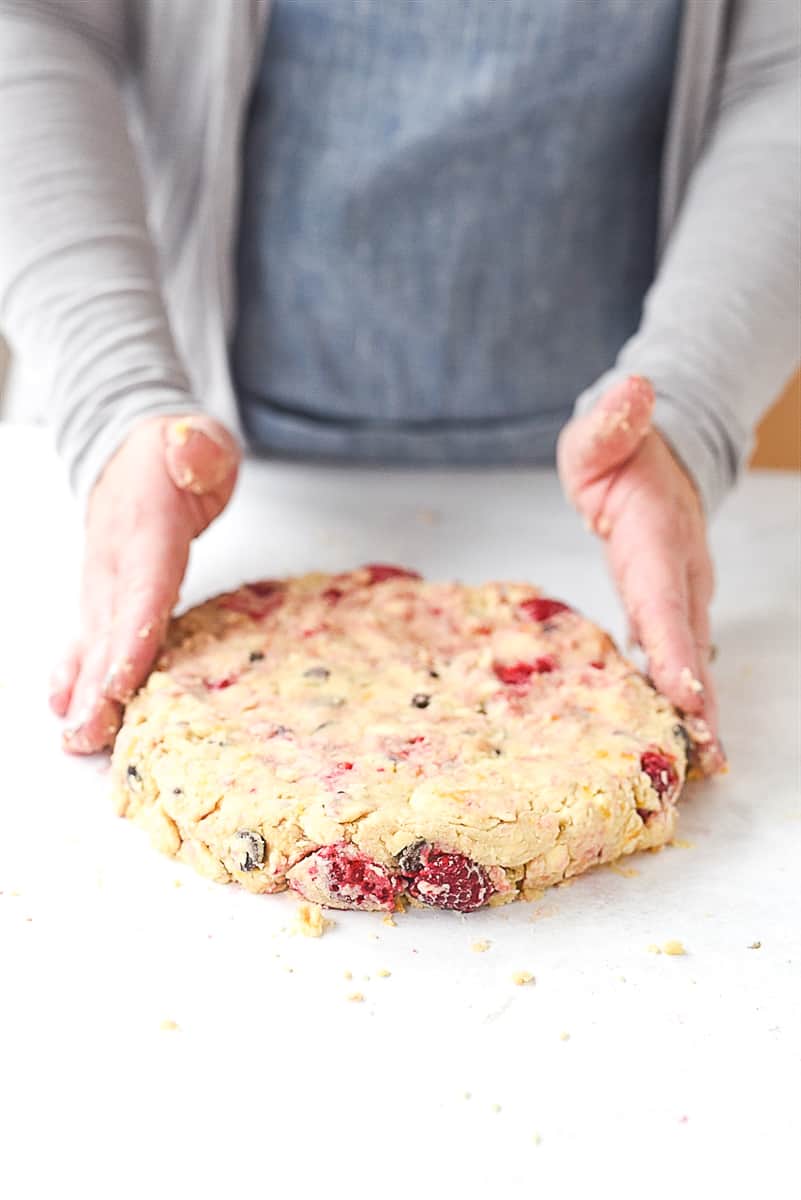 Cut into the circle into 8 wedges using a pizza cutter, a knife or a bench scraper.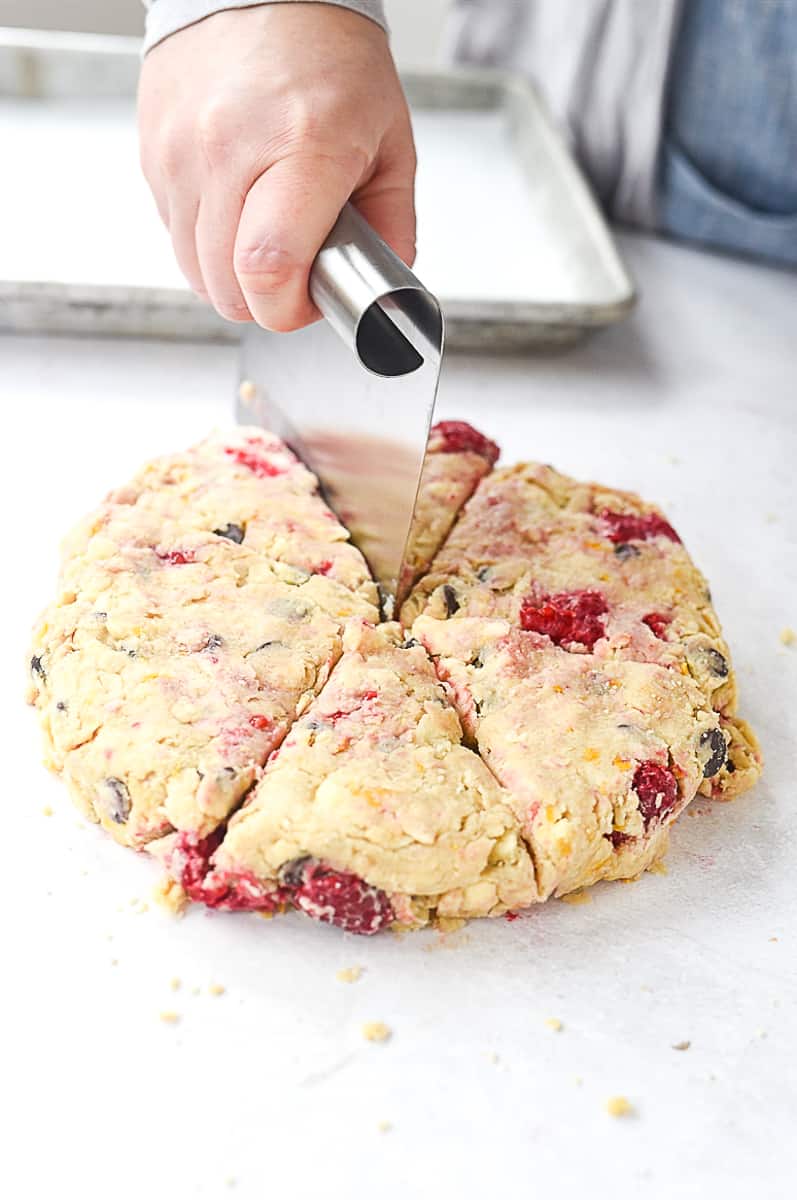 Place the scones on a lined cookie sheet spacing them at least 1 inch apart.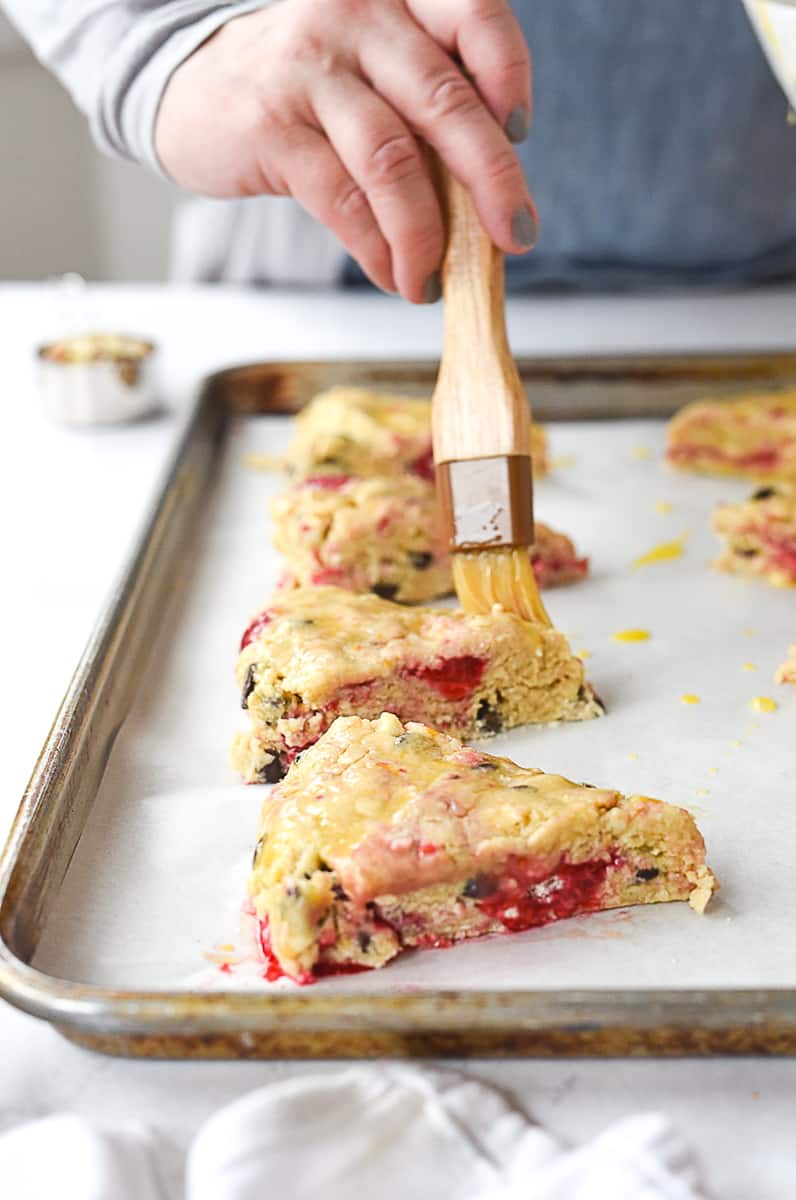 Brush them a beaten egg mixed with sugar and then sprinkle with sliced almonds.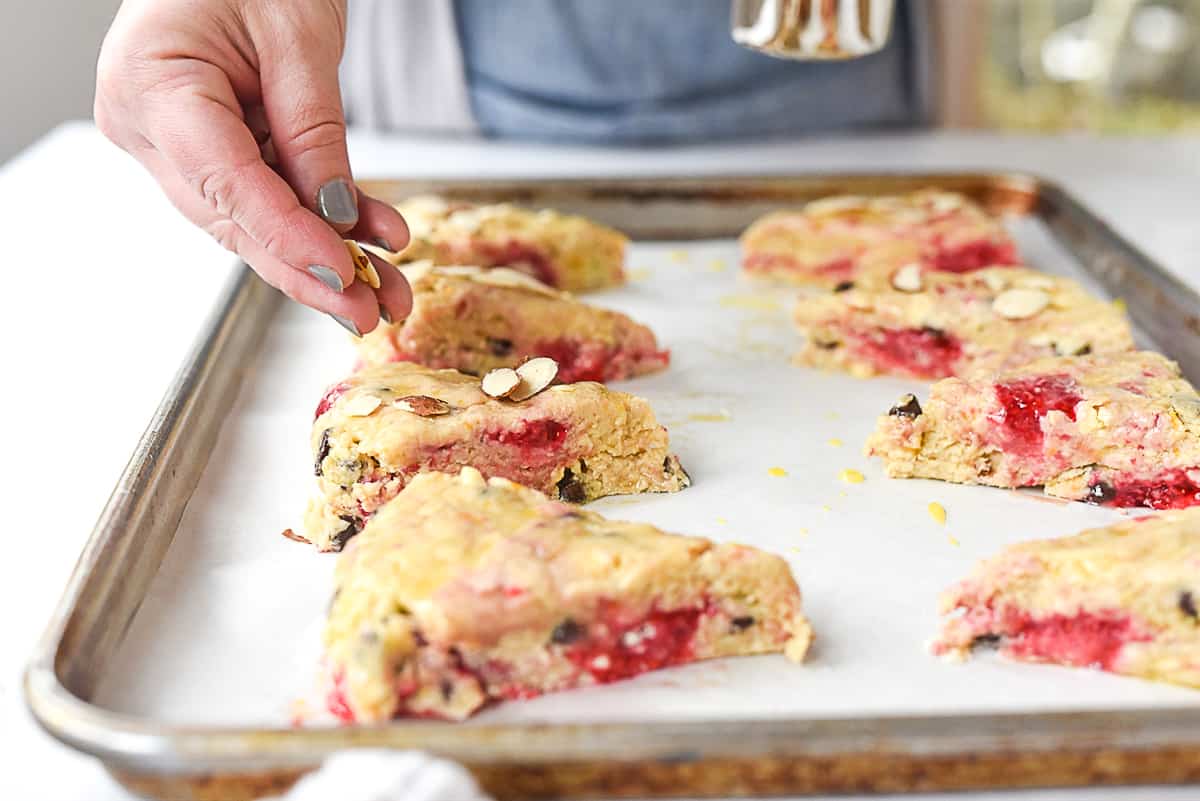 Bake at 400 degrees for about 25-30 minutes. You want the tops golden brown and they should feel firm when pressed with your fingertip.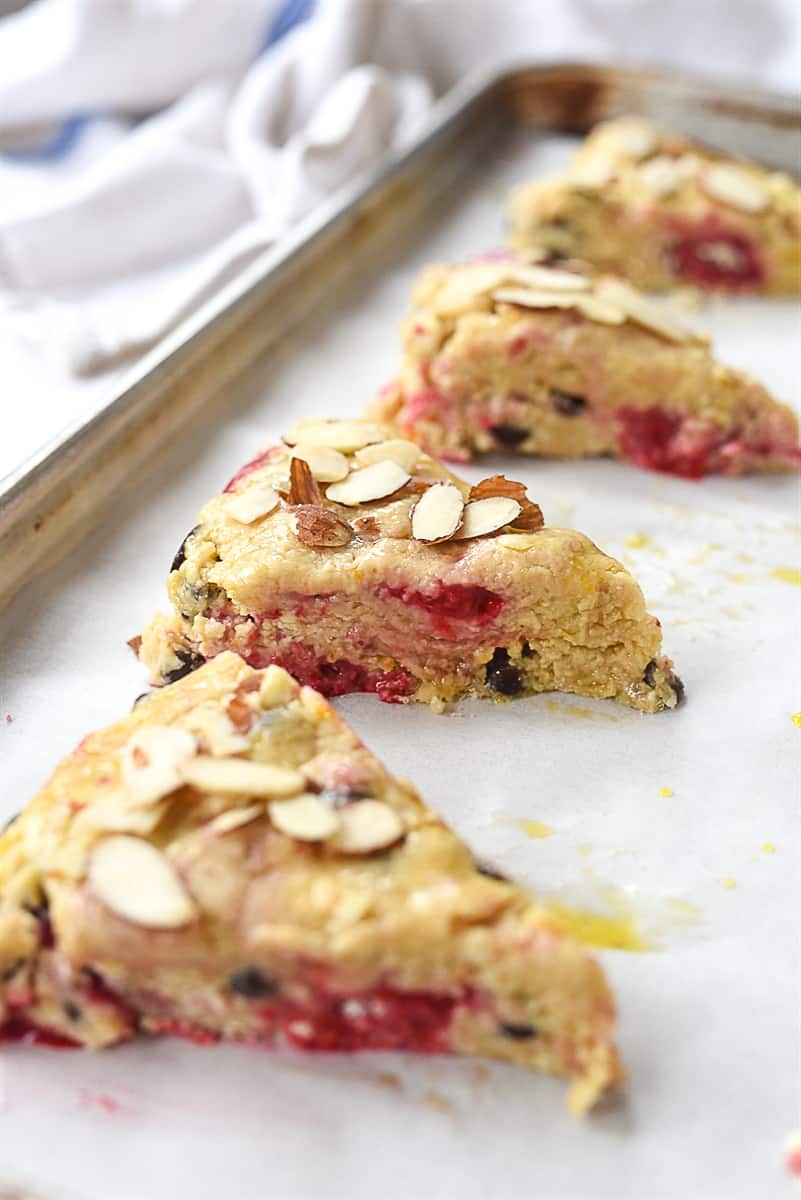 Allow them to cool or eat them warm, which ever your prefer!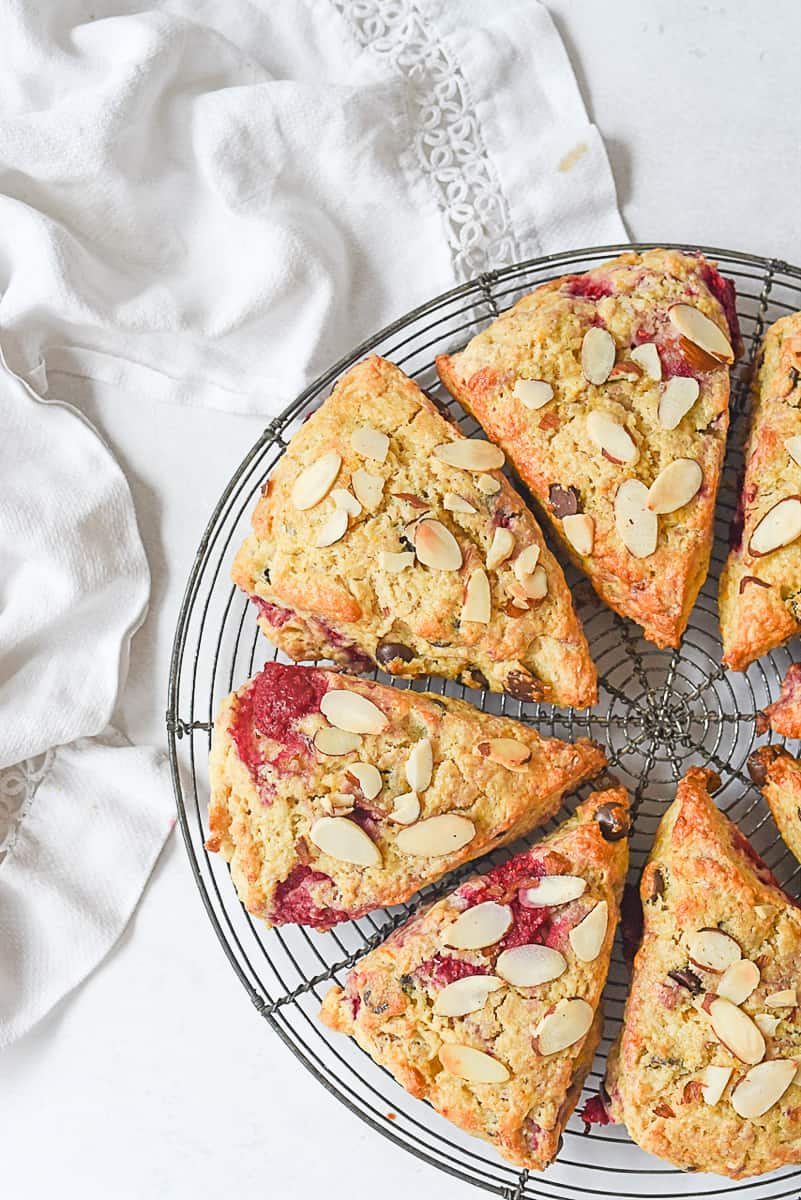 Can I Use Freeze Raspberries Instead of Frozen?
You can use fresh or frozen berries, either will work fine. The frozen raspberries hold up better as you are mixing them. The fresh raspberries break down easier and will cause the dough to turn more pink but the flavor will be the same.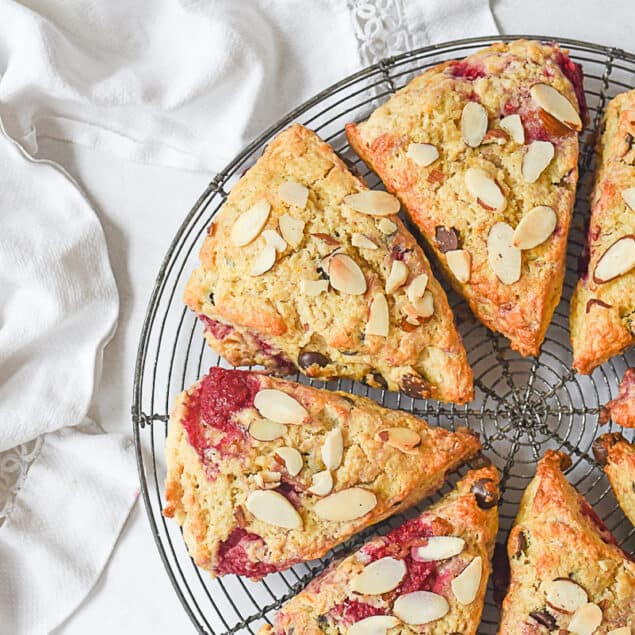 Raspberry Chocolate Scones
A delicious sweet scone with the perfect combination of raspberry and chocolate.
Ingredients
2 C all purpose flour
1/2 C firmly packed dark brown sugar
1/4 C almond flour or sliced almonds very finely chopped in a food processor
2 tsp baking powder.
1/4 tsp baking soda
1/4 tsp salt
1/2 C cold salted butter cut into 1/2 inch slices
3/4 C individually frozen raspberries not thawed
1/2 C semisweet chocolate chips
grated zest of 1 orange
2/3 C buttermilk
Topping
1 large egg
1 Tbsp granulated sugar
1/4 C sliced almonds
Instructions
Put oven rack in the top third of oven and preheat oven to 400 degrees

Line a baking sheet with parchment paper of silicone baking mat

In a large bowl whisk together the flour, brown sugar, almond flour, baking powder, baking soda and salt.

Work in the butter with a pastry blender or your fingertips until mixture is crumbly with pea sized pieces of butter.

Add in raspberries, chocolate chips and orange zest to flour mixture and toss to coat.

Add buttermilk and stir until just combined.

Turn down onto a floured surface and gently knead a few times. Pat the dough into a 1 inch thick round.

Cut like a p pizza into 6 -8 equal wedges and separate wedges. Place at least 1 inch apart on baking sheet.
Topping:
In a small bowl whisk egg and sugar. Lightly brush the top of each wedge with mixture and sprinkle with sliced almonds.

Bake until the top of the scones are golden brown and center feels firm to the touch.

About 25-30 minutes. Let cool but enjoy warm.
Nutrition Facts:
Calories: 428kcal (21%) Carbohydrates: 50g (17%) Protein: 8g (16%) Fat: 23g (35%) Saturated Fat: 11g (69%) Cholesterol: 54mg (18%) Sodium: 249mg (11%) Potassium: 345mg (10%) Fiber: 4g (17%) Sugar: 21g (23%) Vitamin A: 417IU (8%) Vitamin C: 3mg (4%) Calcium: 136mg (14%) Iron: 3mg (17%)
* Disclaimer: All nutrition information are estimates only. Read full disclosure here.
Originally posted Dec. 20, 2012