Sausage Gnocchi is dish of made up of soft pillows of pasta covered in a delicious sausage and roasted tomato sauce.  A sprinkle of cheese and some toasted walnuts makes for an amazing taste experience!
We love pasta at our house in every shape and form.  This Spaghetti and Meat Sauce is one of my favorite childhood food memories.    Pesto Chicken Pasta is a fun way to enjoy pasta in baked form and works great for a crowd.  This Roasted Walnut and Ham Pasta is a great one if you don't want a tomato based sauce.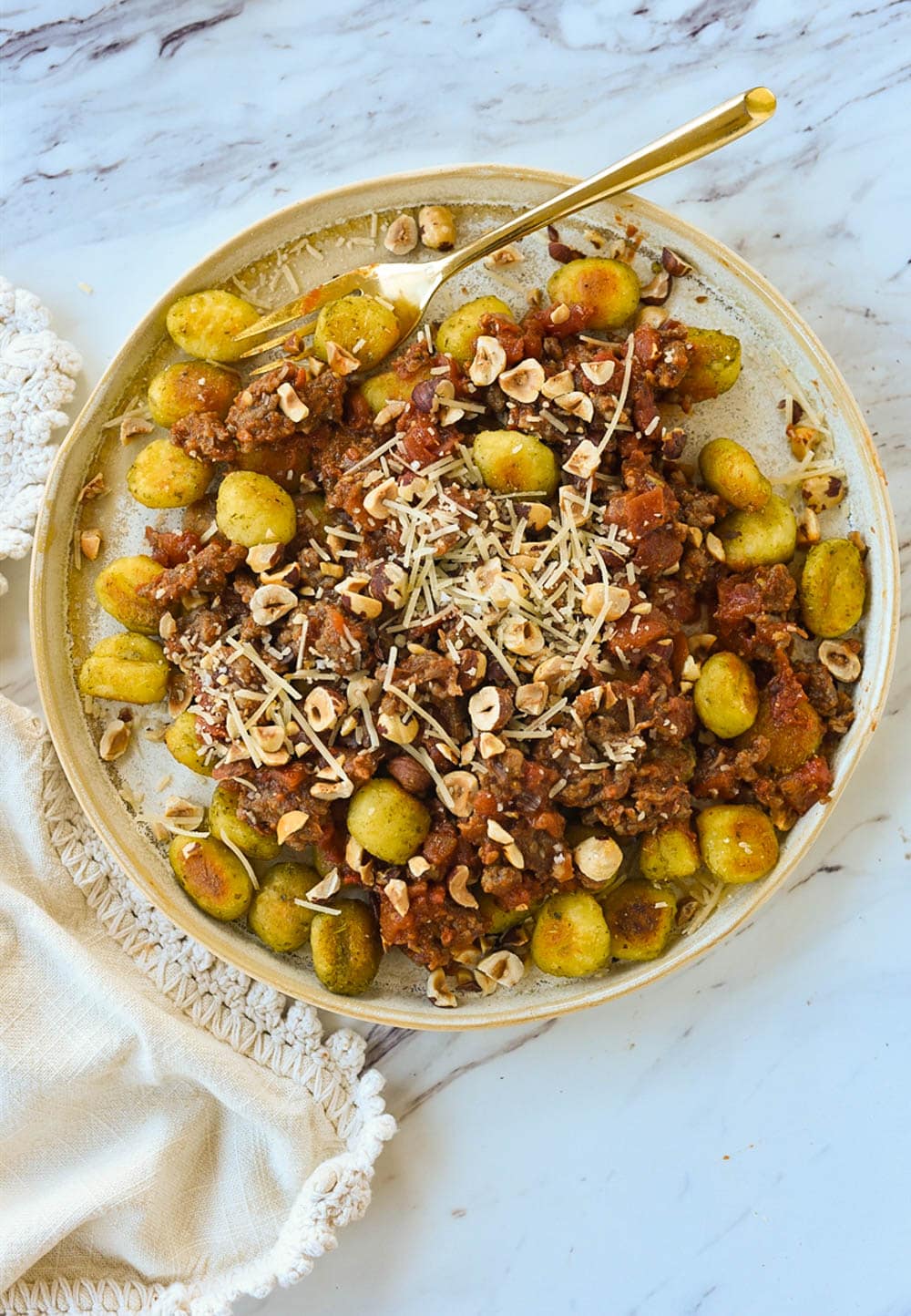 What is Gnocchi?
Gnocchi is an Italian pasta, that is usually made with mashed potatoes, flour and eggs.
For me, gnocchi brings back some fun childhood memories.  Growing up in Wisconsin my very English blooded father started an Italian gnocchi company and named it Mrs. O'Leary's.  Don't ask me why he named it an Irish name but he did and I'm sure he had a good reason. Maybe it is the fact that there is potato in gnocchi and Ireland is famous for its potatoes!?
On the weekends we would head down to the little rented space that was Mrs. O'Leary's gnocchi factory and make gnocchi.  We sold it in the neighborhood grocery stores.  I grew up in a very Italian town and  I guess they didn't mind the Irish name.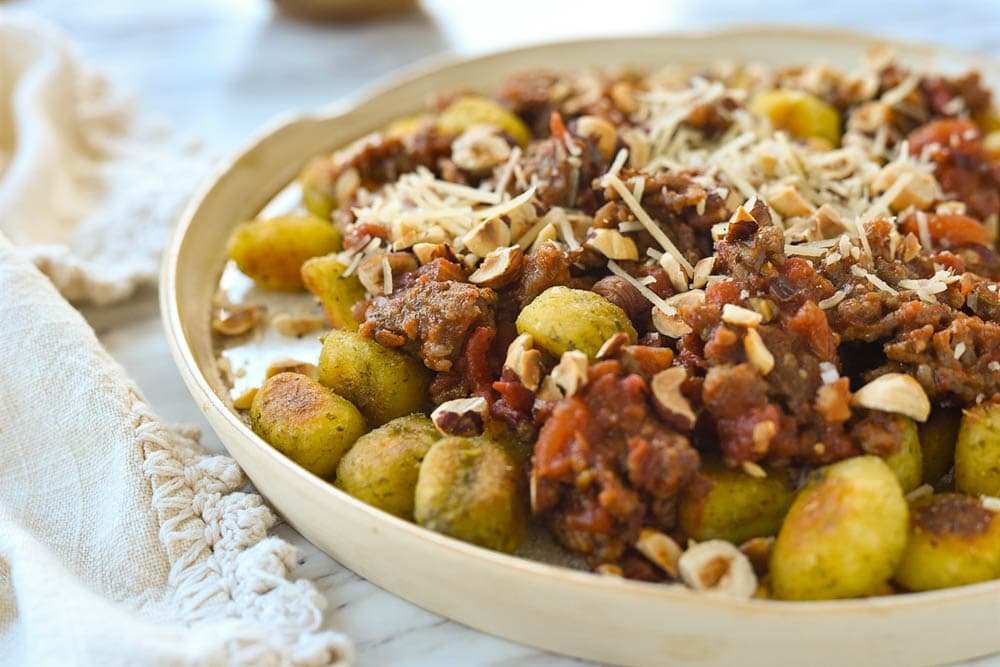 How Do You Cook Gnocchi?
You cook gnocchi just like any other pasta. in a pot of hot boiling water.  It doesn't take long to cook and you know it is done when it floats to the surface of the water.
You can use the gnocchi just like they are when you remove them from the water if you want a nice soft little dumpling, just pour your sauce over them.  For my roasted sausage gnocchi I prefer my gnocchi with a little bit of a crispy outer edge so I pan fried mine in a little butter to give it a nice crispy outside.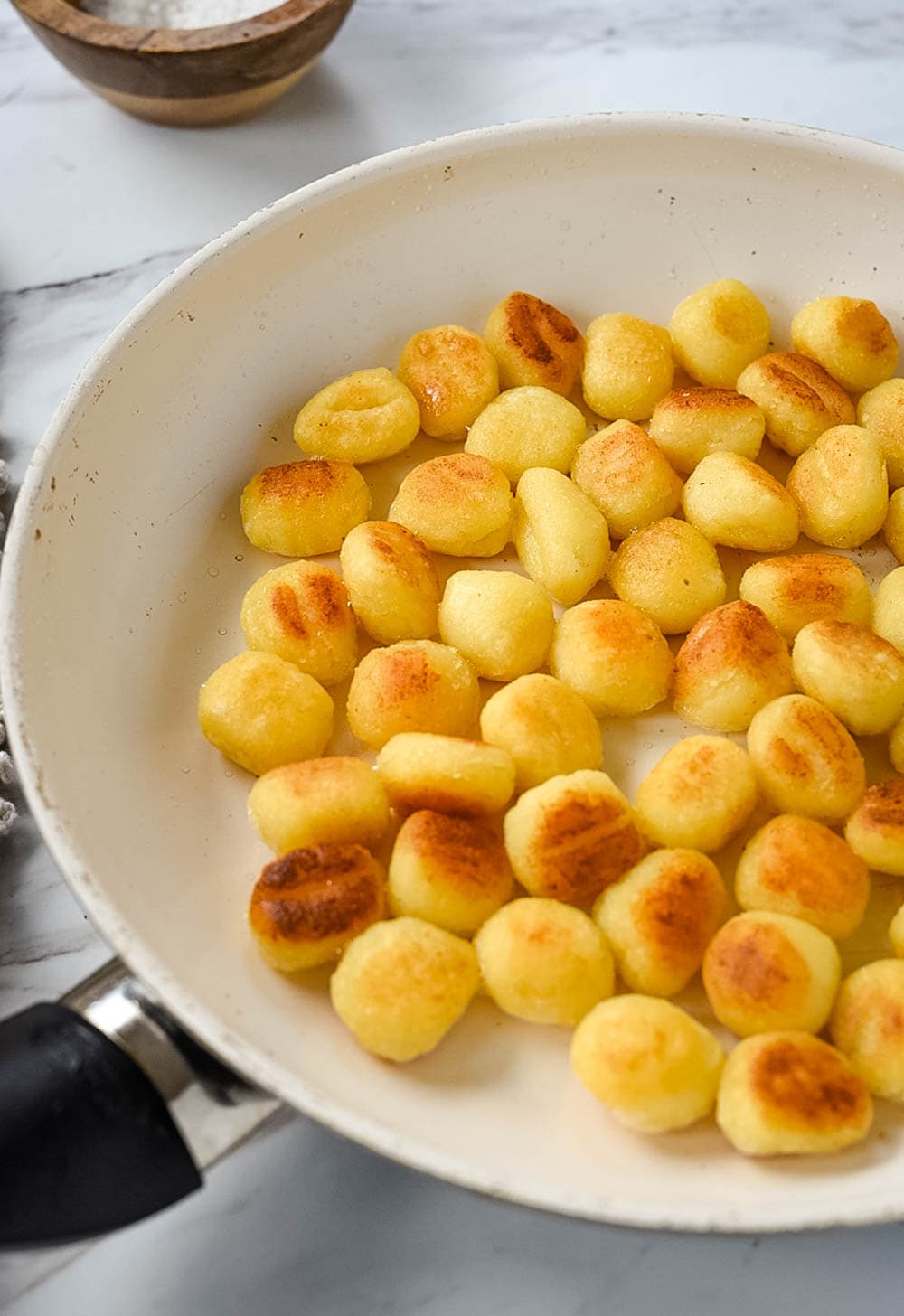 How to Make Sausage Gnocchi
Pan fry gnocchi in butter until golden brown and crisp on the outside.
Brown sausage in a frying pan.  I used one pound of mild Italian sausage but you could also use a hot, spicy one. I only used half of it in the recipe and put the other half in the freezer to make my favorite soup, Tortellini and Sausage Soup  later.
Add 2 Tbsp of pesto in with the gnocchi to give it a nice light covering and then added in the sausage.  I used store bought pesto but you can also make your own using this recipe.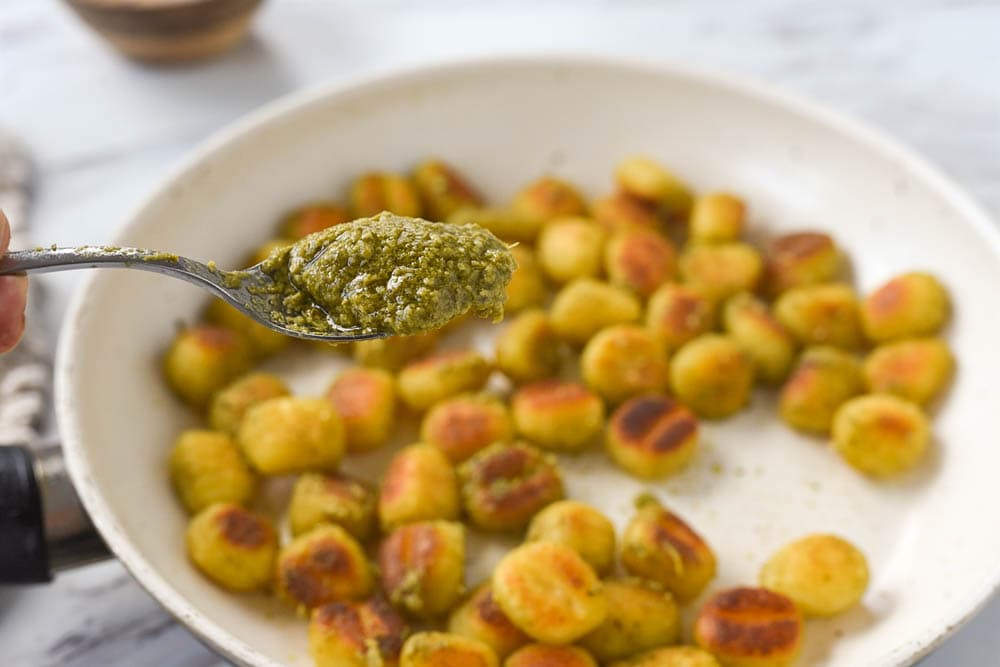 In another pan, mix together 2 cans of fire roasted diced tomatoes, 1/4 cup pesto and 2 Tbsp of balsamic vinegar and simmered it together for about 30 minutes.   The roasted tomatoes and balsamic vinegar gives it a dark, rich flavor.
While this was simmering I chopped up a 1/2 cup of walnuts and drizzled them with a bit of olive oil and toasted them in my oven at 400 degrees for about 5 minutes.  Watch them closely so they don't burn.  Give them a shake or two part way through the cooking process to make sure they are evenly toasted.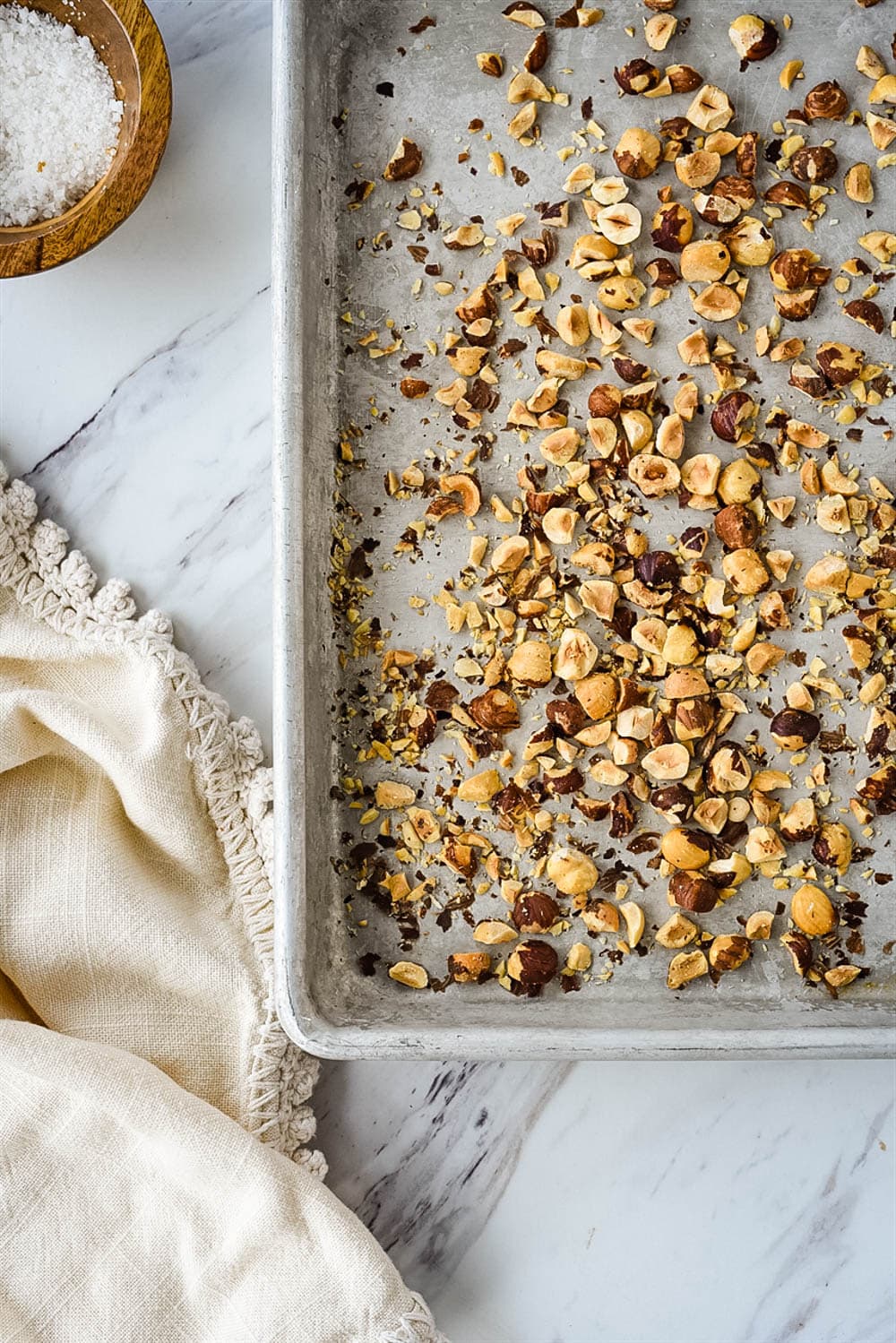 Plate up your gnocchi and then cover it with your simmering sauce,  a sprinkle of Parmesan cheese and then top it off with some toasted walnuts. My husband had never had gnocchi before and I don't think he had ever heard of it.  I guess in Idaho they don't eat their potatoes in the form of gnocchi!!  He was a little confused by the whole thing.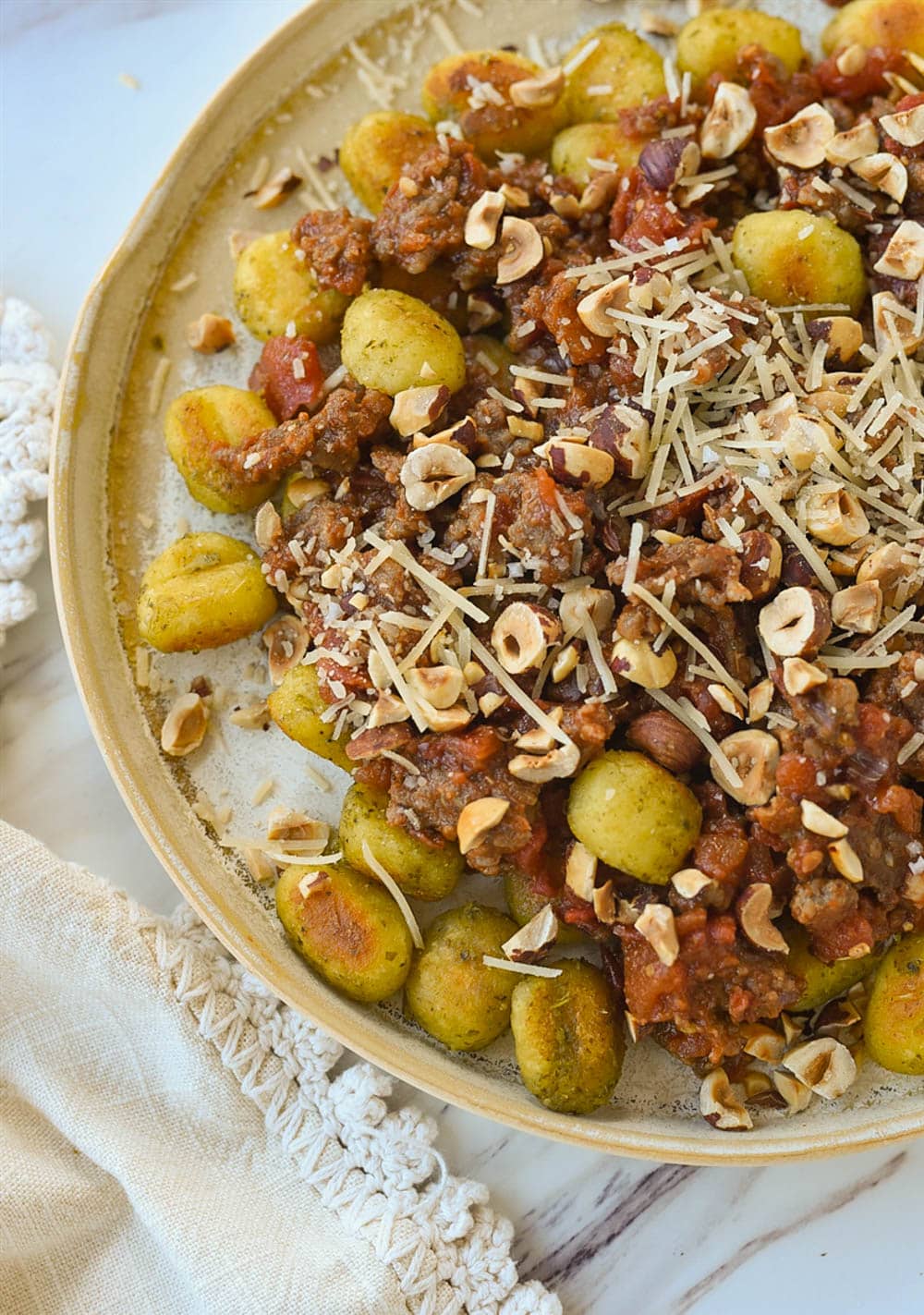 Gnocchi can be found in the same aisle as the pasta, either with the dry pasta or in the refrigerator section with the fresh pasta. The flavor is amazing thanks to the roasted tomatoes, pesto and balsamic vinegar.  If you can't find roasted tomatoes use regular diced tomatoes.  Bring out the Irish Italian in you and try sausage gnocchi!
For all of my other favorite kitchen products and tools visit my Amazon Store. 
Did you know I wrote a cookbook?  Check out the Holiday Slow Cooker Cookbook for 100 delicious recipes.
Check out more of my favorite Italian sausage recipes:
Sausage Gnocchi Recipe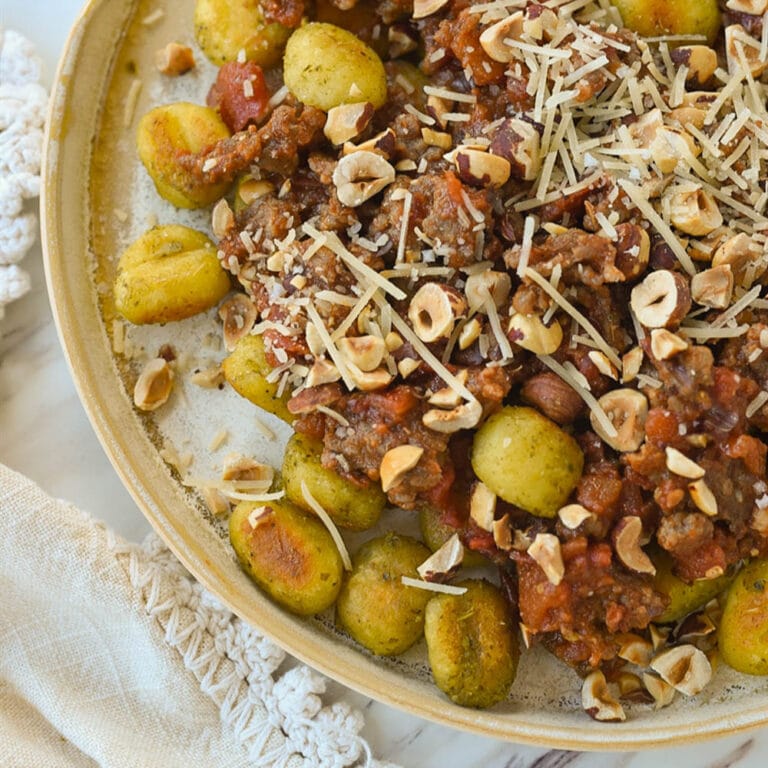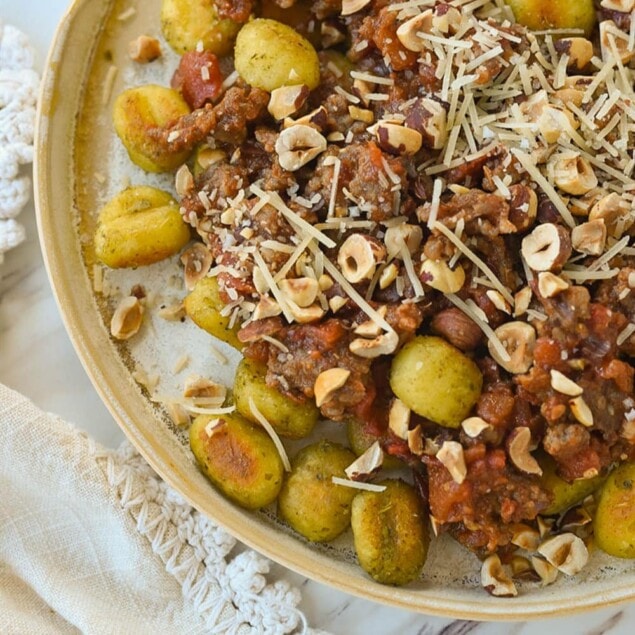 Sausage Gnocchi
Sausage Gnocchi is dish of made up of soft pillows of pasta covered in a delicious sausage and roasted tomato sauce.  A sprinkle of cheese and some toasted walnuts makes for an amazing taste experience!
Ingredients
1 lb. box of gnocchi
2 Tbsp butter
1/2 lb. mild Italian sausage browned
2 Tbsp pesto
1/2 cup walnuts chopped
drizzle of olive oil
2 14 oz. diced fire roasted tomatoes
1/4 cup pesto
2 Tbsp balsamic vinegar
1/2 cup walnuts chopped
drizzle of olive oil
Parmesan cheese grated for garnish
Instructions
Cook gnocchi in boiling water according to directions on box. Drain

Place in frying pan and add 2 Tbsp of pesto to coat.

Brown sausage.
Sauce
In a pan simmer tomatoes, balsamic vinegar and pesto for 30 minutes.

Add sausage into sauce after simmering.
Toasted Nuts
Toast in a 400 degree oven for about 4 minutes or until they begin to brown.

Watch carefully and shake the tray half way through.

Pour sauce over gnocchi and top with grated cheese and toasted nuts.
Nutrition Facts:
Calories: 718kcal (36%) Carbohydrates: 48g (16%) Protein: 18g (36%) Fat: 52g (80%) Saturated Fat: 14g (88%) Cholesterol: 60mg (20%) Sodium: 1068mg (46%) Potassium: 281mg (8%) Fiber: 5g (21%) Sugar: 3g (3%) Vitamin A: 641IU (13%) Vitamin C: 1mg (1%) Calcium: 99mg (10%) Iron: 6mg (33%)
* Disclaimer: All nutrition information are estimates only. Read full disclosure here.
Originally posted May 23, 2012
If you've tried this recipe or any other recipe on Your Homebased Mom, then don't forget to rate the recipe and let me know how it went in the comments below, I love hearing from you!
You can also FOLLOW ME on FACEBOOK, INSTAGRAM and PINTEREST to see more delicious food, party ideas and travel tips and what I'm up to on a daily basis!