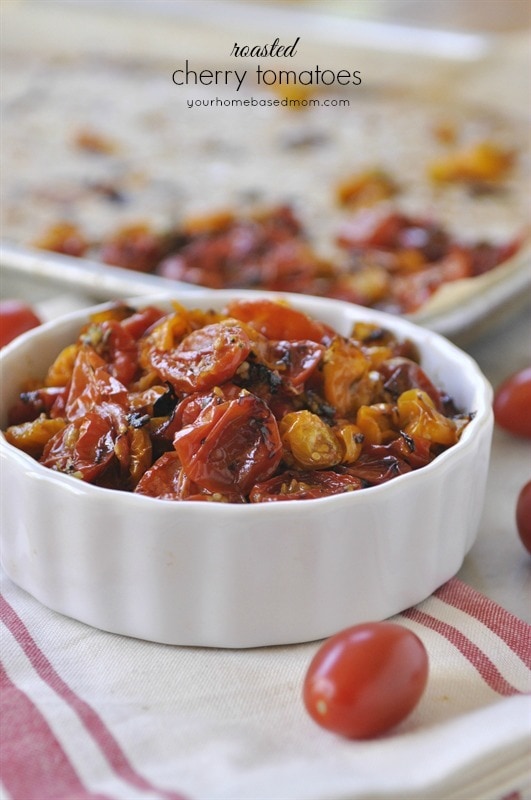 Some years I kind of dread cherry tomato season.  We always have way more than we can use and Jim ends up walking up and down the street giving them away to the neighbors!  But not this year.  I'm not sure what happened to our tomatoes this year but they are not doing well.  We had lots of sun this summer so you would think they would!  So now I have resorted to walking up and down the street asking my neighbors to share their cherry tomatoes!
If you don't have a bumper crop of cherry tomatotes you are going to want to hit up your neighbors for some of their tomatotes to try this recipe – I promise you!  This stuff tastes like candy.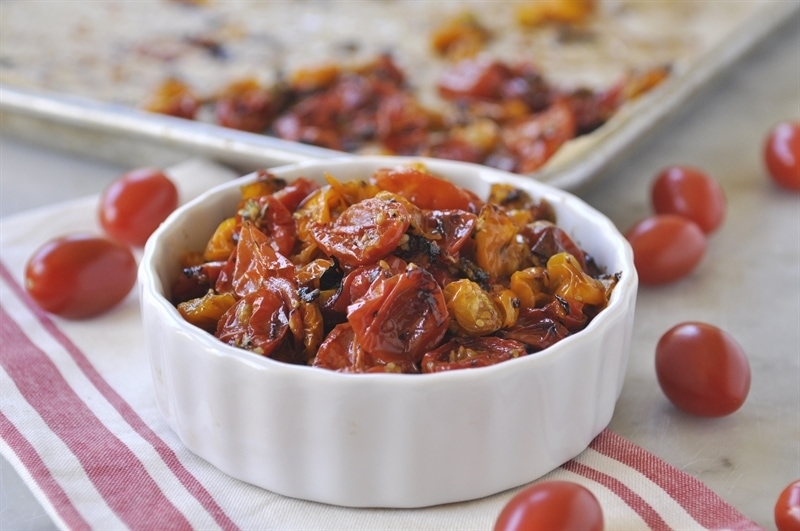 The roasting process brings out all the sweetness in the tomato.  I love roasting cherry tomatoes but you can actually use this process with just about any tomato.  The roasting time will just be longer for bigger, meatier tomatoes.  This is really more of a process rather than a recipe.
I used a combination of red and orange cherry tomatoes because it was just prettier.  Slice the tomatoes in half.  Add in 1 Tbsp olive oil per cup of tomatoes.  Add in 2 cloves of fresh chopped garlic per cup of tomatoes and then you can also add in some fresh herbs from the garden (optional).  I used a combo of thyme, oregano and some marjoram.  I used 1 tsp of fresh herbs to 1 C tomatoes and 1/8 tsp of salt and pepper.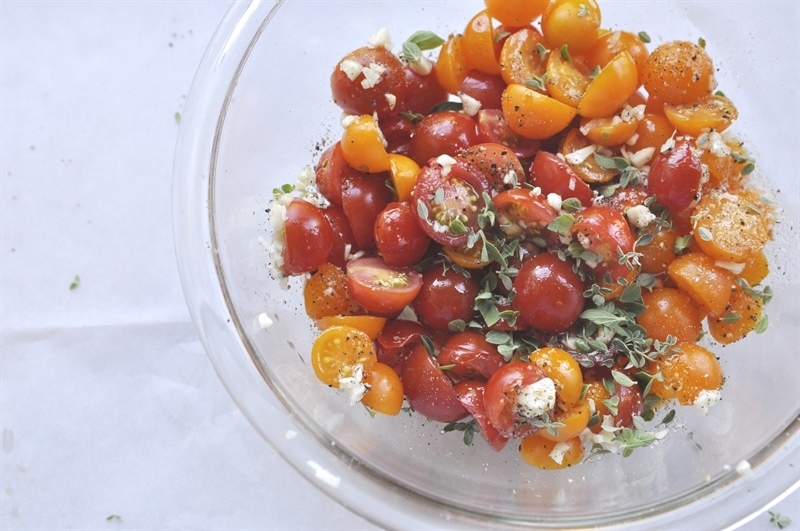 I then lined a cookie sheet with parchment paper and placed the tomatoes in a single layer on the sheet.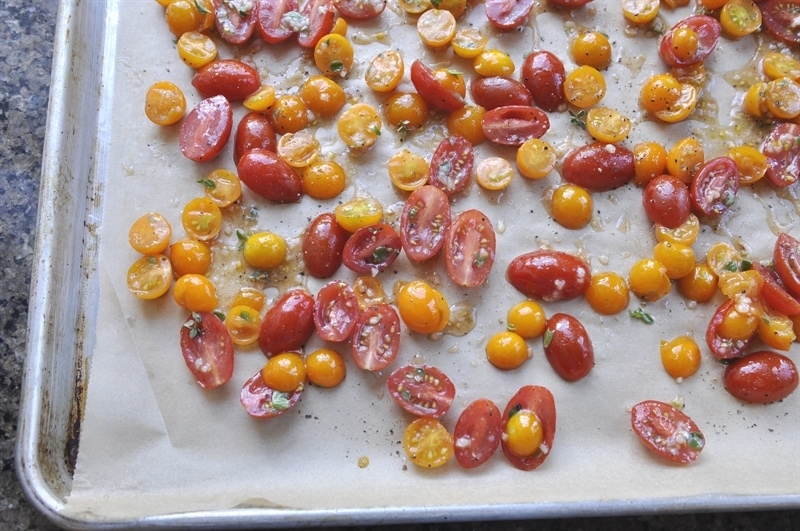 I roasted them at 375 degrees for about 20 minutes.  The time will vary depending on how big your cherry tomatoes are and how done you like them.  I actually like mine well done, where a lot of the dark crispy edges forms around the tomatoes, so yummy!  I would say the tomatoes in the photo  below are medium.  Some crispness around them but not too much.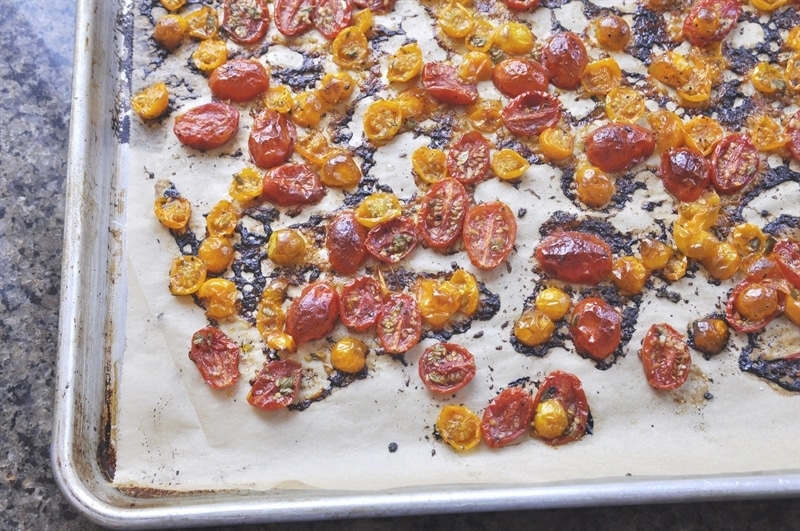 Who knew tomatoes could be so pretty!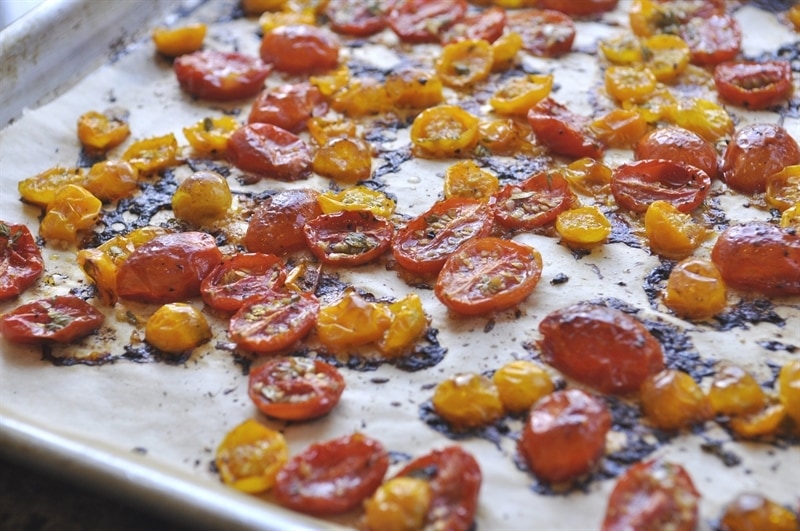 So if you don't eat all of them straight off the cookie sheet here are a few ideas how you can use them!  I love them on salads, pastas, added into a soup and as a condiment to meat.  For our Labor Day BBQ I used them as a topping along with some carmelized onions on our burgers.  So good!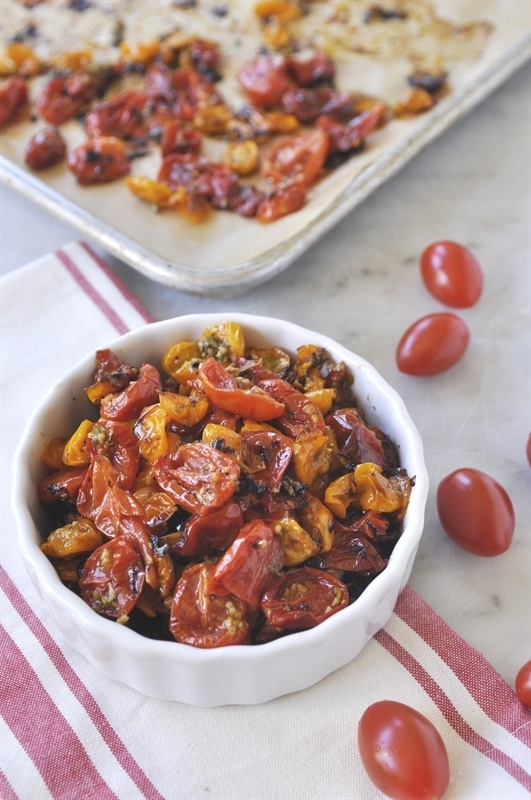 You can also freeze them and them pull them out this winter to add to pasta sauce and soup.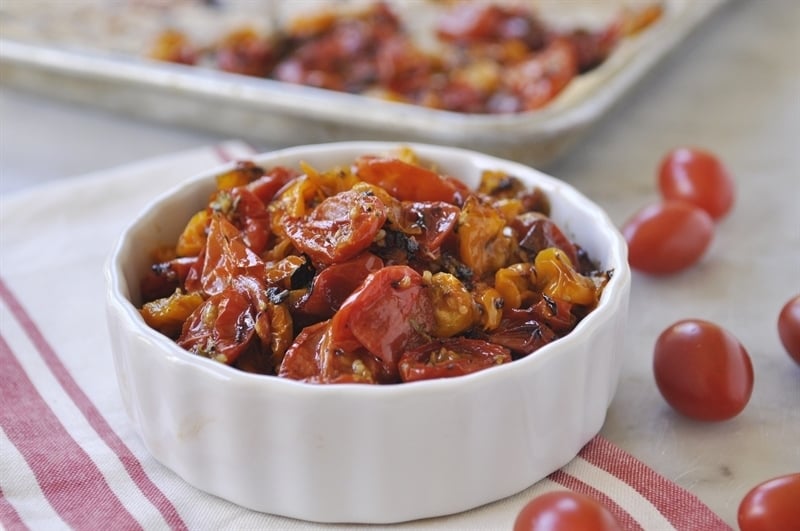 Oh and did I mention they are just darn pretty!!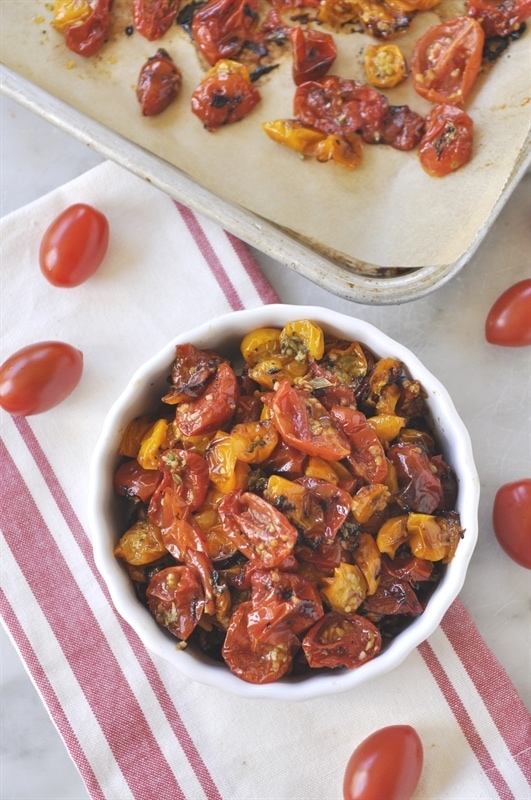 Other yummy tomato recipes:
Tomato Basil Tart – Bacon Tomato Bruschetta – Fresh Tomato Soup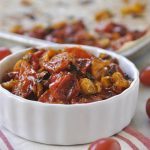 Print
Roasted Cherry Tomatoes aka Tomato Candy
Ingredients
I always do at least 2 cups.

Per 1 C of cherry tomatoes add:

1

Tbsp

olive oil

2

tsp

garlic

minced

1

tsp

chopped fresh herbs

1/8

tsp

salt and pepper
Instructions
Slice cherry tomatoes in half

Add in oil, garlic, herbs and salt and pepper

Spread on a parchment paper covered cookie sheet

Roast in oven at 375 degrees for approximately 20 minutes or until tomatoes reach desired doneness.

Time will vary depending on size of tomato.
Leigh Anne
You can also visit me on Facebook, Pinterest, Twitter, Instagram
and Google+
Get my Weekly Menu Plan for FREE!
Receive my FREE "What's for Dinner?" Meal Planning Course, a copy of my FREE ebook that includes my most popular recipes and my FREE weekly Meal Plan.