Why Christmas Tress Aren't Perfect was the theme of our Relief Society Christmas Party.  A wonderful evening!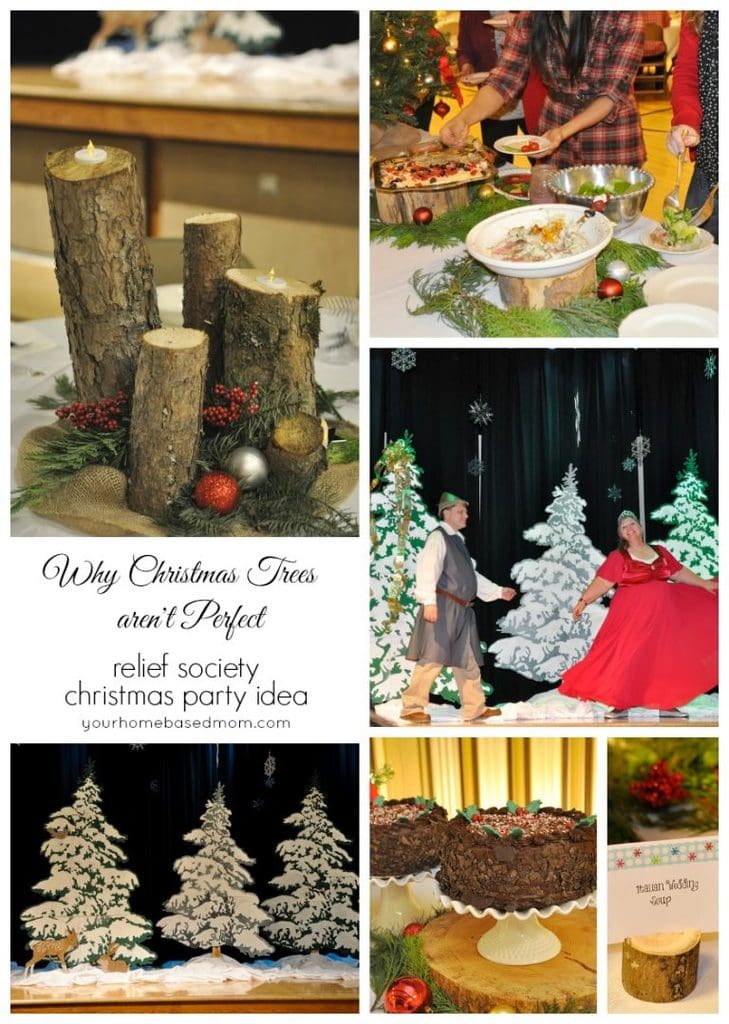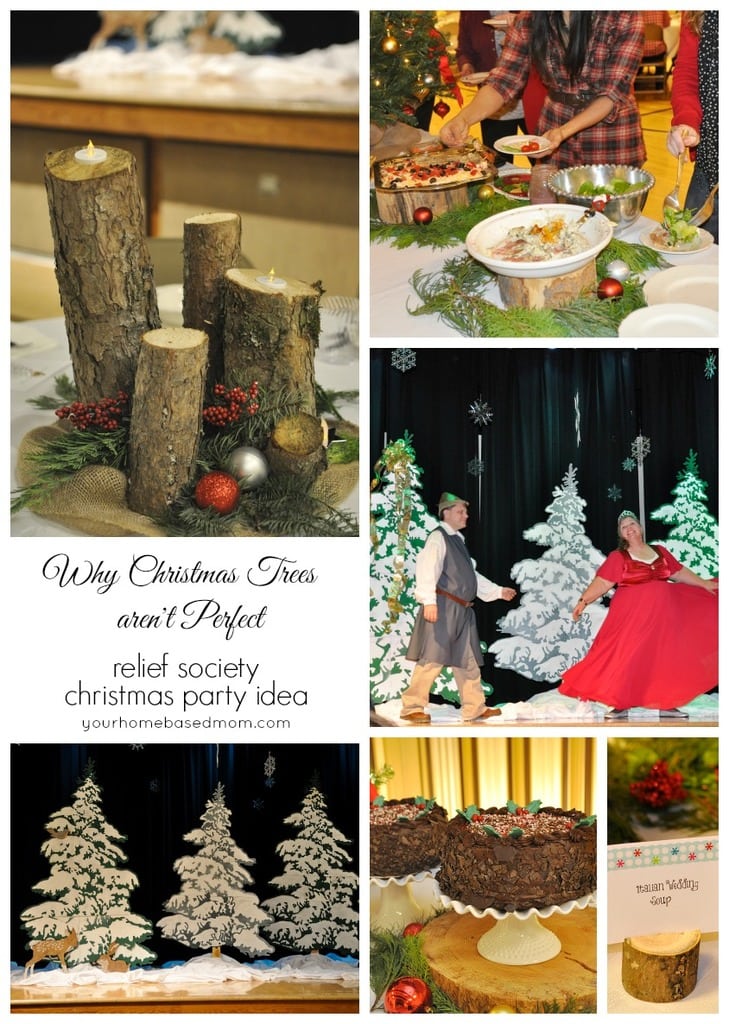 Today I am sharing a fun party we had for the women's organization at church.  As many of you know, I am a Mormon and in our church we have an organization for the women 18 and older called the Relief Society.  It is actually the oldest women's organization in the United States and was founded in 1842.  It is a philanthropic and educational organization.  I am part of the Relief Society Presidency.  A group of four women who organize and run the organization.  Surprise, surprise, I am over activities and parties!
Each December we hold a nice Christmas party and program.  I am fortunate to have a great committee with lots of creativity.  Diane was the chairman of the event and she did an amazing job.  Our theme for the evening was the Christmas story, Why Christmas Trees Aren't Perfect by Dick Schneider.  If you aren't familar with this book I encourage you to purchase or find a copy and read it with your family.  It is a sweet story your family will love.
So trees were the theme of the evening.  It started with the invitation.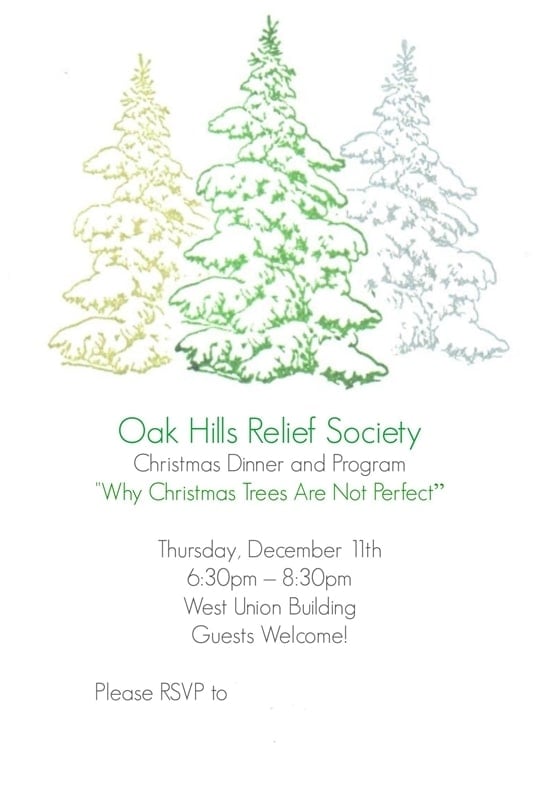 We wanted to create a beautiful, woodsy feel without being too cutesy.  The words beautiful and elegant were to describe the decorations so I guess we succeeded.  Trying to decorate a gymnasium to look anything but like a basketball court can be a bit of a challenge. The photos I took do not do the decor justice and I was so busy serving food and finishing up last minute details I didn't get any photos taken when the lights were dimmed but it looked magical.
Fortunately for us, my chairman, Diane, had a tree come down in her yard so we put that tree to good use for our table decor. The logs were cut into 8, 10, 12 and 14 inch pieces. Then holes were drilled into the top of half of them to hold candles.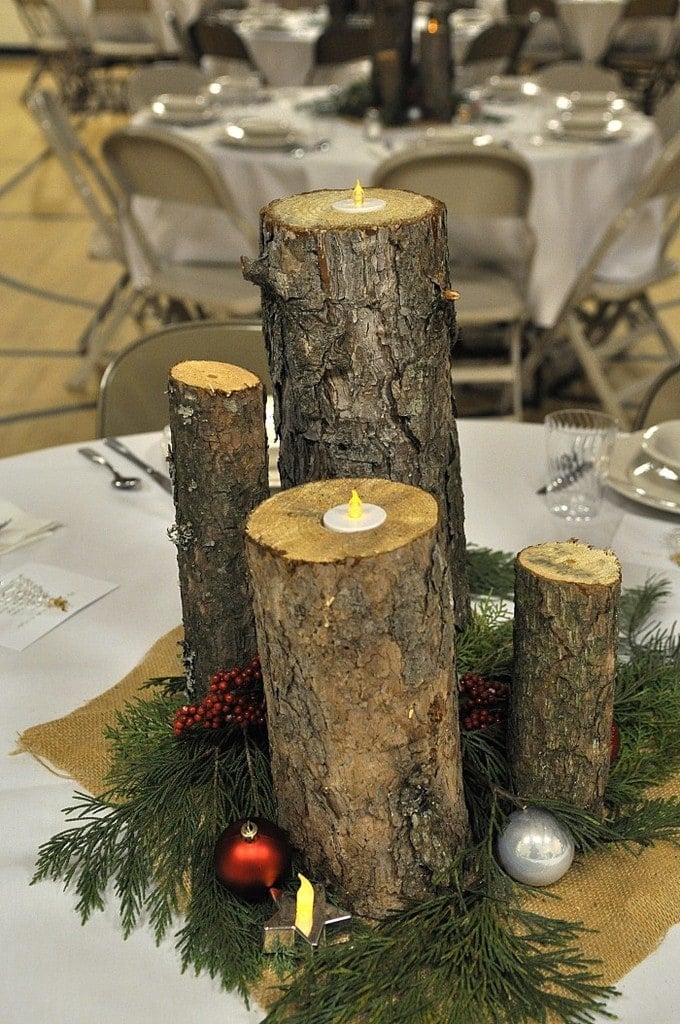 We are not allowed to have an open flame in our church building so these battery operated tea lights from the Dollar store worked great.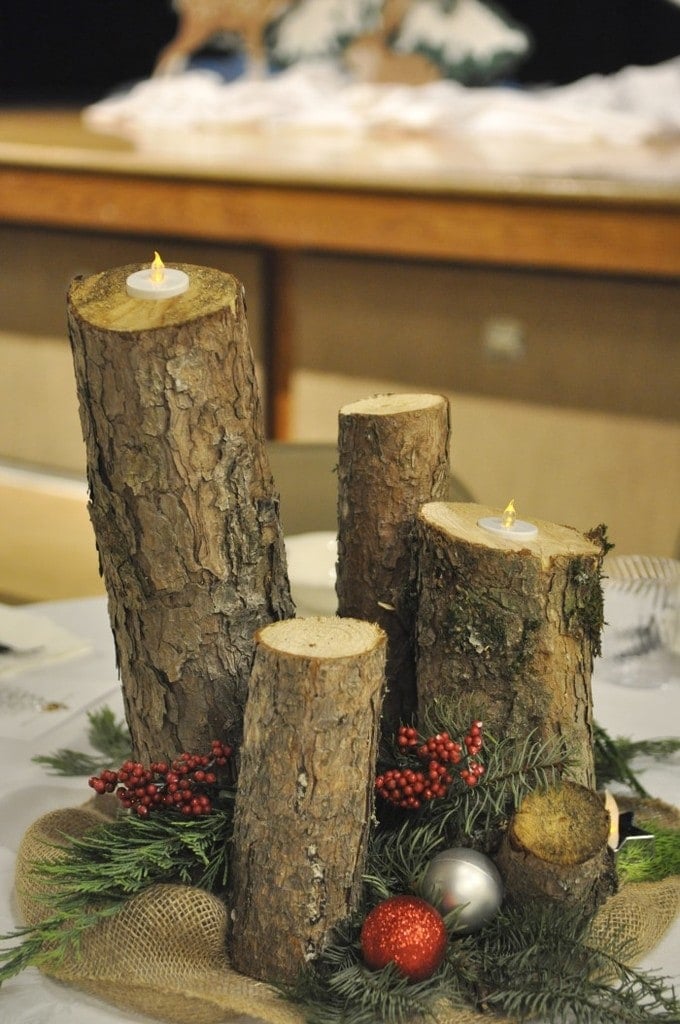 Dinner was yummy and simple – soup, salad and homemade rolls.  I made the fun menu board with my Cricut Explore.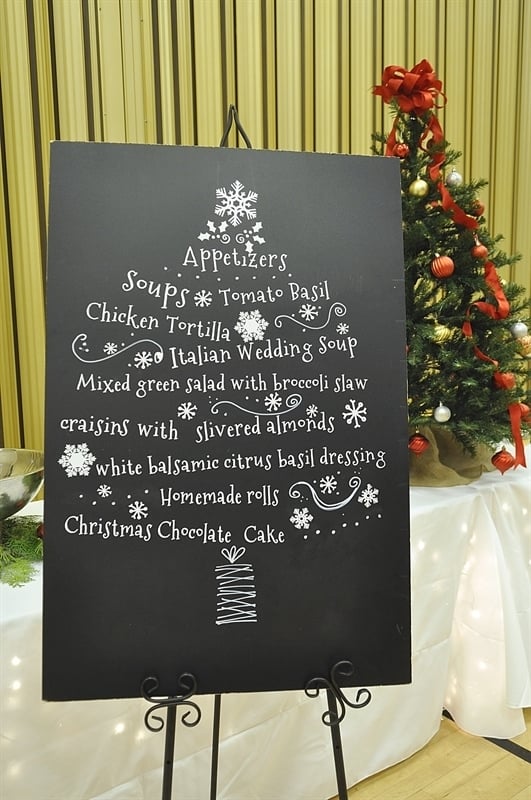 We purchased the premade soups at a local restaurant supply and they were delicious!  Everyone kept asking for the recipes.  We put the salad together and then had different woman bring homemade rolls and appetizers.  We started the evening off with appetizers.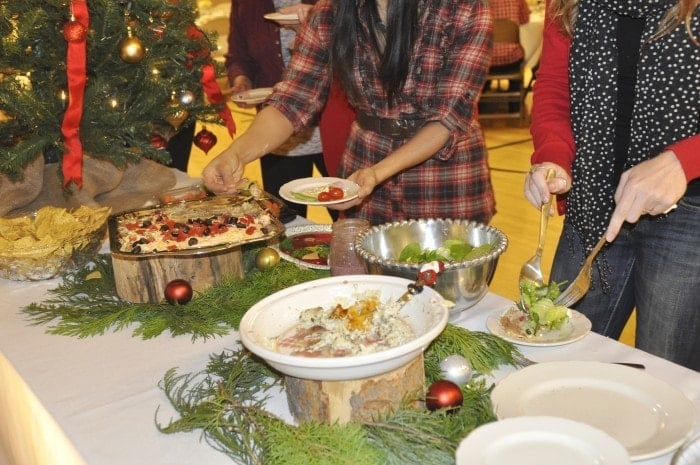 Sections of a tree stump made for great risers on the serving table and helped create heigth.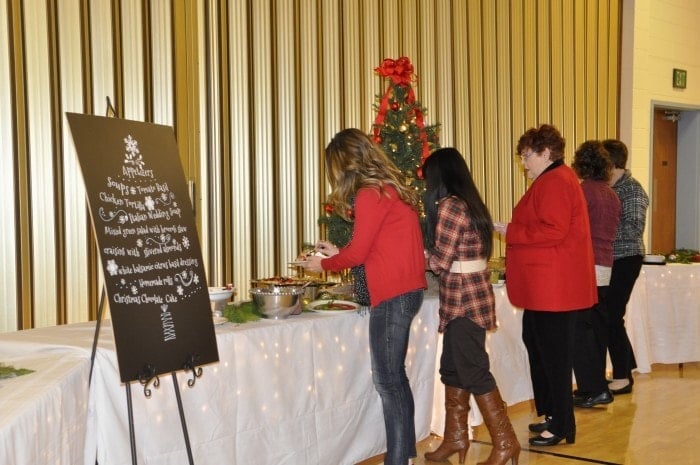 It doesn't show up great in the photo because I was using a flash but to give a little extra touch to the serving table we taped icile lights to the table underneath the tablecloth and it added a great effect.  People loved it!
We served the soup in the liner of a crockpot.  We poured it in nice and hot and it held the heat just fine.  It looked better than having the whole crockpot on the table.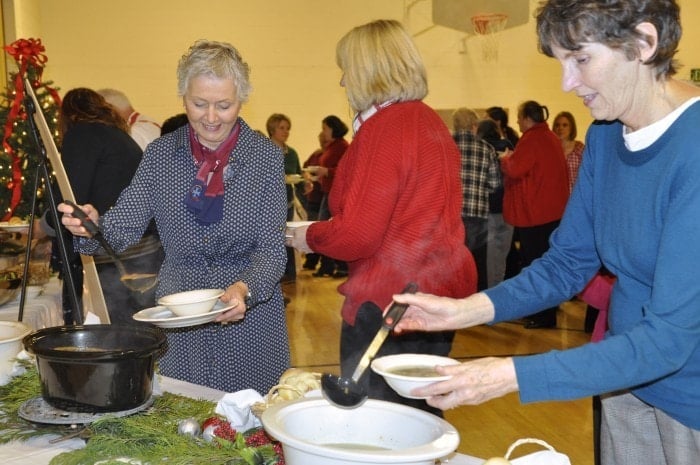 In addition to the menu board we had little placecards for each of the soups. A piece of washi tape dressed them up.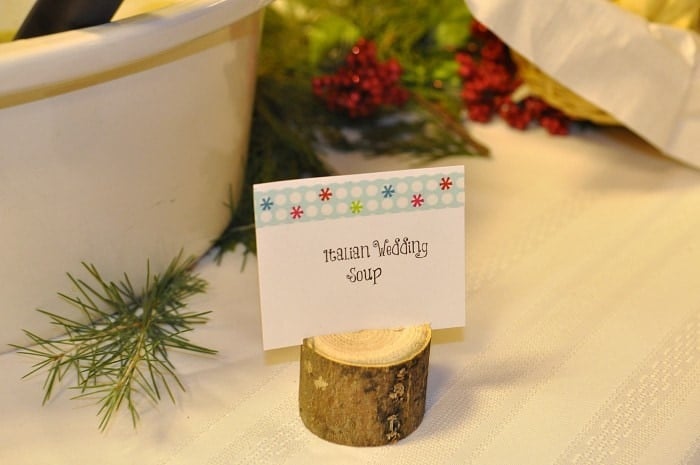 For dessert we kept it simple too and purchased chocolate cakes from Costco and then dressed them up.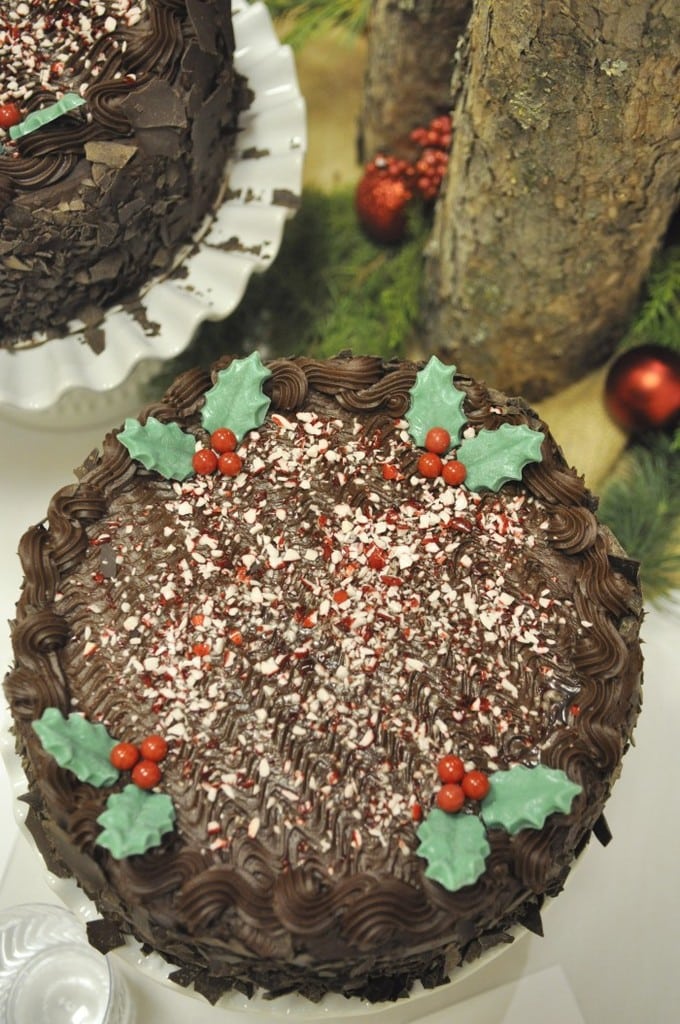 Diane added crushed peppermint to the top and mint chocolate leaves she molded and then used Sixlet candy for the berries!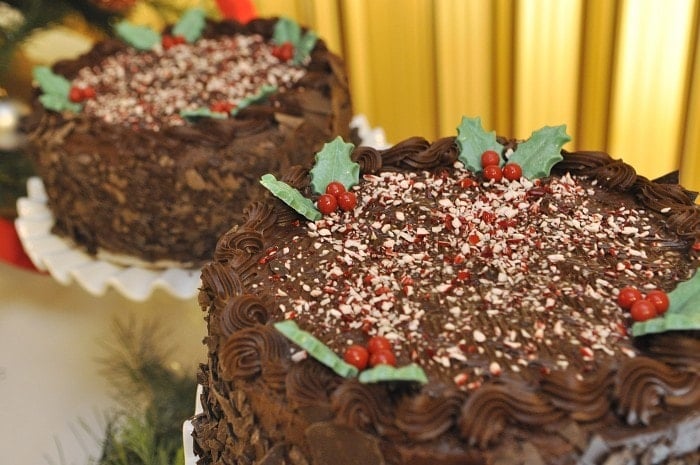 They looked so pretty on the table.  I love it when your food becomes part of the decorations.  We couldn't have pulled off the evening and enjoyed it nearly as much without these guys!  They cleared dishes, kept the food table full, served dessert and then did all the dishes!  The good looking one in the middle (without all grey hair, and the one that looks a bit like Mitt Romney is mine!)  Those stripe ties and aprons from the Wedding Carnival sure came in handy!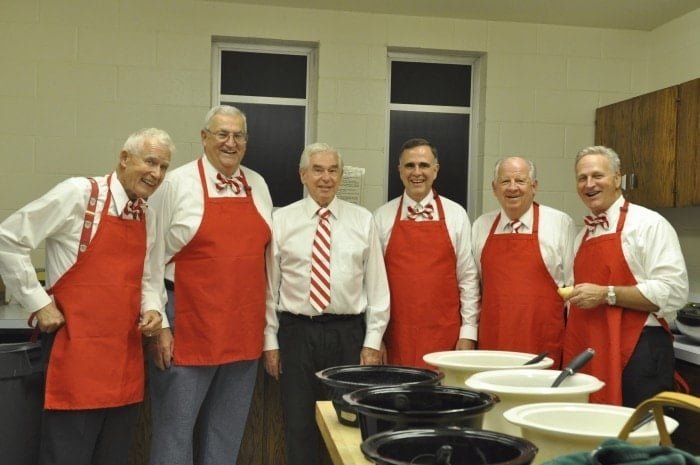 Between dinner and dessert we had a wonderful program that started with a men's quartet singing, very appropriately, "O Tannenbaum"  They sang in both German and English.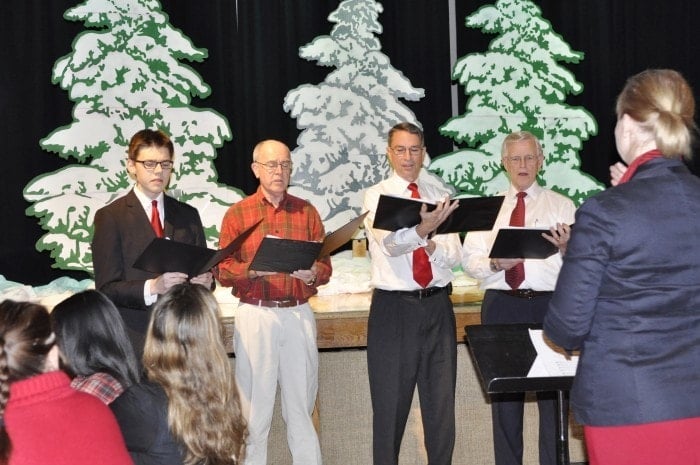 We then had a narrator read the story of "Why Christmas Trees Aren't Perfect" along with a dramatization of the story.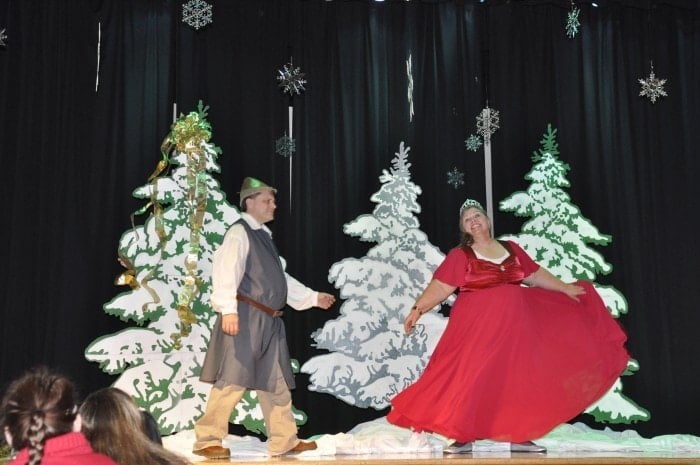 The set for the story was amazing, made and constructed by my chairman Diane.  She is one talented lady!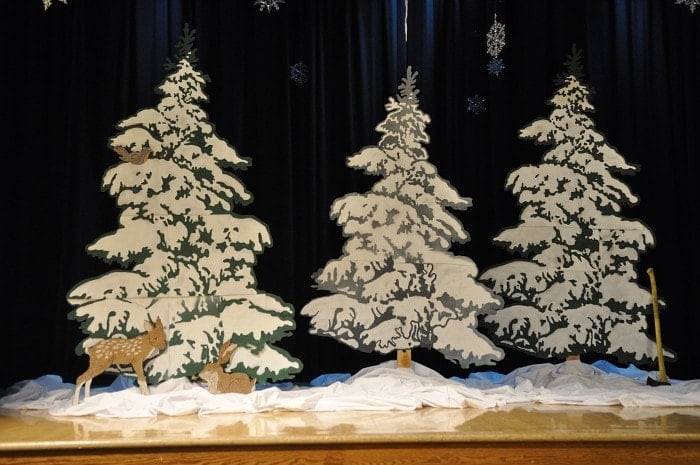 The evening ended with a beautiful piano solo by one of the women in our congregation.
Each lady took home a little ornament for their Christmas tree.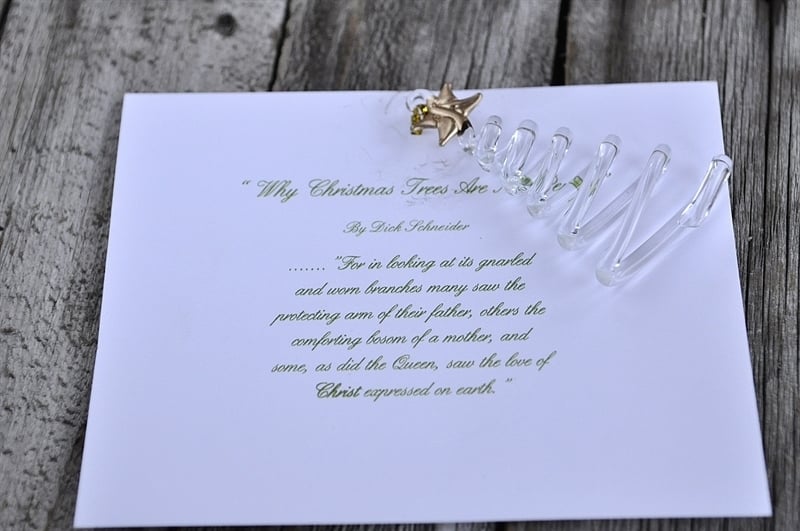 It was a lovely evening full of good food, friends, beautiful music, conversation and a sweet Christmas story and message.  I am grateful for a wonderful committee who helped bring it all together.

If you'd like to see some of the Christmas programs we've done in the past for Relief Society go here:
The 100 Dresses Relief Society Program and Dinner
The Christmas Jars Relief Society Program and Dinner
The Women Who Knew Jesus Relief Society Program and Dinner