This Relief Society Christmas Program and dinner set the perfect tone for the holiday season.
If you would like a copy of the script, you can download the PDF here.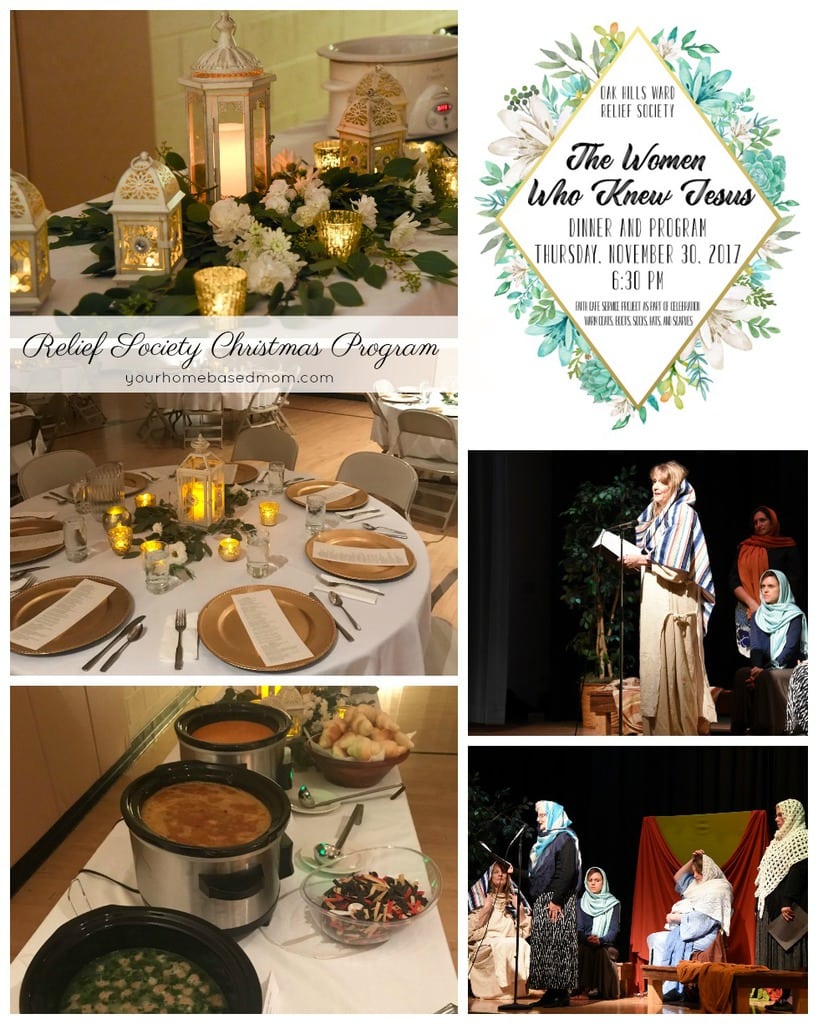 This is the fourth year I have shared the Relief Society Christmas program and dinner. I helped organized these programs for the women's organization at our church called the Relief Society. Each year we start the Christmas season with a program and dinner that we hope sets the tone for the season for all those that attend. I first discovered the program called, The Women Who Knew Jesus on Pinterest. When I presented it to our group they didn't jump on board right away but I really wanted to do it. So I didn't give up. One member of our committee adapted the script so it was a little shorter which helped. Several of them commented to me after the evening was over that they weren't originally sold on the idea but that it turned out wonderful!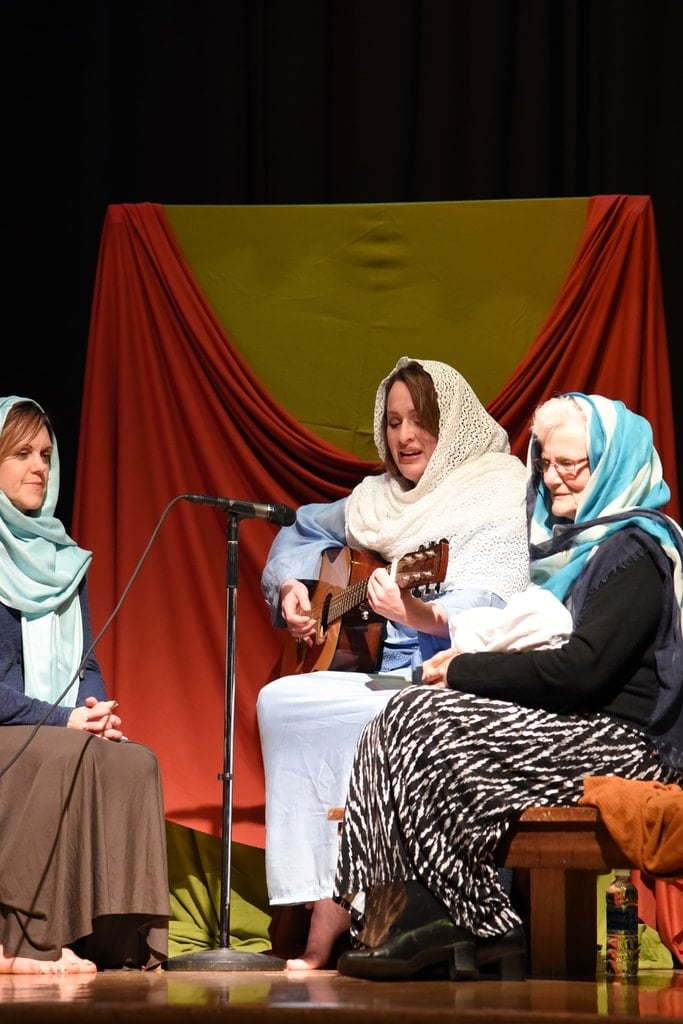 Women who Knew Jesus Program
The Relief Society Christmas program is about the women who knew Jesus – Elizabeth, mother of John the Baptist, Mary, Jesus' mother, the Innkeeper's wife, a shephard's wife, the mother of Mary and the mother of Joseph. Each narration was so touching and you really got a feel for what they were and what it might have been like for these women. What an honor and blessing it was for them to know Jesus. I was especially touched by the story of the mother of the girl Mary, the new grandmother. Maybe it's because I could be a new grandmother at any time!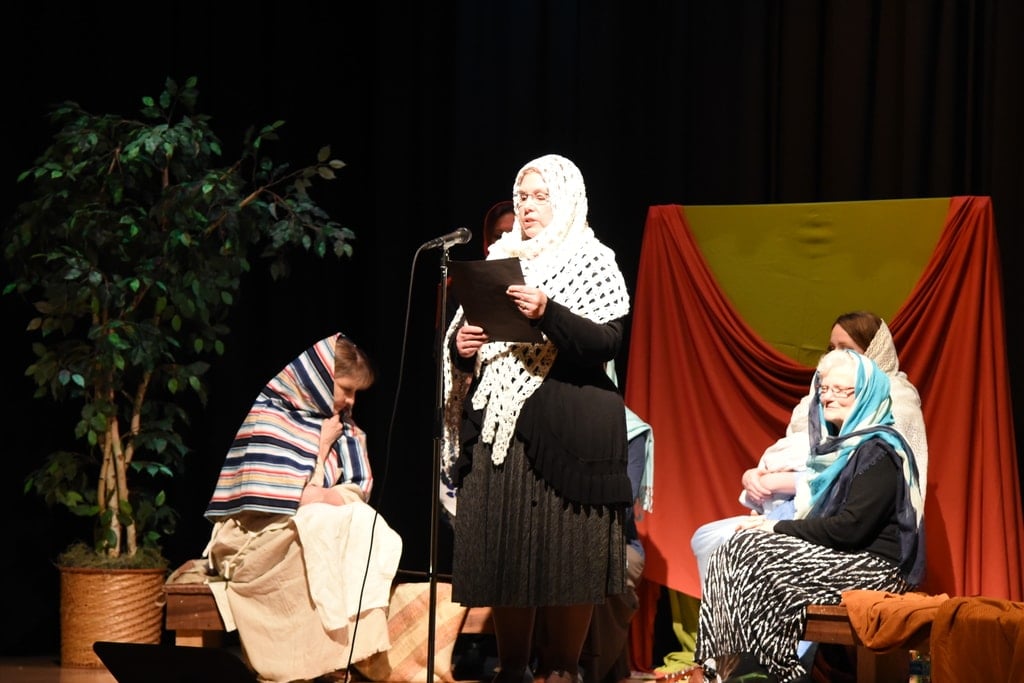 The set was simple, just some benches and drapes and blankets. The women wore their own clothes and wore a head wrap. There were beautiful musical numbers between each story. Find a link below to click to download a copy of the program.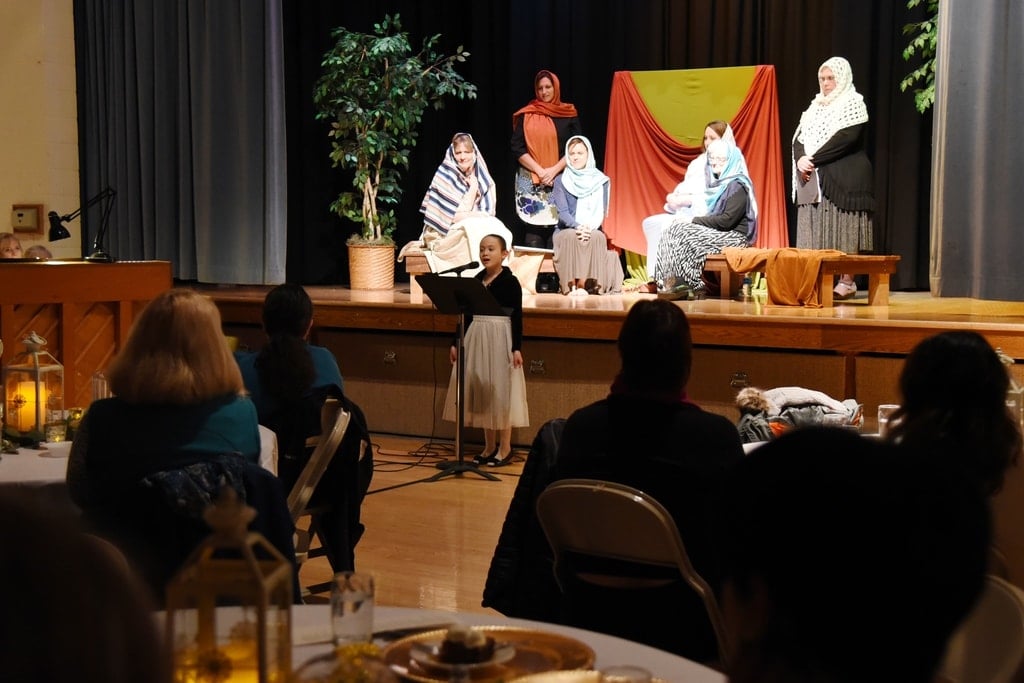 Relief Society Christmas Program Food
For dinner, we served three different types of soup that we purchased at the local Cash & Carry. We served Tomato Basil, Italian Wedding Soup and Chicken Tortilla Soup. A few ladies made homemade rolls and we had a yummy green salad. Dessert was this delicious Apple Pudding Cake.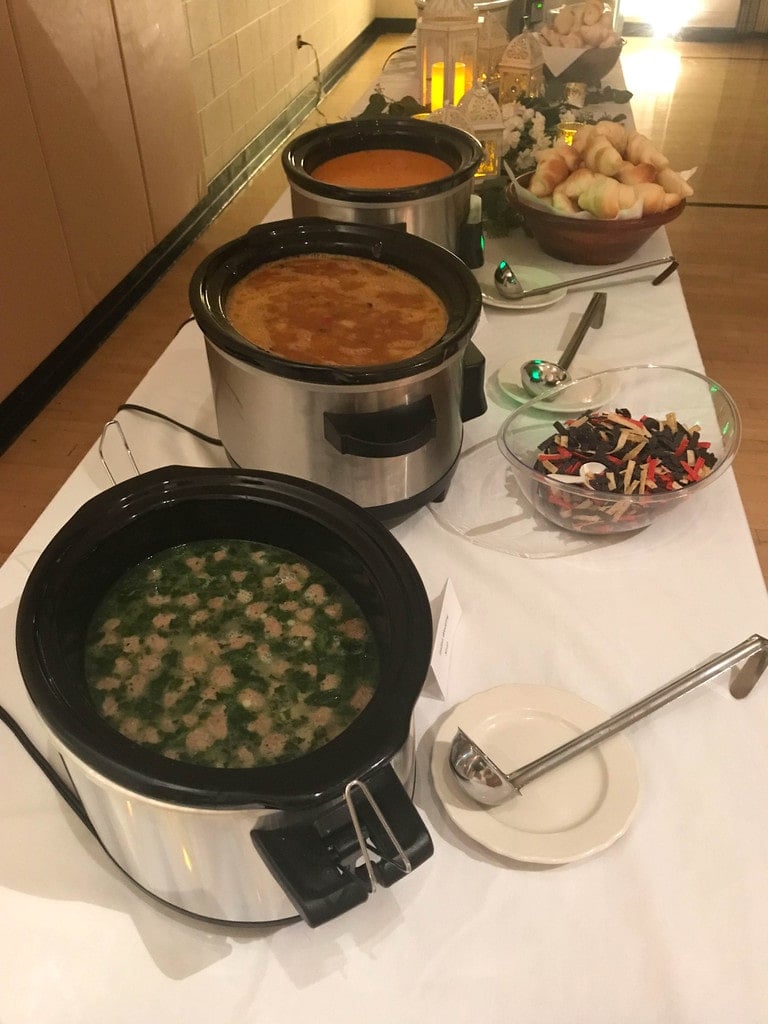 We used crockpots to keep the soups warm!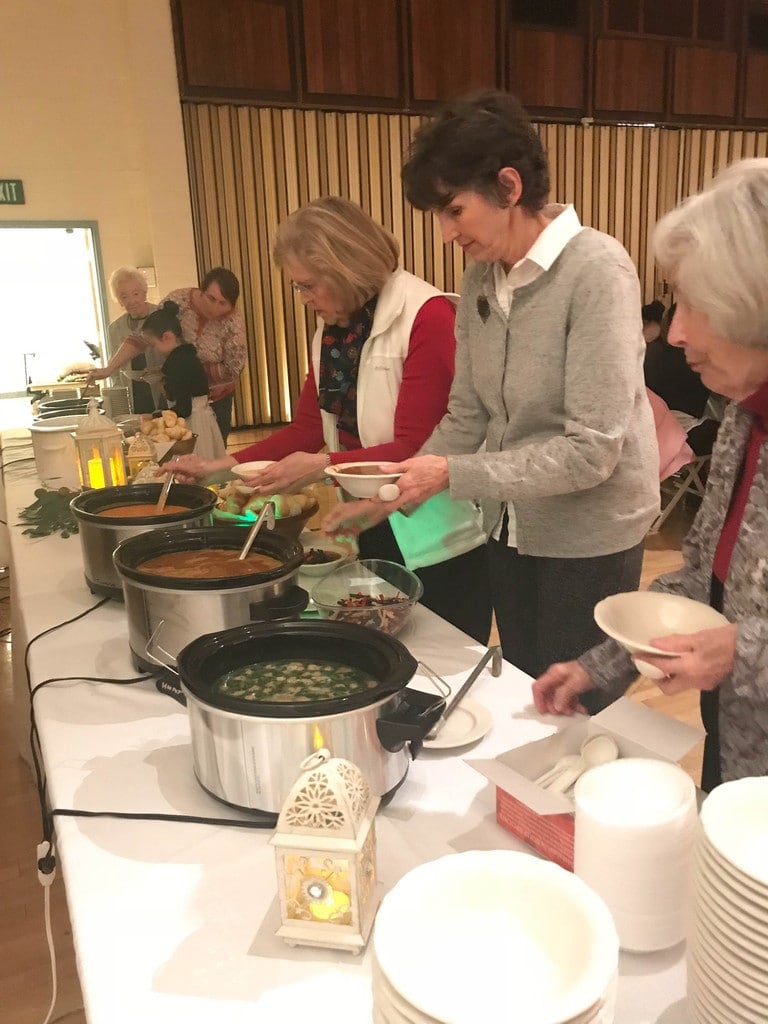 Christmas Program Decorations
The tables were decorated with white lanterns that belonged to one of our committee members along with white flowers and green eucalyptus. It was simple but so pretty! We added in gold votive candles (that were left over from our Barn wedding) among the flowers.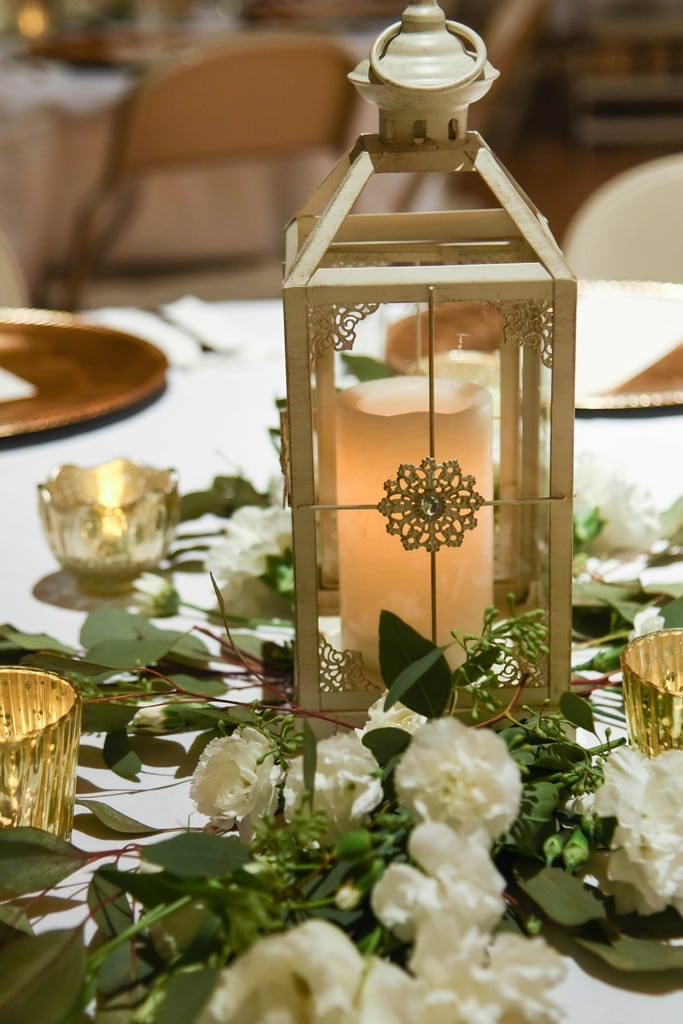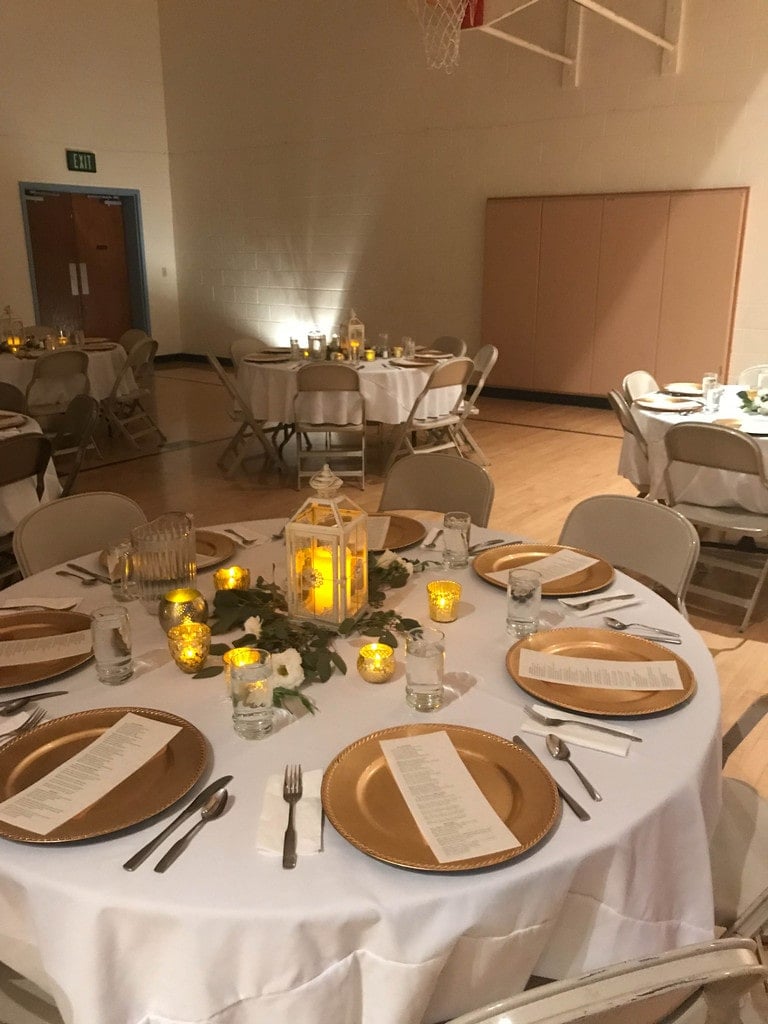 It was a beautiful evening and the food was delicious. The program was touching and brought tears to our eyes. It was a beautiful way to start the Christmas season and remember the real reason we celebrate Christmas, to celebrate the birth of our Savior Jesus Christ.
If you'd like to see some of the Relief Society Christmas programs we've done in the past for Relief Society go here:
The 100 Dresses Relief Society Program and Dinner
The Christmas Jars Relief Society Program and Dinner
Why Christmas Trees Aren't Perfect Relief Society Program and Dinner