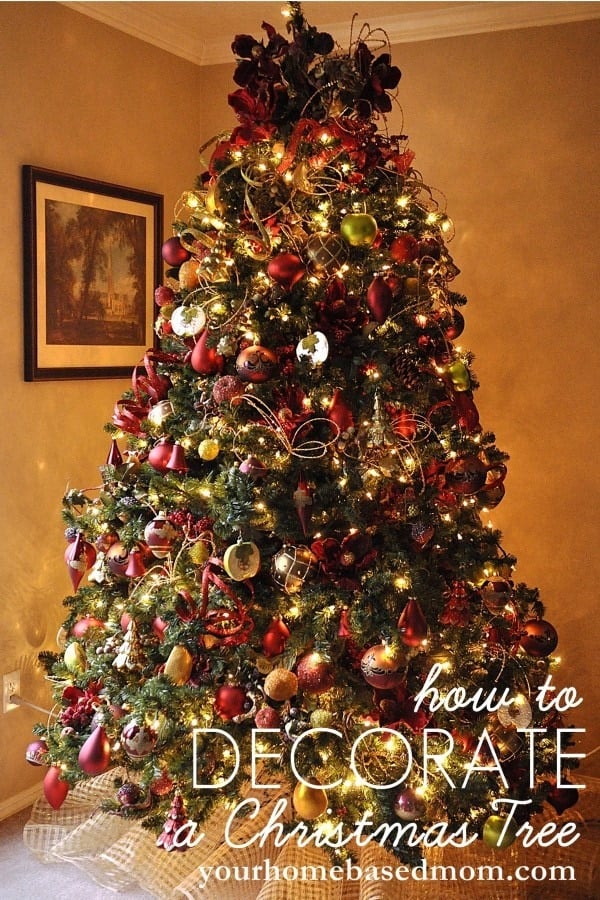 I love decorating my Christmas tree.  In fact I love it so much I usually decorate 5 Christmas trees.
One in the living room, family room and each of the three kid bedrooms.    I often have friends ask me how I decorate my tree.  Some years I even have an audience because they want to watch me do it.  I put them to work though!  They get to help fluff and hand me things.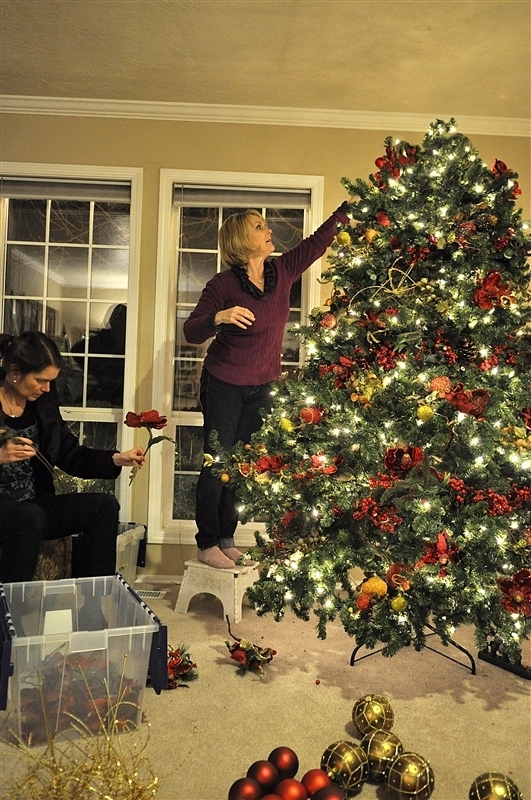 So I thought I'd share with all of you how I decorate my tree.  I know for many of you this will be too late for this year but if you like you can pin it for next year.
We have an artificial tree.  I realize that is a bit sacrilegious here in the beautiful, evergreen full Northwest but I got tired of trying to find the perfect tree each year and then having to string it with lights.  The lights became my job when I realized my husband thought one string of lights should be enough to cover the whole tree.
The thing I love most about my artificial tree is that the lights are already on it except this year when half of them decided not to work.  Due to husband's eye surgery he was unable to help so I had to deal with it.  Let's just say I was not a happy camper!  The tree almost ended up out on the curb and there might have been some ranting and raving going on but where there is a will there is a way and I got it figured out.  Let's just say you really should unplug the lights before you decide to cut them off the tree!!
So today I am going to share with you how I decorate my Christmas trees.  If you have any helpful tips or ideas please leave them in the comments.  Of course questions are welcome too!
I do have to say that the biggest trick to having a beautiful, full tree is having a lot of stuff to put on the tree.  But even if you don't have a lot you can still have a lovely tree and remember I've been collecting stuff for thirty years!  After Christmas sales are a great way to grow that collection.
How to Decorate a Christmas Tree Tutorial

Step One:  After setting up the tree and lights are added make sure you fluff (this only applies to an artificial tree)  The branches have gotten smooshed while its been packed away so fluff those little branches!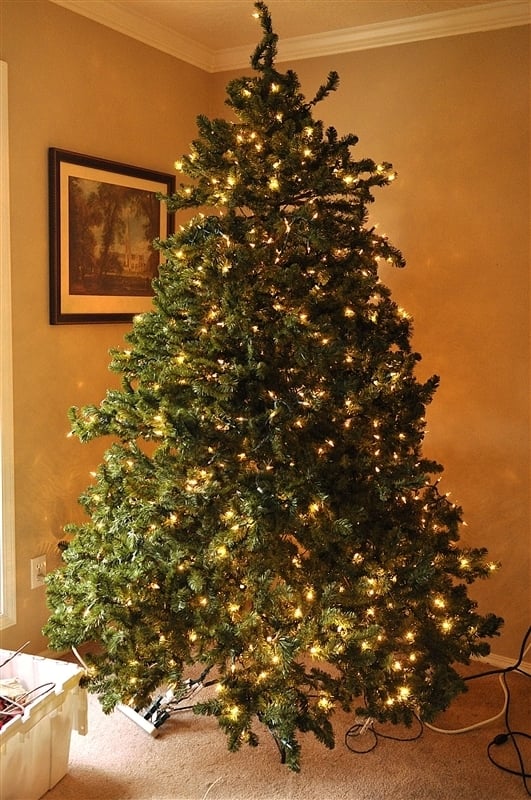 Step Two:  I like to add some "filler" garlands into my tree.  I push them back towards the center and it helps add depth and fill up any big "empty" spaces you may have.  Especially on a live tree where the branches may not be perfectly even.  I have 3 of these on my tree.  My tree is 7.5 feet (we have low ceilings).  They are each about four feet long.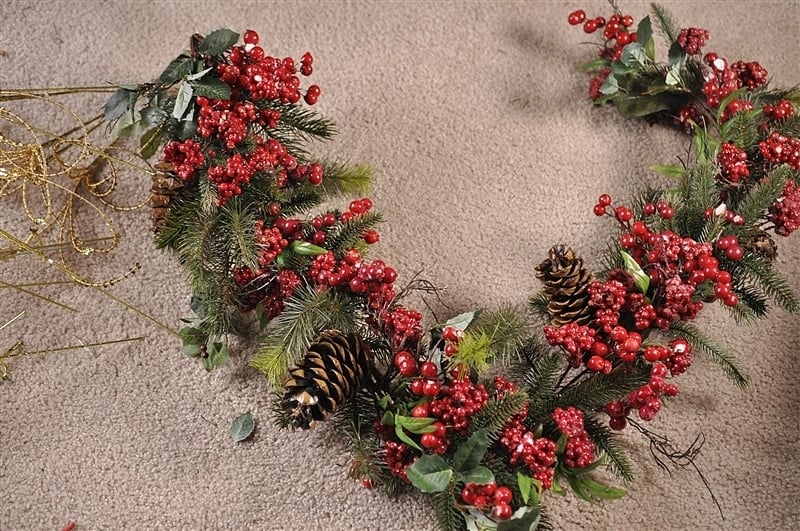 I just push them into the tree.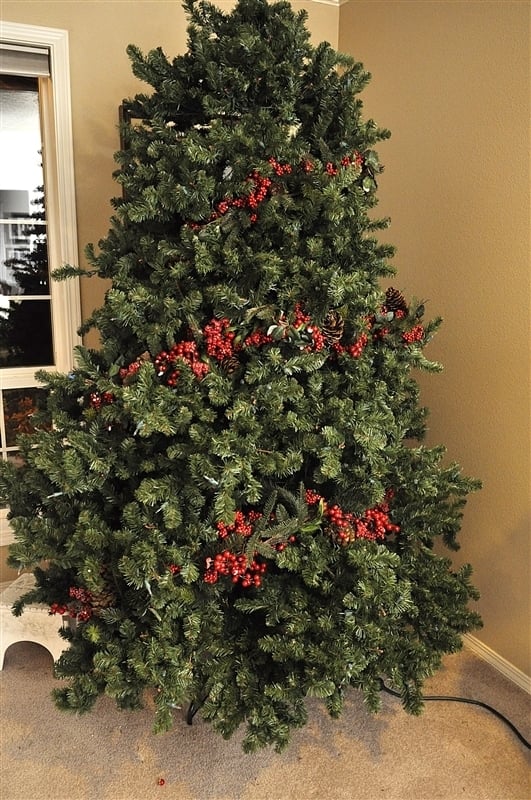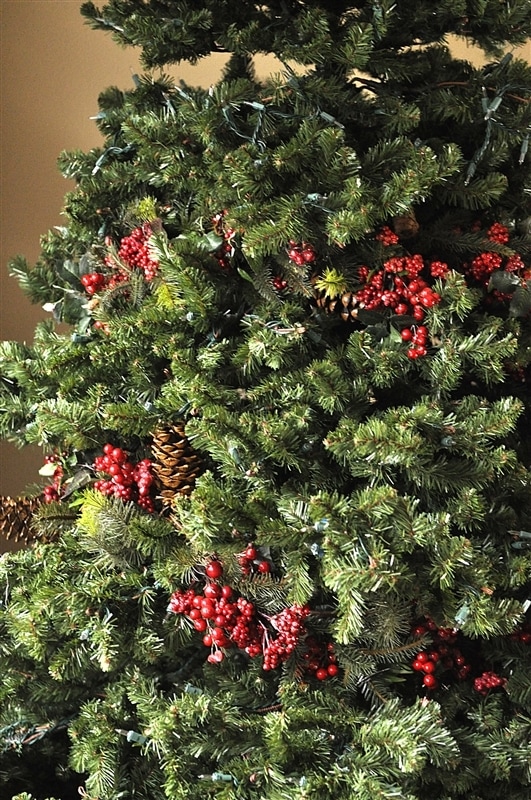 Step Three:  I don't just put ornaments on my tree.  I have quite a bit of other decor such as flowers and fruit swags.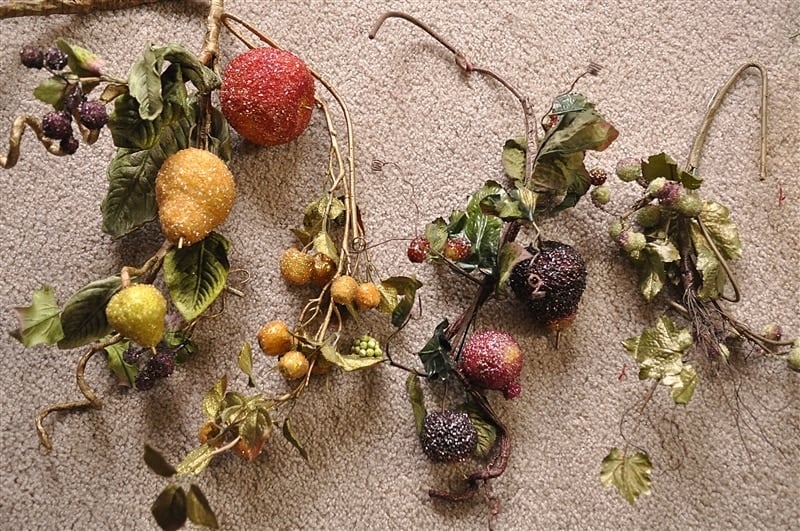 I just insert these fruit swags on to the branches.  Just push them in. Be sure and step back occasionally to make sure that you are placing them evenly throughout the tree.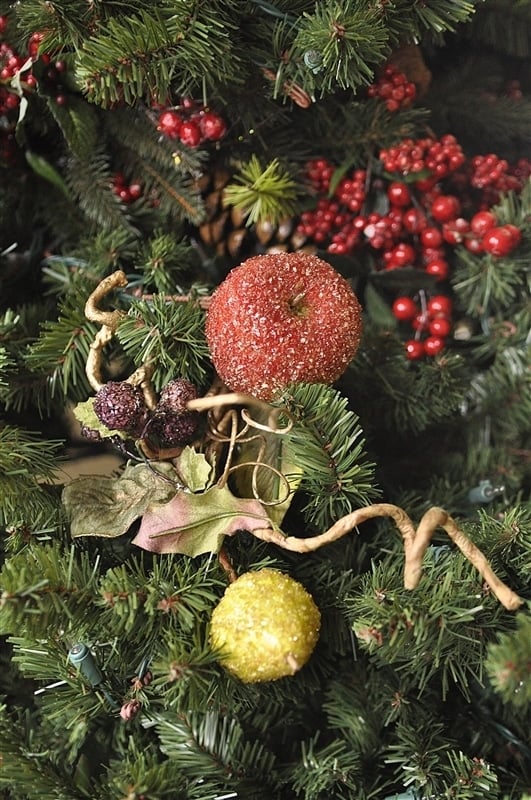 I then add in my flowers.  I have about 20 poinsettia flowers that I add into my tree – again placing them evenly throughout the tree.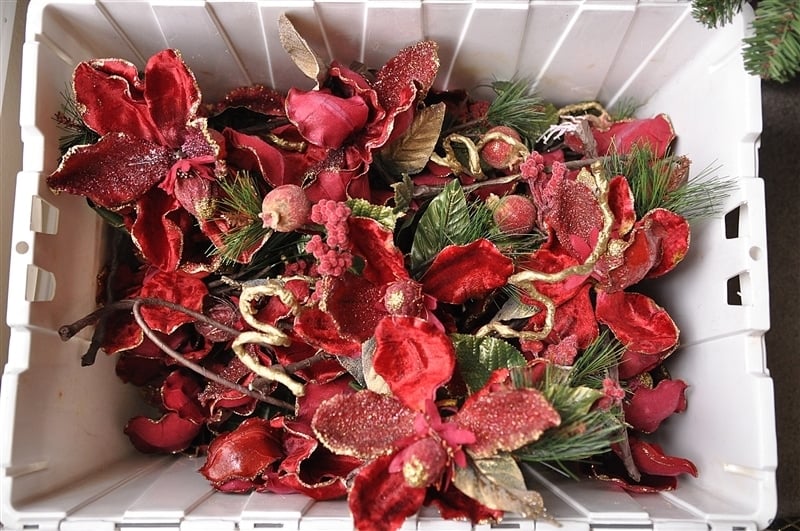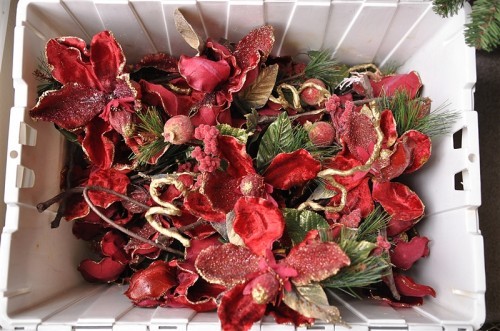 Here is what the tree looks like with the garlands, fruit swags and flowers in it.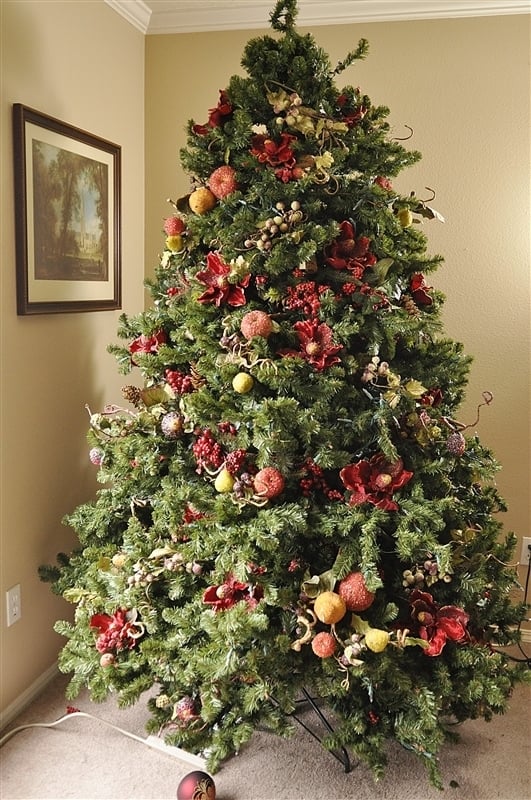 It's pretty just the way it is but we have about 130 ornaments to put on yet!
Step Four:  Hang the ornaments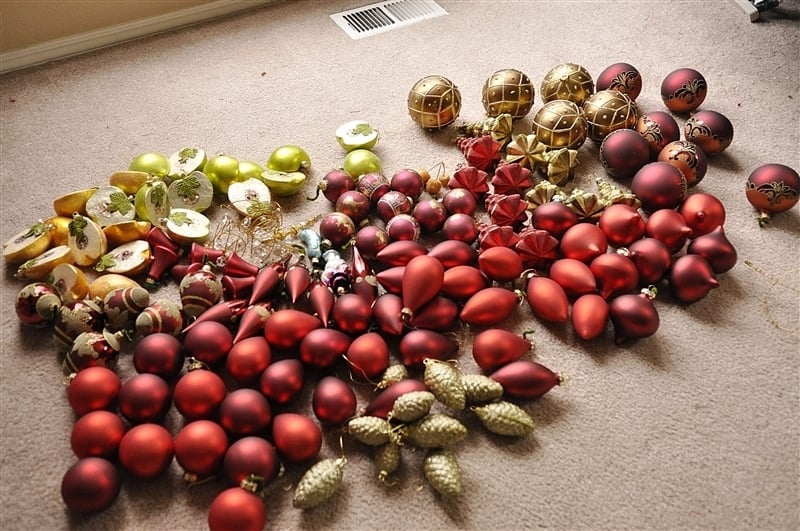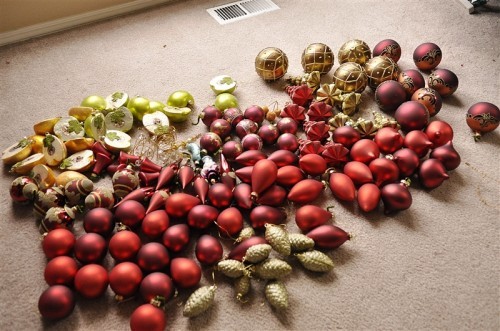 As you can see alot of my ornaments are the same color – red.  But you will notice they are different shapes.  I love having different shape ornaments.  Ornaments do not all need to be round!  I also like varying the size.  I always lay my ornaments out of the floor first grouping them together by type (large, small, color, shape etc.)
No matter how careful I am there is always one or two that end up like this…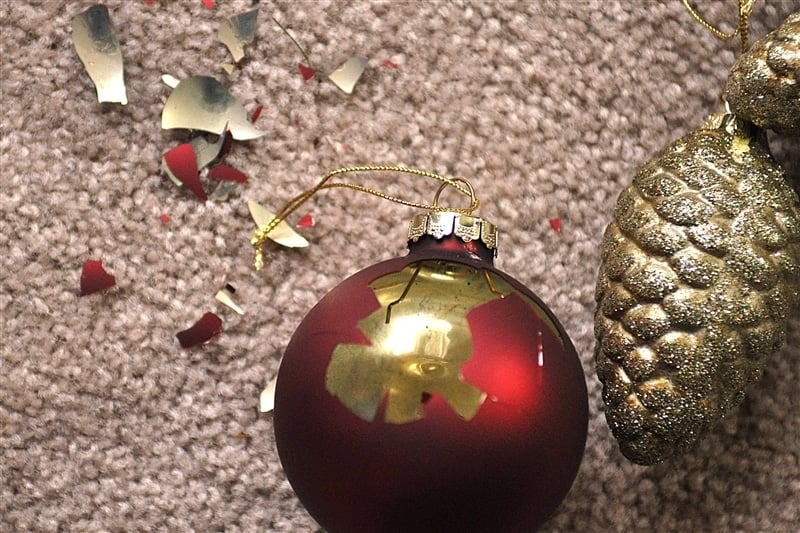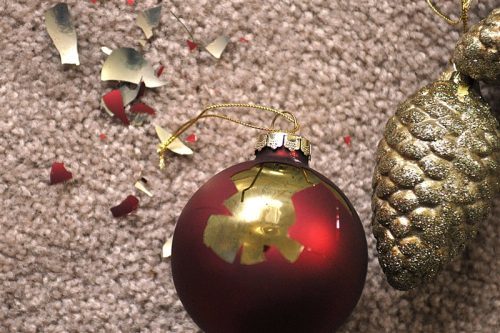 I have a small collection of larger ornaments.  I call them my "statement" ornaments.  They go on the tree first.  I put one group of ornaments on at a time.  That way I can make sure they are evenly distributed around the tree.
For hanging the ornaments I do two different things.  If there is a string on the ornament, and it is a pretty string I will use it.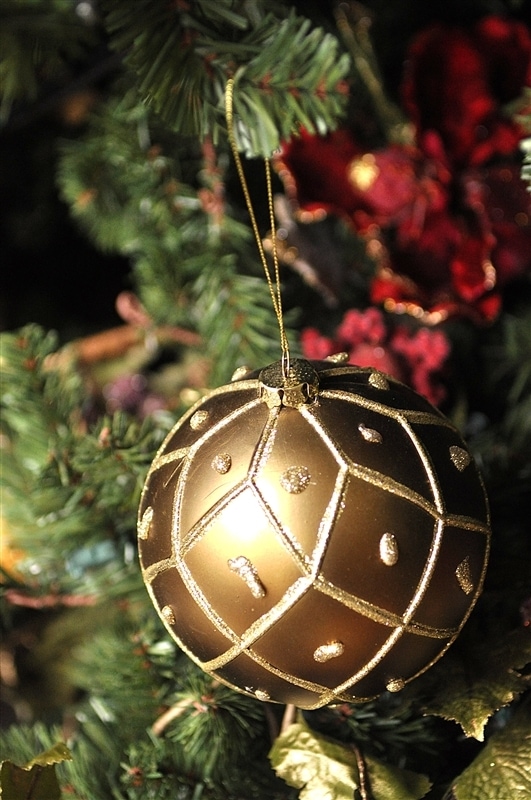 But I don't like the strings hanging down so I wrap the string around the branch like this….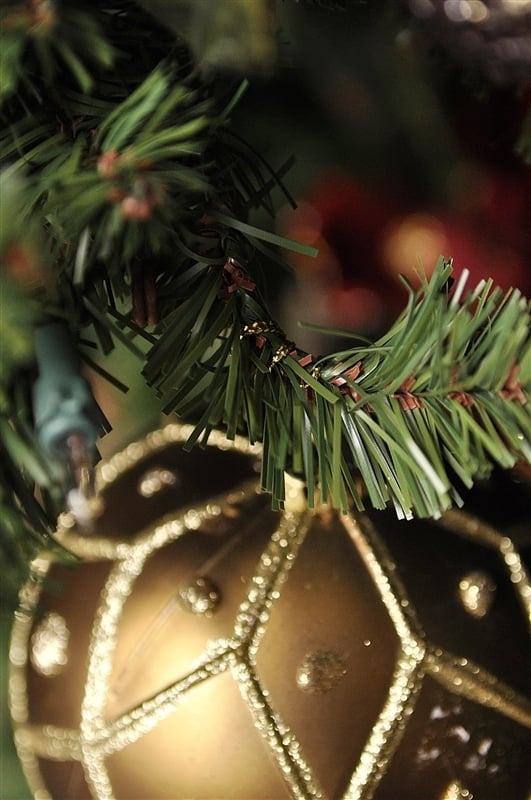 On ornaments that don't have strings I do not use wire ornament hooks.  I make my own out of green pipe cleaners.  They blend right in with the branches and they are so easy to just wrap over the branch.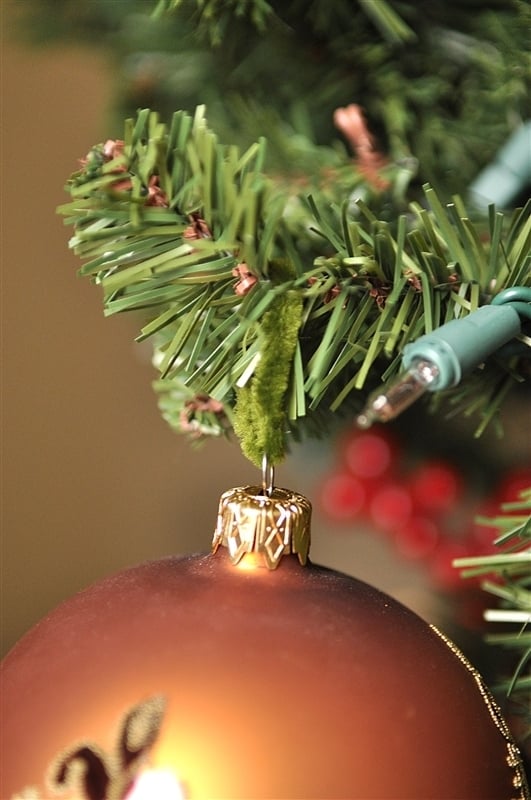 Again, keep stepping back to make sure the ornaments are evenly distributed.
I just work my way through all the different groups of ornaments.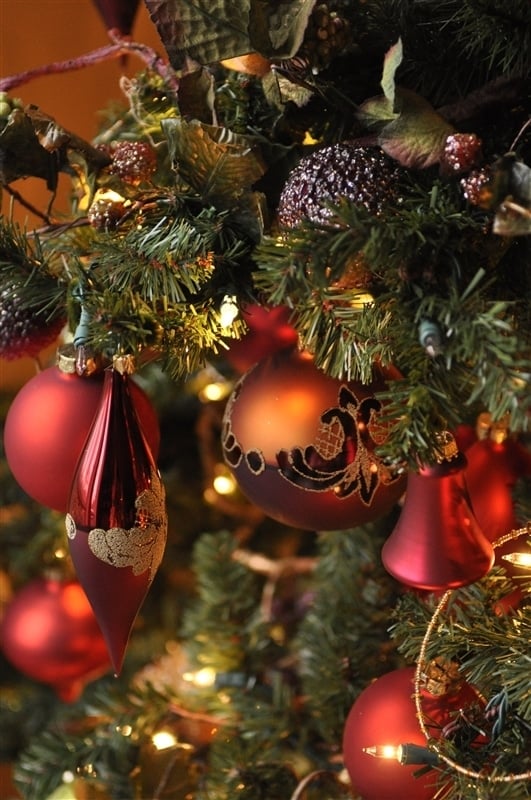 Be sure to tuck the ornaments back into the branches too – don't just hang them on the ends of the branches.
Step Five: Insert final filler.  After all the branches are on I have a few more pieces of "filler."  Things I stick into the tree in any empty space I might have.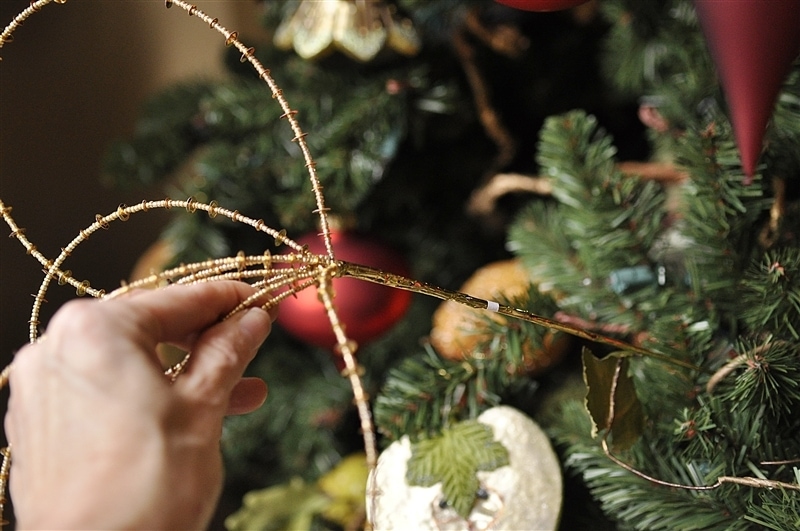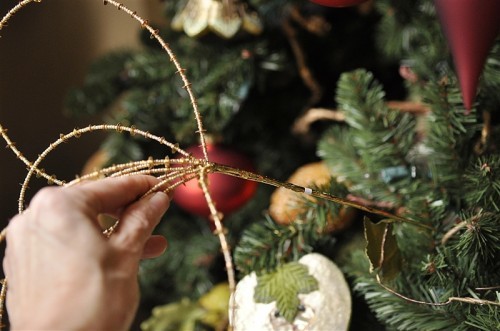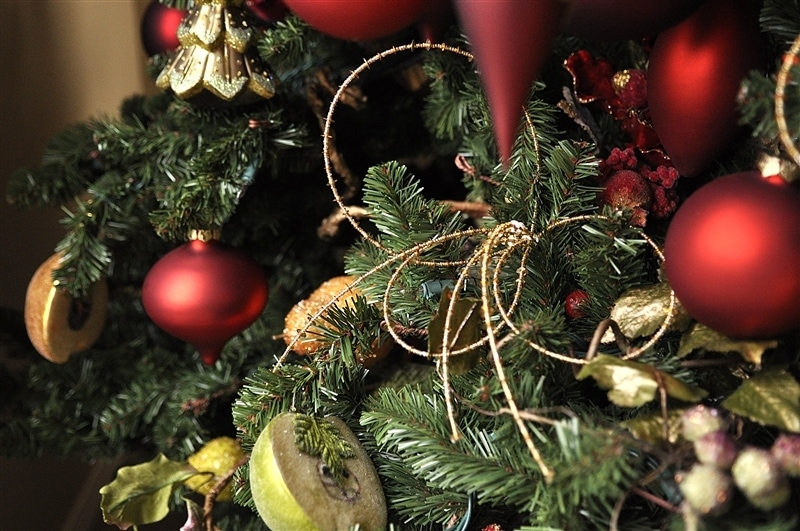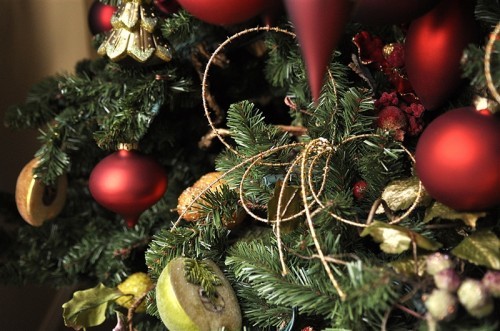 I bought these fun new filler pieces this year at Joannes.  Got them in gold and red. I love how they drap down the tree.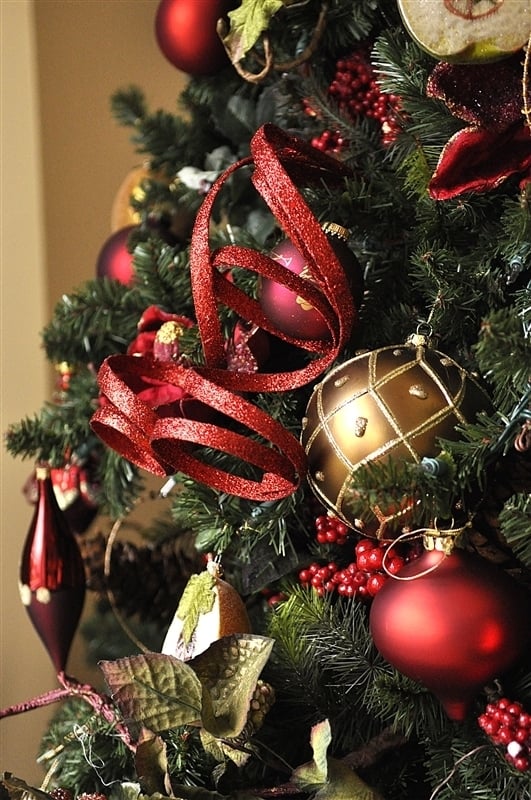 Step Six:  Decorate the top of the tree.  I make a bouquet out of some of my filler pieces, flowers and fruit swags to create a bouquet to insert into the top of my tree.  I tie it all together with a piece of ribbon and some wire.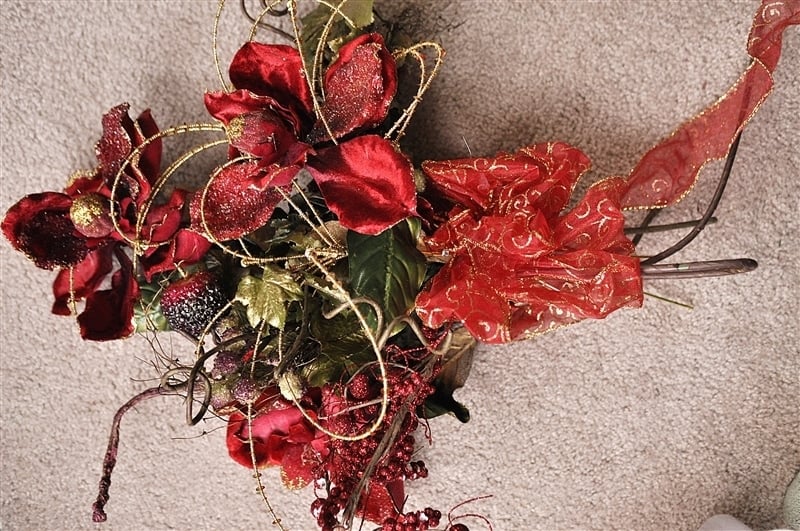 This step definitely requires a ladder for me!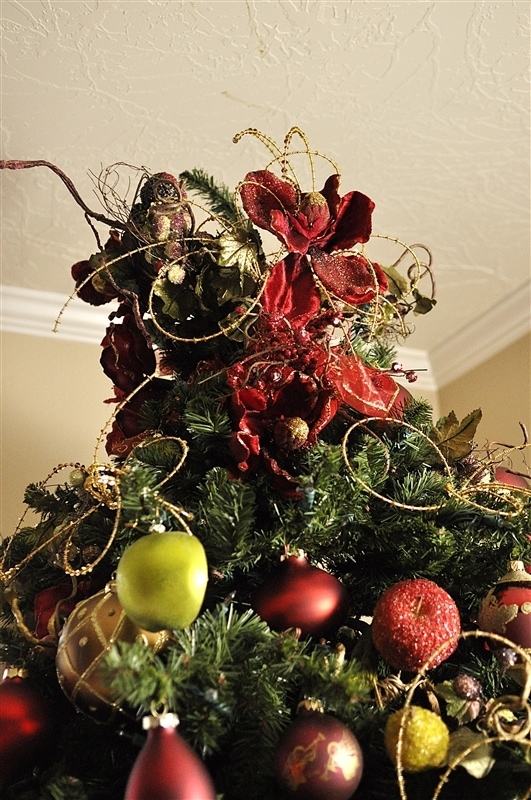 Step Seven:  Put on the tree skirt.  I don't use a traditional tree skirt.  I have some gold mesh type fabric that I like to just tuck underneath the tree.  Costco is carrying something similar this year.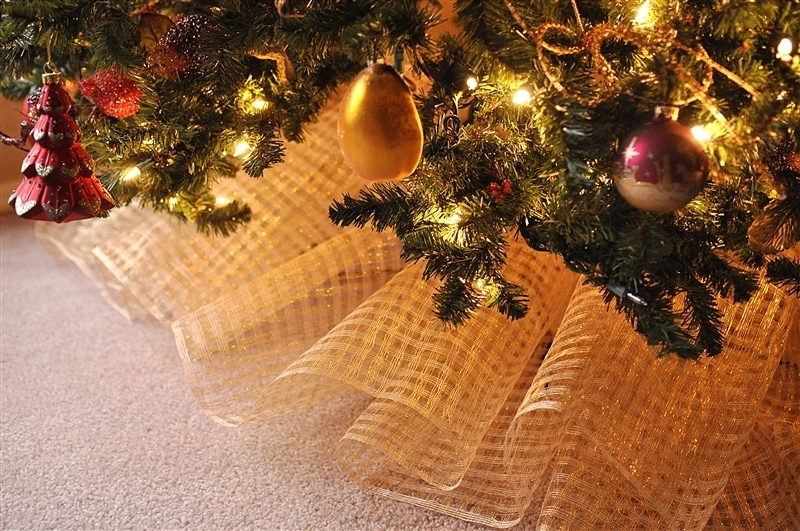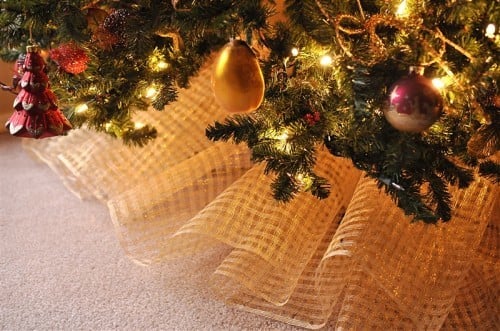 Step Eight:  The final step is to turn on the lights, step back and enjoy!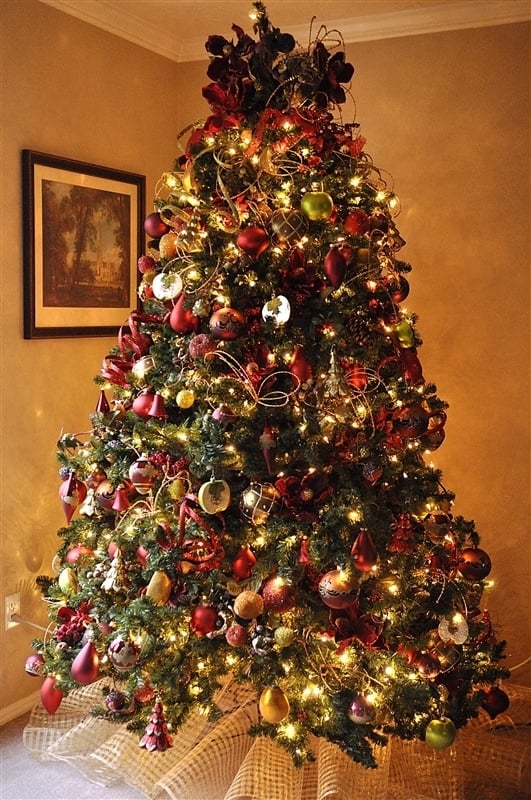 Any tips or tricks for me?
Enjoy!
Leigh Anne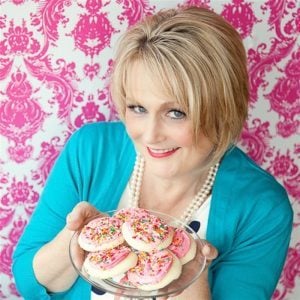 You can also visit me on Facebook, Pinterest, Twitter or Instagram.
Shared At:
Today's Creative Blog*Chef in Training **Sugar Bee Crafts   **Home Stories A2Z