Create custom bottle brush trees of any color using bleach and dye for your holiday decorations.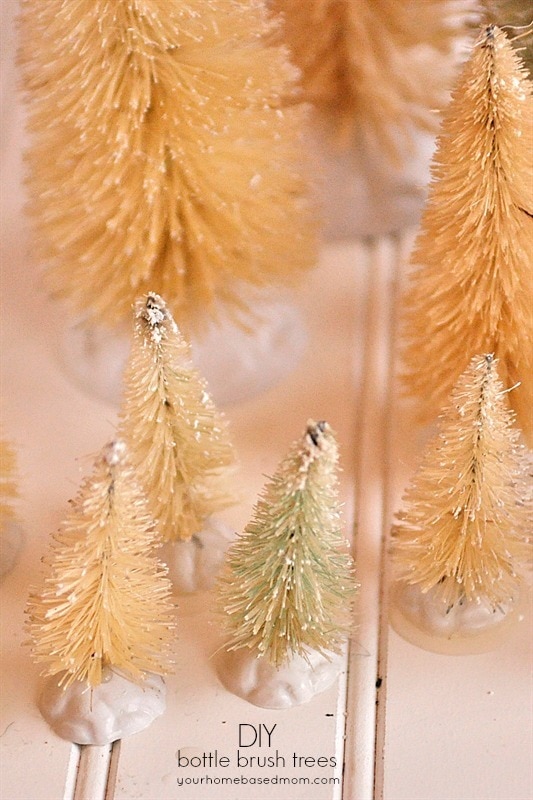 DIY Bottle Brush Trees
I have fallen in love with bottle brush trees. I have started collecting them the last few years. Picking them up here and there and adding to my collection.
But I wanted more.
I was having a hard time finding anything but the dark green ones they sell by the bagful to use with your Christmas village. So I decided to try some DIY Bottle Brush Christmas Trees.
I wanted more of a vintage look to the trees so a friend told me you could bleach them so I decided to give it a try. I'm always up for a good craft project.
How to Bleach Bottle Brush Trees
Make a mixture of 80% bleach and 20% water in a glass bowl.
Add the trees to the bleach/water.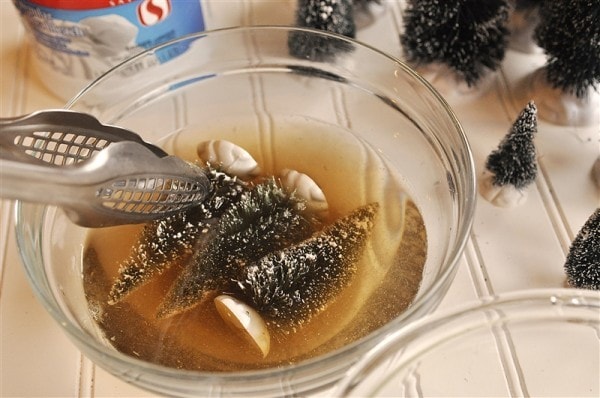 Let them sit for several minutes until the color has been removed.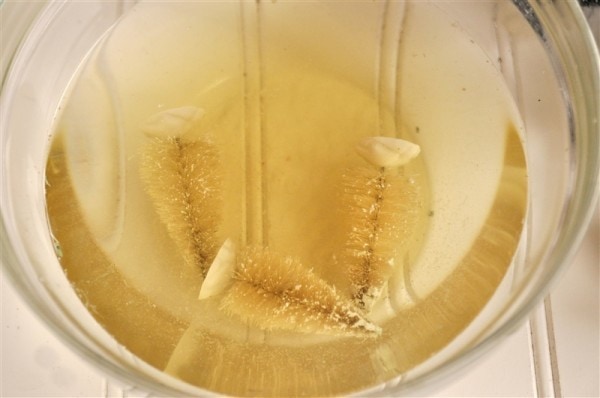 Use metal tongs to remove them from the bleach and then rinse under water.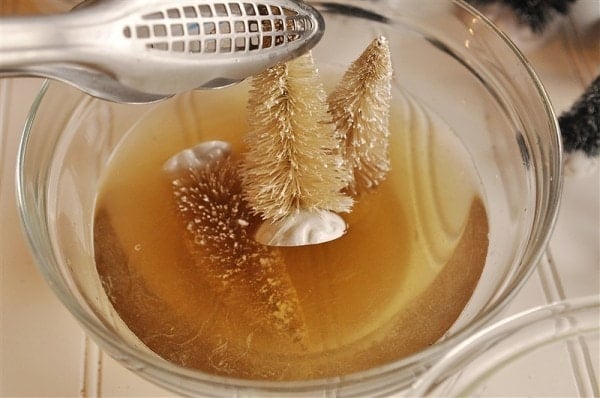 You can pull them out before they turn totally white if you like. I did that on a few of them.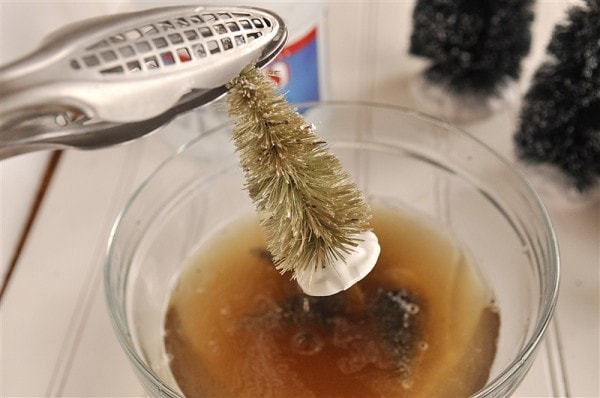 Your bleach mixture will get dirty and sludgie as you go. If you are doing a lot you may need to change your mixture out part way through. The dirtier the mixture gets the longer it will take for the trees to bleach out.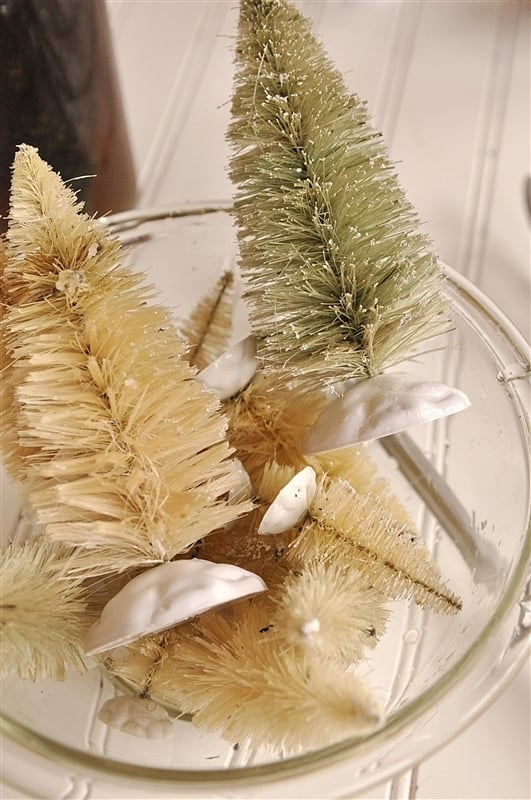 For the bigger trees you may have to get creative with your container.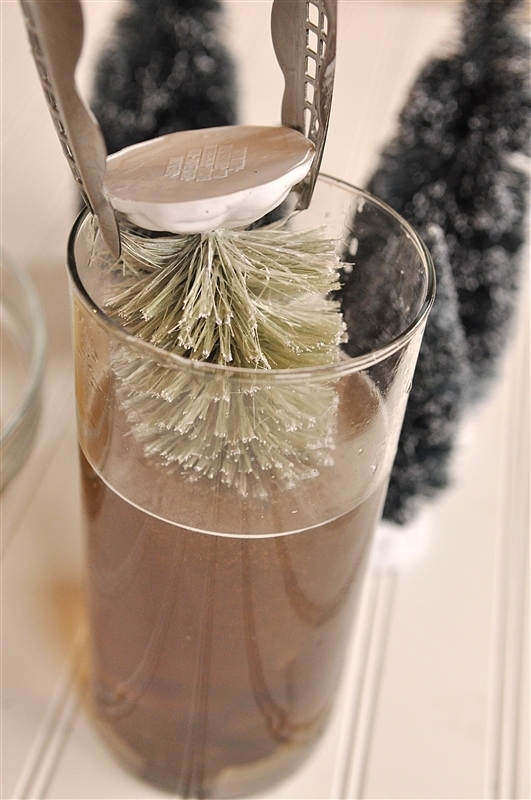 I love my little forest of bottle brush trees.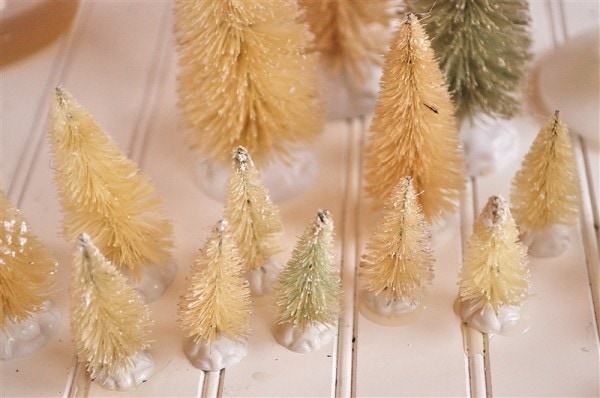 I love the vintage look of the creamy white trees but for a more colorful forest you will need some dye. For my Valentine trees I purchased 3 different shades of red/pink Rit dye; Scarlet, Petal Pink and Fuchsia. You can also mix your dyes together for even more colors.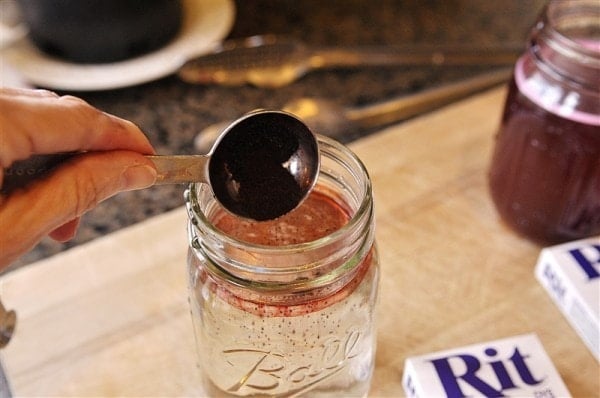 How to Dye Bottle Brush Trees
Bleach trees using the instructions above.
Add 1/2 Tbsp of the powdered dye into a pint sized jar of cold water.
Dip your bleached bottle brush tree into the dye.
Let trees Dry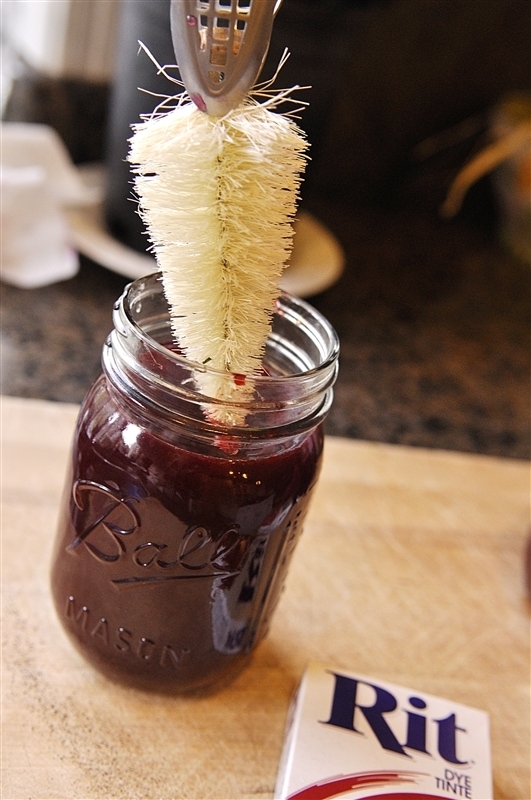 Ombre Bottle Brush Trees
I only left my trees in for a few minutes so just judge according to the shade you want. I wanted variations in shades so I just pulled them out when they were the color I wanted.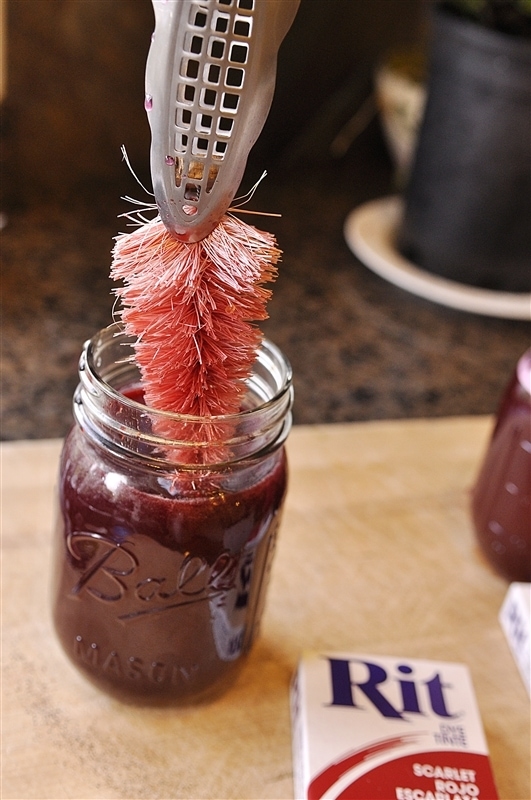 You can see the slight variation in color as a result of leaving them in for different amounts of time. The longest I left one in was two minutes, so it doesn't take long. It gave me a nice ombre effect.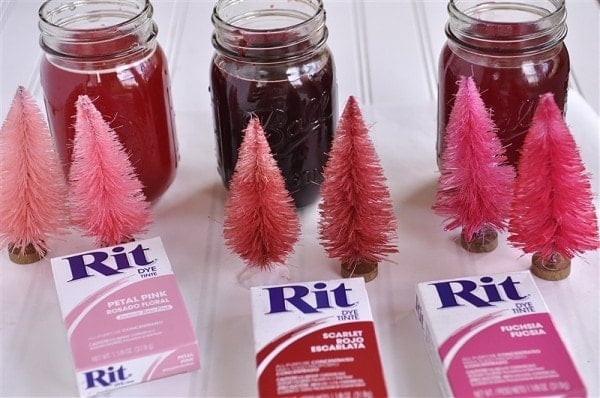 Frequently Asked Questions
My trees won't turn white.
Not all bottle brush trees are created equal. You want to make sure you buy trees that are made out of sisal. This is a natural fiber from the leaves of an Agave plant. There are some bottle brush trees that are made out of synthetic green material and they will not bleach or dye. Sisal trees, on the other hand, are dyed so that color can be stripped out by bleach.
Where can I buy bottle brush trees?
I have found them online through Amazon, at the Dollar Tree and at most craft stores such as Michaels and Hobby Lobby.
Once they are dry, you are ready to decorate and enjoy your colorful bottle brush tree forest.