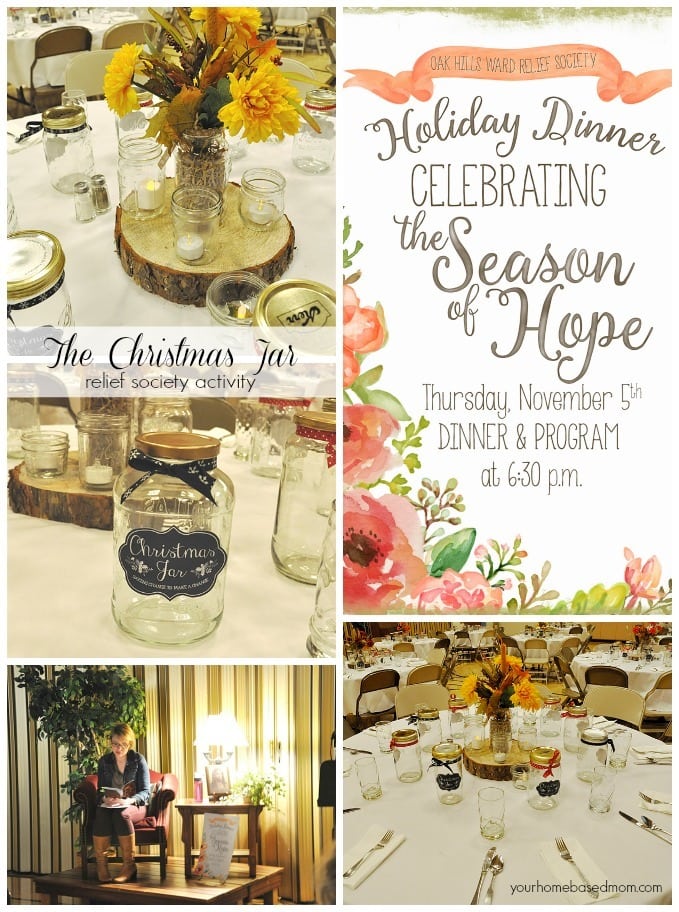 Celebrating the season of hope with the story, Christmas Jars and a lovely dinner.
This past week I was in charge of a holiday dinner and program for the women at church, the women's organization we call the Relief Society. We usually do a big dinner and program in December but this year we decided to change things up a bit and do it in November. I was also looking forward to not doing a big event in December when there is so much else going on.
For our program this year we chose the book Christmas Jars by Jason F. Wright as the basis for our evening. I recommend reading the book, it is a short, sweet story and shares the messasge we wanted to share with the women – celebrating a season of hope.
Here is a brief synopsis of the story from Amazon:
Hope, a journalist happens upon a human interest story that winds up teaching her lessons about love and forgiveness and renewing her own faith in human kindness. On Christmas Eve, twenty-something Hope Jensen is quietly grieving the recent loss of her adoptive mother when her apartment is robbed. The one bright spot in the midst of Hope's despair is a small jar full of money someone has anonymously left on her doorstep. Eager to learn the source of this unexpected generosity, Hope uses her newswoman instincts to find other recipients of "Christmas jars," digging until her search leads her to the family who first began the tradition of saving a year's worth of spare change to give to someone in need at the holiday. T the heart of this novella is its transformative message about the power of giving.
Keep a few tissues near by when you read it. We wanted the women to feel the spirit of hope and of giving when they left that evening. We began the program with a vocal solo of the hymn, "Because I Have Been Given Much" which set the perfect mood for the story.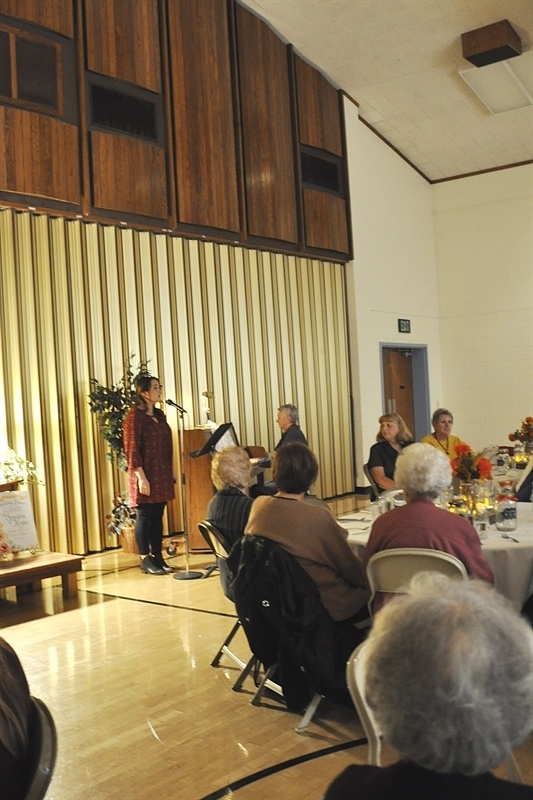 My friend Meg, was our "Hope" and she told Hope's story beautifully.
At the end of the story Meg invited each of them women to take the Christmas Jar which was at their seat and to begin saving their spare change. Then to prayerfully and thoughtfully consider who they would give their Christmas Jar to. Who they could provide some hope to.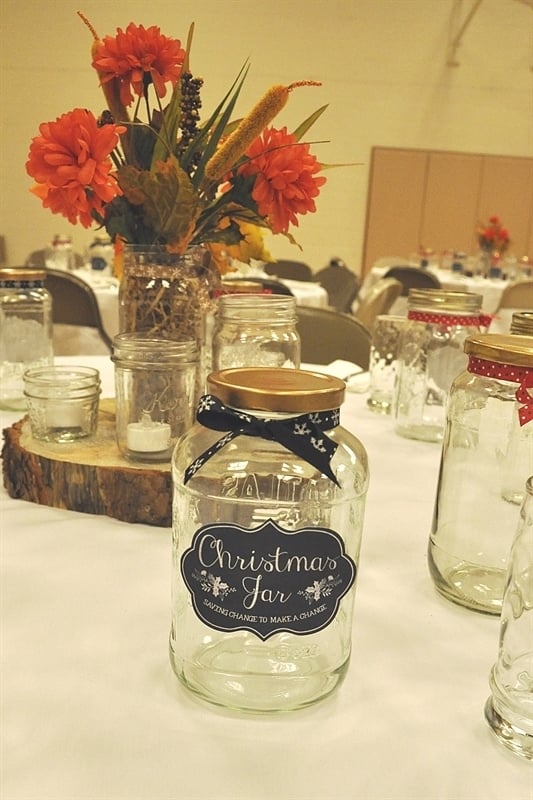 We collected a lot of jars so that each of the 75 women who attended could take a jar home. We also used jars with battery operated candles as part of our decoration. I went out to my neighbor's property and found some logs that we had cut into pieces for the center of the table. Jars full of fall colored flowers completed our table decor.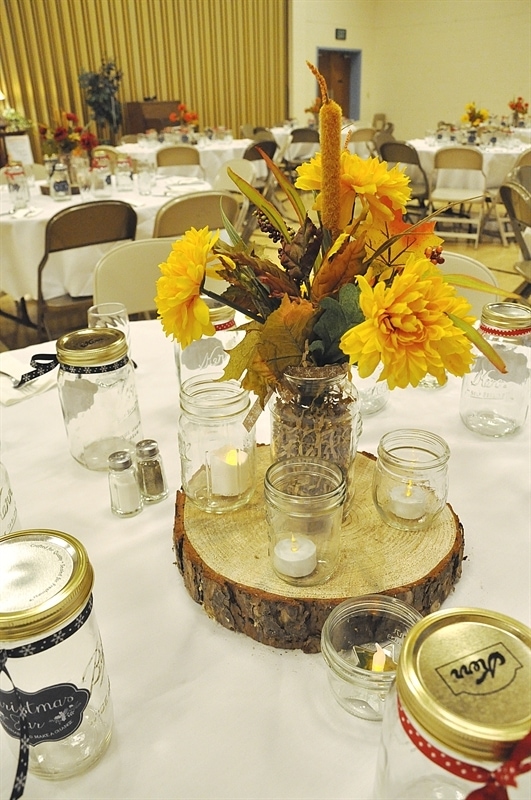 For dinner we served a maple glazed pork tenderloin, rice pilaf, slow cooker honey cinnamon carrots and a delicious salad. Dessert was pumpkin cheesecake bars. Recipes not linked to will be coming soon.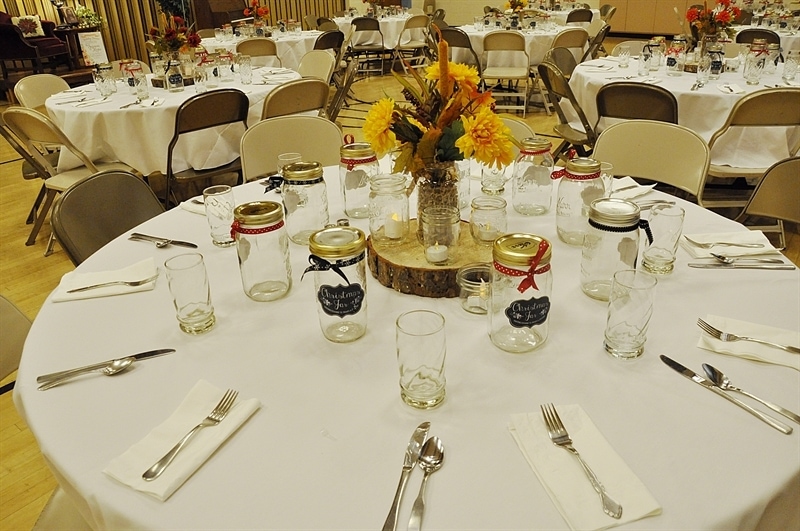 It was a delightful evening and it was a wonderful way to kick off the holiday season, a season for hope. A season for us to find hope and to give hope.
If you'd like to see some of the Christmas programs we've done in the past for Relief Society go here:
The 100 Dresses Relief Society Program and Dinner
The Women Who Knew Jesus Relief Society Program and Dinner
Why Christmas Trees Aren't Perfect Relief Society Program and Dinner