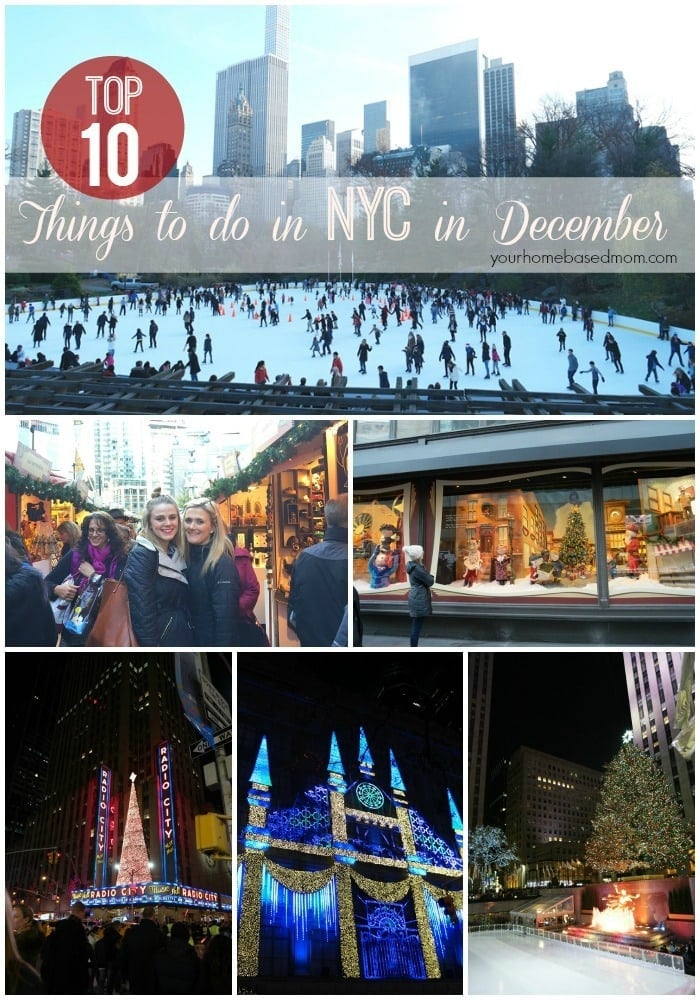 Seeing NYC in December has always been on my bucket list. When my youngest daughter moved to NYC this past summer I knew this was my chance! This past weekend I spent four days in NYC with both of my daughters and we had a blast! We walked and walked and ate and ate and had just too much fun. According to my iphone we walked almost 90,000 steps in those four days! Good thing I had some comfortable and cute booties to wear. You can see them here. I wore them all four days and although my feet were tired I had no blisters like I usually get!
We jam packed a lot of fun into four days and I think I wore my two girls out! NYC is definitely a magical place in December and I'm excited to share with you all the fun things we did. I'll save all the good food we ate for another post.
We used Google Maps to get around the city and figure out the subway system and having a resident New Yorker with us helped a lot too. We took the subway or walked everywhere we went except for once when we grabbed a cab. We are big fans of Uber too and have used that a lot on other trips.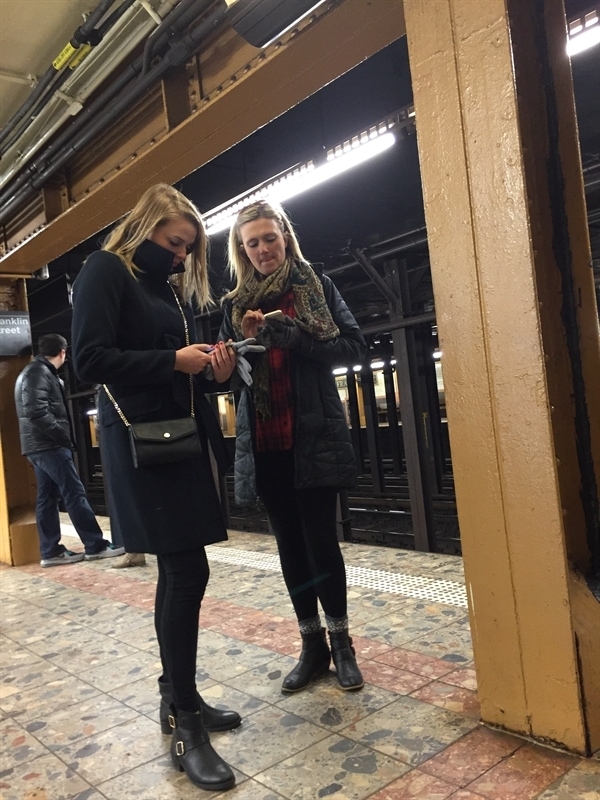 Top things to do in NYC in December
1. Holiday Markets
From November through December you will find some great shopping at the various outdoor holiday markets throughout the city. We visited the ones at Bryant Park, Union Square and Columbus Circle (outside of Central Park). Lots of fun vendors and treasures to be found! I found a few fun stocking stuffers for my kids. We also love the craft market at Chelsea Market. Check out the charm lady!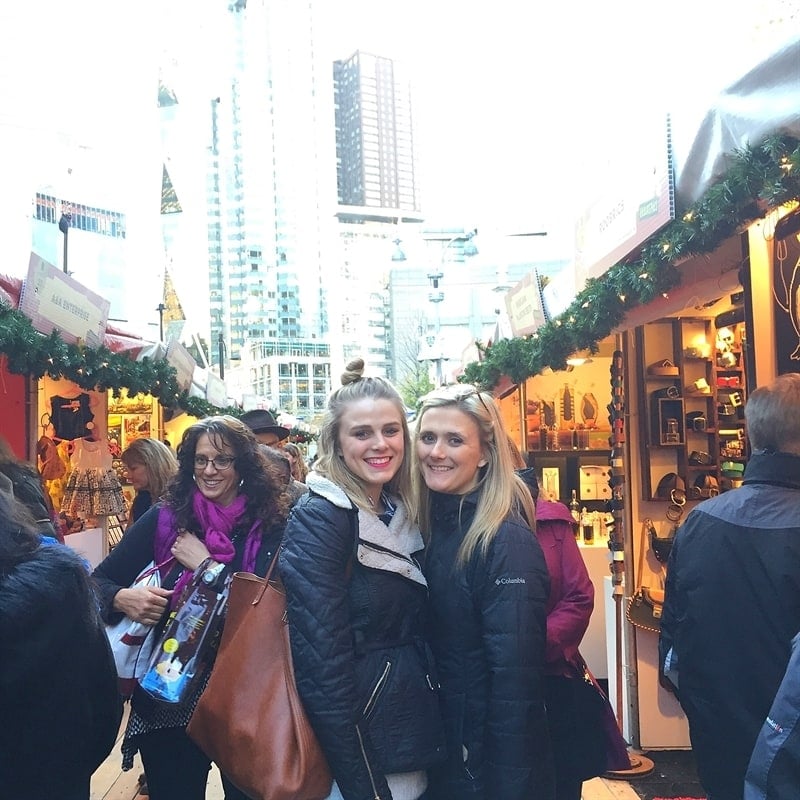 There are lots of fun food vendors too. We enjoyed some yummy churros filled with dulce de leche and nutella!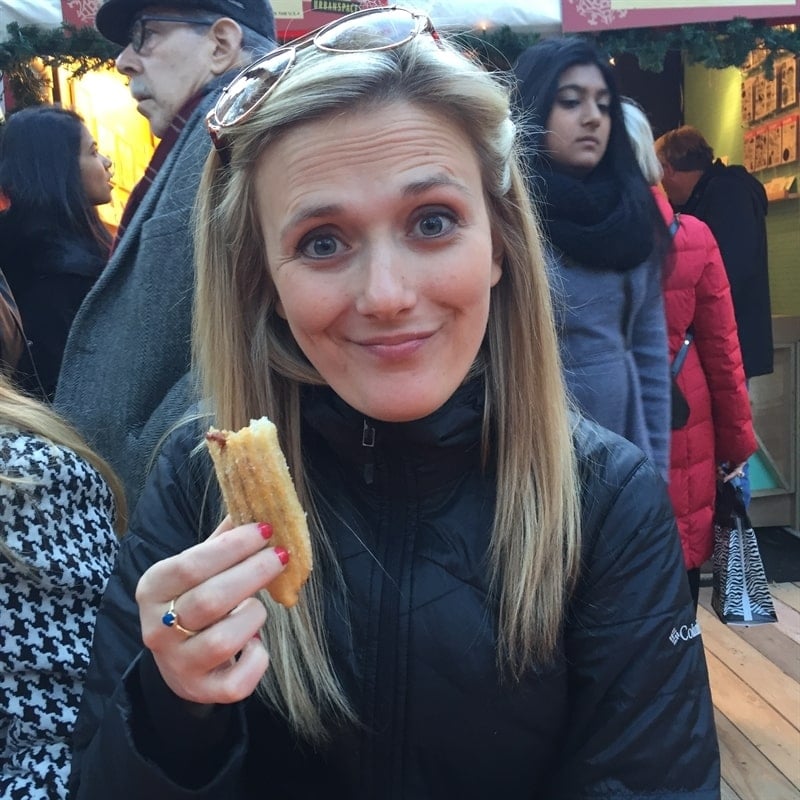 2. Holiday Tea at the Plaza
If you are an Eloise fan, or even if you aren't, Tea at the Plaza is a delight. Be sure and make reservations ahead of time though. The girls and I had a delightful time and enjoyed the quiet, relaxing break from all our running around the city!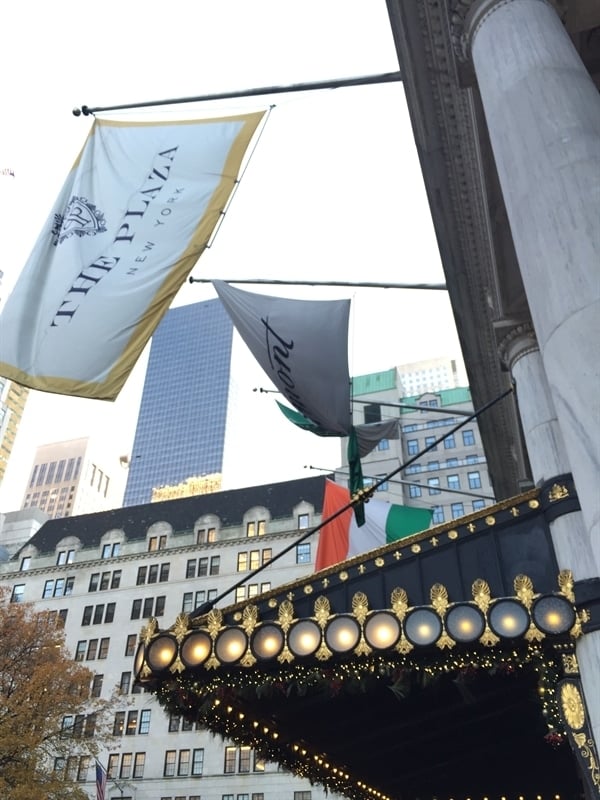 The Plaza is beautiful all the time but even more beautiful at Christmas. Tea is held in The Palm Court at the Plaza.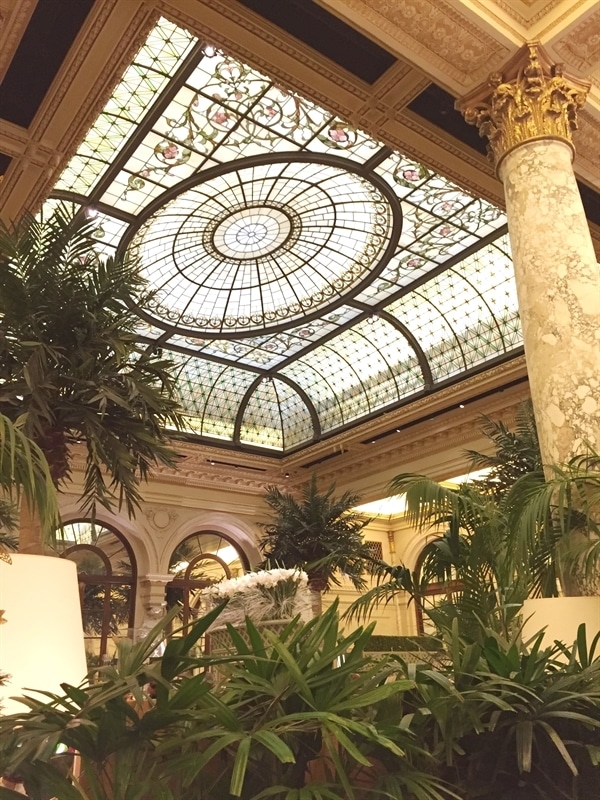 Tea is a delicious selection of both savory and sweet treats.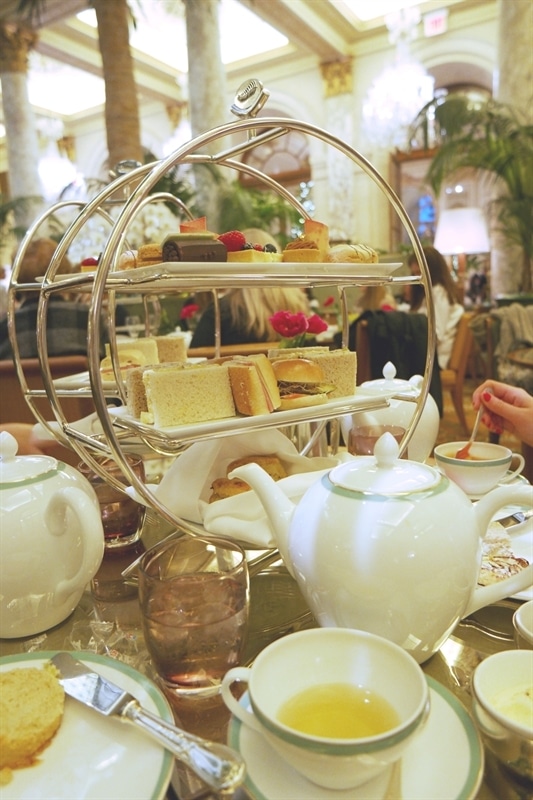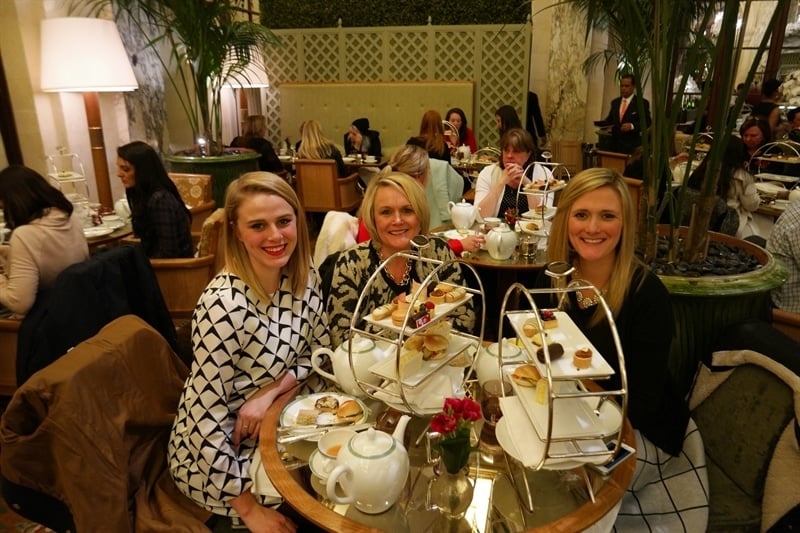 Before or after tea take a stroll through Central Park.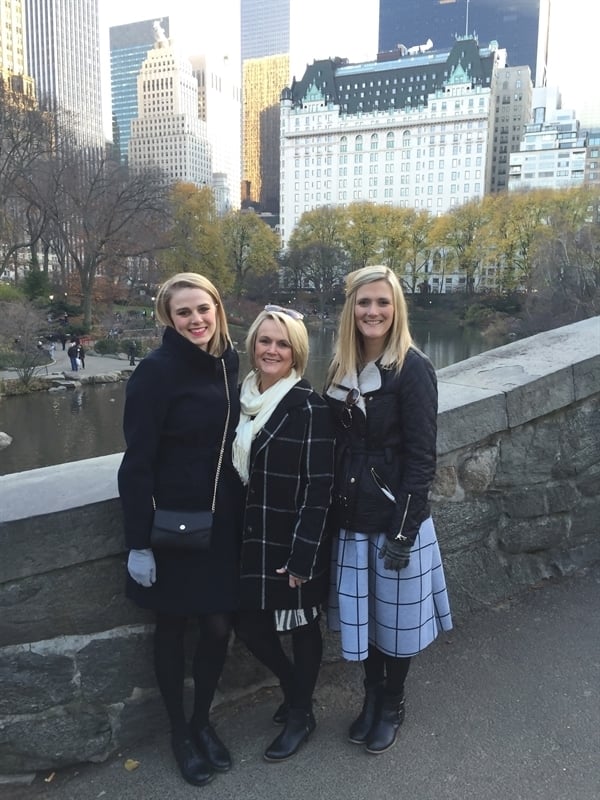 3. Ice Skating
Ice Skating in one of NYC's parks at Christmas should be on everyone's bucket list.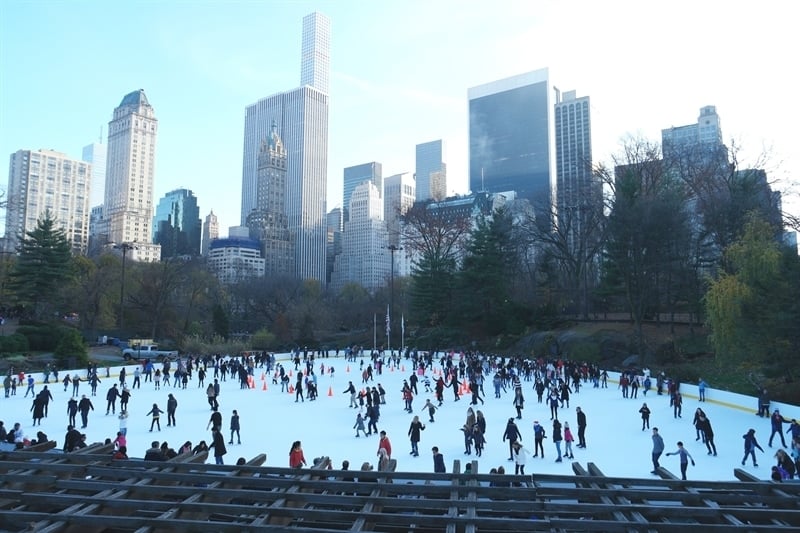 There are lots of places to choose from. There is Central Park, Bryant Park and then there is the rink at Rockefeller Center too. It's a bit spendy but totally worth it to check that one off the bucket list!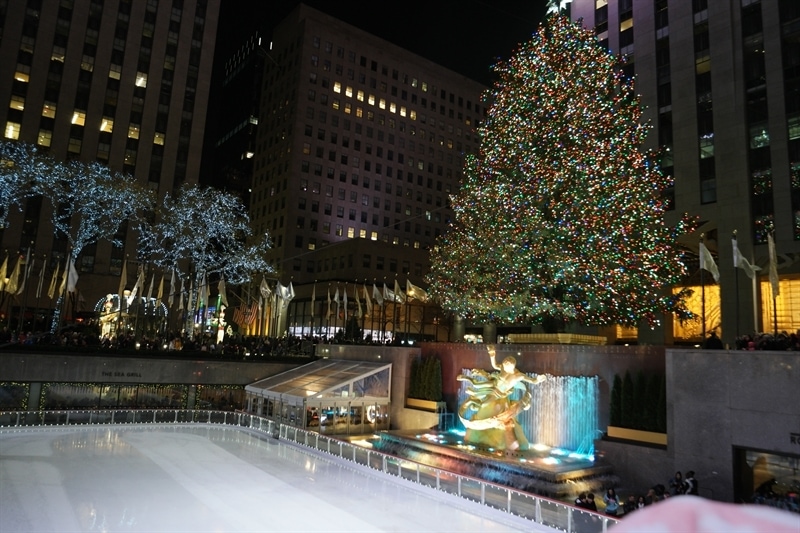 We ended up skating at Bryant Park after visiting the holiday markets there. If you go to Bryant Park pay the extra to buy a fast pass and you'll skip the big long line!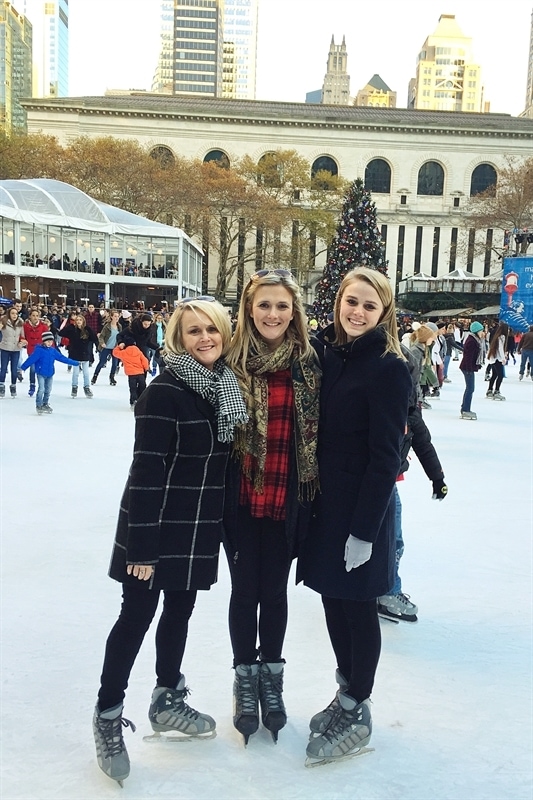 Watch out for the Skate Patrol though. One of them skated past us so fast he lost control and knocked my daughter right over! We all got a good laugh out of that one!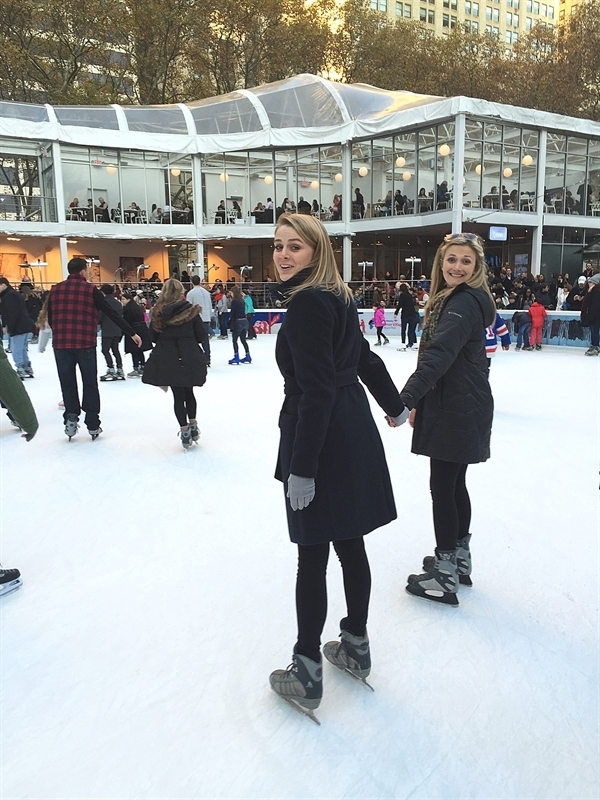 4. The Rockette's Christmas Show
Another bucket list item for me had been to see the Rockette's Christmas Show at Radio City Music Hall. It is amazing! Be sure and buy tickets ahead of time. It's a great way to get in the Christmas spirit and there are even live camels on stage!! My favorite number was the wooden soldier number – truly amazing!!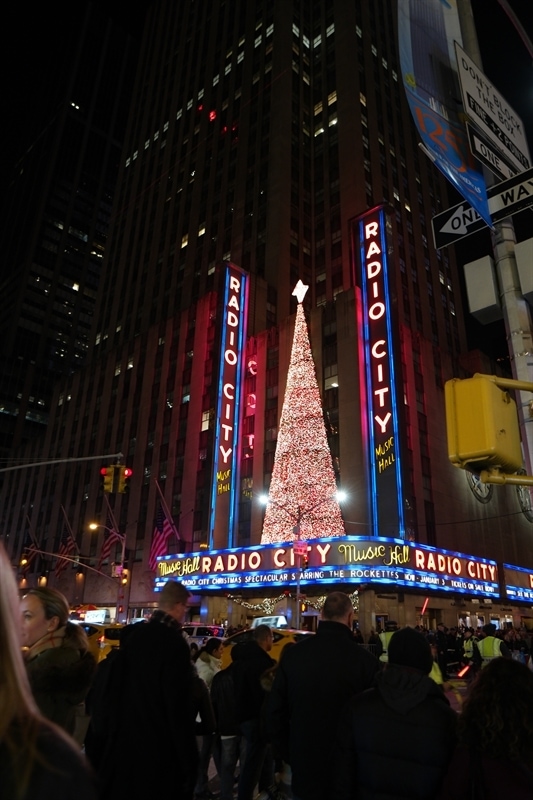 5. Rockefeller Center
After the Rockette's Show head across the street to see the tree and the pretty angels at Rockefeller Center.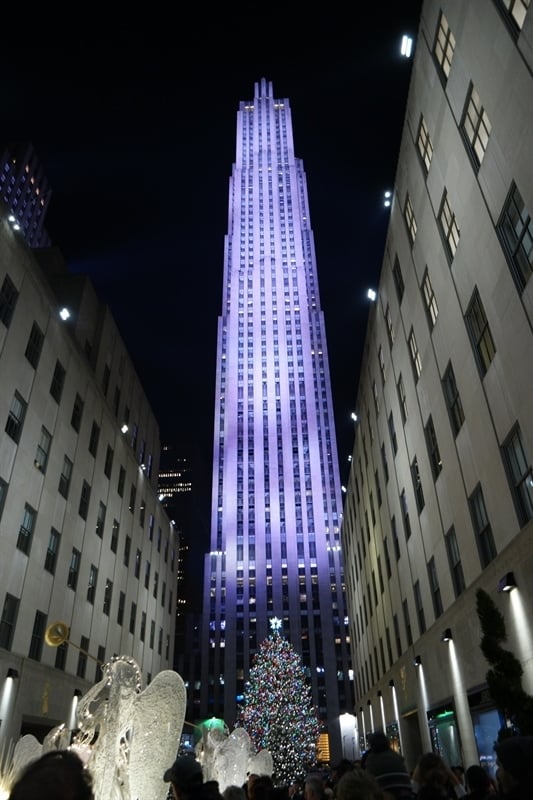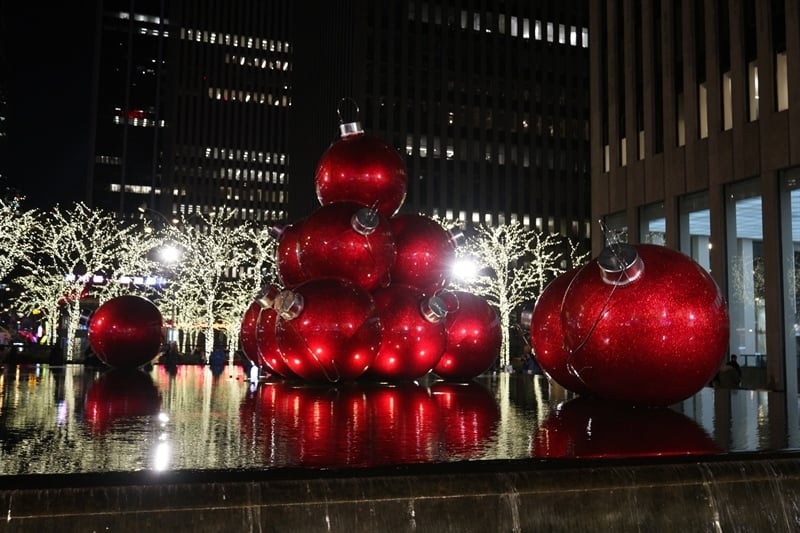 You can also check out the great big red Christmas bulbs in the reflecting pool.

And of course take a few selfies like my girls did!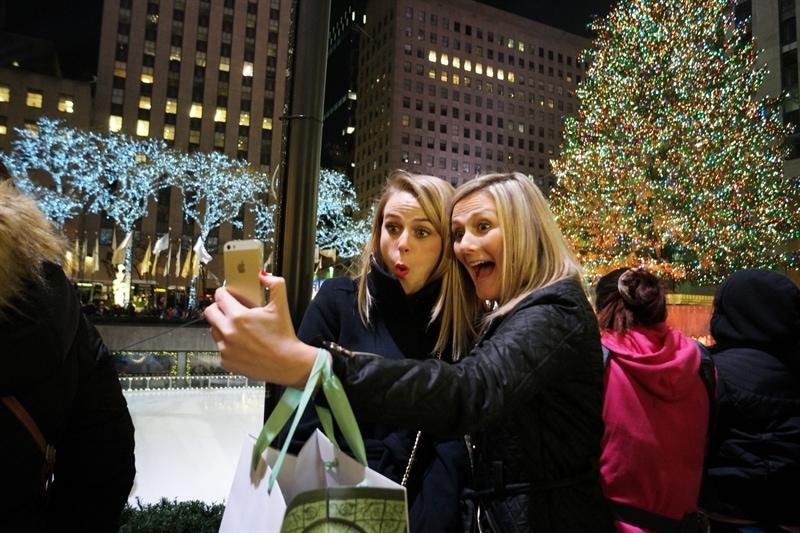 Or do a little photo bombing!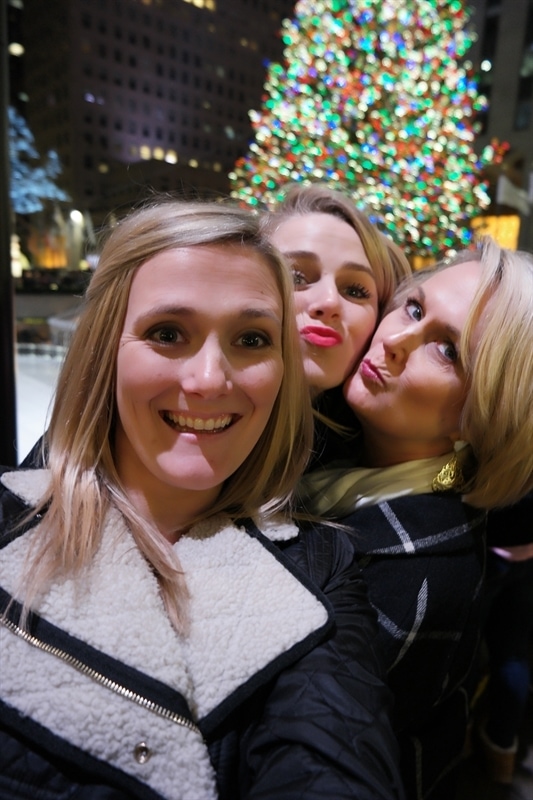 6. Fifth Avenue Christmas Store Windows
Just a block away from Rockefeller Center is Fifth Avenue with all the fancy shops are! Spend some time walking up and down the street checking out all the amazing store windows decorated for Christmas.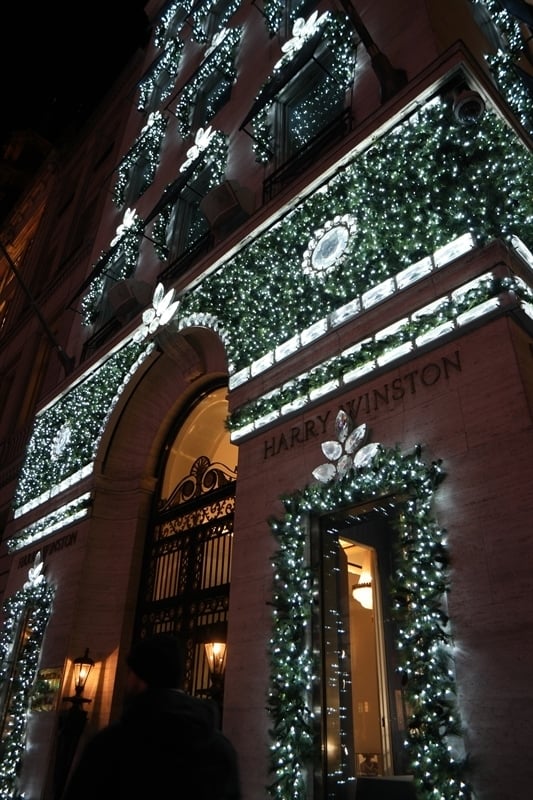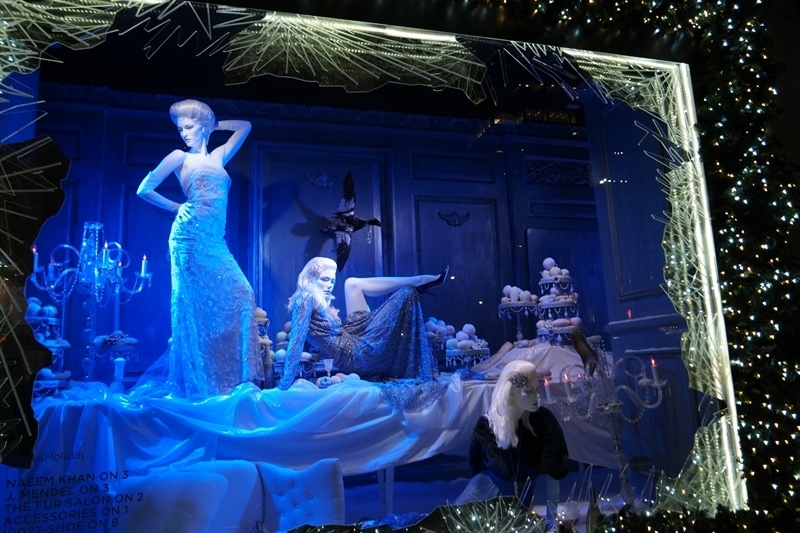 Saks Fifth Avenue was my favorite!

Saks also has a great light show on the outside of the building that goes off every 10 minutes.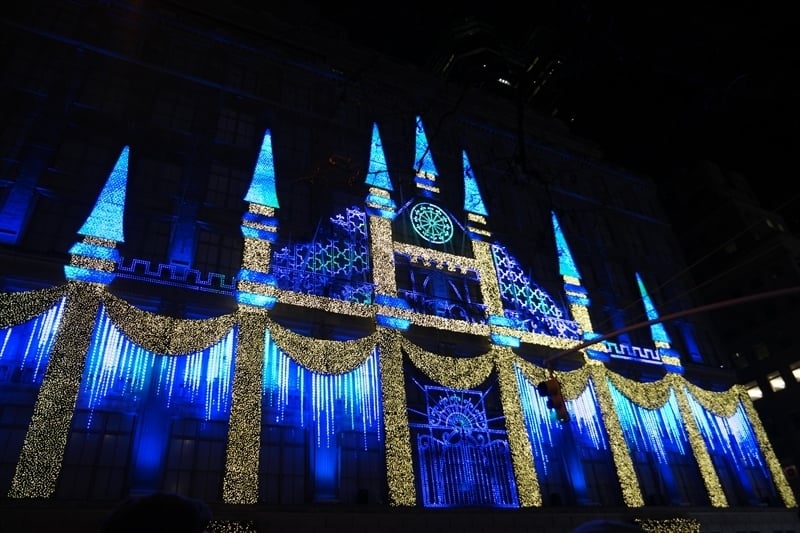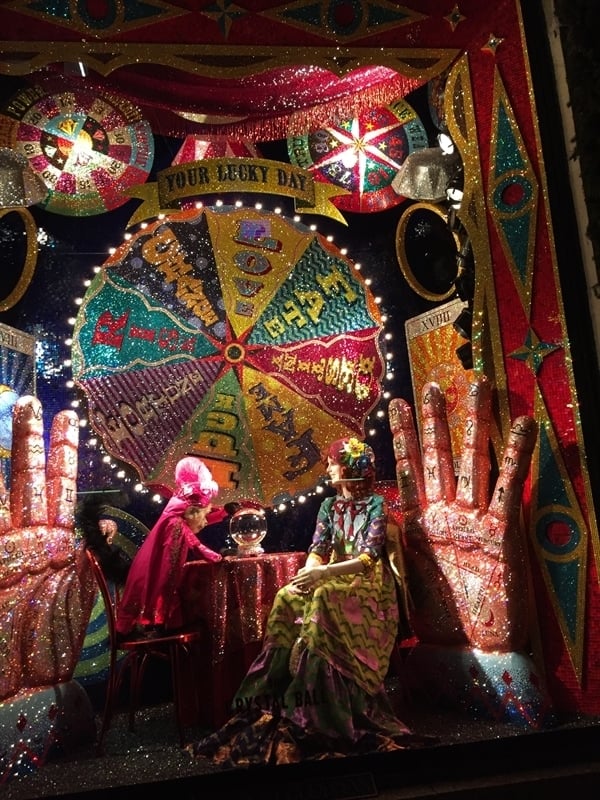 7. St. Patrick's Cathedral
While you are on 5th Avenue checking out the shop windows be sure and pay a visit to St. Patrick's Cathederal. We were there on a Sunday evening and there was an Advent Service going on. It is a beautiful cathedral.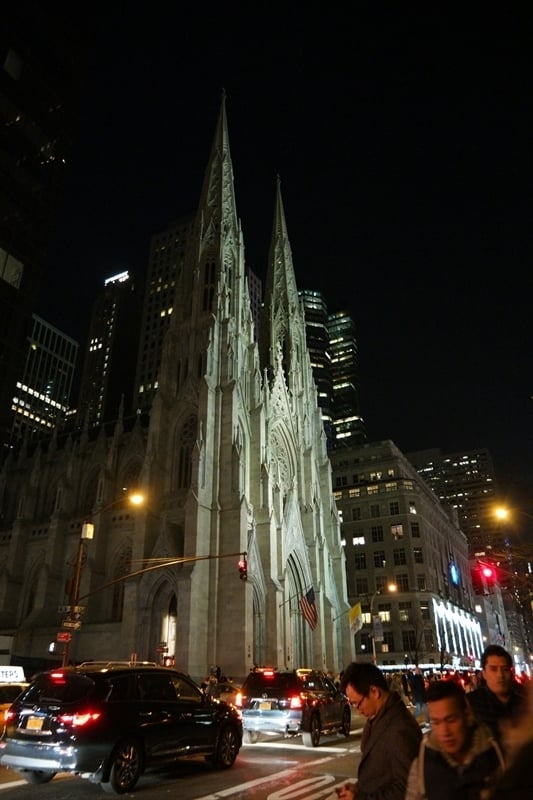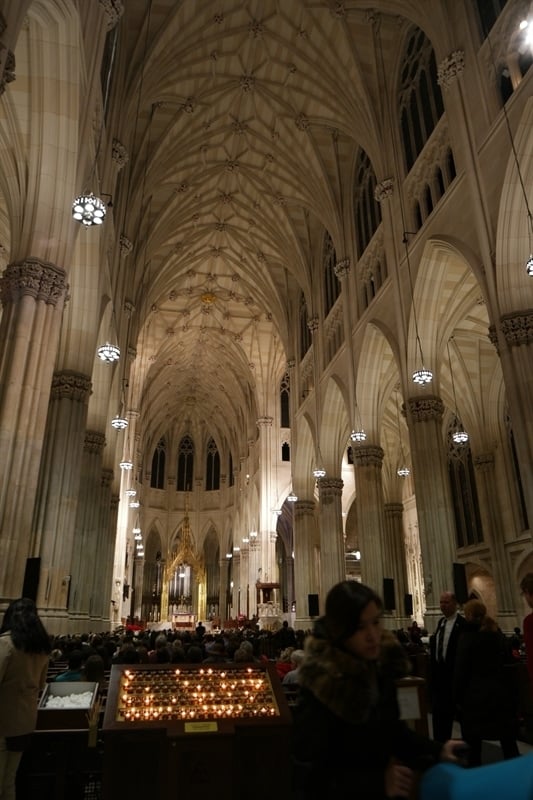 8. Macy's Department Store at Herald Square on 34th Street.
A visit to Macy's on 34th Street is a must at Christmas time in NYC. If you haven't watched Miracle on 34th Street, do so before you go! Walk around the outside of the store and check out their holiday windows. This year they had a Peanuts theme!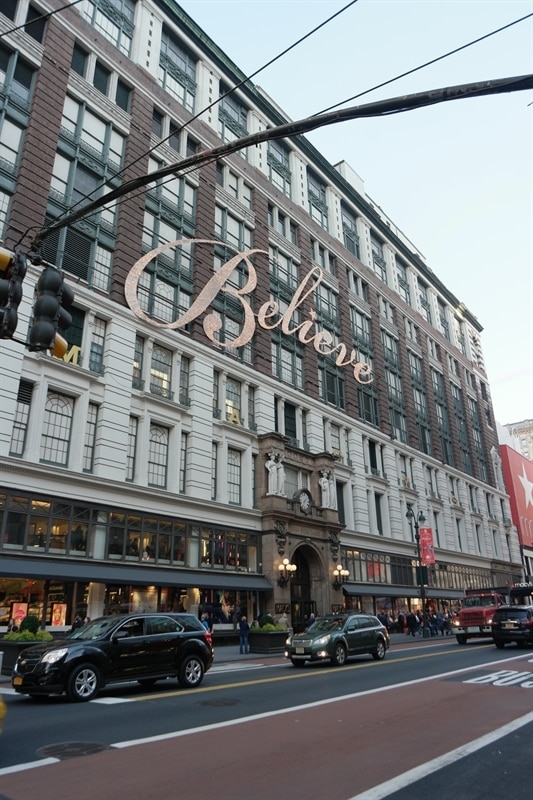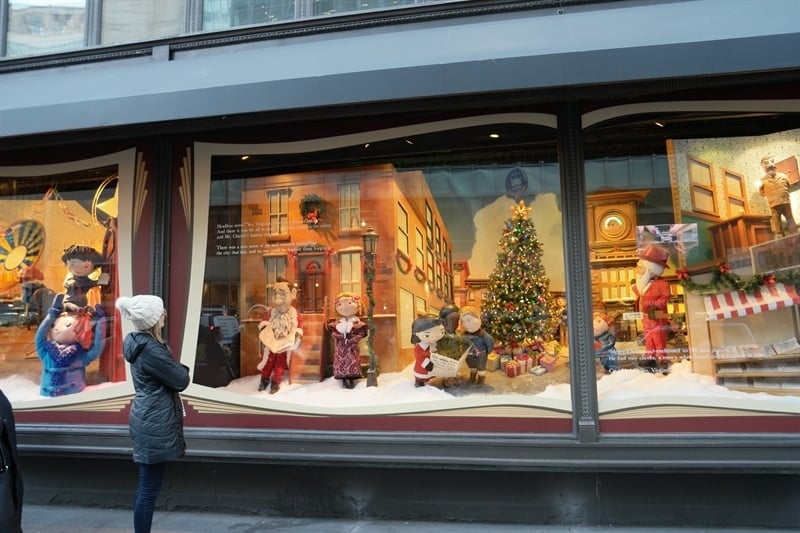 They had a fun piano you can play on the window and then Schroeder's piano played inside the window. So fun!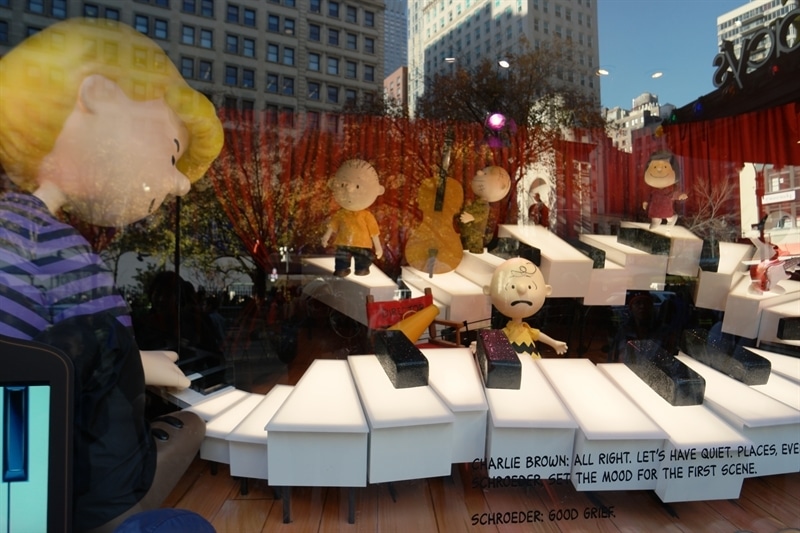 While you are there, go inside and ride the old wooden escalator that is in the store. If you are hungry there is a Pinkberry Yogurt shop on the children's floor – my favorite frozen yogurt!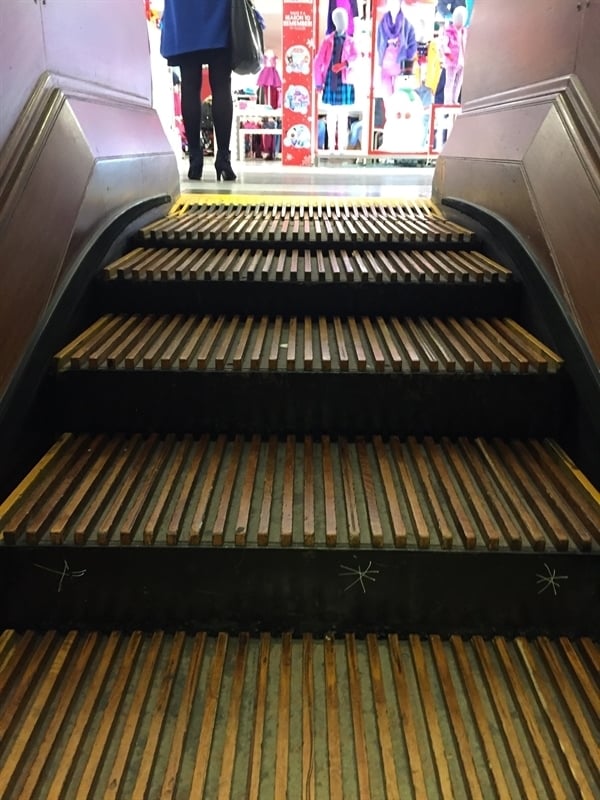 9. See a Broadway Show.
This is a good thing to do in NYC any time of the year! This visit we saw Kinky Boots which was fantastic. It is the story of a shoe factory in London and Wayne Brady from "Whose Line is it Anyway" had just taken over the lead role and he was amazing!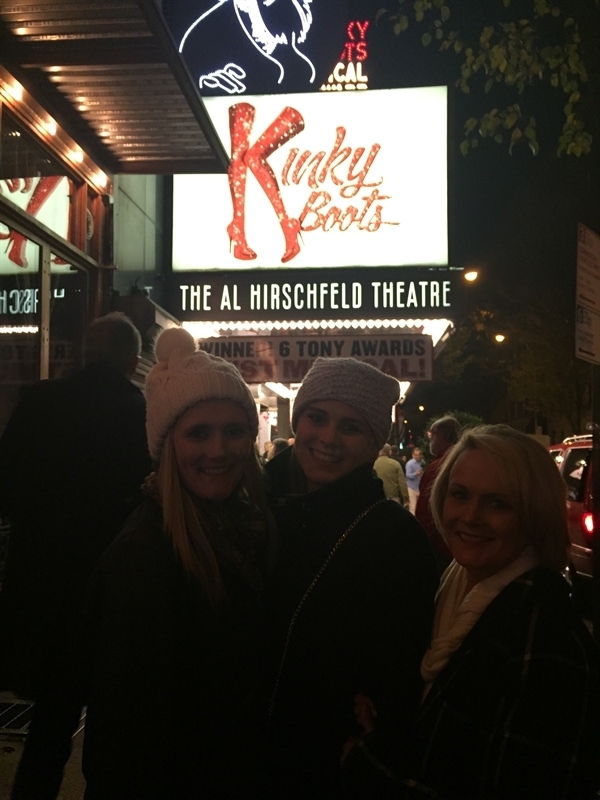 10. Visit a Museum
Not really a Christmas focused activity but NYC has a lot of great museums and each time I go I like to check out one I haven't been to before. Last visit it was The Met and this time it was MOMA – Museum of Modern Art. The Cloisters is on the list for my next visit.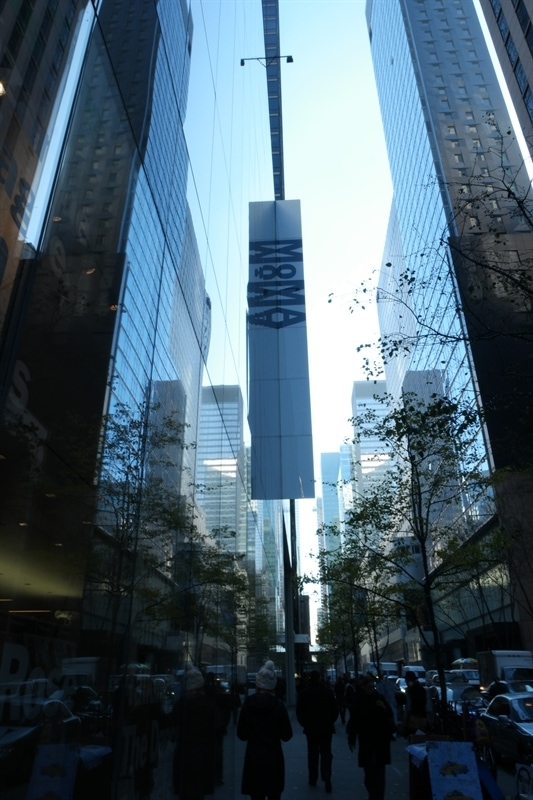 There was a Picasso Sculpture Exhibit going on while we were there. I was unfamiliar with Picasso's sculpture work so it was really interesting. The best thing I heard all day though in the museum was an older man calling to his wife, "come here honey, this one actually looks like something!" Totally made me giggle. They have a free audio tour you can get.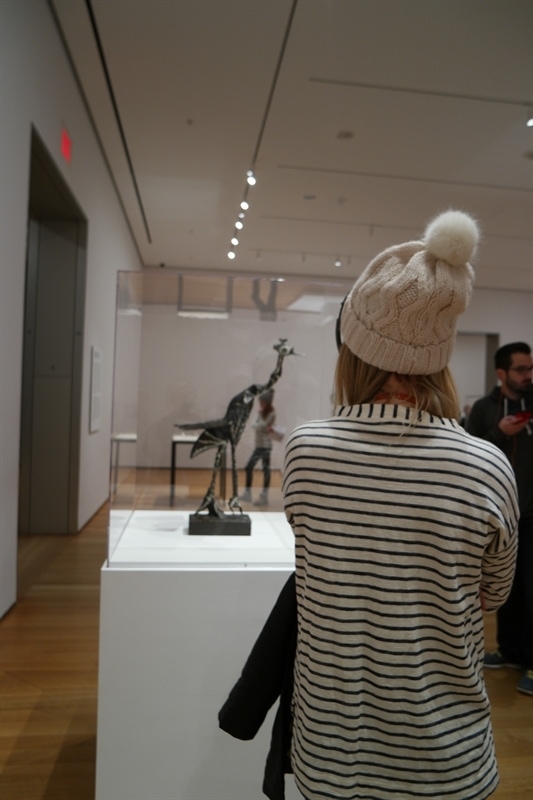 Be sure and visit the sculpture garden before you leave and I enjoyed the Pollack exhibit too.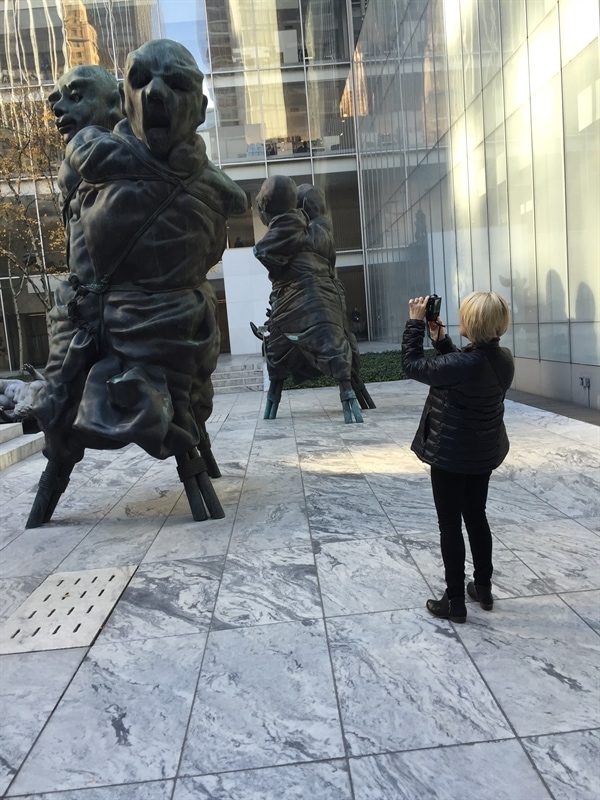 Across the street for the museum is the famous Hope sign – go take a picture.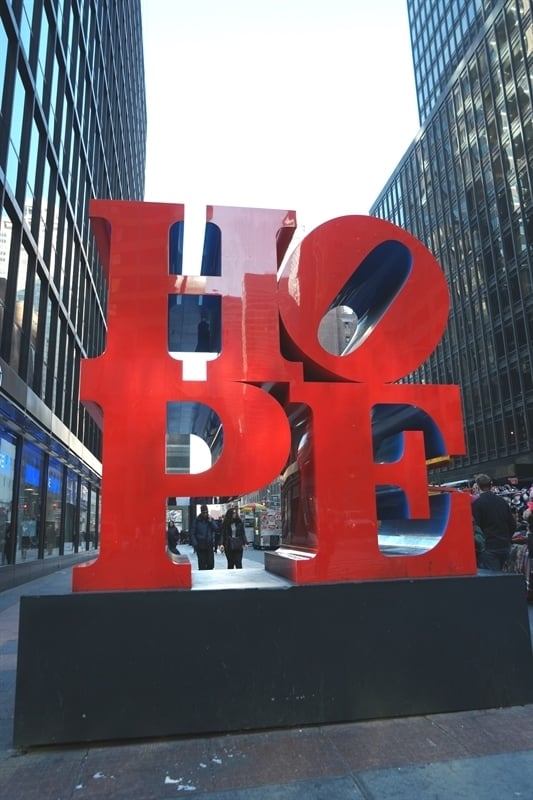 Now make sure you are hungry when you leave the museum because right there at the corner of 53rd and 6th, next to the Hope sign and across the street from the MOMA you will find the Halal Guys food truck. It is amazing! Don't worry if there is a line – it moves fast and is totally worth the wait.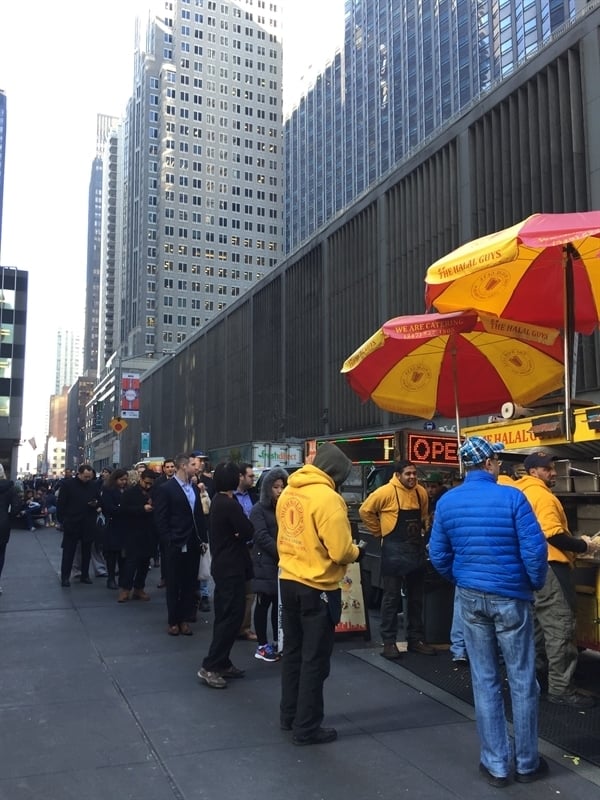 Cali and I shared an order of the chicken and rice. Get the white sauce.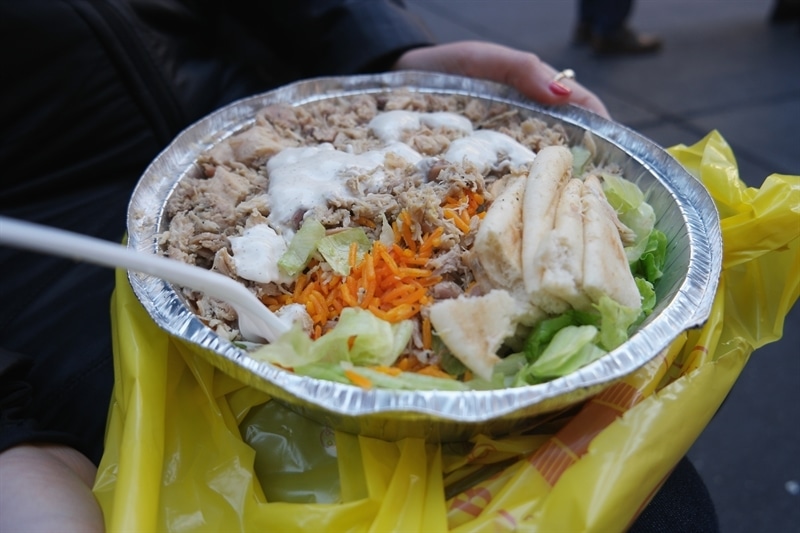 We ate a lot more yummy food but that will all have to wait for my next post!