Delicious cake layered with fresh baked plums.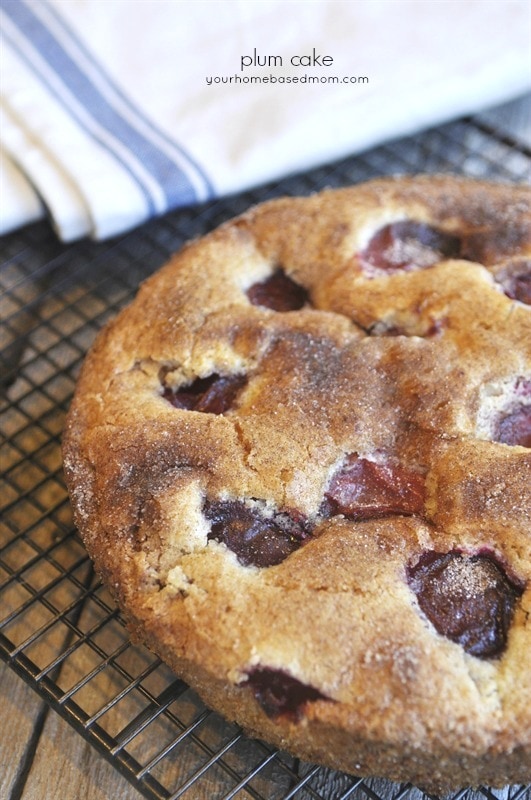 A few weeks ago we were invited to potluck birthday celebration for a dear friend. This celebration was extra special because this friend has been fighting cancer and is winning!
I know there are people who don't care for potlucks but I'm not one of them. I love a good potluck and I knew given the people that were invited to this party it would be a good one. Some of my favorite cooks would be there. I took some homemade crescent rolls and some of those yummy garlic ginger green beans I can't get enough of.
One of the desserts was a plum cake. Initially I wasn't interested because I don't really care for plums, or at least I thought I didn't. But then several of my friends starting eating the cake and the rave reviews starting coming. How could I not try a piece. Still a little skeptical because I thought I didn't care for plums, I sliced off a small sliver of the cake. Boy was I sorry! Sorry that I hadn't taken a bigger piece!!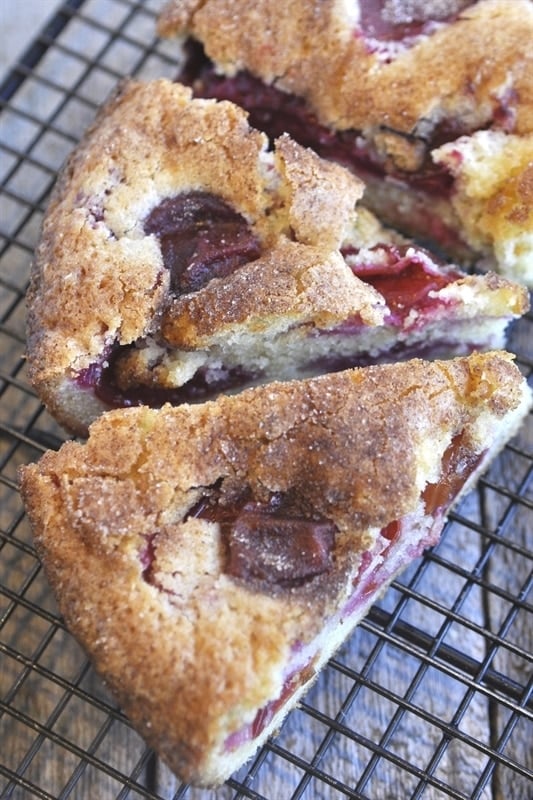 This cake was delicious and guess what? I like plums!

I pretty much couldn't stop thinking about the plum cake for the next few days. I emailed my friend and asked her to PLEASE share the recipe with me. Because she is a good friend, she did! Today I get to share it with you.
I headed to the farmer's market to pick up some plums. I'm not sure what type they are but I am sure the cake would work with any type of plum. The baking time will be effected though by how much juice there is in the plum.
The hardest part of the whole recipe, which isn't very hard, is cutting up the plums. Plums do have a pit so you have to cut around that.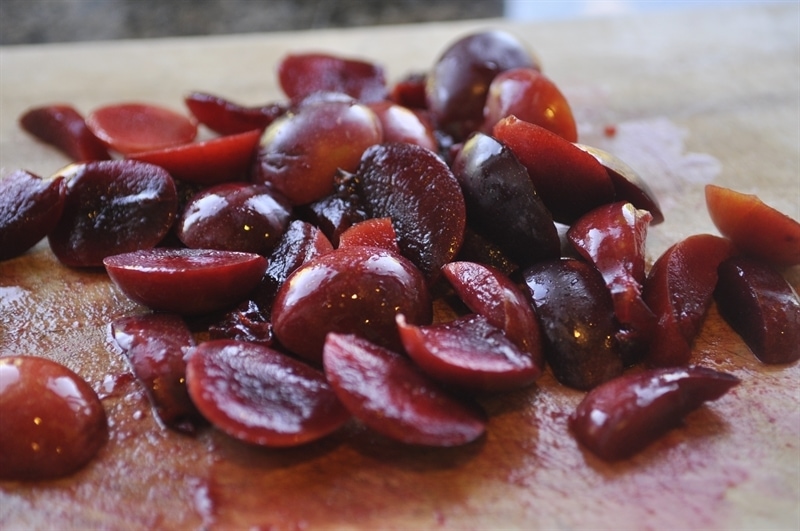 Because I wanted my plum cake to be pretty too I only used the two big slices I cut off the plum and then we just ate the two small ones. Remember, I like plums now. Mix up your batter and place half of it in a greased round cake pan. I placed a piece of wax paper on the bottom of the pan too for easier removal. Put half the batter in the bottom of the pan and lay half the cut plums cut side up on top of batter. Then add other half of batter and place half of plums cut side down. Again, I only used the bigger slices of plum and we ate the small pieces. It just looks prettier that way. I also sprinkled it with a little bit of cinnamon sugar right before I put it in the oven to give it a little cinnamon kick.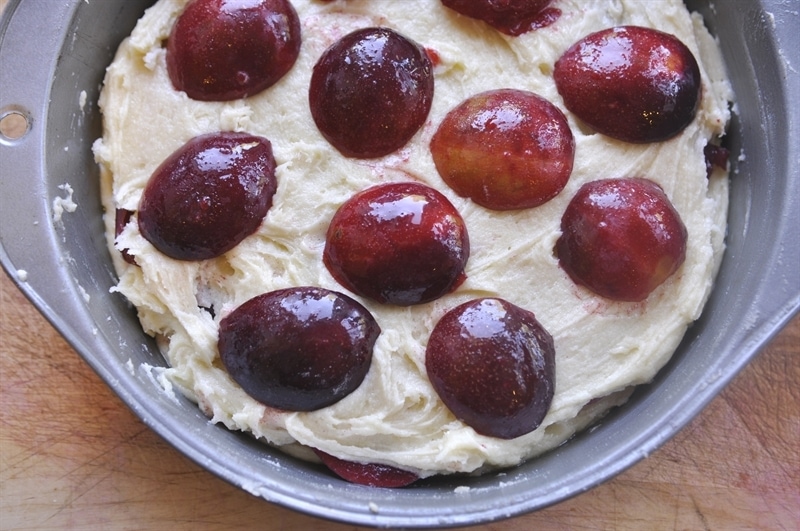 After it bakes, allow it to cool for a while and then remove from pan.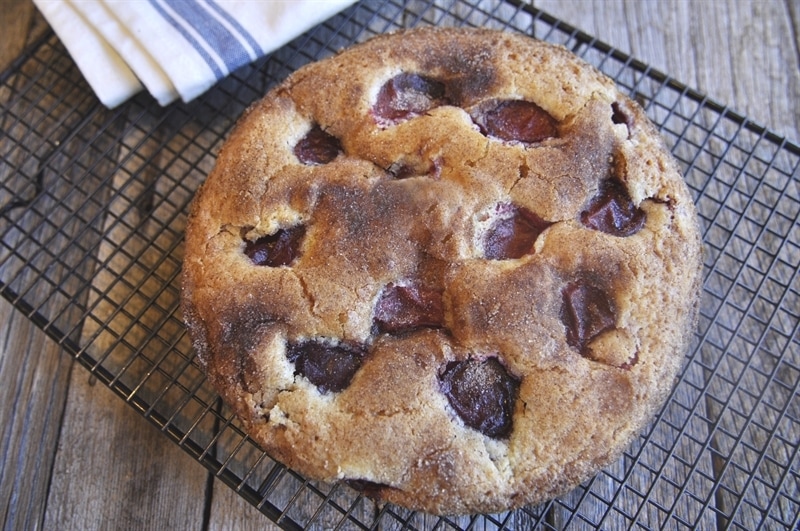 This cake has all kinds of potential. Just think of all the different fruits you could try and fruit combos!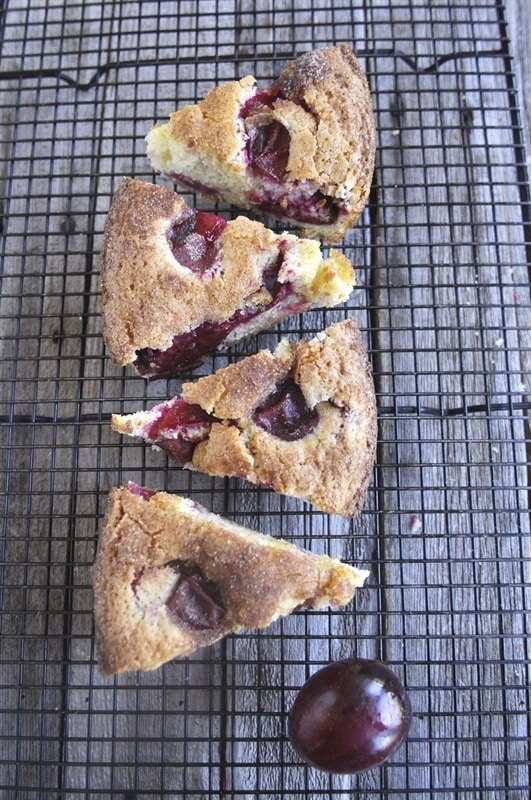 My friend freezes plums so she can make this cake all winter long! I can't wait to try it with some other fruits.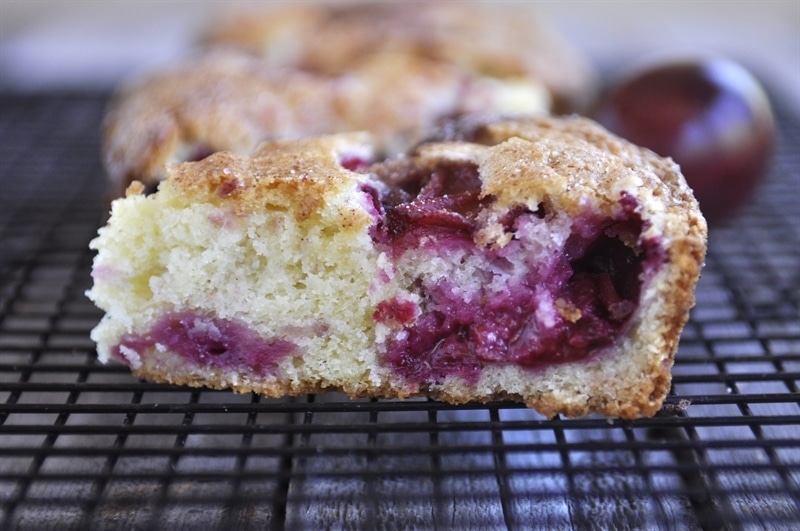 Check out more yummy fruity desserts:
Plum Cake Recipe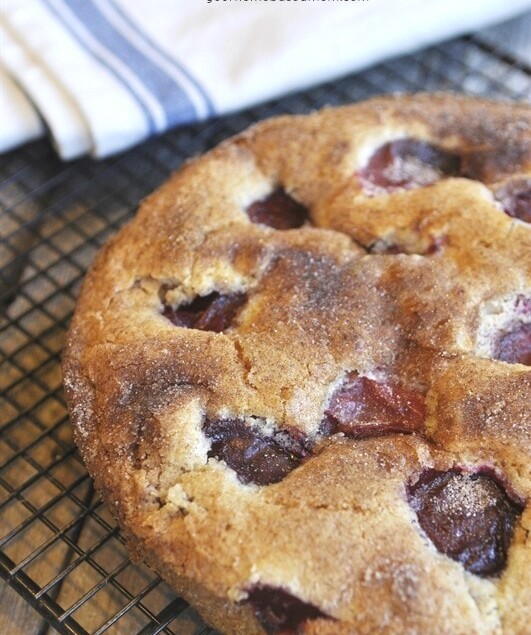 Plum Cake
Layers of moist cake and delicious plums.
Ingredients
1 c sugar
½ c butter
2 eggs
Pinch of salt
1 c flour
1 t baking powder
10 plums halved
1 Tbsp cinnamon sugar to sprinkle on top.
Instructions
Cream together sugar, butter, eggs and salt until light and fluffy

Add in flour and baking powder.

Mix until combined.

Pour half of batter into 9 inch greased floured pan

Place half of plums on top of batter, cut side up

Spread remaining batter over plums and then top with remaining plums, cut side down.

Top with 1 Tbsp cinnamon sugar

Bake 350 for about 45-60 minutes or until a toothpick comes out clean

(baking varies depending on moisture in plums)
Nutrition Facts:
Calories: 315kcal (16%) Carbohydrates: 48g (16%) Protein: 4g (8%) Fat: 13g (20%) Saturated Fat: 8g (50%) Polyunsaturated Fat: 1g Monounsaturated Fat: 4g Trans Fat: 1g Cholesterol: 71mg (24%) Sodium: 118mg (5%) Potassium: 216mg (6%) Fiber: 2g (8%) Sugar: 35g (39%) Vitamin A: 699IU (14%) Vitamin C: 8mg (10%) Calcium: 39mg (4%) Iron: 1mg (6%)
* Disclaimer: All nutrition information are estimates only. Read full disclosure here.