This Oatmeal Toffee Cookie Recipe makes a light, crisp cookie with the right amount of  chewiness in the middle.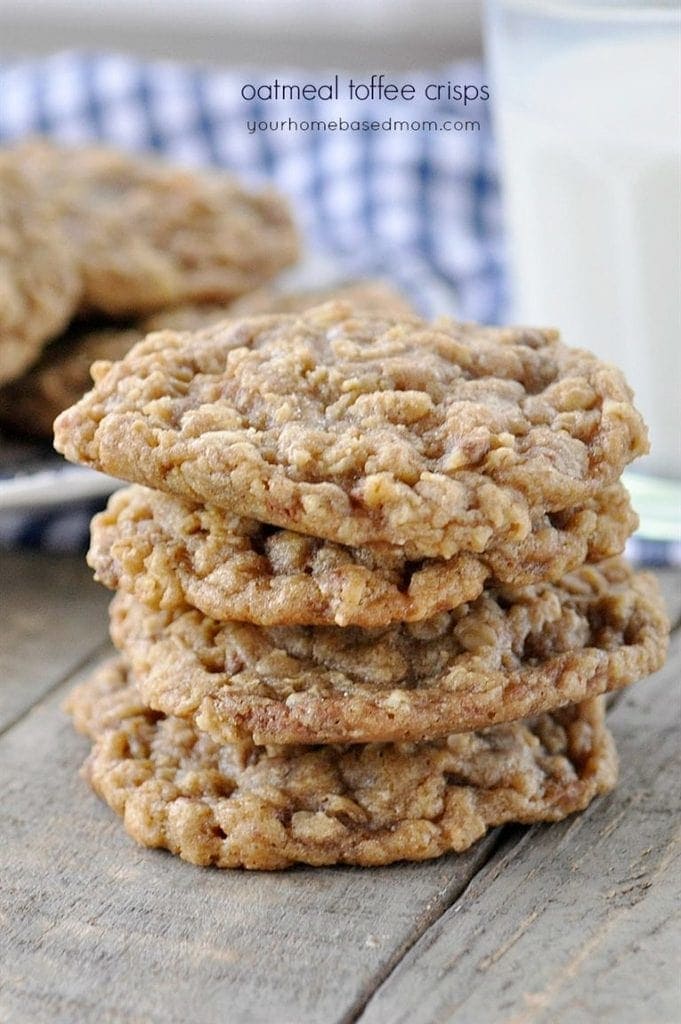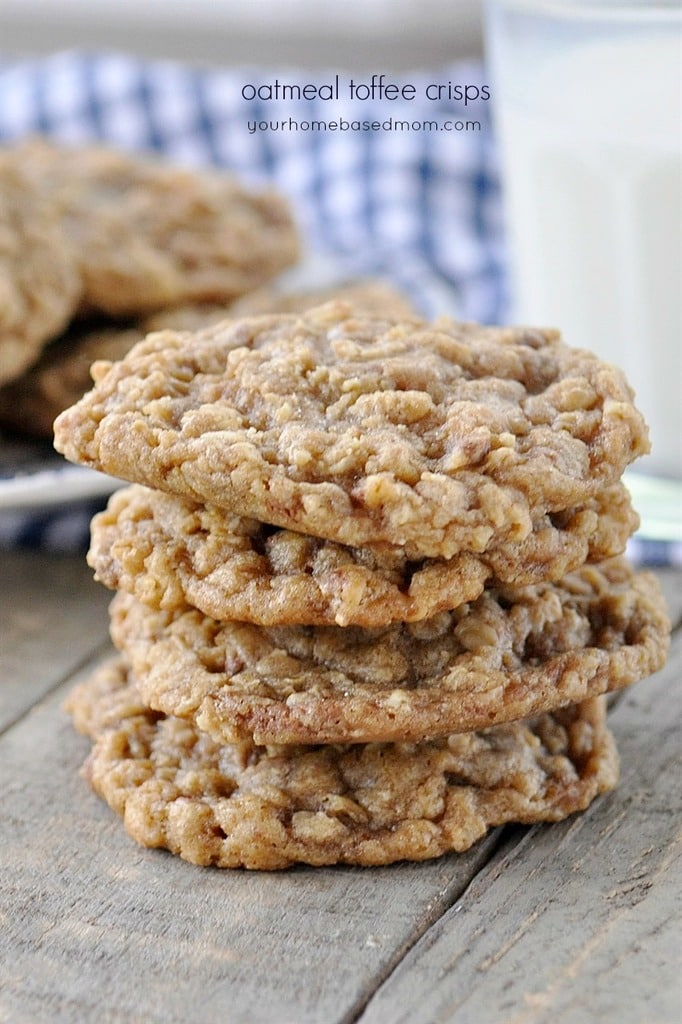 Oatmeal Toffee Cookie
Oatmeal Toffee Cookies fall into the category of the perfect cookie.  Crisp on the edges and chewy in the middle, at least that's the way I like them!
When my kids were all at home I was one of those cookie making moms.  They would often come home to a fresh baked batch of cookies.  Whenever they had friends over there was always a batch of cookies to snack on.  I told them I did it for them but really, I LOVE a fresh baked cookie and I enoyed it as much as they did. It was the perfect way to indulge my love of a fresh baked cookie.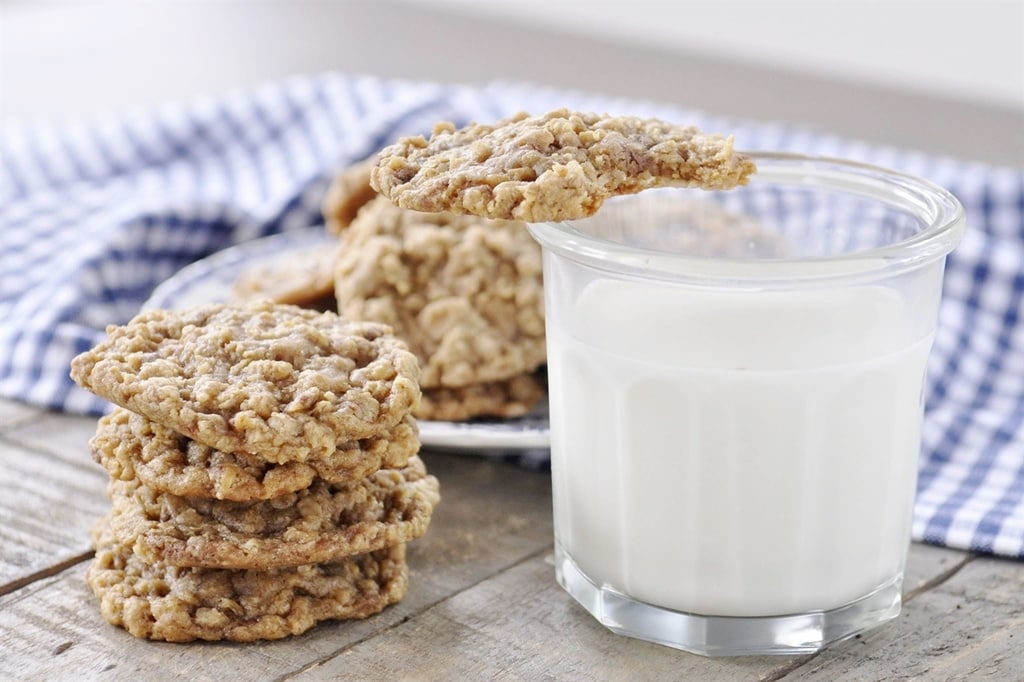 Of course there was always a glass of cold milk to go with it because, what's a fresh baked cookie without a glass of milk!  Now that my kids aren't at home anymore I don't have the excuse of baking for them and their friends anymore.  Good thing I have neighbor kids who I can use as an excuse.  But really, do you need an excuse to enjoy a warm, fresh baked cookie?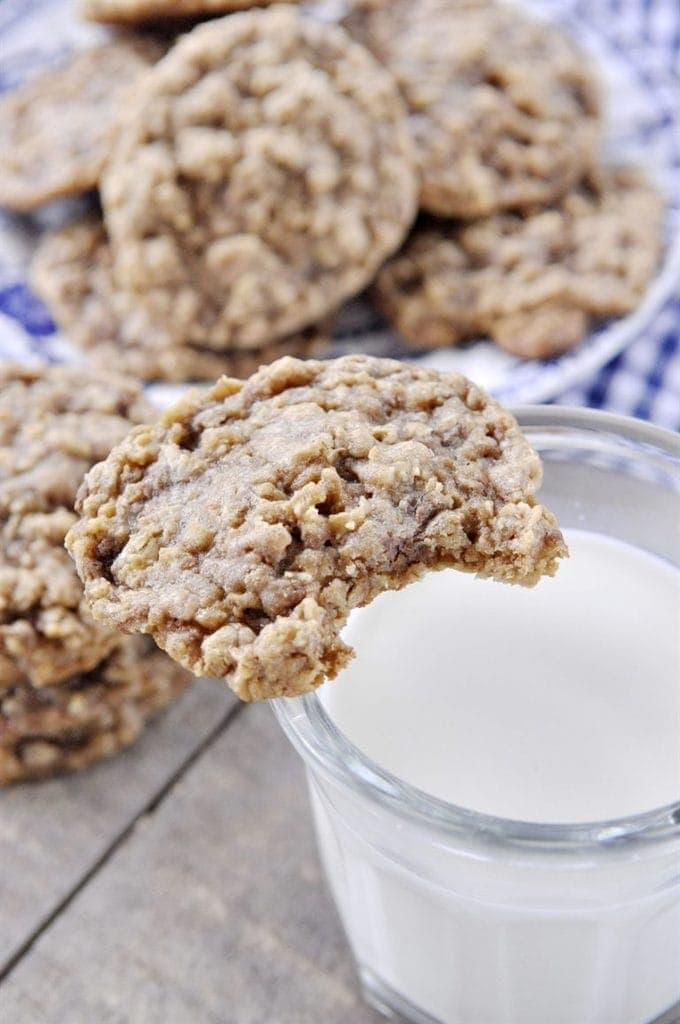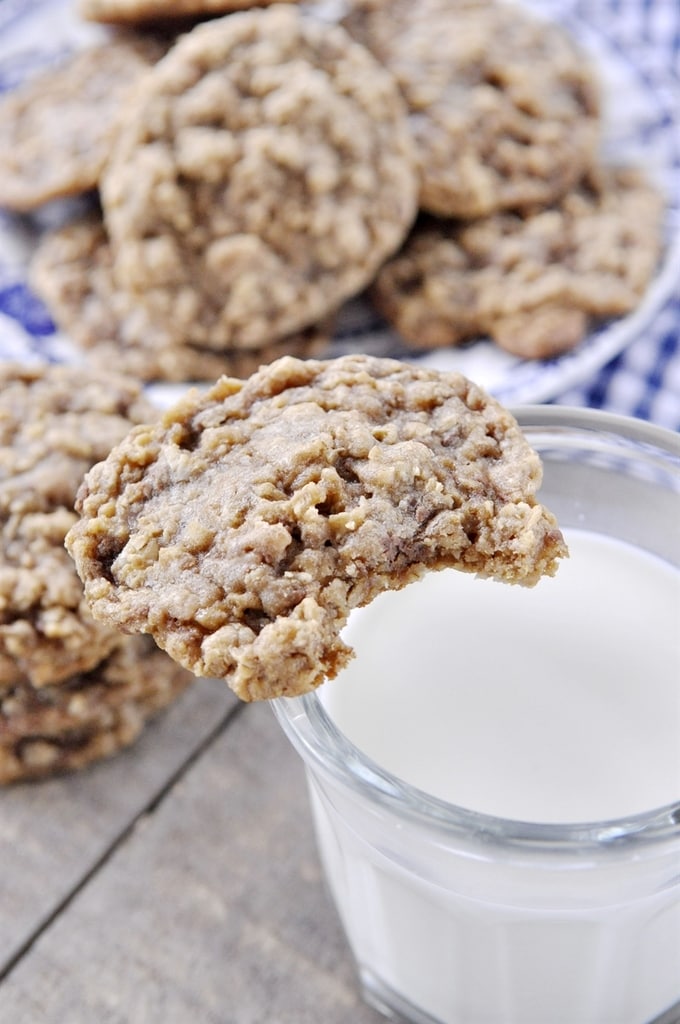 These cookies are perfect for the person who, heaven forbid, doesn't like too much chocolate in their cookies.  You can use the toffee bits that have a light chocolate coating or just use the toffee bits without chocolate.  I use both depending on what is in my pantry.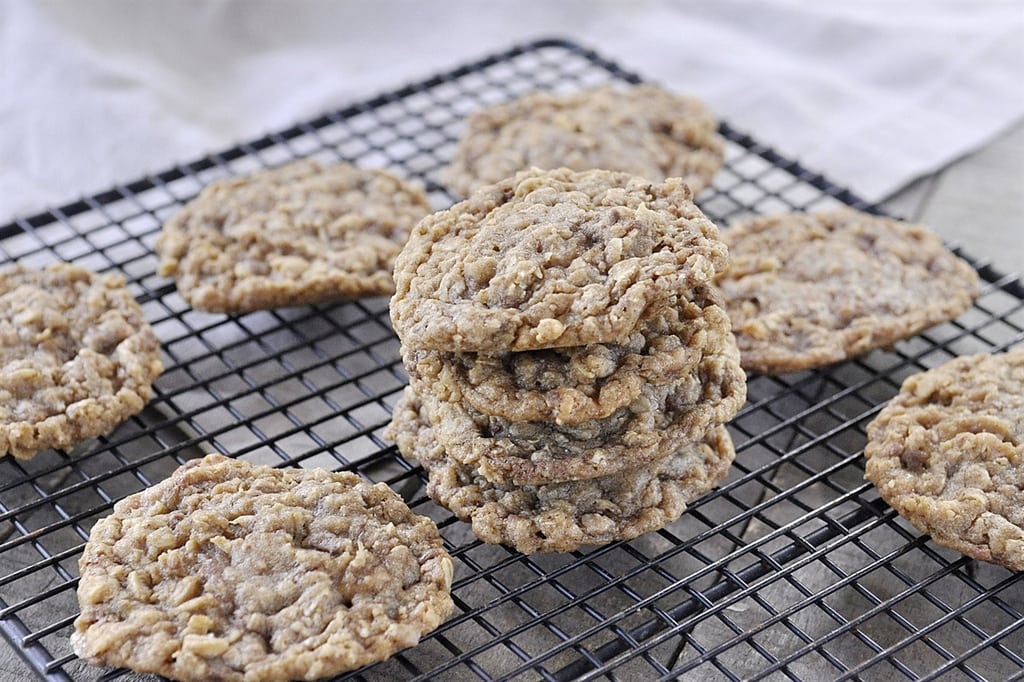 I originally posted this recipe way back in March of 2009.  My friend Meg of Megan Daines Photography was over and she followed me around the kitchen and took some lovely photos –  it was so much fun.  I almost felt famous!
Other delicious toffee recipes:
Chocolate chips and toffee bits are wonderful in cookies too!    I found the recipe for the Oatmeal Toffee Crisps over at Kara's Kitchen Creations
Enjoy this fun pictorial  as well as the cookies!
Ready for the oven….
Cookies anyone?
And then we had fun being food stylists!
and I love this picture Meg took of me in my window seat – wrinkles and all!!
Thanks Meg for the fun pictures!  Now here's the recipe!!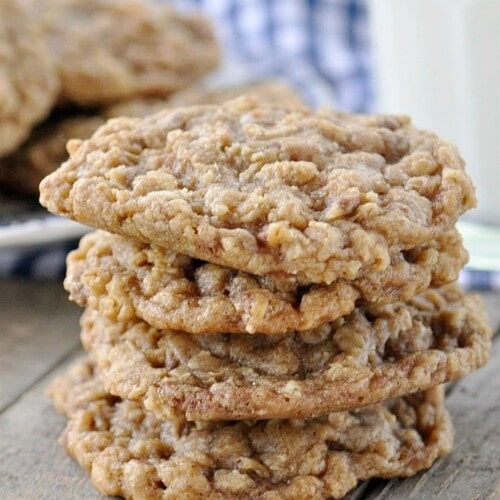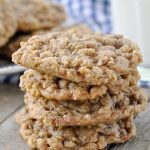 Print
Oatmeal Toffee Crisps
This Oatmeal Toffee Cookie Recipe makes a light, crisp cookie with the right amount of chewiness in the middle.
Ingredients
1

C

soft butter or margarine

2

C

brown sugar

2

eggs

2

tsp

vanilla

1 3/4

C

flour

1

tsp

baking soda

1/2

tsp

baking powder

1/2

tsp

salt

1

tsp

cinnamon

3

C

old fashioned oats

1

pkg Heath Bits O'Brickle Toffee Bits

about 1 1/2 cups I used Heath Milk Chocolate Toffee Bits

1

cup

coconut

optional I did not put the coconut in
Instructions
Cream butter and sugar, beat in eggs and vanilla.

Stir in dry ingredients, oats, toffee, and coconut.

Drop by rounded spoonfuls on greased cookie sheets.

Bake at 350 for about 8 minutes.

Let sit on cookie sheets for 3-4 minutes before removing to cooling racks.

Makes about 5 dozen
Notes:
Make sure you let the cookies sit on the cookie sheets for a few minutes or they will fall apart when you transfer them to the cooling rack.