Every graduate needs some cash and this money lei is a fun and creative way to give the gift of cash to a graduate.
Make sure to check out the easy video tutorial below.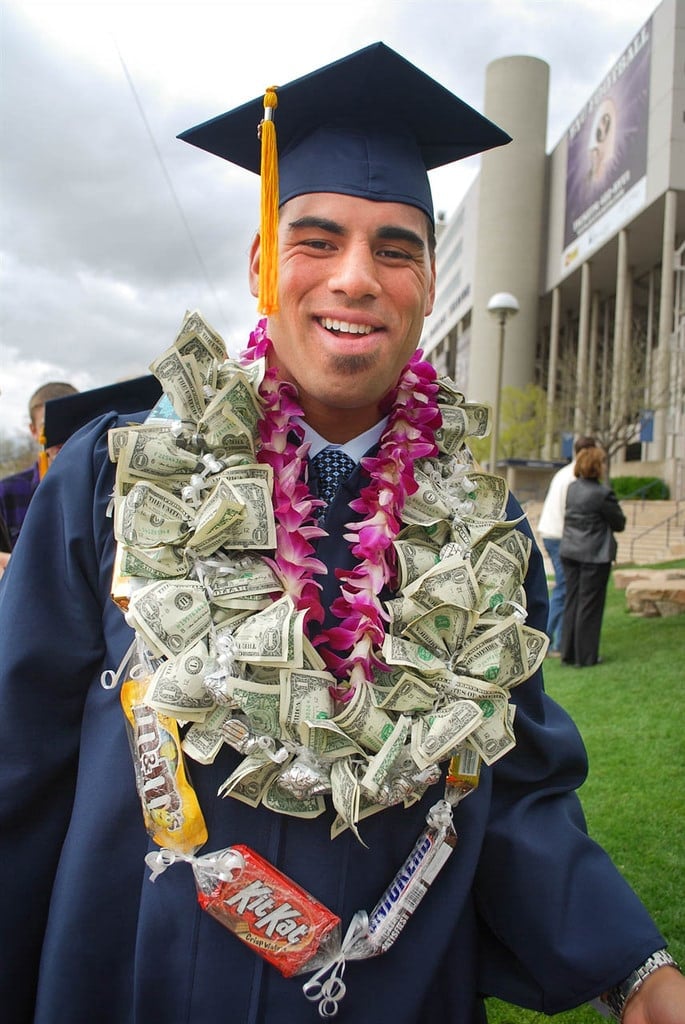 Graduation season is here.
Cash is a popular graduation gift idea. Everyone loves cash and every graduate can use a little cash. It's fun to be able to present that cash in a creative way.
When we attended my son's college graduation a few years ago I loved the idea of this money lei as a graduation gift. The graduate kindly posed for a few pictures for me with his lei.
Just use this easy money lei tutorial to create the graduate in your life a fun gift!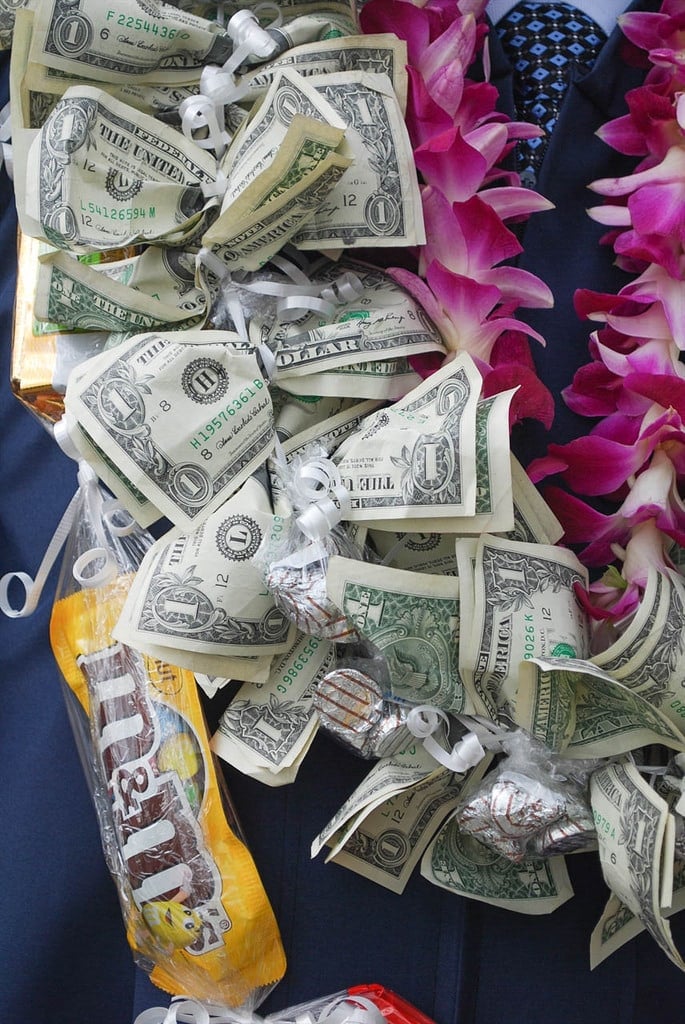 Why Give a Money Lei as a gift?
In Hawaiian culture a lei is a symbol of friendship, love and appreciation. They are traditionally given to welcome and honor someone at a ceremony.
A money lei is a fun way to celebrate your graduate and gift them some cash. It's definitely more fun than just putting the cash in an envelope!
Supplies Needed
Curling ribbon. I used white ribbon but you can use any ribbon color you want.
Cash. As much as you want to give.
Candy. Use whatever you want, M & M's, candy kisses, any small candy. You could also tie candy bars or bags of candy directly onto the lei with ribbon if you prefer. Candy is optional
Small plastic bags. Optional
How to Make a Money Lei
Cut a piece of ribbon the length you want the lei to be with a few extra inches for tying it together.
Gather your cash together into 2-3 bills. You can fold them together in accordion style or just gather together with the ribbon. Use a piece of ribbon to tie them together in the middle with a knot or with a bow. Cut the ribbon long enough so you can curl the end of the ribbon.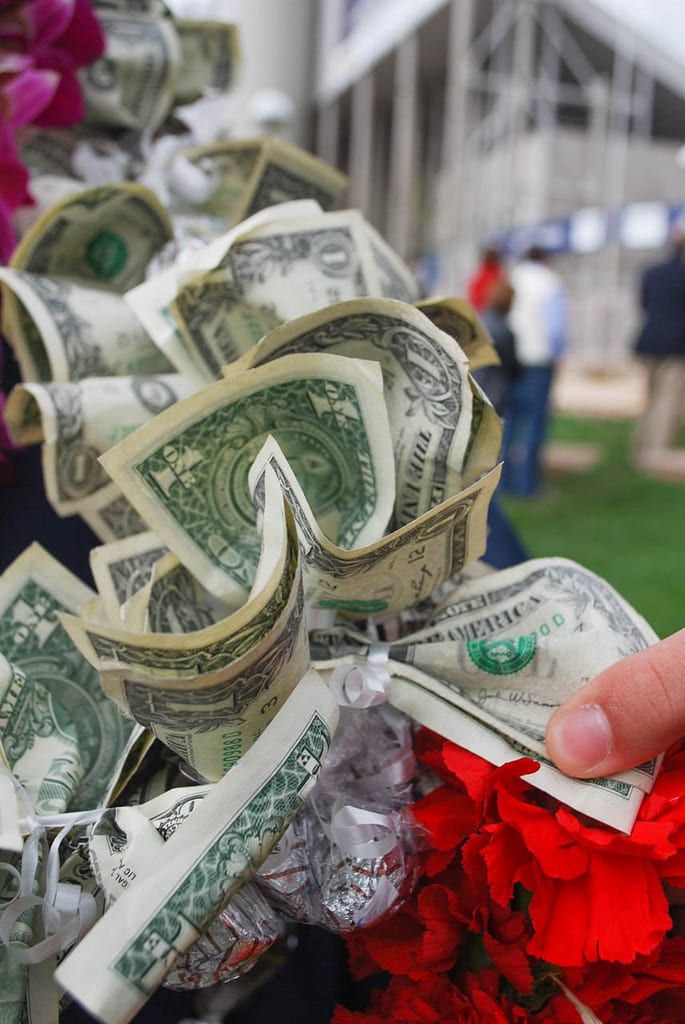 Place candy in small plastic bags and tie them closed with a piece of ribbon.
Use the same ribbon to attach them in between the cash clusters to the main lei.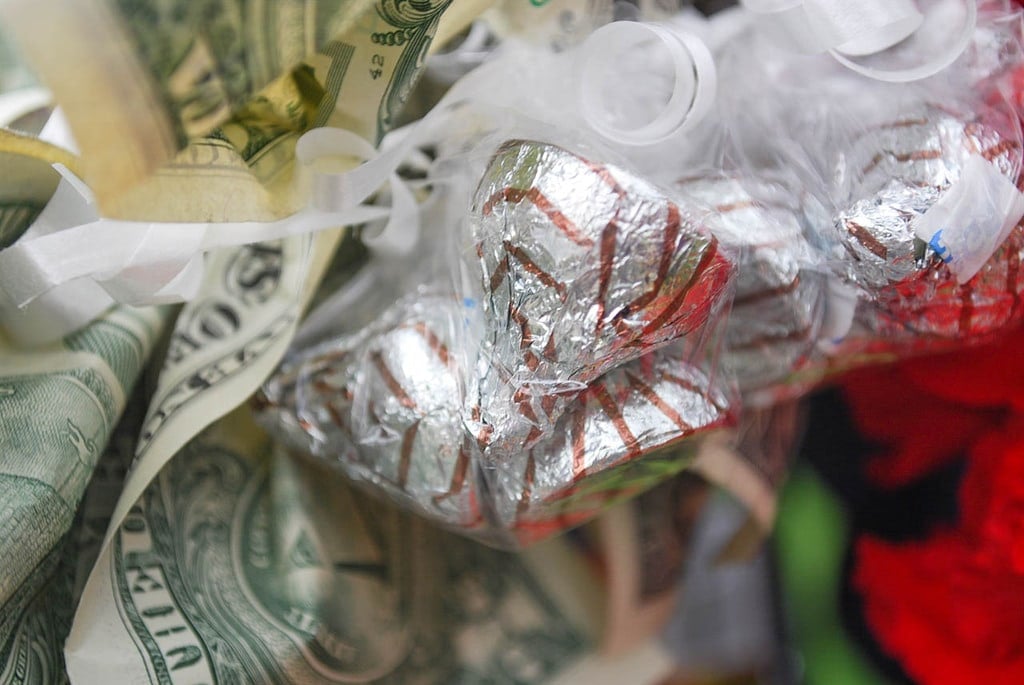 A money lei is perfect for any special occasions, a graduation, a birthday, a wedding or just because!
Frequently Asked Questions
How long should the lei be?
A lei is traditionally 48 inches long but you should definitely take the recipients height into consideration. If you are making it for a child it should be shorter.
How much money should be in a money lei necklace?
You can choose how much money you want. And You can use any denomination of bill that fits your budget! You can adjust the number of dollar bundles, the denominations of the bills and the amount of candy you use to create the look you want for the cost you have budgeted.
Check out more graduation gift ideas: