This lemon curd ice cream pie is divine. A nutty crust with a sweet and lemony filling topped with fluffy  meringue!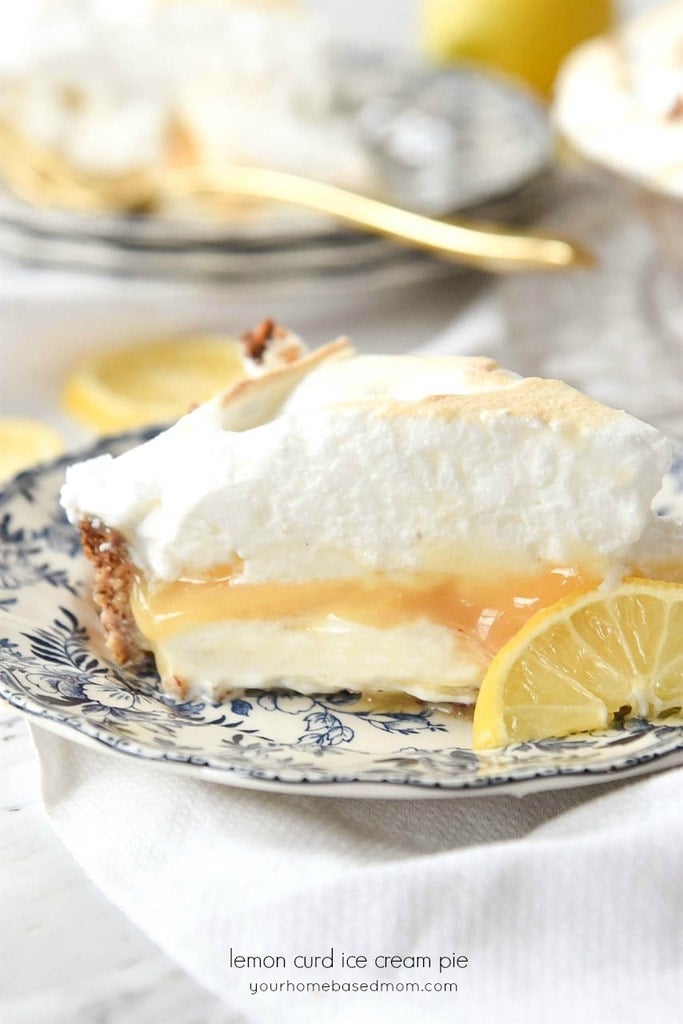 This lemon curd ice cream pie recipe is one I have had in my file for over a year.  It was given to me by my brother's mother-in-law, Marilyn.  When we were together for my nephew's birthday, Marilyn told me about this amazing dessert she had made for Easter dinner.  It was a lemon recipe so of course  I had to have it.  Marilyn graciously emailed me a copy of the recipe.  I printed it off and stuck it in my file.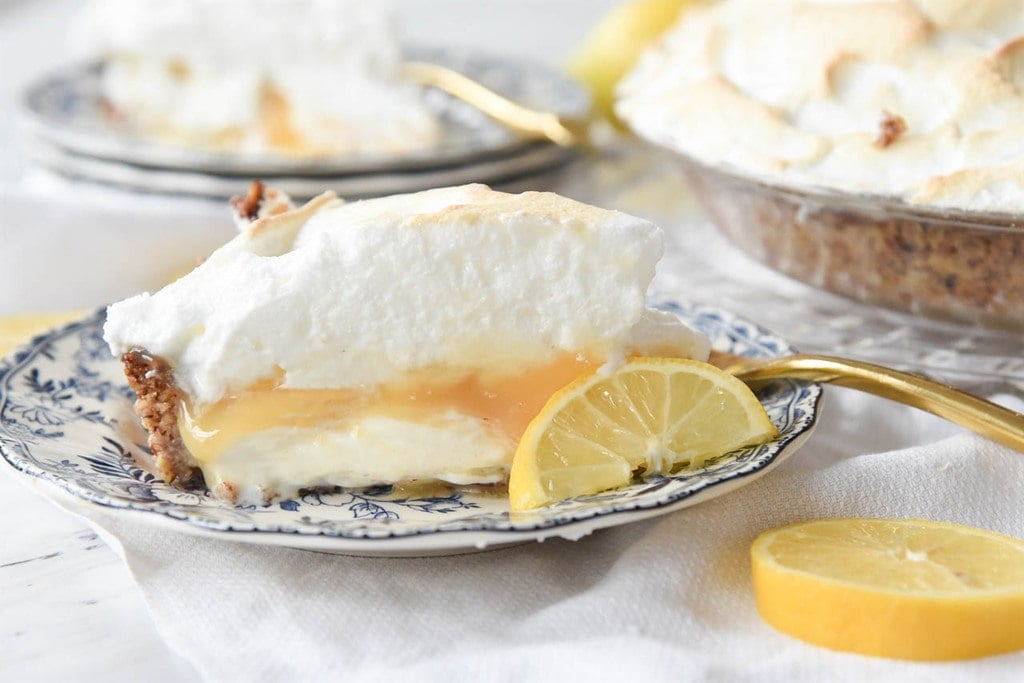 Last week I attended Marilyn's funeral.  In her honor, I pulled this recipe out.  The last time I saw Marilyn was a year ago when she shared this recipe with me so I thought it was only fitting to share it with you.
Marilyn was small in stature but large in spirit.  She was a successful entrepreneur who loved beautiful things, fashion, good food and most importantly her family.  We did not see Marilyn often but when we did she always made us feel welcome and took the time to talk with us and find out what was happening in our lives.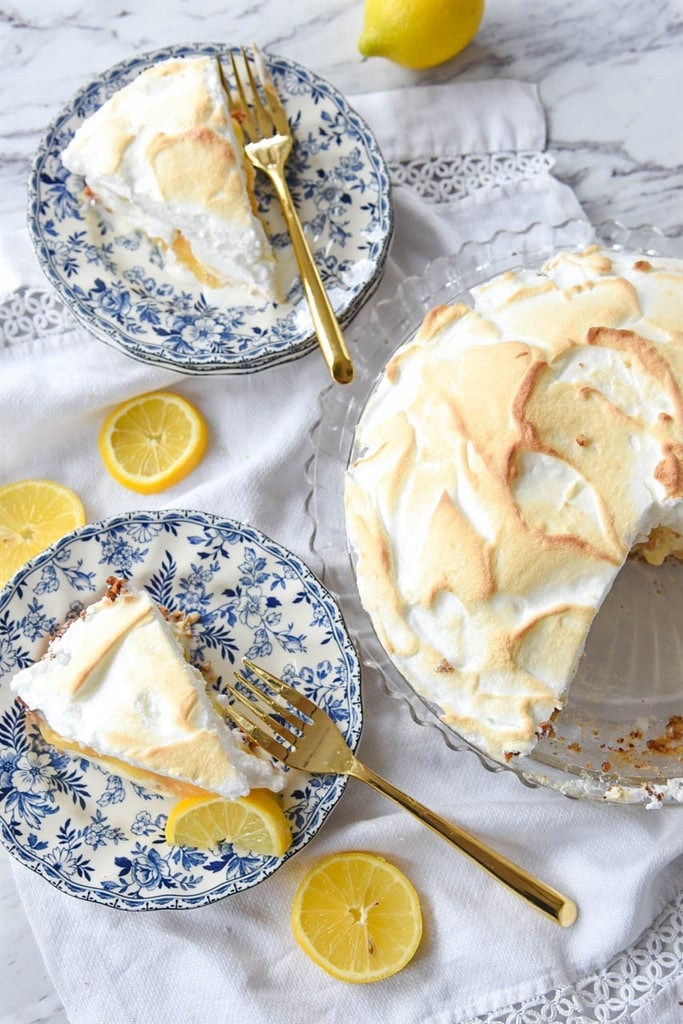 There are just so many good parts to this pie – the meringue topping, the lemon curd filling, the creamy ice cream layer and the nutty crust!
When I shared it with my neighbors, I received a text from my friend saying she had never seen her boys devour a pie so fast!  The recipe includes directions to make your own lemon curd which is delicious. But if you are in a hurry you can also use a jar of store bought lemon curd.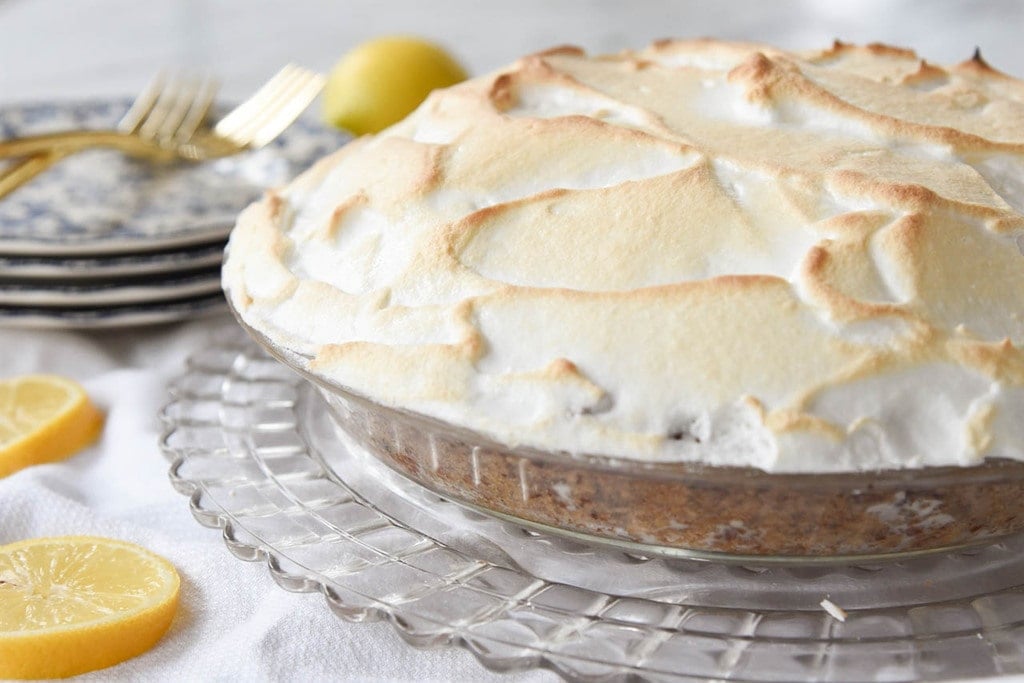 Marilyn's Lemon Curd Ice Cream Pie.
Marilyn's recipe was originally called Lemon Meringue Ice Cream Pie in Toasted Pecan Crust.  It is from Jamie's Restaurant in Pensacola, Florida.   Marilyn was right – it is amazing.  In fact as I tucked one of my girls in bed last night she commented, half asleep, "That dessert you made tonight was really good."  Later as I climbed in bed with sweet hubby, he too commented, "I really liked that lemon dessert you made tonight."  So it is a keeper, but from now on it will be known, at least at our house, as Marilyn's Lemon Curd Ice Cream Pie.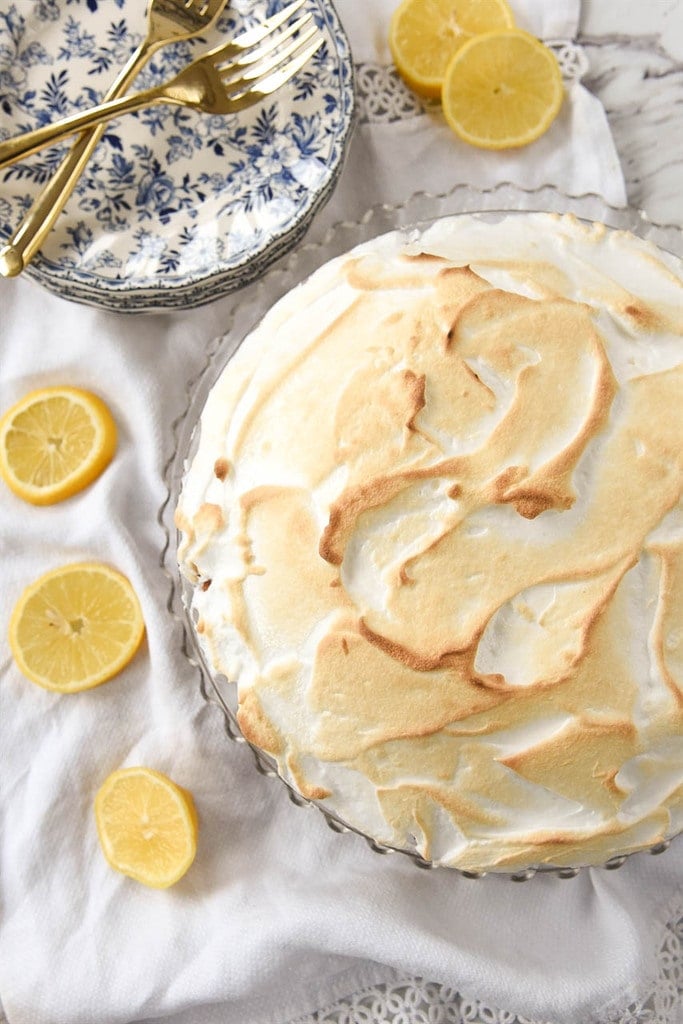 Be sure and use quality ice cream.  I used my ice cream of choice, Haggen Dazs.  The pie is made in stages and needs freezing between each stage so make sure and allow yourself enough time.
Some of my other favorite lemon desserts include:
My favorite kitchen items I used to make these LEMON CURD ICE CREAM PIE:
9" GLASS PIE PLATE – perfect size for any pie!
LEMON JUICE SQUEEZER – this is one of my most used kitchen tools.  Nothing beats fresh squeezed lemon juice and this guy makes it so easy.
MICROPLANE ZESTER– this is the perfect tool for zesting lemons or limes.  I use mine on a daily and weekly basis.
Lemon Curd Ice Cream Pie Recipe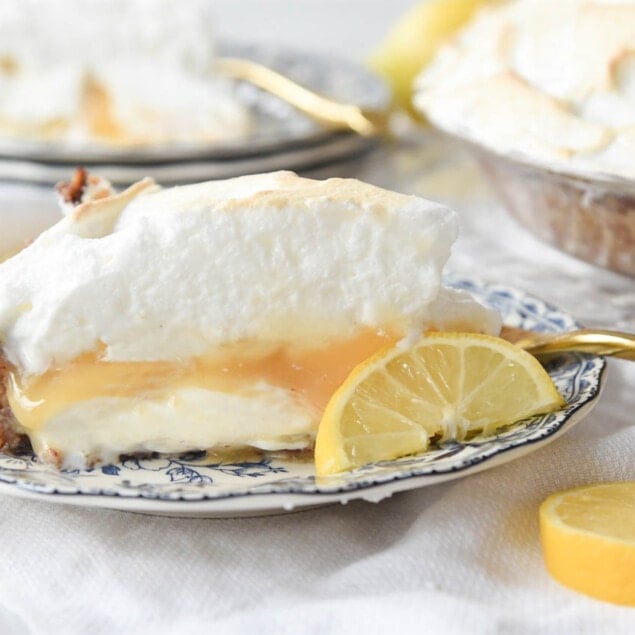 Lemon Curd Ice Cream Pie
This lemon curd ice cream pie is divine. A nutty crust with a sweet and lemony filling!
Ingredients
2 large eggs
2 large egg yolks
6 Tablespoons 3/4 stick unsalted butter
1 cup sugar
6 Tablespoons fresh lemon juice
2 tsp. finely grated lemon peel
pinch of salt
or 1 jar of store bought lemon curd
Crust
1 1/2 cups finely chopped pecans
1/4 cup sugar
1/4 cup 1/2 stick butter, melted
3 cups vanilla ice cream slightly softened, divided
Meringue
4 large egg whites room temperature
pinch of cream of tartar
6 Tablespoons sugar
Instructions
For Lemon curd:
Whisk eggs and egg yolks in medium bowl

Melt butter in medium metal bowl set over large saucepan of simmering water

Whisk in sugar, lemon juice, lemon peel, and salt; gradually whisk in egg mixture

Whisk until thick and thermometer inserted into curd registers 178-180 degrees; about 8 minutes Transfer to small bowl

Press plastic wrap on top of curd, chill 4 hours (Do Ahead: Can be made 2 days ahead. Keep chilled)
For Crust:
Preheat oven to 400 degrees

Mix pecans, sugar, and butter in medium bowl until moistened

Press pecan mixture onto bottom and up sides of 9 inch diameter glass pie dish (mixture will be crumbly).

Bake until crust is lightly toasted, about 12 minutes (crust will sip down sides of dish as it cooks).

Use back of spoon to press crust back into place

Cool on crust on rack

Freeze crust 30 minutes

Dollop 1 1/2 cups ice cream over crust; spread into even layer

Spread lemon curd over ice cream; freeze until firm, about 2 hours

Dollop 1 1/2 cups softened ice cream over lemon curd, spread into even layer

Cover and freeze until firm, about 2 hours
For Meringue:
Using electric mixer, beat egg whites in medium bowl until frothy

Beat in cream of tartar

With mixture running gradually add sugar

Beat until stiff peaks form

Spoon meringue over pie, spreading to seal at edges and swirling decoratively

You can freeze it again at this point if you want or you can cook the meringue and serve

To toast the meringue you can either use a kitchen butane torch, toasting meringue until golden in spots or place pie in a preheated 500 degree oven until meringue is golden in spots, watching to prevent burning, about 5 minutes

Cut pie into wedges, serve immediately