Steak Bites is a delicious and easy way to prepare a delicious steak meal.  This three ingredient dish is the perfect thing to feed all the men in your life!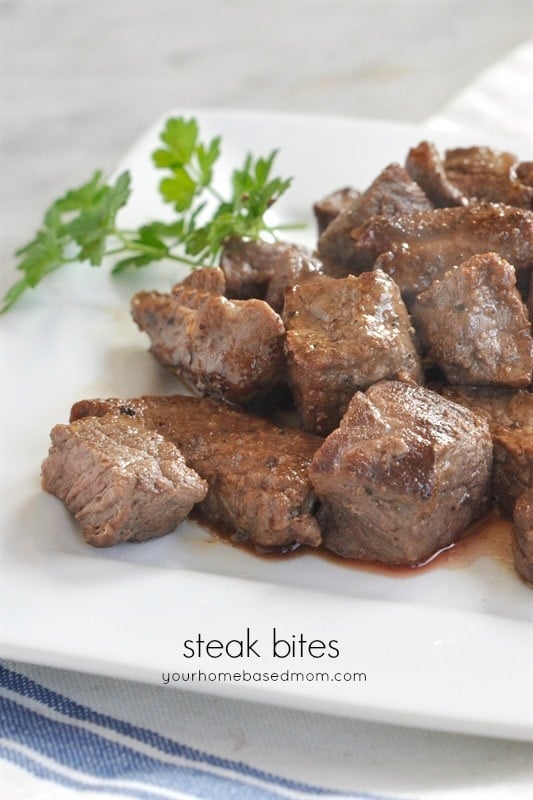 If you love steak, but want a quick and easy way to prepare it indoors, these steak bites are for you!  I have made these twice in the last few weeks because they are so easy and delicious.  If you are eating Paleo or Whole30 these are a great recipe choice!
I made this dish the first time for my husband right before he left for a week long business trip.  I wanted to fix him a hearty steak and potato dinner before he left.  For my Idaho boy there is nothing he likes better!  But steak bites are great when you have lighter eaters at your dinner table too.   No need to deal with a large piece of meat.  Just take as many bites as you like.  No waste!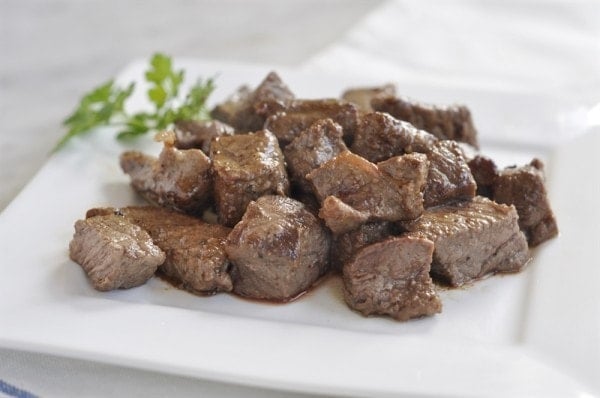 The Steak Bites were so yummy and so incredibly quick and easy to prepare!  I started with a nice piece of Sirloin Steak and cut it up into large bite size pieces.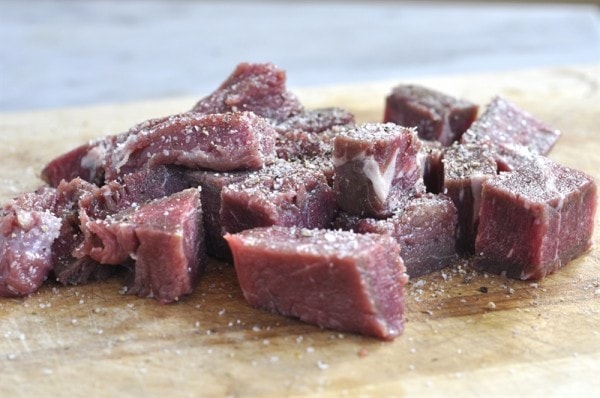 The trick is to cook them up in a cast iron frying pan with some butter.  Make sure your pan is nice and hot.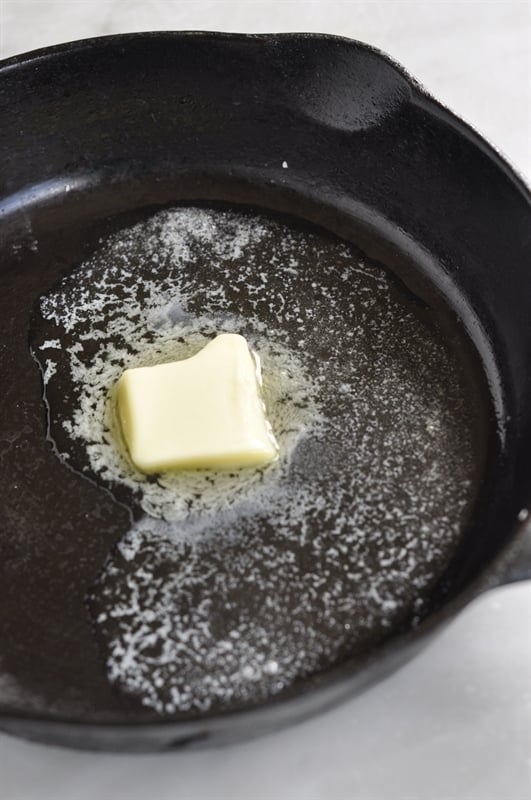 Just cook to your desired doneness.  I like my meat medium well.  And the small pieces make the cooking time quick!  So make sure to watch your meat.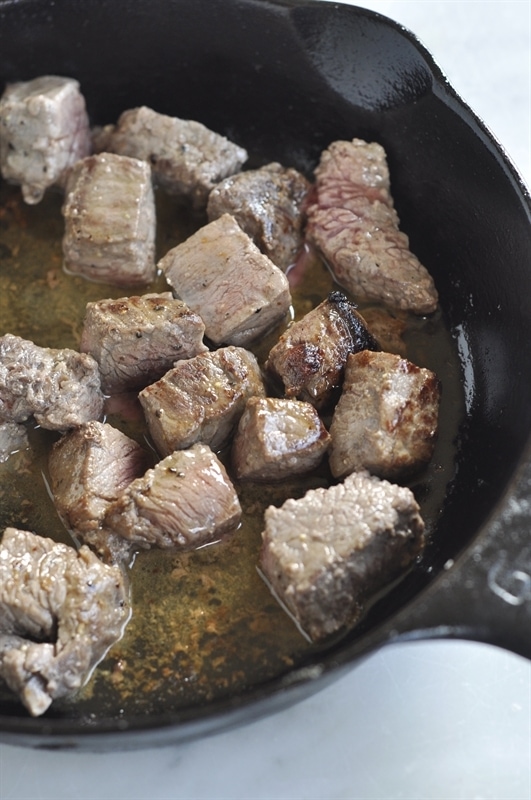 I served them with some roasted sweet potatoes and a spinach salad.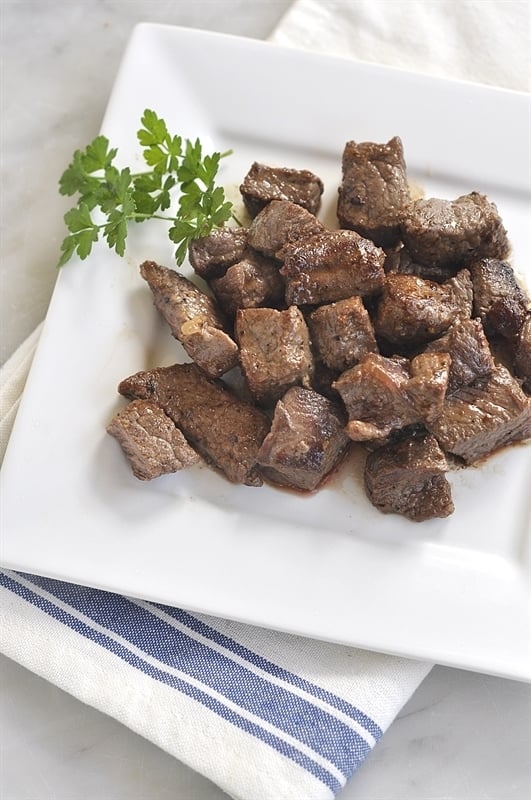 I use my cast iron pan for so many things it really is a must have in the kitchen for me.  In fact I have 3 of them!!
Check out more of my favorite beef dishes:
Steak Bites Recipe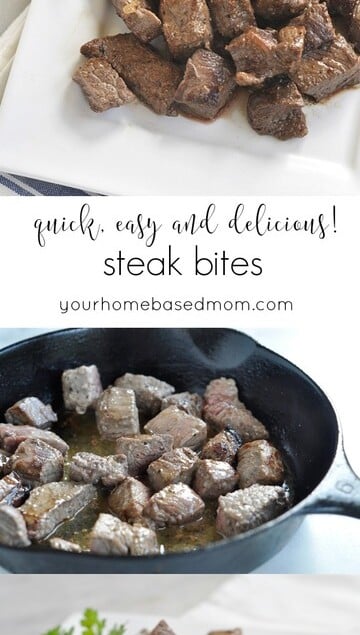 Steak Bites
Juicy and flavorful steak cooked indoors in half of the time with this steak bite recipe.
Ingredients
1 lb sirloin steak
Kosher salt and freshly ground black pepper
2 tbsp butter
Instructions
Trim off the large obvious pieces of fat that run along the side of the meat

Cut strips less than 1 inch wide

Rotate the meat and cut into small bite-sized pieces

If you see anymore large chunks of fat, gristle or long silvery membranes cut them off

Sprinkle generously with kosher salt and freshly ground black pepper

Toss the meat around a bit to thoroughly coat with the seasonings

Turn on your ventilation fan overhead

Heat the skillet over medium high to high heat

As the pan heats, add about 2 tablespoons butter to the skillet

The point here is to allow the butter to melt, then brown, before you add the meat

Place some of the meat in the pan in a single layer

It should sizzle loudly when it hits the pan - if it doesn't, the pan isn't hot enough

Don't stir or disrupt the meat for 30 to 45 seconds

You want it to sizzle and brown on one side

Now scoop as many steak bites as you can with your spatula and flip them over

Repeat until all the meat is turned

Cook for an additional 30 seconds or so - just long enough to sear the outside of the meat but NOT cook the inside

(LA Note: I like my meat medium to medium-well so I cooked mine longer.)

Remove the meat to a clean plate

Add a little more butter to the pan and repeat the cooking process with the next batch just as before

Lastly when all the meat is nicely browned and removed to the plate pour all that browned/blackened butter all over the meat
Nutrition Facts:
Calories: 203kcal (10%) Protein: 24g (48%) Fat: 11g (17%) Saturated Fat: 5g (31%) Cholesterol: 84mg (28%) Sodium: 115mg (5%) Potassium: 387mg (11%) Vitamin A: 175IU (4%) Calcium: 32mg (3%) Iron: 1.9mg (11%)
* Disclaimer: All nutrition information are estimates only. Read full disclosure here.