Today is the end of my awesome guest posters who have all been so amazing and helpful during this crazy Wedding Carnival time! The Wedding Carnival was a huge success and everything I hoped it would be. I can't wait to share it with you but it is going to have to wait a few more days. Thirty six hours after the carnival I jumped in the car and drove 13 hours with my girls to deliver them back to college (so sad.) I arrive back home today and will begin to dig my house out from all the Carnival mess! My Carnival photographer also left town the day after the event so I am anxiously awaiting her return so I can share photos with you. I wanted to totally enjoy the evening so I didn't take any photos!
I am excited to welcome Mique from Thirty Handmade Days to the blog today. I am usually the one guest posting on her blog, which I do once a month, so I was thrilled when she agreed to guest post here!! She's got a yummy, fruity summer recipe for Simple Mango Crumble for you. Enjoy and Wedding Carnival coming soon!!
Hi I'm Mique from Thirty Handmade Days and am so happy to be here today! I'm lucky enough to have Leigh Anne contribute her awesome recipes once a month at 30days so this is a fun role reversal.
My husband lived in Brazil for a couple of years and fell in love with mangos. They are his all time favorite. But I have to admit, I really didn't eat them very much until I met him. And even then, I still don't add them to our meals as much as he would like.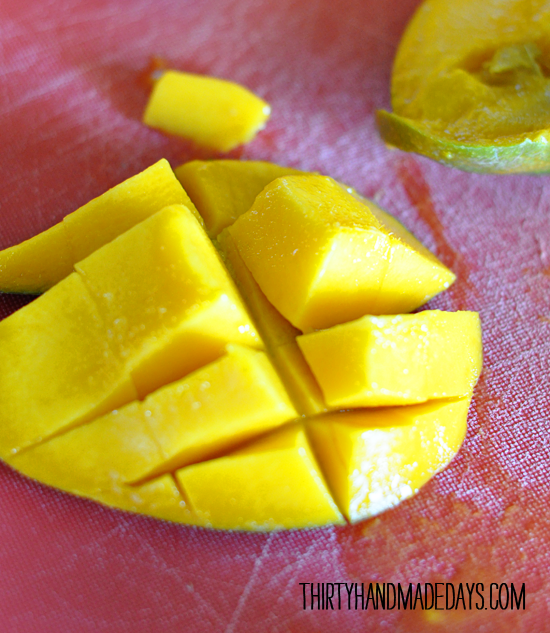 A few weeks ago I was challenged to use mangos and eat healthier at our home. We made some yummy mango banana smoothies. And one of the recipes I came up with was this one for Mango Crumble. As much as Josh loves mangos, I love crumbles. Peach crumble, apple crumble- you name it, if it has a crispy topping I'm in. So this is my attempt at adding mangos into the mix.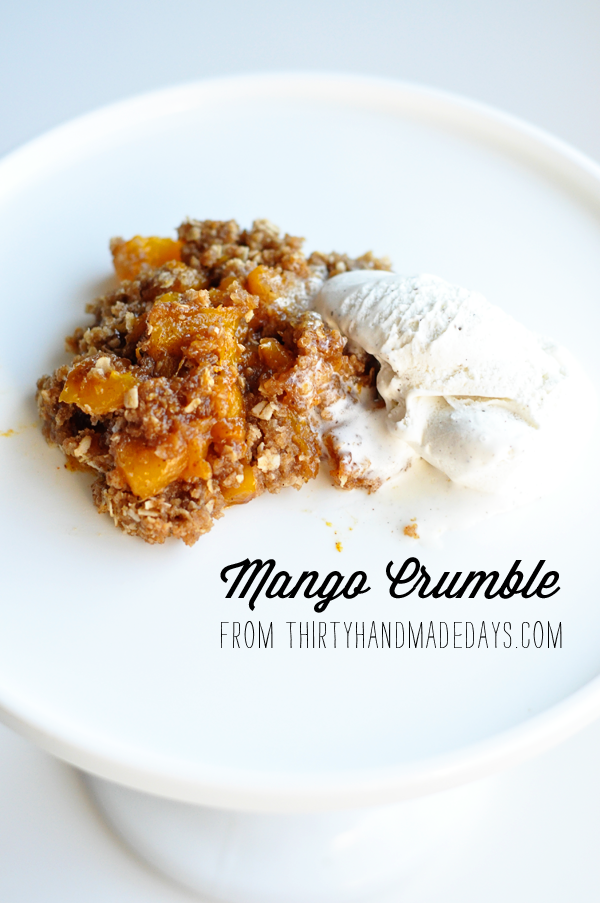 Our whole family loved it and I hope you do too!
Enjoy!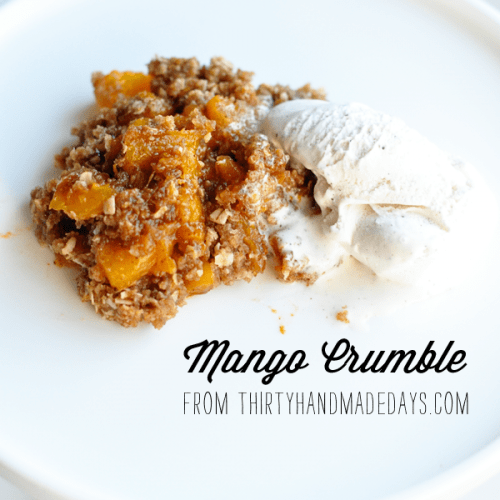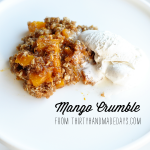 Print
Simple Mango Crumble
Ingredients
3

large sweet mangos

sliced

1/2

c

brown sugar

pinch

of nutmeg

1

tsp

cinnamon

Topping

1/2

c.

butter

1

c.

brown sugar

3/4

c.

flour

3/4

c.

quick oatmeal

1/2

tsp.

cinnamon

1/4

tsp.

salt
Instructions
Preheat the oven to 350.

Place the sliced mango in a saucepan with brown sugar, cinnamon, and nutmeg.

Cook on low- medium low, stirring often for 5 minutes.

For the crumble:

Put the flour into a large mixing bowl and rub the butter in with your fingertips. You want the ingredients to start to hold together,but will still break apart.

Add sugar, cinnamon, salt then the oats and mix.

Spoon the mango mixture into a small buttered ovenproof dish and sprinkle over the crumble topping.

Bake for 30-40 minutes until the topping is golden brown. Serve with vanilla ice cream.

Variations

If you have no fresh mango, use a tin of mangoes, apricots or peaches. Drain before use.

Spread the crumbs on prepared fruit.

Bake at 350 for 35 to 40 minutes.

If the topping begin to brown too much during baking, cover loosely with a piece of foil. Remove the foil the last few minutes of baking so the crumbs will crisp.

Recipe from Thirty Handmade Days
Get my Weekly Menu Plan for FREE!
Receive my FREE "What's for Dinner?" Meal Planning Course, a copy of my FREE ebook that includes my most popular recipes and my FREE weekly Meal Plan.