Lime Sherbet Freeze is such a fun thing to make for St. Patrick's Day. It is a nice alternative to all the green mint treats out there right now!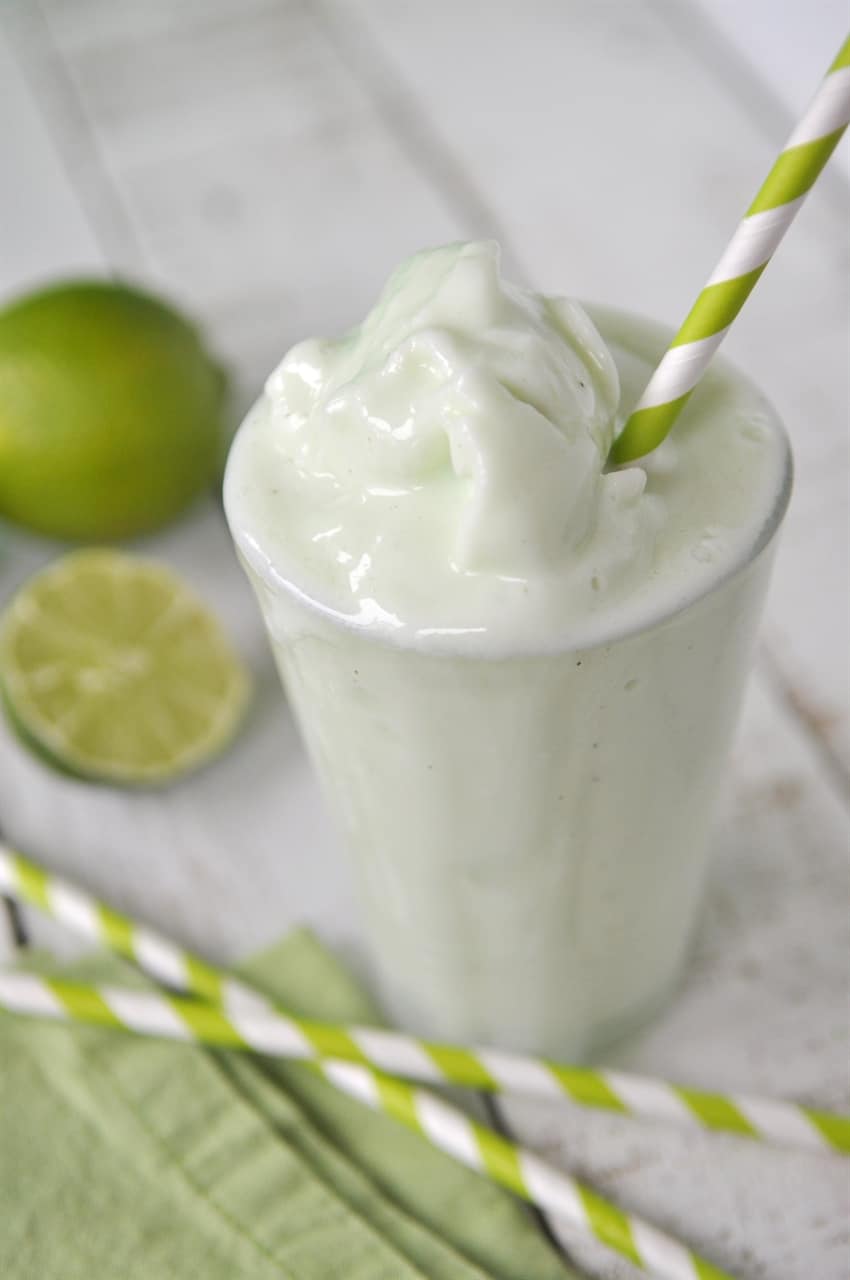 We are big ice cream fans at our house, always have been. When I was young one of my favorite treats to get at the local drive, The Spot was a "freeze." I loved pulling up at the drive-in, having the server come out of her little booth and hook that tray onto our car window. They made their own root beer so I usually got a root beer freeze. Their hamburgers were amazing too and every trip I have made back to my hometown since then there is always a stop at The Spot!
Two of my favorite flavors of freezes are orange sherbet freeze and a root beer freeze. A freeze is a combination of sherbet, ice cream and soda. It's blended all together like a milkshake but has an ice- ier texture and taste than a milkshake because it uses soda (usually a lemon lime soda or rootbeer) instead of milk.
Since we are nearing St. Patrick's Day I decided to make a lime sherbet freeze – green is the color of the season! But this recipe could be made with any flavor of sherbet. For a root beer freeze check out my recipe and secret ingredient here. It was so yummy and may just be my new favorite flavor!! I give away a lot of the treats I make on the blog because if I didn't I'd be the size of a house. I didn't give away any of the lime sherbet freeze!.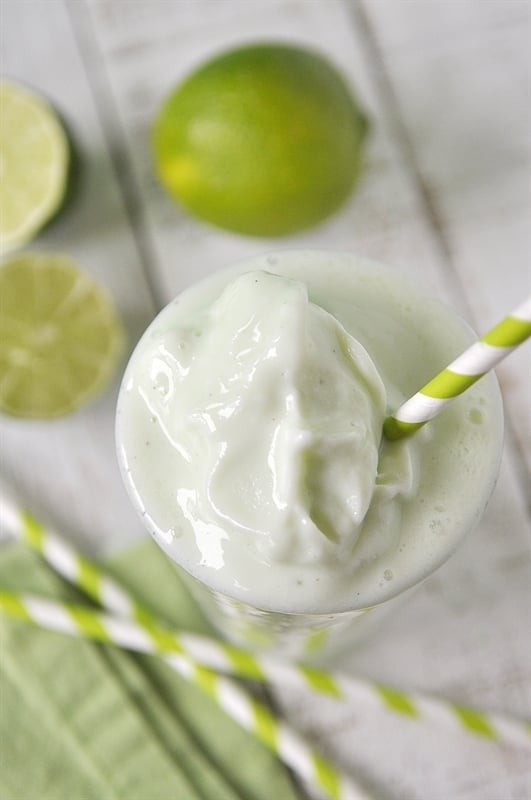 Lime Sherbet can be a bit tricker to find but Kroger stores have lime sherbet so check our local Kroger grocery store. While at your local Kroger pick up your lemon lime soda too and you will be ready to go!
I used a 4 to 1 ratio. 4 scoops of sherbet to 1 scoop of ice cream to 1/2 C liquid. This made two small lime sherbet freezes. So depending on how many people you are going to feed will depend on how much you need. The ice cream gives it bit of creaminess too.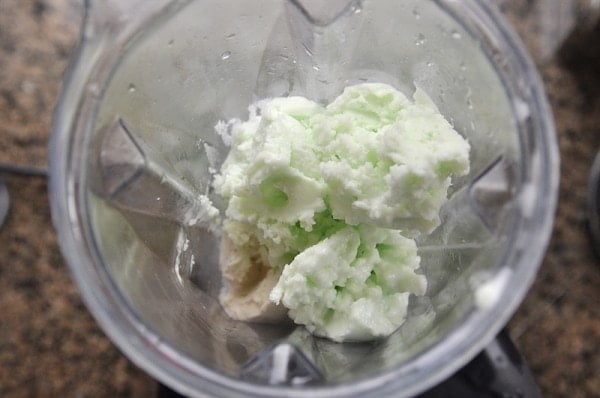 Then just blend it all up – you want it nice and thick. A freeze needs to be thick and icy! Check out my favorite blender here.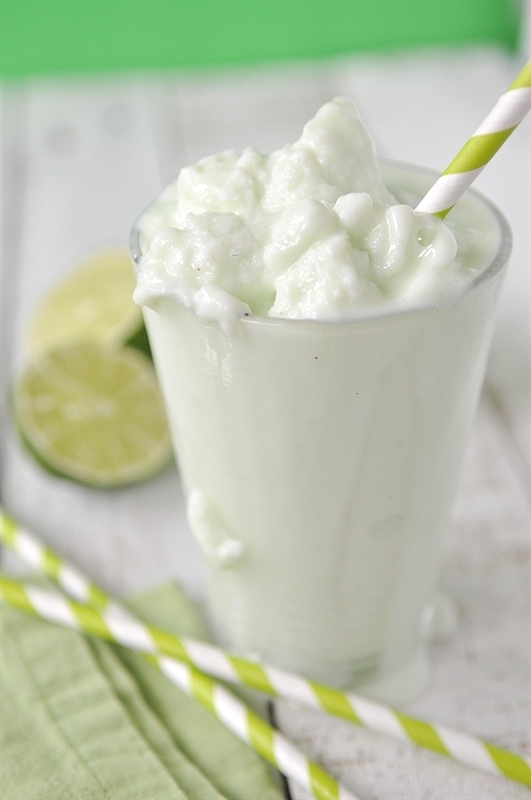 Of course the next step is to grab a spoon and dig in.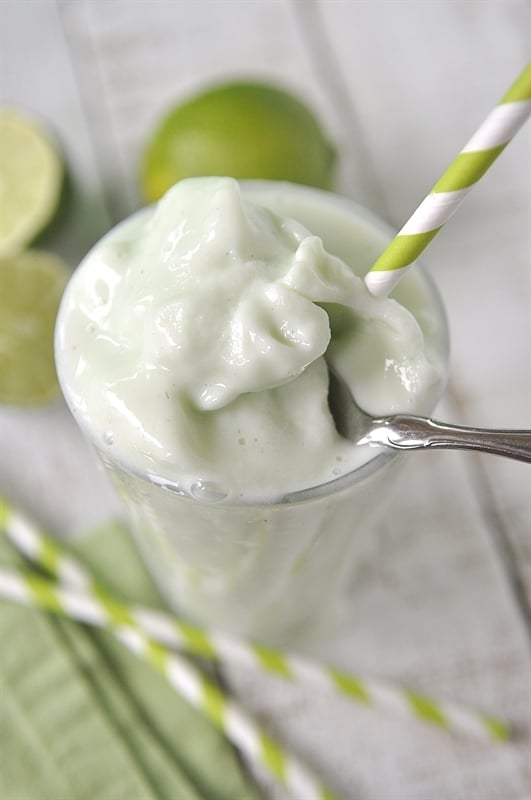 Nothing beats a cold, icy lime sherbet freeze on a hot summer day or on any day! Even a gloomy, rainy day like we're having today in Portland! It would make a perfect dessert for your St. Patrick's day feast too.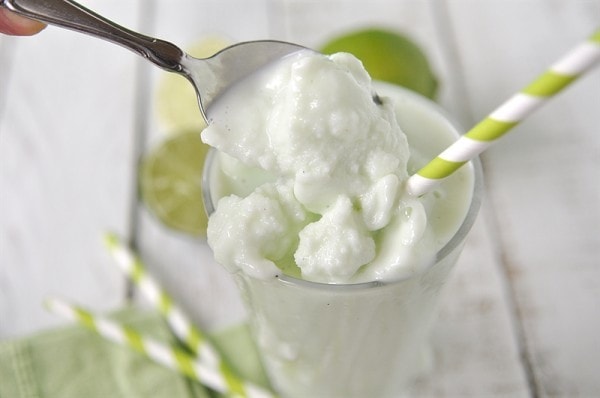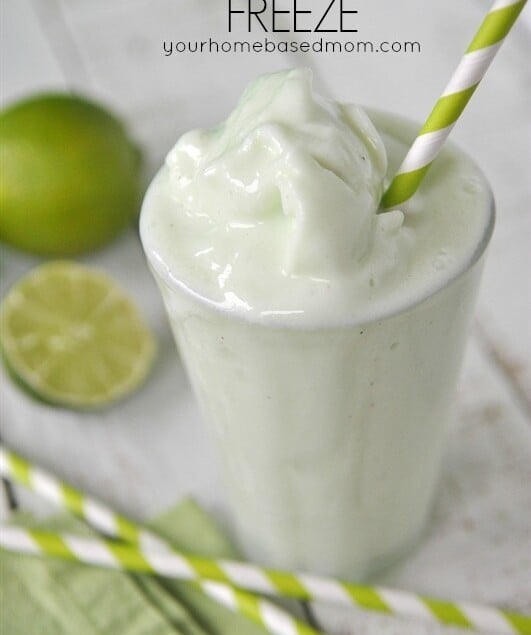 Lime Sherbet Freeze
Lime sherbet ice cream blended with lime soda.
Ingredients
1 C lime sherbet 4 scoops
1/4 c vanilla ice cream 1 scoop
1/2 C lemon lime soda
Instructions
Combine all ingredients in a blender and blend until smooth.
Nutrition Facts:
Calories: 165kcal (8%) Carbohydrates: 33g (11%) Protein: 1g (2%) Fat: 3g (5%) Saturated Fat: 2g (13%) Polyunsaturated Fat: 1g Monounsaturated Fat: 1g Cholesterol: 8mg (3%) Sodium: 53mg (2%) Potassium: 104mg (3%) Fiber: 1g (4%) Sugar: 28g (31%) Vitamin A: 104IU (2%) Vitamin C: 2mg (2%) Calcium: 62mg (6%) Iron: 1mg (6%)
* Disclaimer: All nutrition information are estimates only. Read full disclosure here.
Originally posted March 2014