Lemon Blueberry Scones are perfect for breakfast, brunch or tea. time.  The flavor combo has Spring written all over it.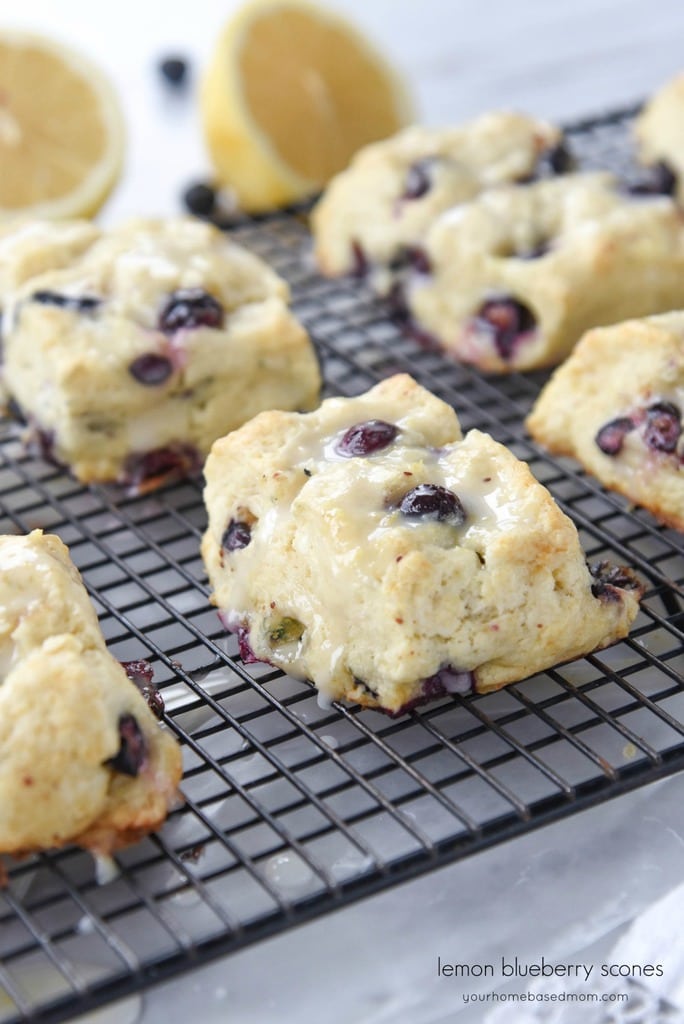 Do you agree with me that there are flavor seasons? The flavor of fall is cinnamon and pumpkin spice and then we move into peppermint season in December. I'm not sure January has a flavor, perhaps it is the lack of flavor since everyone seems to go on a diet and then we move into chocolate season for Valentines Day. Then typically lemon season begins and continues through Easter.
Well, I've decided to officially declare lemon season open!! I know we haven't had chocolate season yet but I'll take lemon season over chocolate season any day. Anyone else ready for lemon season?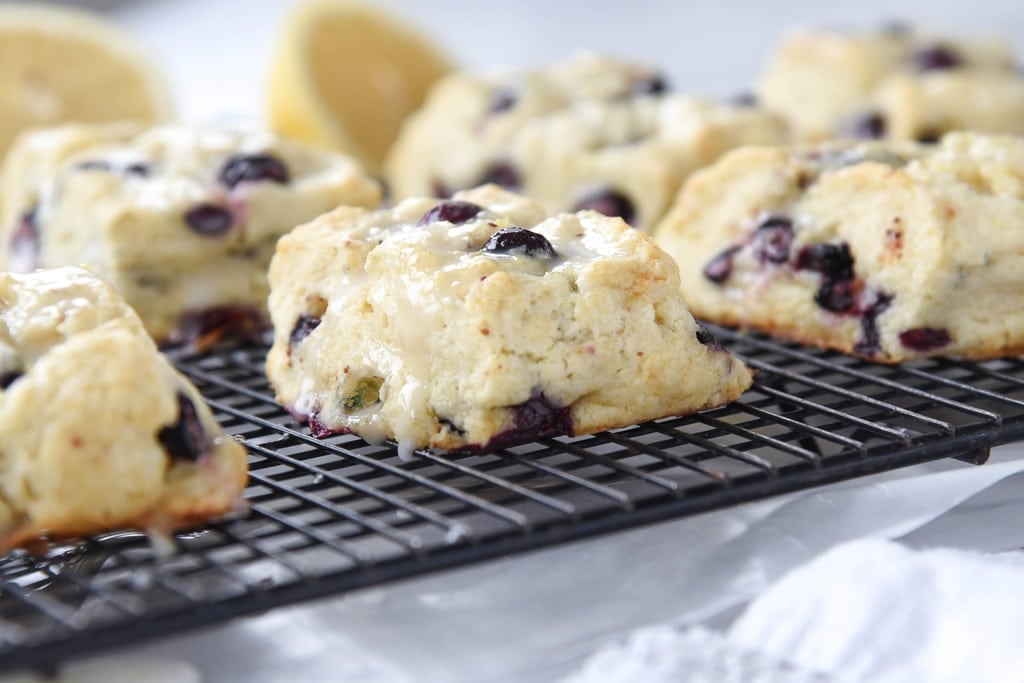 I couldn't think of a better way to kick off lemon season than with one of my favorite things to pair with lemons – blueberries. These lemon blueberry scones are the perfect flavor combo.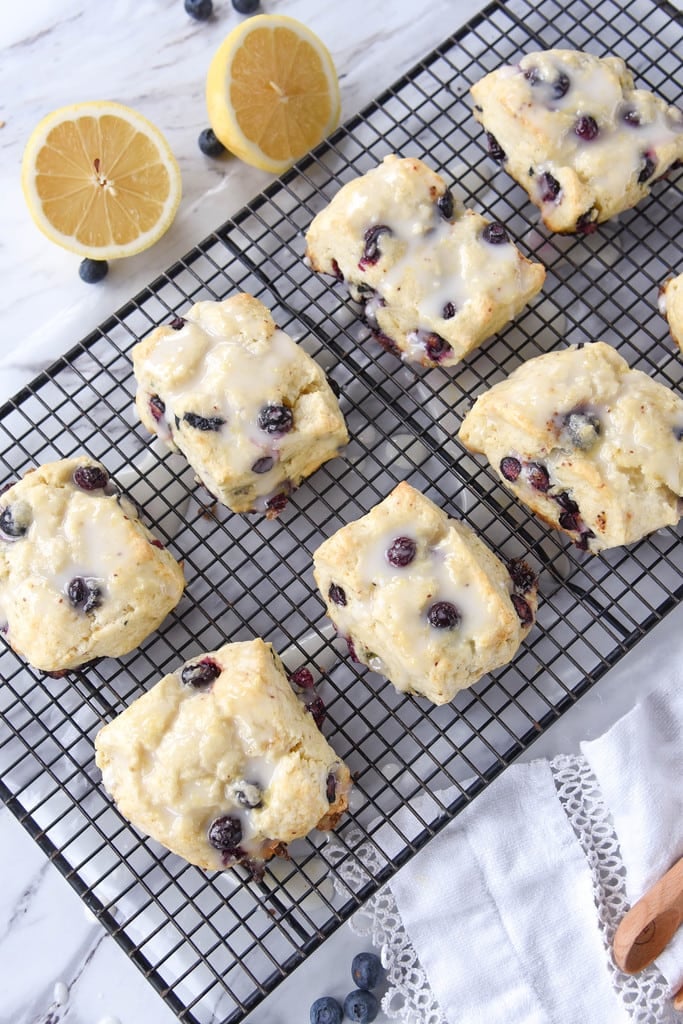 I love a good scone, it must be the English blood in me. They are the perfect breakfast, brunch or tea time treat or really just about any time treat. This time I cut my scones square, sometimes I cut them into triangles. I guess I was just in a square mood. Whatever shape you prefer will work. The trick with scones though is to just be sure and handle the dough as little as possible. Mix it by hand and only until it comes together. Don't over mix.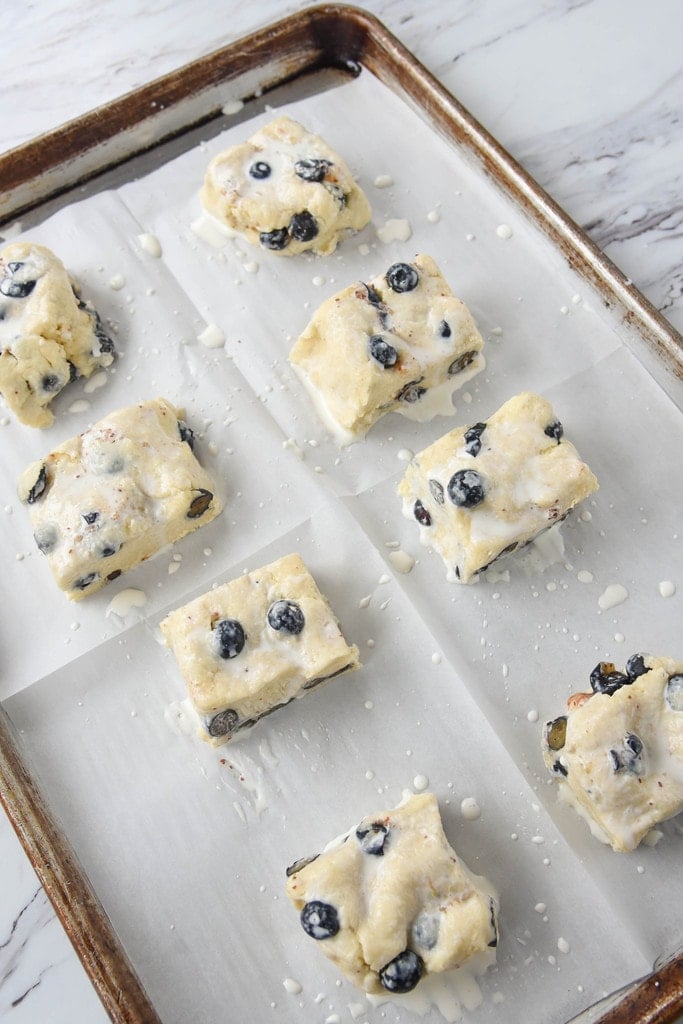 I gave the scones a little bath of whipping cream before popping them into the oven. I think a scone is best, fresh out of the oven once it has cooled but truth be told I can eat one anytime! The real lemon flavor in these scones comes from the lemon glaze. A mixture of lemon juice, lemon zest and powdered sugar.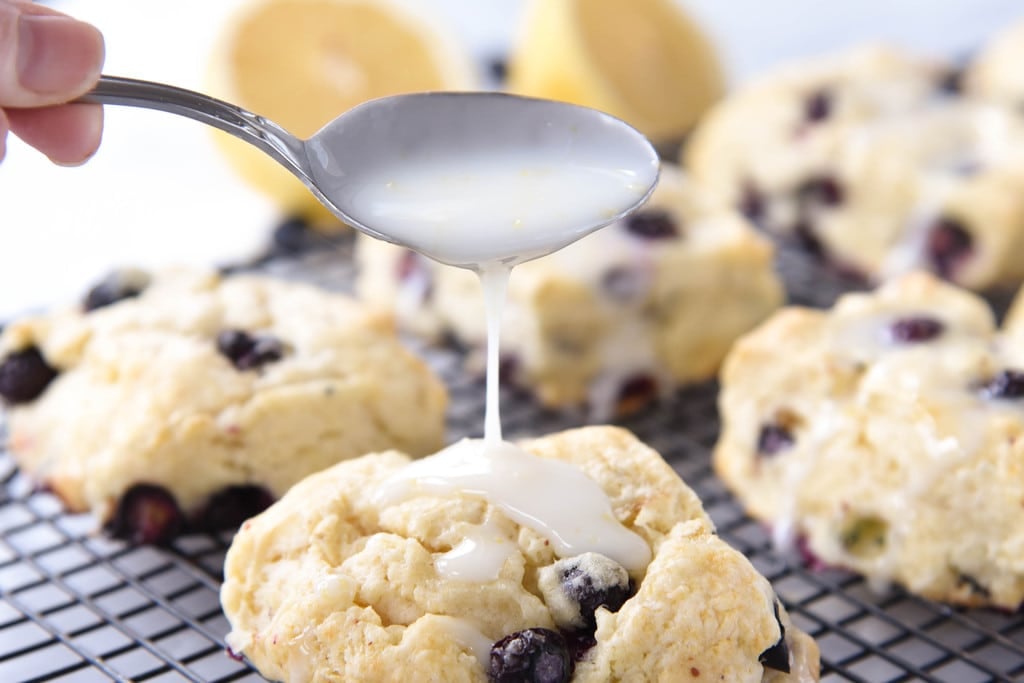 The glaze is my favorite part so I like to glaze all the scones and then go back and glaze them all a second time. If there is enough glaze, I'll do it a third time. As far as I am concerned you can never have too much glaze!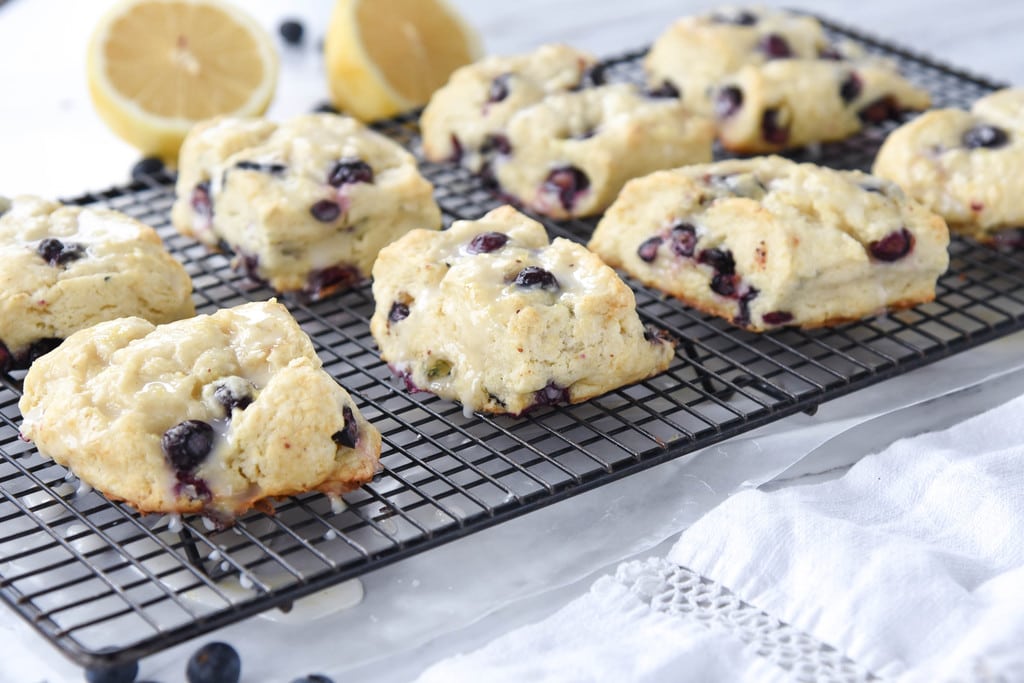 Cake is another amazing way to use this flavor combination.  You can't go wrong with a lemon blueberry muffins either.  Lemon Berry Shortcakes are another fun way to enjoy the flavor combo.
My favorite kitchen items I used to make these LEMON BLUEBERRY SCONES:
PARCHMENT PAPER SHEETS – These precut sheets of parchment paper are a total time saver in the kitchen.
SHEET PAN – I have at least six of these in my kitchen. I use them everyday. The 13 x 18 size is perfect and I use them for everything!
LEMON JUICE SQUEEZER – this is one of my most used kitchen tools. Nothing beats fresh squeezed lemon juice and this guy makes it so easy.
Lemon Blueberry Scones Recipe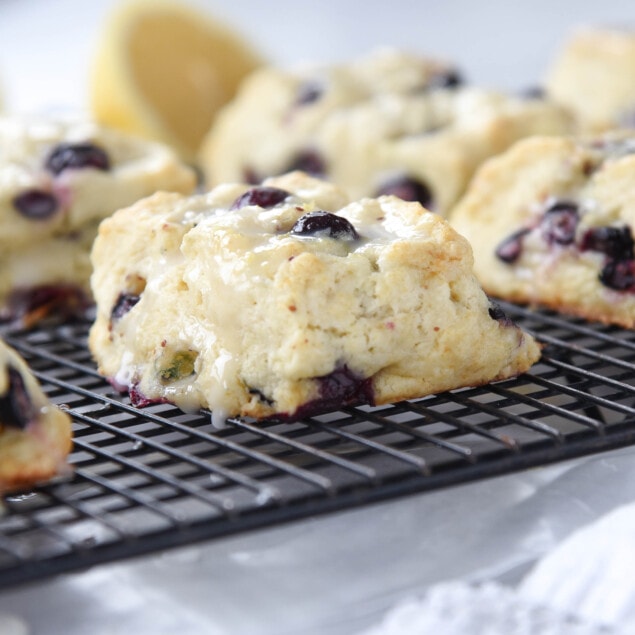 Lemon Blueberry Scones
Lemon Blueberry Scones are perfect for breakfast, brunch or tea. time. The flavor combo has Spring written all over it.
Ingredients
2 cups all purpose flour
1 Tbsp baking powder
1/2 tsp salt
2 Tbsp sugar
5 Tbsp butter, cold
1 cup heavy whipping cream and 1 Tbsp for brushing
1 cup fresh blueberries
Lemon Glaze
1/4 cup lemon juice
1 1/2 cups powdered sugar
zest of one lemon
Instructions
Preheat oven to 400 degrees F. Mix together flour, baking powder, salt and sugar.

Using a pastry blender, cut in the butter until it looks like coarse crumbs.

Add in cream and stir gently to incorporate. Do not overwork the dough. Fold in blueberries.

Press dough onto a lightly floured surface. Form into a 10 x 3 x 1.25 inch rectangle. Cut the rectangle in half crosswise, then cut each of those pieces into four pieces.

Place on a parchment lined baking sheet and brush with cream. Bake for 15-20 minutes until golden brown. Cool.

Mix together lemon juice, powdered sugar and zest of one lemon. Mix until smooth without any lumps. Drizzle over cooled scones. I like to drizzle them 2-3 times.
Nutrition Facts:
Calories: 393kcal (20%) Carbohydrates: 54g (18%) Protein: 4g (8%) Fat: 19g (29%) Saturated Fat: 11g (69%) Cholesterol: 60mg (20%) Sodium: 223mg (10%) Potassium: 229mg (7%) Fiber: 1g (4%) Sugar: 27g (30%) Vitamin A: 669IU (13%) Vitamin C: 5mg (6%) Calcium: 91mg (9%) Iron: 2mg (11%)
* Disclaimer: All nutrition information are estimates only. Read full disclosure here.