Next time you have a craving for a cheeseburger make an impossibly easy cheeseburger pie, it's even more delicious when you make them mini.
For some other easy dinner ideas be sure and try Easy Oven Baked Riblets, Taco Bowl and Chicken Lettuce Wraps.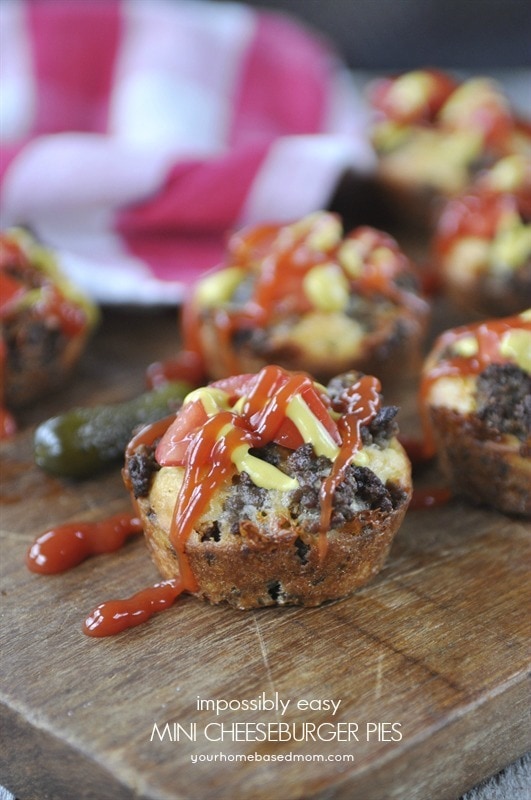 I love a dinner that can be made ahead of time. It's perfect for those super crazy days. Being able to prep or cook dinner the night before is a life saver.
Today's recipe for Impossibly Easy Cheeseburger Pie is one of those easy kind of recipes. The secret ingredient is Bisquick.
It is quick to prepare, less than 20 minutes but it can also be prepared the night before and then just popped in the refrigerator and baked when you are ready to eat it!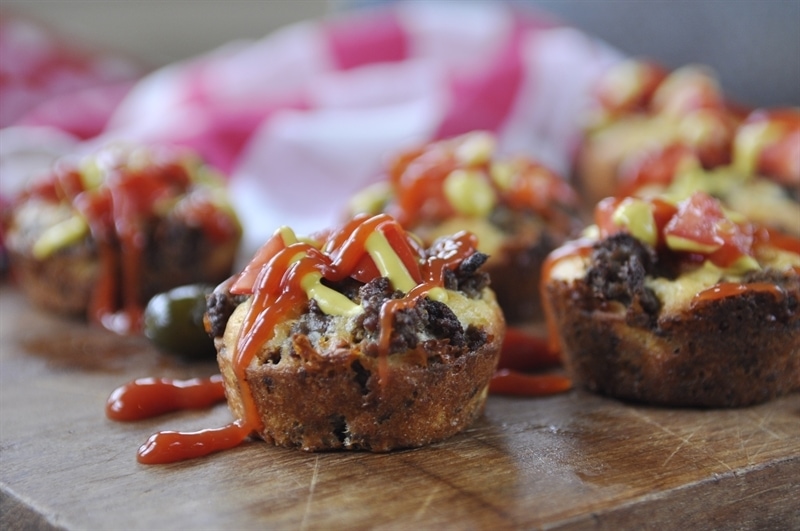 Besides being easy and convenient, these Impossibly Easy Mini Cheeseburger Pies are just darn cute! I love bite size, mini food. It is just more fun to eat. Next time you have a craving for a cheeseburger give these little mini cheeseburger pies a try.
How to Make Impossibly Easy Cheeseburger Pie
Brown ground beef along with onion powder, garlic salt and Worcestershire sauce. You can use real onion but I didn't have any so onion powder worked just fine.
Add cheese into the browned hamburger mixture.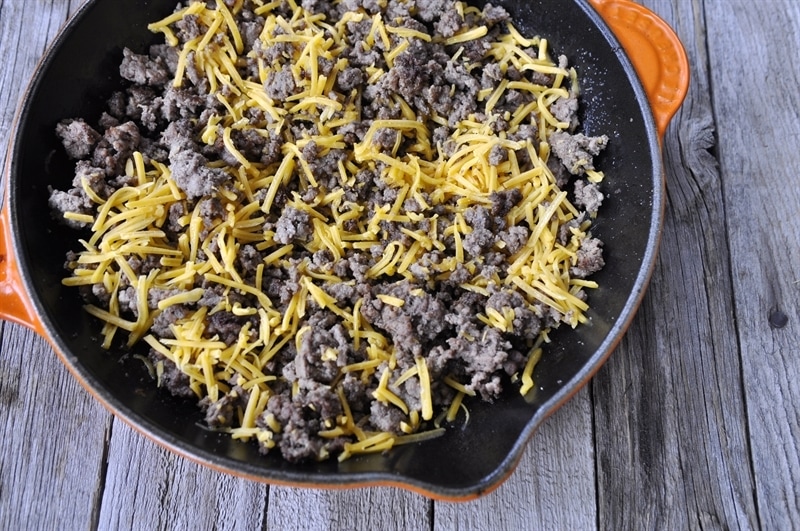 Mix up Bisquick, milk and eggs. This is what holds the little pie together. Don't worry about getting all the lumps out, it will be fine.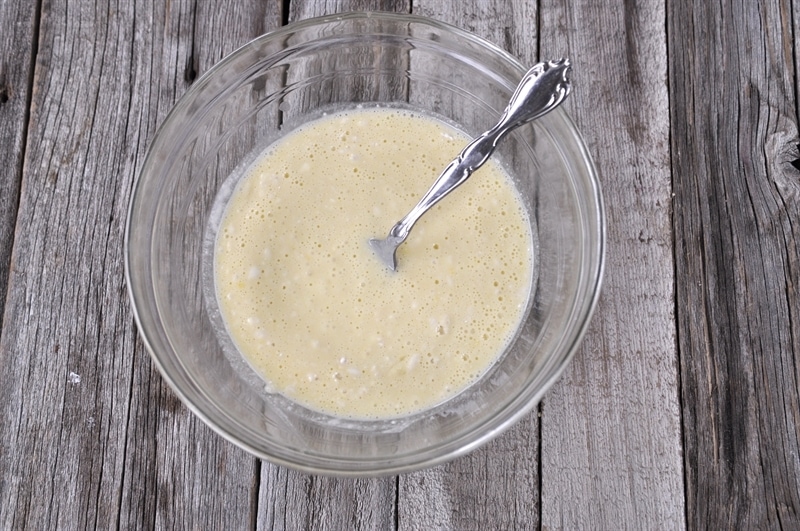 Spoon a scant tablespoon of the mixture into the bottom of a greased muffin tin.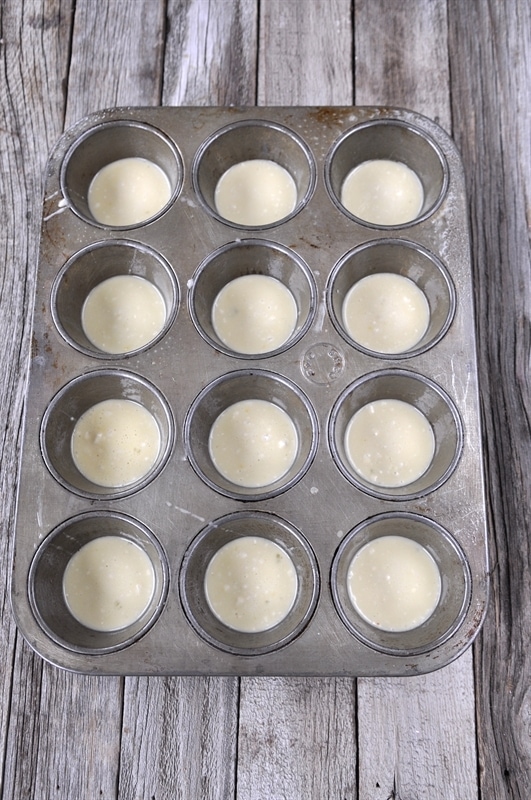 Add a 1/4 C of the meat mixture into each opening.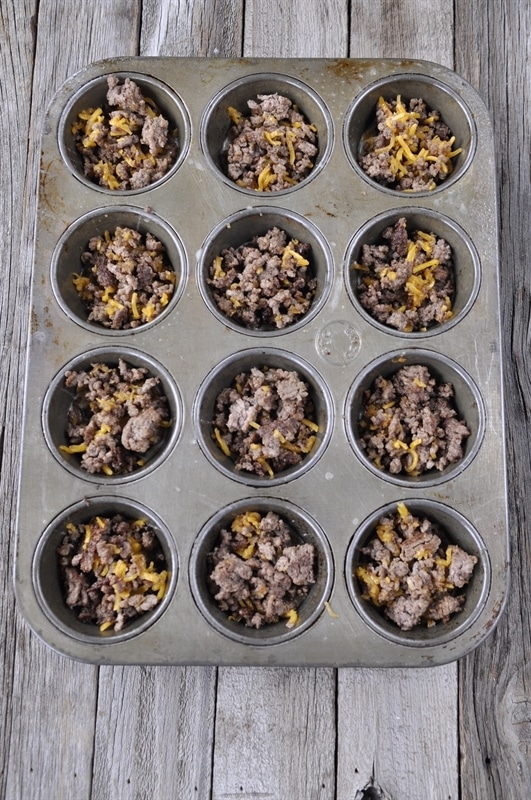 Add another scant tablespoon of the liquid mixture over the top of the meat.
Make Ahead Dinner Idea
At this point you can cover the Impossibly Easy Cheeseburger Pies with plastic wrap and refrigerate them overnight or if you are ready to eat them just pop them into a 375 degree oven for 20-30 minutes. You want them golden brown.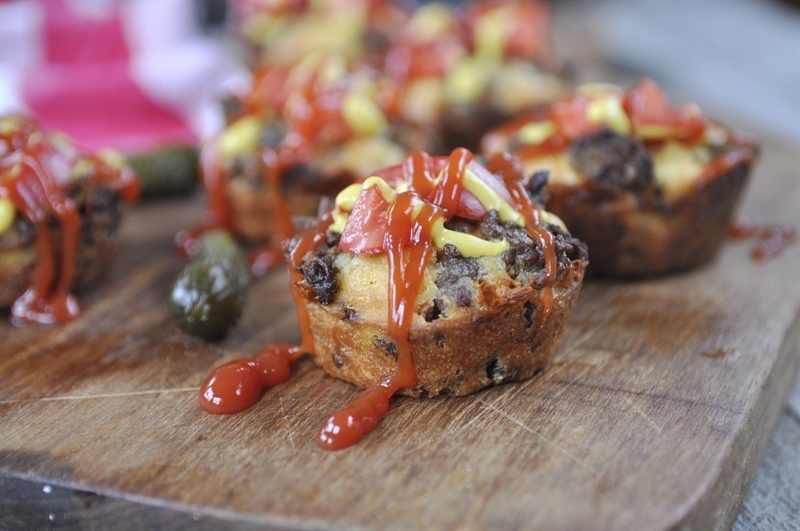 Top them with some chopped tomato, ketchup and mustard and serve with a side of pickles.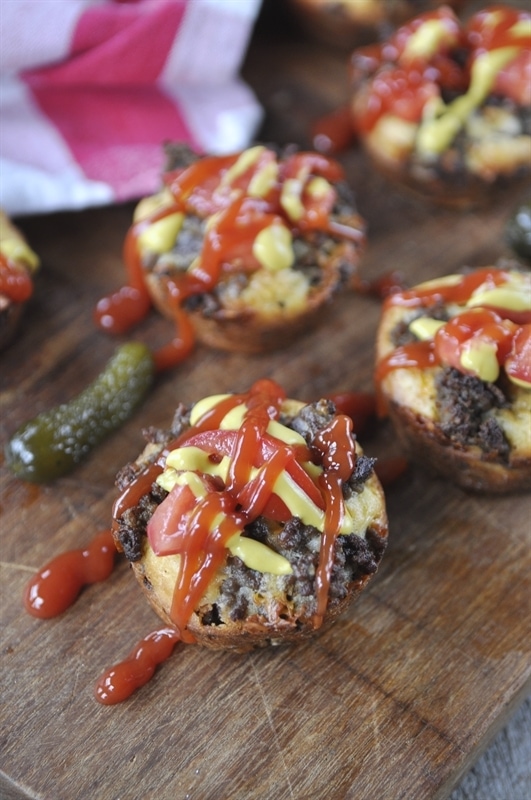 I dropped some off at a neighbors house when they weren't home. She later called to ask what these cute tiny, yummy little things were that she was eating. They loved them and she remembered her mom making Impossible Pie with Bisquick as a kid.
For all of my other favorite kitchen products and tools visit my Amazon Store.
Did you know I wrote a cookbook? Check out the Holiday Slow Cooker Cookbook for 100 delicious recipes.
Impossibly Easy Cheeseburger Pie Recipe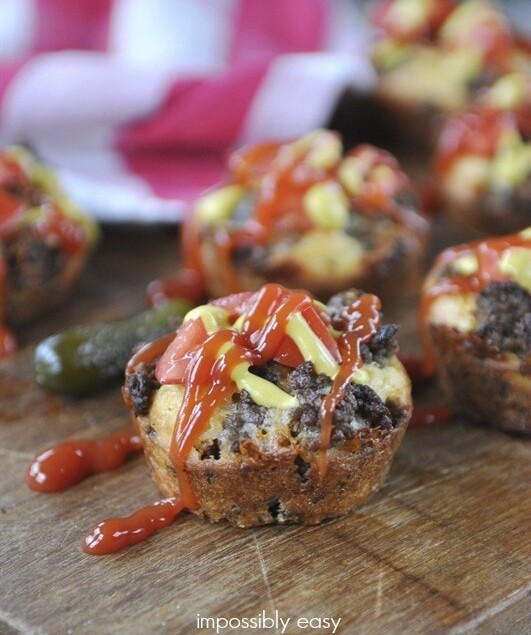 Impossibly Easy Mini Cheeseburger Pies
Ingredients
1 pound lean ground beef
1 large onion chopped or 2 tsp onion powder
1 Tbsp. Worcestershire sauce
1 tsp garlic salt
1 C shredded cheddar cheese
Baking Mixture
1/2 C milk
1/2 C Original Bisquick mix
2 eggs
Garnish
ketchup
mustard
pickles
tomato chopped
Instructions
Heat oven to 375.

Spray regular size muffin tip with cooking spray

In a skillet brown hamburger and onion until cooked through. Drain

Cool for 5 minutes and add in Worcestershire sauce, garlic salt and cheese.

In a bowl mix together milk Bisquick and eggs. Whisk with a fork

Spoon 1 scant tablespoon of baking mixture into each muffin cup

Top with 1/4 C hamburger mixture

Spoon 1 tablespoon baking mixture over top of hamburger mixture

Bake for 20-30 minutes until toothpick comes out clean and they are golden brown.

Run a knife around edge if needed to remove from muffin tin

Top with tomato, ketchup and mustard